THE COSMIC DEAD - SCOTTISH SPACE RACE - NEW ALBUM AND EU TOUR
Heavy psych experimentalists The Cosmic Dead's eighth album - Scottish Space Race - is set to be released in September via Riot Season Records on Gatefold 2xLP / CD and has been mastered by John McBain (Monster Magnet, Wellwater Conspiracy).
The album was recorded in their Glasgow HQ with cosmic sound guru Luigi Pasquini, four sprawling chunks of music recorded live amongst a run of momentous late night festival appearances in the summer of 2018. Scottish Space Race is the first Cosmic Dead release to feature the drumming of Tommy Duffin (Headless Kross) and the lap-steel synthesizer yowls of Russell Andrew Gray (Girl Sweat) alongside long-time cosmicians Omar Aborida and James T Mckay.
To accompany the release the band is set to embark on a run of dates across the UK and Europe this autumn.
Check out the teaser trailer for the album here :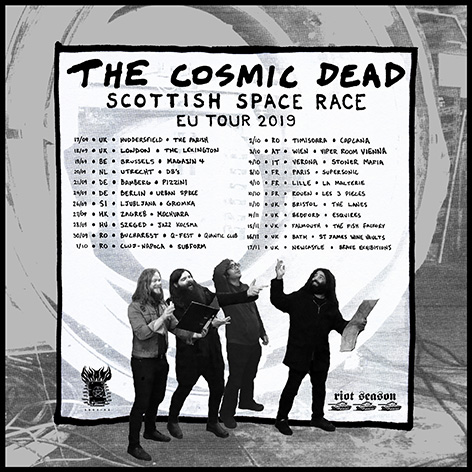 SCOTTISH SPACE RACE EUROPEAN TOUR DATES
SEPTEMBER
17 UK HUDDERSFIELD @ The Parish
18 UK LONDON @ The Lexington
19 BE BRUSSELS @ Magasin 4
20 NL UTRECHT @ DB's
21 DE BAMBERG @ Pizzini
24 DE BERLIN @ Urban Spree
26 SL LJUBLJANA @ Gromka
27 HK ZAGREB @ Mochvara
28 HU SZEGED @ Jazz Kocsma
30 RO BUCHAREST @ Q-Fest Quantic Club
OCTOBER
01 RO CLUJ-NAPOCA @ Subform
02 RO TIMISOARA @ Capcana
03 AT WIEN @ Viper Room
04 IT VERONA @ Stoner Mafia
08 FR PARIS @ Supersonic
09 FR LILLE @ La Malterie
10 FR ROUEN @ Les 3 Pieces
11 UK BRISTOL @ The Lanes
NOVEMBER
14 UK BEDFORD @ Esquires
15 UK FALMOUTH @ The Fish Factory
16 UK BATH @ St James Wine Vaults
17 UK NEWCASTLE @ Brave Exhibitions Festival
More dates TBC
---
KRAUSE 'THE ECSTASY OF INFINITE STERILITY' LP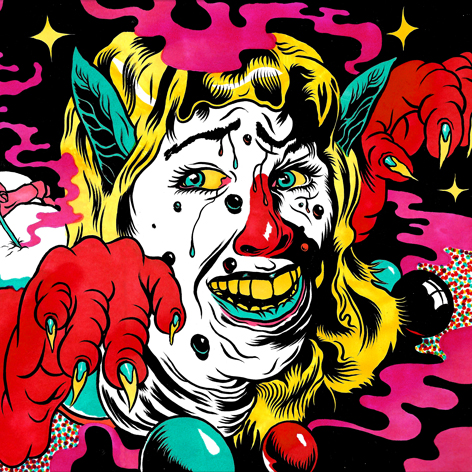 Heavy-as-all-hell Athens, Greece noise rock quartet KRAUSE formed in 2016 from the ashes of several extreme metal and noise bands and exploded onto the scene in 2017 with its massive debut LP 2am Thoughts (Riot Season), described variously as
"a pissed-off, swamped, noise rock album that is going to melt your brains and rattle the teeth out of your skull" and "a demolition spree disguised as an album". Featuring veterans of various scenes and genres, with active and past members of VULNUS, Cut off, Rita Mosss, Casual Nun, Progress of Inhumanity, Dusteroid and Straighthate, KRAUSE play AmRep/Touch and Go inspired heavy noise rock and put on an equally unforgiving live show to go with it.
After spending the rest of 2017 and 2018 playing with various international and local extreme music stalwarts such as ZU, Electric Wizard and Dephosphorus and appearing at Desertfest Athens, KRAUSE went back to the studio to record its sophomore
album. An immensely heavy record that still manages to remain quite eclectic, THE ECSTASY OF INFINITE STERILITY is calculated to make you feel as filled with anger and self-loathing as the band were while making it. KRAUSE has mastered the arts of the riff and the crushing groove, offering 10 tracks of pure sonic violence, catchy, brutal and uncompromising, with the odd bit of melody thrown in to make the suffering just that much sweeter. The album was produced by the band, and was recorded live and mixed at AUX studios in Athens, Greece, by Giotis Paraskevaidis.
Check out the full album here
ORDER NOW VIA THE LABEL WEBSHOP OR BANDCAMP SITE
---
ELECTRIC MOON / TERMINAL CHEESECAKE 'IN SEARCH OF HIGHS VOLUME 3' LP
The third 'In Search Of Highs' release is something of a battle of the big hitters. Step forward Electric Moon & Terminal Cheesecake. This is kind of a dream split for me, two AMAZING bands. The record is available pressed on either transparent red or transparent turquoise coloured vinyl. 250 copies of each for retail. I have already SOLD OUT of the entire mail order allocation of both (pre sale to the label mailing list subscribers went crazy!) but there are some copies out there in shops/distros for June 14th release.
A black vinyl repress with alternative sleeve artwork is in production and should be here by the end of June. You can pre order a copy via the webshop/bandcamp site now
BLACK VINYL REPRESS WITH ALT SLEEVE ARTWORK NOW AVAILABLE VIA THE LABEL WEBSHOP OR BANDCAMP SITE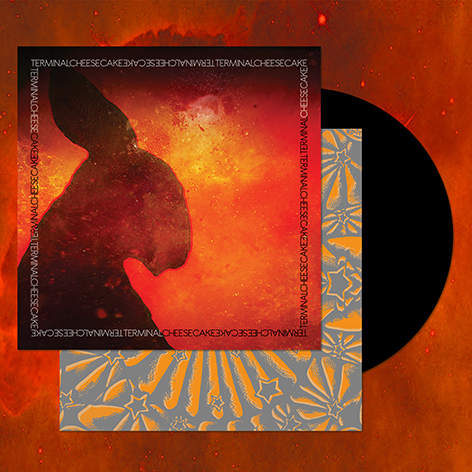 FIRST PRESS ON TRANSPARENT RED OR TRANSPARENT TURQUOISE VINYL : SOLD OUT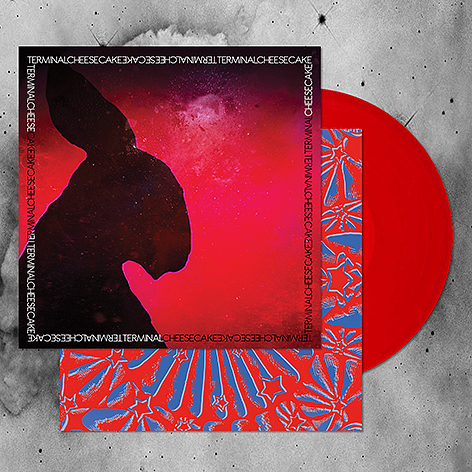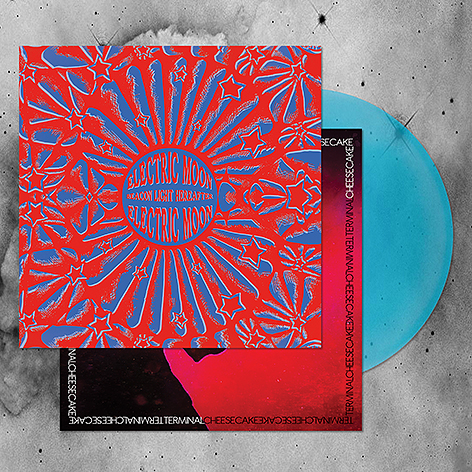 ---
NANI∞GURU 'VOVIVIZM EPISODE 1.5' CASSETTE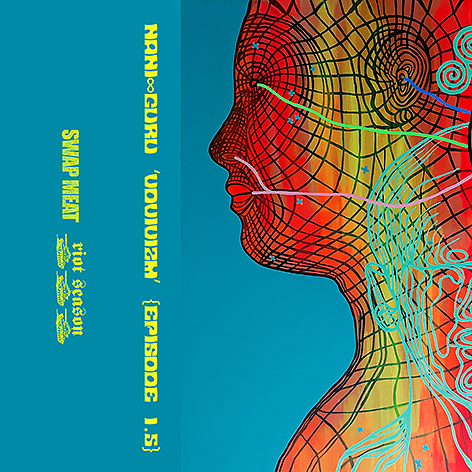 A long awaited and well overdue new tape release on sister label Swap Meat is finally here.
Nani∞Guru is a new due formed by Acid Mothers Temple pair Kawabata Makoto & Satoshima Nani. The tape is limited to 100 copies in total with turquoise tape shells and a double sided full colour inlay card. My half of the pressing is now totally sold out so thanks to all that grabbed a copy.
Check the full album over at the label bandcamp page here
---
HIBUSHIBIRE 'TURN ON, TUNE IN, FREAK OUT!' LP
The wait is nearly over ... Japan's newest psych-rock gurus release their second album 'Turn On, Tune In, Freak Out!' on Riot Season on May 10th 2019. The follow up to their much loved 2017 debut album 'Freak Out Orgasm!' will be available in two vinyl editions, neon orange or classic black vinyl and as a very limited cassette.
It would be fair to say Hibushibire's 2017 debut album 'Freak Out Orgasm!' went down well with fans of psych-rock (call it what you will). So far it's had three vinyl pressings, two cassette pressings and a CD run back in Japan. It garnered quite a few influential underground (if not mainstream) reviews and seemed to sell through on word of mouth alone - which in these times seems to be the way things are going: thriving social media groups sharing their love of recent purchases and fellow vinyl lovers going out and scooping them up without the need to buy a magazine or read an online review to make their mind up. My favourite review of 'Freak Out Orgasm!' came from UK based music blog Dayz Of Purple And Orange as I think he nailed it perfectly...
"Fuck me! I think I've died and gone to psychedelic heaven! If anyone had asked me what I would really want from a freak out, heavy-as-fuck psych band I would have to say I would want the sheer guitar pyrotechnics of Acid Mothers Temple, the hard-as-nails scuzziness of The Heads, the lead heaviness of a fucked-up Blue Cheer and the instrumental dexterity of Hendrix on speed. Guess what, that band exists and they are called HIBUSHIBIRE!"
That, to me, said it all. Nail hit hard.
But let's get onto 'Turn On, Tune In, Freak Out!'
Once again the album is produced by Makoto Kawabata (Acid Mothers Temple, Mainliner) and for me it's the next logical step in the bands sonic development. As with its predecessor, side one consists of three tracks, "Ecstasy Highwaystar / Blow! Blow! Blow! / Overdose, Pussycat! More! More!", (they do like an exclamation mark). Some of these titles will be familiar if you've followed the band's live shows in recent times, and it's pretty much a guitar to the front, full gonzo-style hard-rocking psychedelic freak out from the first blast of Changchang's guitar panning from left to right before the main riff kicks it all off.
Again, as with their debut, side two comprises of just one epic length track. 'Rollercoaster Of The Universe' clocks in at seventeen minutes and is, in my humble opinion, the sound of the band moving onto the next level during its journey. It's a shudderingly beautiful piece, with many hypnotic twists and turns. I can't wait to hear how they play this live.
The band did initially attempt to produce this album by themselves, but got 'brain fever' in the studio and called their old friend Makoto to come down and help them finish it off. As he had no preparation in advance, he knew nothing about how the recording was going in the studio, and moreover there was little time left for adjustments to be made. But his technique of mixing was, as always, both mighty and almost destructive.
He said to Changchang during the mixing process, "Listen carefully! I am teaching how to work magic". And he has.
The title is "Turn On, Tune In, Freak Out!". True to it's name.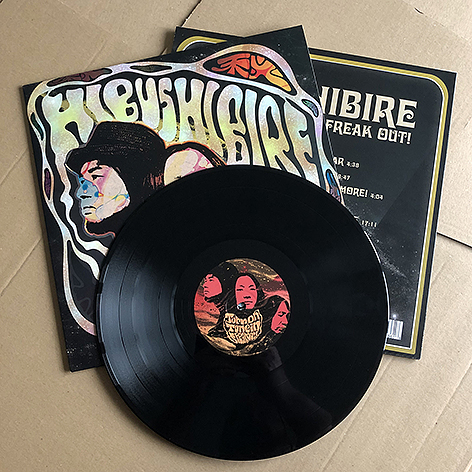 ORDER NOW VIA THE LABEL WEBSHOP OR BANDCAMP SITE
BLOW! BLOW! BLOW! PROMO VIDEO
---
KUNGENS MÄN 'CHEF' LP ORANGE VINYL REPRESS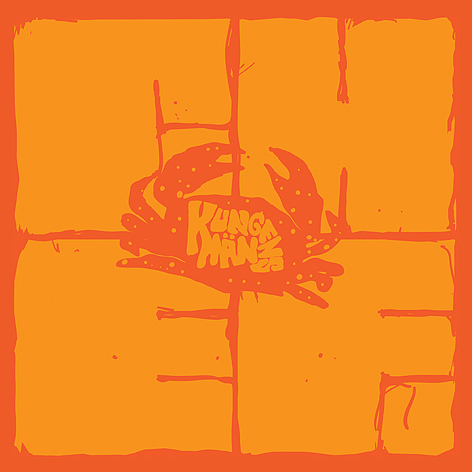 There's an orange vinyl repress is here at last. Orange vinyl, alternative orange artwork, double sided insert. 300 copies for the world
ORDER NOW VIA THE LABEL WEBSHOP OR BANDCAMP SITE
---
THE BAND WHOSE NAME IS A SYMBOL / SHOOTING GUNS 'IN SEARCH OF HIGHS VOLUME 2' LP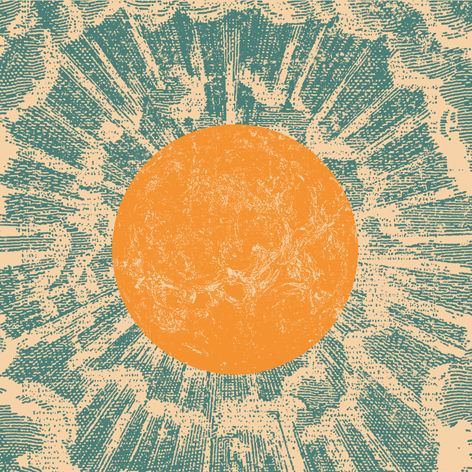 The second, and much later than planned volume in the In Search Of Highs split album series is currently being pressed over in Germany for release late April / early May 2019.
Featuring two of Canada's finest psych/freeform outfits Shooting Guns & The Band Whose Name Is A Symbol, it's another killer slab of wax. This one is limited to 300 copies on blue vinyl and will be up for pre order alongside the new Hibushibire LP (see below) shortly so that folks that want both can combine the orders and save on paying two lots of postage.
This is something i've toyed with doing for sometime, but it's rare to get two releases ready to post/ship at the same time. Hopefully this will help those that want both releases!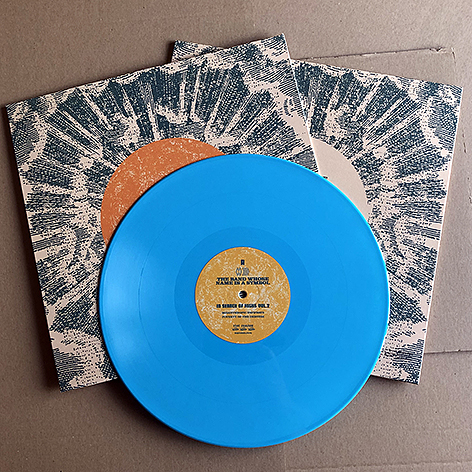 ORDER NOW VIA THE LABEL WEBSHOP OR BANDCAMP SITE
Canada is a huge country, with very few people. Vast distances between many cities often make it tough for likeminded individuals to get together very often.
Over the past few years, despite being physically separated by 2931 km (31 hours drive), Ottawa, Ontario's The Band Whose Name Is A Symbol and Saskatoon, Saskatchewan's Shooting Guns have been forming a working bond. Becoming not only friends, but also fans of one another's groups in the process, this current pairing is no accident. Both outfits are based on the art of improvisation and both are prolific. Each band boast extensive back catalogues of recorded and released material.
These sessions you will hear on Volume 2 of "In Search Of Highs" are a wild heavy trip indeed. TBWNIS and Shooting Guns have really cranked it up for all to experience the sounds of "the great white north" as that's what they LOVE to do … it also helps them keep warm in the winter!
SHOOTING GUNS 'NEW LEVITATION' PROMO VIDEO
More news to come ... take a listen below
---
ORCHESTRA OF CONSTANT DISTRESS 'COGNITIVE DISSONANCE' LP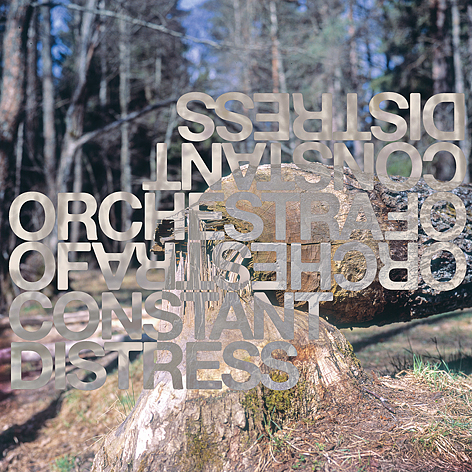 Delighted to announce the new Orchestra Of Constant Distress album 'Cognitive Dissonance' is at the pressing plant and will be released officially on April 19th 2019.
'Cognitive Dissonance' continues where 'Distress Test' left off with more relentless, brutal, hypnotic and down right nasty sounds.
The band play this years Roadburn Festival on April 13th, so if you're going make sure you take the chance to catch them doing a very rare live performance.
One core dynamism within the field of music is the relationship between performer and spectator. The audience listen and watch the musicians enjoying themselves and through that they get an experience of joy. This requires a system of believing where organized sound can be recognized, and is therefore music as such. Upon listening to Orchestra of Constant Distress´ third album you might want to question this meaning of tonality. Through catatonic riffs and uncanny sounds we are as listeners left with a situation where we do not know how to distinguish bad and good, pleasure from displeasure. OoCD seems to be moving beyond their decent from such bands as Brainbombs, The Skull Defekts and Union Carbide Productions towards a tension of disbelief.
The "Cognitive Dissonance" LP (initial mail order copies only) is accompanied by the limited "Dissonant Dub" Cassette on Swap Meat with The Idealist dubs of a few tracks from the album.
The band still is:
Joachim Nordwall (The Skull Defekts, iDEAL Recordings)
Anders Bryngelsson (Brainbombs, No Balls)
Henrik Rylander (The Skull Defekts, Union Carbide Productions)
Henrik Andersson
ORDER NOW VIA THE LABEL WEBSHOP OR BANDCAMP SITE
DISCOMFORT PROMO VIDEO
---
USA/MEXICO 'MATAMOROS' LP
Rejoice! the second album from Austin's USA/Mexico is at the pressing plant for March 22nd release. As with their 2017 debut 'Laredo' i will be handling the UK/European release with 12XU handling North America.
Blurb ..
As a young person I frequently heard tales that high-end stereo shops used Pink Floyd's 'Dark Side Of The Moon' as a demonstration disc, in order to fully document the prowess of their impossibly-expensive wares.
I rarely frequented any of these establishments but always took these stories on faith. I'm no audio guru, but it seems to me that someone attempting to do the same thing in 2019 could do a whole lot worse than adopting USA/Mexico's long-awaited 2nd album, 'Matamoros' for similar purposes. The trio's first album 2017's 'Laredo' might've been a worthy candidate for a test-spin in the Bang & Olufsen showroom, but the successor is the sort of record that really makes if you're the sort of person who can appreciate the BACKES MÜLLER BM 100 loudspeaker (list price $500,000.00 USD)
Once you're comfortably settled in, you'll find that the all-star team of guitarist Craig Clouse (Shit & Shine) drummer King Coffey (Butthole Surfers) and Nate Cross (Marriage, When Dinosaurs Ruled The Earth) have done everything possible to help you expand your sonic palette — some might say they've even done too much! Either way, these guys are as unselfish as they are loud. Or perhaps they're as selfish as they're quiet — i do hope you'll agree their motives are less important than the results, and in this instance, those results are nothing less than a staggering sensory overload.
George Dishner (Spray Paint) and Kevin Whitley (Cherubs — on a rendition of his band's "Shoofly", as previously heard on 1992's 'Icing') make cameos. The entire affair was engineered by budding genius Ian Runndell (he of every other great record recorded in Austin) and is available via the 12XU and Riot Season record labels in North American and UK/Europe respectively.
VAPORWAVE HEADACHE PROMO VIDEO
---
KUNGENS MÄN 'CHEF' LP
I'm beyond stoked to announce the next Kungens Man album 'Chef', is coming out on Riot Season in mid February. I assume most of you know of them already, if not i STRONGLY suggest you check out their previous work on the excellent Adansonia Records out of Sweden. This is some top level shit!
READ A NEW KUNGENS INTERVIEW WITH IT'S PSYCHEDELIC BABY MAGAZINE HERE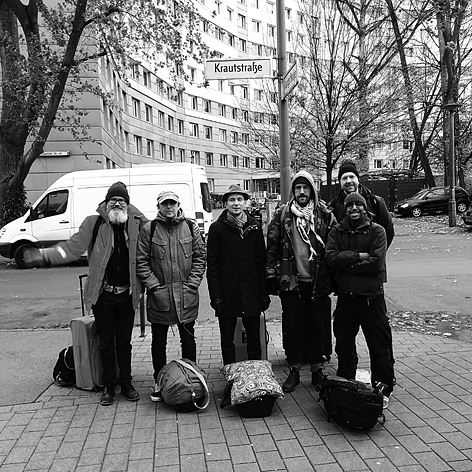 Kungens Män from Stockholm, Sweden has been around as a musical unit since 2012. The roots as friends go way back though. Noises, impulses, fuck ups and improvised jams have been recorded since day one and some of them have been put out on record. This is the first one on Riot Season Records.

While the previous album Fuzz på svenska on the German label Adansonia Records was somewhat jazzy and pretty introverted, this new one CHEF is more rock and to the point, but still in the exploring, heady way typical of Kungens Män. Oh, CHEF doesn't have anything to do with cooking - it means boss or chief in Swedish.

The inspiration comes from the drone, the rattle of the loose screw, the circuit failure of the effects, the phatness of the moog and from the very diverse wiring of a bunch of middle aged Swedish freaks. Kungens Män never plan the next musical move - it presents itself. Sometimes the costume sewn is really ugly, but somehow there's always room for the sublime as you turn it inside out.

CHEF is the most effective Kungens Män album yet. Four pieces, one LP. Four different moods, the Kungens Män sound distilled. Dive in, walk around, start over again. It never stops.
EFTERTANKENS BLANKA KRANKHET PROMO VIDEO
---
ACID MOTHERS TEMPLE & THE MELTING PARAISO UFO 'REVERSE OF REBIRTH IN UNIVERSE' CD/LP
Due to demand, we've decided to repress the LP version after the original black & green vinyl versions and CD sold out quickly. The repress is in production now, and will be a limited 300 only edition pressed on sun yellow vinyl and housed in a 350gsm high gloss sleeve featuring this new alternative green artwork courtesy of artist Jessica at The Giant's Lab.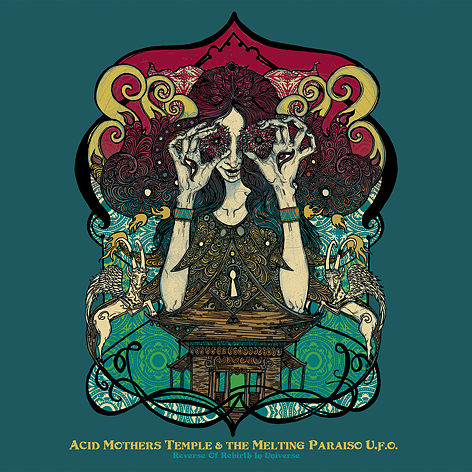 YELLOW VINYL REPRESS NOW AVAILABLE VIA THE LABEL WEBSHOP OR BANDCAMP SITE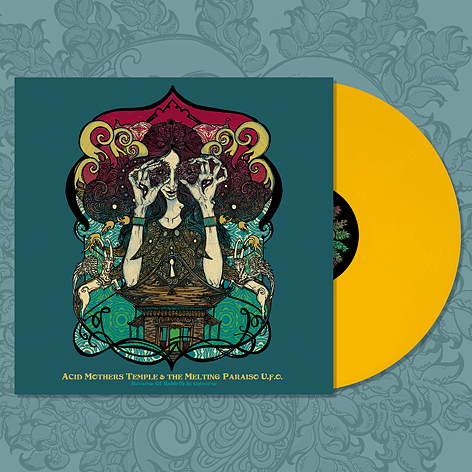 ORIGINAL LP & CD COVER ARTWORK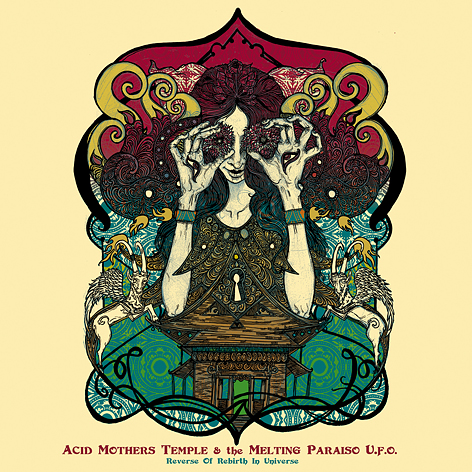 It's with great delight i get to announce the new album by one of my favourite bands, and one of the labels oldest friends Acid Mothers Temple!.
'Reverse Of Rebirth In Universe' is currently being pressed over in Germany and will hopefully be here mid November for an official shop release on November 30th.
The album will be available in three variations. Firstly a CD, which comes in a glossy card gatefold sleeve and also two vinyl editions, a regular classic black vinyl version and (for now at least) a mail order exclusive mint green vinyl edition. I'll see how the direct sales go with the green one and if there are copies left i will of course let them go to shops/distros when the time comes. But if you 100% want to guarantee getting one then direct is the way to go. The CD contains a bonus song (a cover of Gong's 'Flying Teapot') which hasn't been available on CD before. Both vinyl versions will of course come with a download code which will include this bonus track as well as the three album tracks themselves.
IN THE WORDS OF MAKOTO KAWABATA
"In 2016, 21 years after Acid Mothers Temple & The Melting Paraiso U.F.O. were founded in Osaka, Japan, there was a major shift in the line-up and "Next Generation" was added to the bands name. We now view the first 20 years of the bands career as chapter one in our story, and we are now turning the page to start chapter two. In 2018, it's time to re-record our classics with this new line-up, we just opened the door to the next stage"
More info on the release page here
BLUE VELVET BLUES (2018) PROMO VIDEO