DEAD OTTER 'BRIDGE OF WEIRD' VINYL LP COMING AUGUST 17TH. PRE ORDER NOW VIA THE LABEL WEBSHOP OR BANDCAMP SITE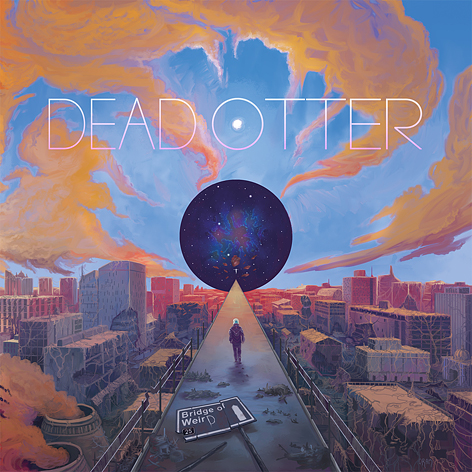 'Bridge Of Weird', the debut album proper from Glasgow's Dead Otter is set for release this August on Riot Season. Available as a limited black vinyl LP, 300 copies housed in a glossy finished sleeve featuring the amazing artwork seen above and below.
Sure to be a firm favourite with fans of Acid Mothers Temple, Hawkwind, Steve Hillage/Gong. It's a trip.
Check out the video for the thirteen minute title track here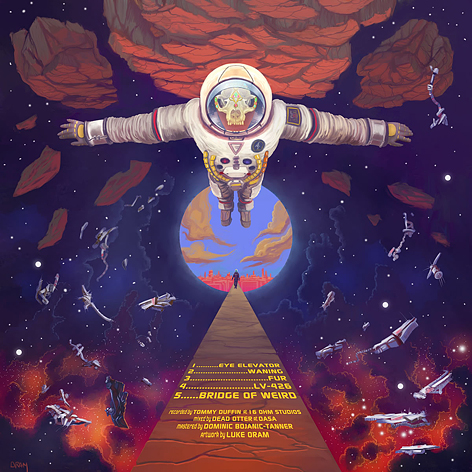 ---
BLACK HELIUM 'PRIMITIVE FUCK' VINYL LP COMING JULY 27TH. PRE ORDER NOW VIA THE LABEL WEBSHOP OR BANDCAMP SITE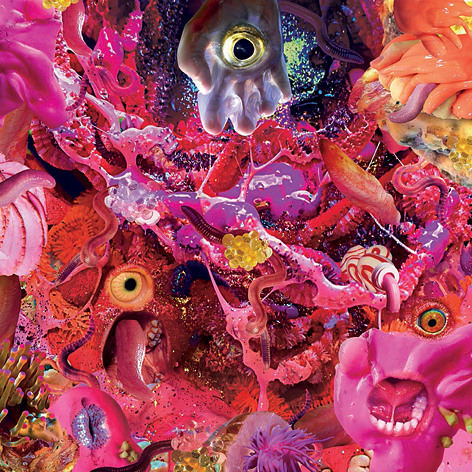 July 27th (it's gone back a week to account for a small manufacturing delay) sees the release of 'Primitive Fuck' the debut album from BLACK HELIUM. One look at that artwork should have you hooked, if not the songs inside will.
Check out the first review and a couple of promo videos via the Psych Insight Music website here I think it's safe to say they like it!
The album will be available as a 300 only black vinyl LP housed in a gloss finished preinted sleeve with insert and download code. You can pre-order a copy now via the label webshop and it'll also be up via the bandcamp site shortly.
Black Helium are a four-piece formed in 2016 for a special one-off Halloween gig at the notoriously heady Guild Navigator club in East London, and have since then spread their sonic gumbo of hard-edged psychedelic head-fuckery and Neanderthal glam rock swagger across the country.
Heavy friends Stuart Gray (vocals/guitar), Beck Harvey (vocals/bass) Davey Mulka (guitar) and Ben Davies (drums) went on to record their debut, Primitive Fuck, at Hermitage Studios with Margo Broom in March 2017. Although, Ben Davies disappeared abruptly after recording his drum tracks after experiencing a 'profound life-changing mystical occurrence'.
Influenced by bands such as Black Sabbath, Hawkwind, Amon Düül II and The Stooges; Primitive Fuck channels an era when psychedelic rock stood for mind expanding eclecticism, and hip shaking sonic hedonism in equal measure, moving from motor city heroism, to shapeless Kosmische ambient ego-death via space ritual riff worship. Now, with new drummer, Diogo Gomes on board, Primitive Fuck represents the birth of a band your psychiatrist warned you about.
BLACK HELIUM ALBUM LAUNCH SHOW
Black Helium will host an album launch at the Tom Thumb Theatre in Margate on Thursday 26th July. They'll have copies for sale, and would love to see you there if you're able i'm sure
---
BLOWN OUT 'SUN ROT' VINYL LP OUT NOW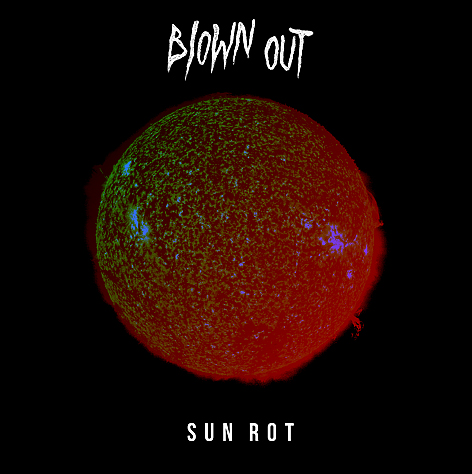 ORDER VIA THE LABEL WEBSHOP OR BANDCAMP SITE
July 2014 was my first encounter with BLOWN OUT label wise.
That's when sister label, Swap Meat Records put out the bands debut physical release 'Sun Rot' as a limited run tape. That quickly sold out and two furthers runs were made and also sold out.
Since then, we've released a further four Blown Out releases on Riot Season. Drifting Way Out Between Suns (2014), New Cruiser (2016), Superior Venus (2017) and just last week In Search Of Highs Volume 1 (2018).
So what better thing to do next than go back to where it all began and release 'Sun Rot' on wax at long last. 'Sun Rot' was recorded to tape and was very lo-fi in nature. We've rescued the original tapes and have tweaked them for vinyl ever so slightly but it very much remains the lo-fi classic it once was.
Pressed up as a limited one off run of 500 copies on space black vinyl. The artwork has been re imagined by the original cover artist, and long time Blown Out artwork collaborator Anthony Downie - Illustrations and it looks sweet.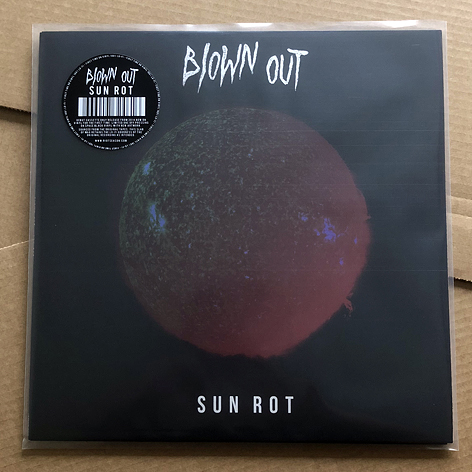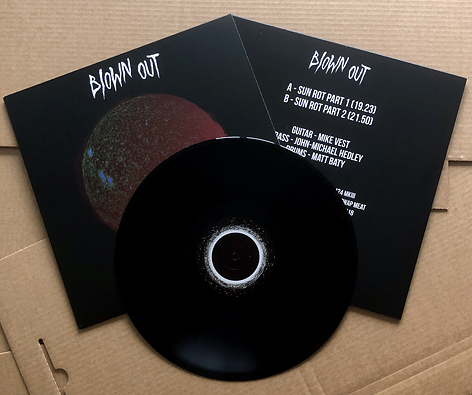 ---
HIBUSHIBIRE FREAK OUT ORGASM UK TOUR IS DONE
So, the first Hibushibire UK tour is done.
HUGE thanks to all that made it happen. The band, the booking agent, the promoters, the driver and of course the crowds in Manchester, York, Todmorden, Birmingham, Nottingham, Newcastle and London.
If you went along to a show, give yourselves a big pat on the back. Thanks for showing them your support.
Let's hope they come back to the UK again soon!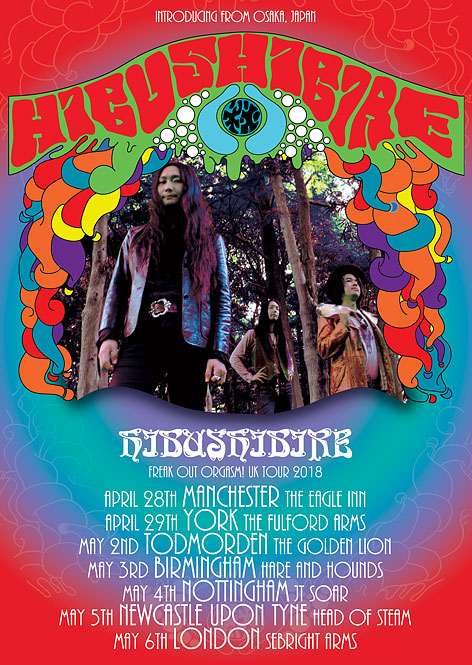 FREAK OUT ORGASM! PURPLE VINYL REPRESS OUT NOW. AVAILABLE DIRECT AND IN RECORD SHOPS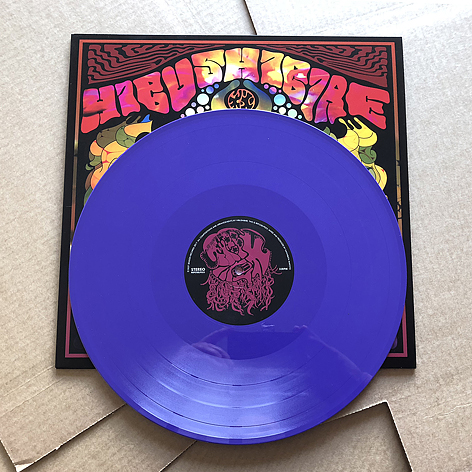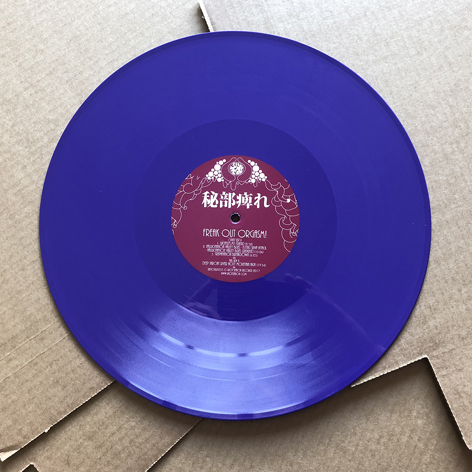 ---
HENRY BLACKER 'THE MAKING OF JUNIOR BONNER' LP OUT NOW. ORDER VIA THE LABEL WEBSHOP OR BANDCAMP SITE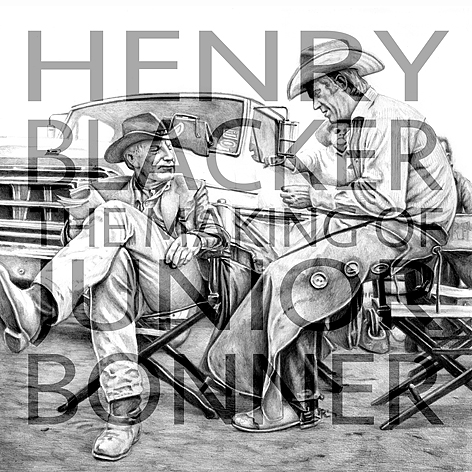 HENRY BLACKER return with their third album 'The Making Of Junior Bonner' on April 13th. The follow up to 2013's Hungry Dogs Will Eat Dirty Puddings and 2015's Summer Tombs will once again be released on Riot Season on vinyl and as a limited run cassette on sister label Swap Meat Records.
Henry Blacker formed because there's nothing to do in Somerset. Henry Blacker formed because the other band they do (Hey Colossus) rehearse in London and they wanted a band they didn't need to travel the width of the country to jam with.
This nine song 40 minute record lyrically covers the downtrodden, shaking them with lysergically gloopy riffs of both the upbeat and downbeat nature. it is perfectly suited for 30 people in a bar having a night of pints. Or a packed venue in some exotic hot spot full of characters having a night of white wines. Or would sit nicely sound tracking a person at home secretly having a night of cans alone, drowning their misery under the weight of an 8 pack of European strength lager.
Inspiration comes from all the desert rock bands and angular punk rock bands that always get listed on these things, you can imagine. Bands that list bands on these things that they want you to think they sound like are ridiculous. They did recently get included on a recent Bandcamp piece: 'Top Ten UK Noiserock bands', but that list didn't include Drunk In Hell so it's not to be trusted.
This record was recorded in Bristol and Barton St David by Ben Turner. Look up Barton St David, it's in the middle of nowhere and it's really lovely. It's also where HB rehearse. It's got it all, and biscuits on top.
Henry Blacker will be touring here and mainland Europe to support the album from April onwards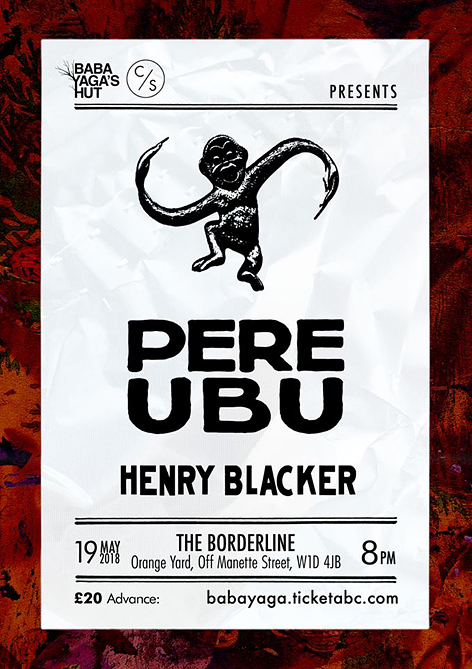 ---
COMACOZER / BLOWN OUT 'IN SEARCH OF HIGHS VOLUME 1' LP OUT NOW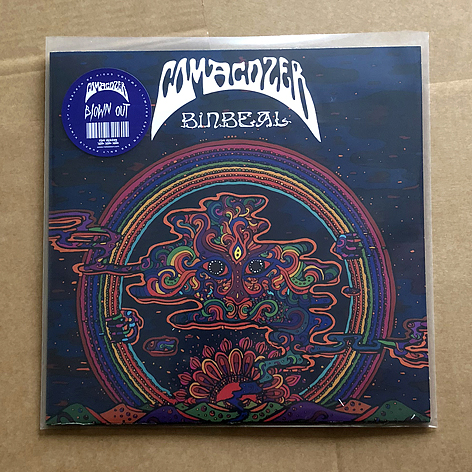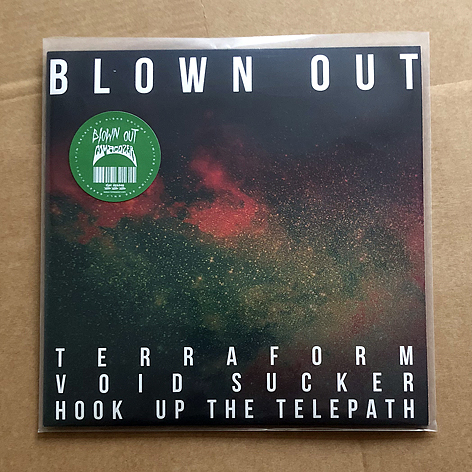 The first slab in a possible new split series titled 'In Search Of Highs'
Both the bands here are instrumental trio's, BLOWN OUT (UK) & COMACOZER (Australia) are interlinked by history and their shared love of sonic psych explorations and both are here for Phase 1 of this cosmic experience.
You will no doubt already know the two bands gracing this first slab of wax. They're from worlds apart, geographically that is, but musically are very much on the same plain.
Both bands have multiple releases behind them, and this one is sure to pick them up new fans aplenty.
Blown Out deliver three relatively short (for them) blasts, channelling their inner Stooges / Marble Sheep coming on like grand funk space lords. Three tracks of groove sonics and head changes.
Comacozer go the opposite route and slide in with another of their trademark epic trips, that sucks everything around it into it's own cosmic gloop.
There will be 500 copies available. Half pressed on green wax and half on purple. Take your pick, or pick both.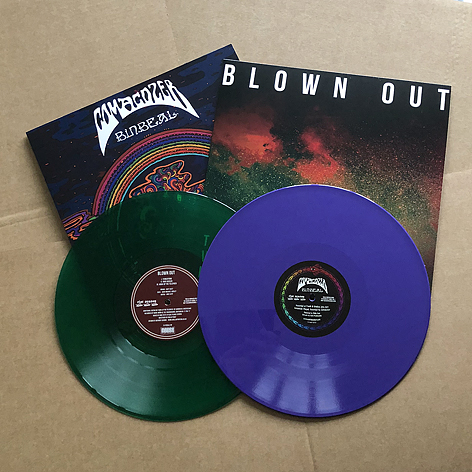 ---
HEY COLOSSUS 'RRR' EXPANDED VINYL 2XLP OUT NOW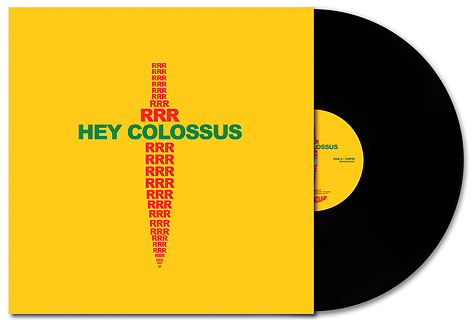 After much deliberation over the last few years, we (myself and the band) have decided the time is right to finally reissue 'RRR' on vinyl. As you'll probably know the original vinyl run was super limited and super hard work to do. Each of the original 200 copies came in individually painted sleeves, which took the band and artist Chav something like three months to complete .. a true labour of love!. Anyway, they sold out straight away and since then (2011) it's been unavailble. So here it is again, but this time it's a DOUBLE VINYL!
The original, remastered/re-cut LP comes with a bonus LP full of unused RRR session tunes. There are 400 for the world, all pressed on classic black vinyl and housed in a fat spined sleeve with double sided insert. There will be NO REPRESS
The intended shop release date is early March (will confirm soon)
ORDER NOW VIA THE LABEL WEBSHOP OR BANDCAMP SITE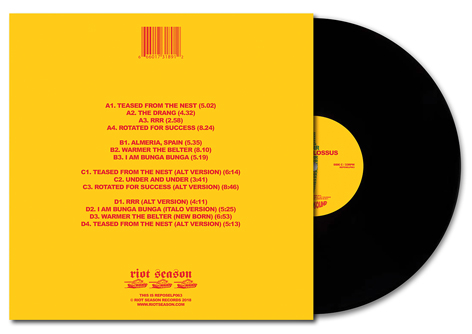 ---
ORCHESTRA OF CONSTANT DISTRESS 'DISTRESS TEST' VINYL LP OUT NOW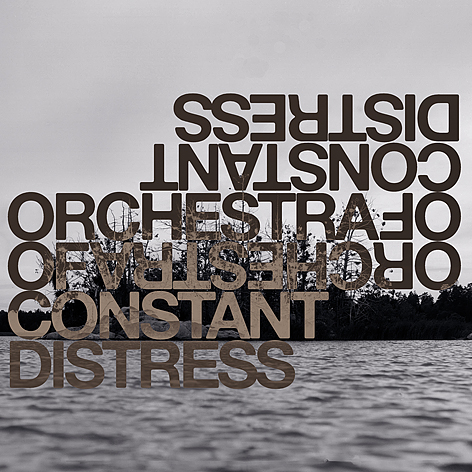 Noise fans REJOICE as we welcome ORCHESTRA OF CONSTANT DISTRESS to our little world.
ORCHESTRA OF CONSTANT DISTRESS are something of a Swedish super-group featuring Joachim Nordwall (The Skull Defekts, iDEAL Recordings), Anders Bryngelsson (Brainbombs, No Balls), Henrik Rylander (The Skull Defekts, Union Carbide Productions) and Henrik Andersson.
'Distress Test' is their second album following 2017's self titled debut on 8mm Records and will be released officially on February 23rd. It's being pressed now so we should have no delays (fingers crossed)
The LP is limited to 300 copies in total pressed on classic black vinyl, and i have just over 200 for my own needs (mail order and distro/shops etc) As with all RS releases, it's housed in a sturdy 350gsm printed card sleeve with black inner and download code.
Musically this is harsh, relentless, pummeling noise rock (for want of a shitty genre tag). This short quote is from a review of their debut album and i think it nails it perfectly ...
"JUST WHEN YOU THINK SOMETHING IS ABOUT TO HAPPEN, IT DOESN'T."
It may be called 'Distress Test' but it could also be called 'Endurance Test'. F*** yeah!
As a bonus, the band have recorded another albums worth of stuff called 'Abandon', and it'll be available as an optional cassette only release with the LP. I have exactly 50 copies of the tape (which is technically on sister label SWAP MEAT, CAT# SMR16) and they will all be offered as a package with the LP for starters. I'll see how they go and if any are left i'll consider making them available on their own in due course.
---
FAMILIA DE LOBOS 'FAMILIA DE LOBOS' WHITE VINYL LP OUT NOW
The first RS release of 2018 will be the self titled debut album from Argentinean's Familia De Lobos (Family Of Wolves). Once again, i'm happy to say it's something a bit different. It's clearly got the hallmarks of psychedelic rock, but there's a lot more going on than just that.
There are 300 copies being pressed, all on gorgeous snow white vinyl, housed in a 350gsm printed reverse board card sleeve. I only have 180 copies for the label itself, so make sure you get in quick if you want one.
You can check out the opening song and pre-order copies now via the webshop and bandcamp site.