PERHAPS 'HEXAGON' LP COMING THIS OCTOBER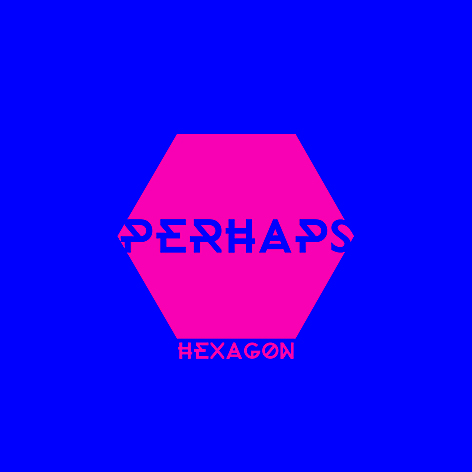 Delighted to announce the new, and sixth album by Boston's PERHAPS is currently being pressed over in Germany. The LP will be officially released mid October and is a limited 300 only black vinyl edition in a high gloss finished sleeve.
I know many of you loved their 'V' album from last year and you can rest assured this one wont let you down. It's really hard to pigeonhole the band in a genre, so lets just say it's yet more weird and wonderful kraut/psych/space-rock from their own little universe. NOBODY sounds like Perhaps. And that can only be a good thing!
PRE ORDER NOW VIA THE LABEL WEBSHOP OR BANDCAMP SITE
As with last years 'V' album. There are a number (100 to be precise) of copies which come with a bonus CD-R called 'Hexagain'. This CD-R contains a vastly reworked version of the main album and is stunning in it's own right. If you want one be quick!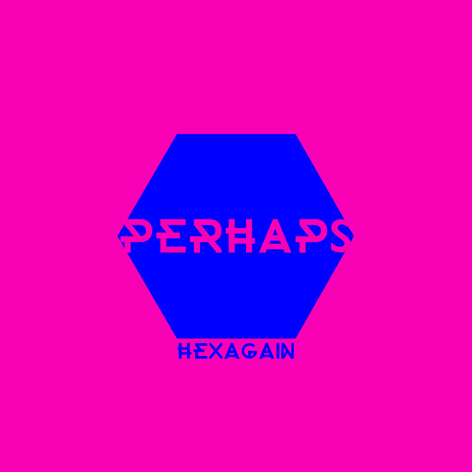 ---
NEW LABEL T SHIRTS IN STOCK NOW
Happy to announce that a new label shirt design is now available via the webshop.
It features a new wartime biker design on the front, with a new 'slingin' records since f*** knows when' motto beneath it. The back features the original three tanks logo. These are pre screen printed here in the UK onto black heavy cotton Gildan shirts. Not cheap tat!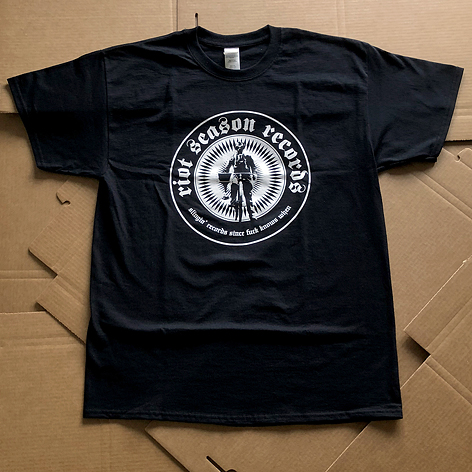 I've also got another batch of the original, and dare i say classic 'riot' shirts printed for the umpteenth time. Same Gildan shirts, but with silver front and back prints. Simple and effective!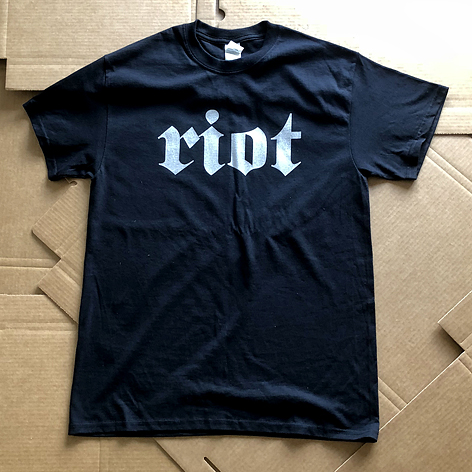 ORDER EITHER SHIRT VIA THE WEBSHOP HERE
---
EARTHLING SOCIETY 'MO - THE DEMON' VINYL LP COMING IN SEPTEMBER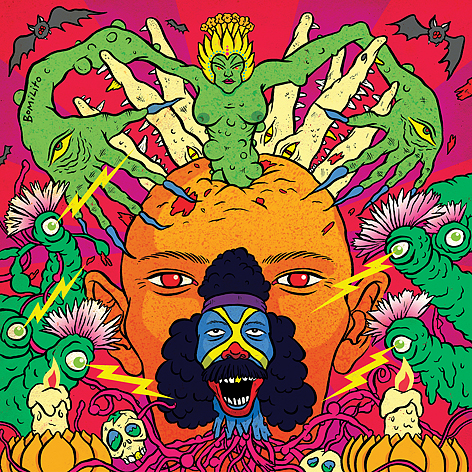 'Mo-The Demon' is the new (and possible swan song?) album from our old mates EARTHLING SOCIETY. And it's another weird trip through their own peculiar brand of psychedelic/space rock which, as we all know is nothing likes anyone else's take on either genre in this modern age.
Truly a band that do their own thing.

This new LP comes with some astonishing artwork (see above and below) and is an imaginary soundtrack to one of Fred Earthling's favourite films, 'The Boxer's Omen', well side one is anyway. Side two is something totally different and equally amazing.

Pressed on translucent violet coloured vinyl in order to compliment the artwork, there is an extra limited pre-order version which will come with a bonus CD-R which Fred describes as a 'dub' mix minus the reggae ... if you fancy that make sure you grab one now.
As with the 'Crooked Under Moonlight' CD-R that came with the last Earthling Society LP 'Ascent To Godhead', it wont be repressed or available on it's own.
PRE ORDER NOW VIA THE LABEL WEBSHOP OR BANDCAMP SITE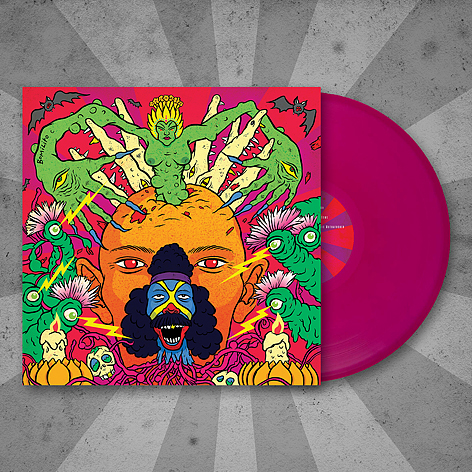 ---
DEAD OTTER 'BRIDGE OF WEIRD' VINYL LP OUT NOW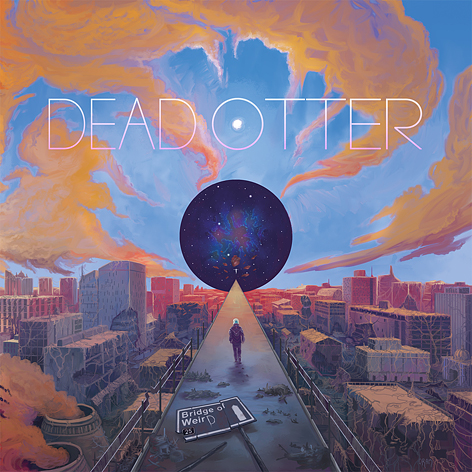 'Bridge Of Weird', the debut album proper from Glasgow's DEAD OTTER is set for release this August. Available as a limited edition black vinyl LP, 300 copies housed in a glossy finished sleeve featuring the amazing artwork seen above and below.
Sure to be a firm favourite with fans of Acid Mothers Temple, Hawkwind, Steve Hillage/Gong. It's a trip.
Check out the video for the thirteen minute title track here
ORDER NOW VIA THE LABEL WEBSHOP OR BANDCAMP SITE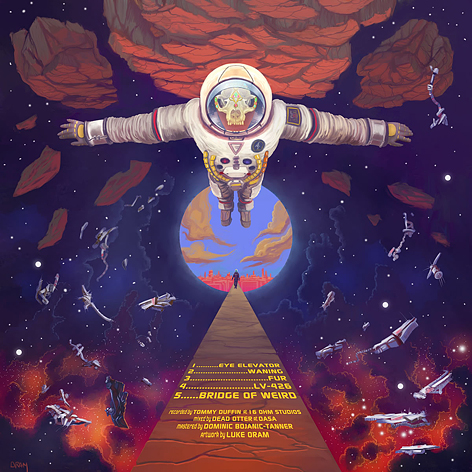 ---
BLACK HELIUM 'PRIMITIVE FUCK' VINYL LP OUT NOW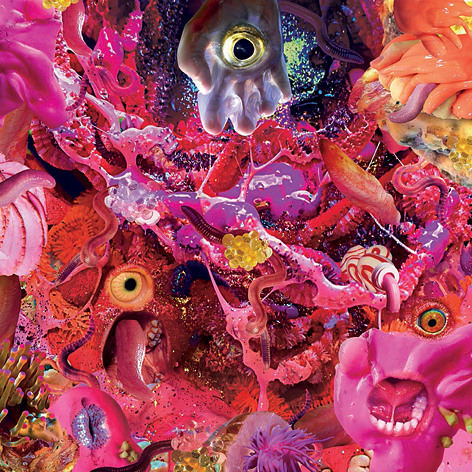 July 27th sees the release of 'Primitive Fuck' the debut album from BLACK HELIUM. One look at that artwork should have you hooked, if not the songs inside will.
Check out the first review and a couple of promo videos via the Psych Insight Music website here I think it's safe to say they like it!
The album will be available as a 300 only black vinyl LP housed in a gloss finished preinted sleeve with insert and download code. You can pre-order a copy now via the label webshop and it'll also be up via the bandcamp site shortly
ORDER NOW VIA THE LABEL WEBSHOP OR BANDCAMP SITE
---
BLOWN OUT 'SUN ROT' VINYL LP OUT NOW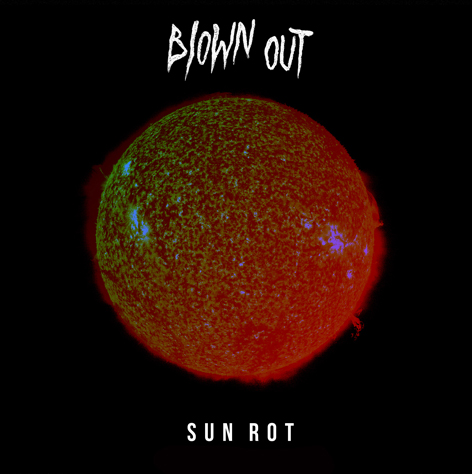 Much requested and much delayed vinyl issue of BLOWN OUT's first recording. This album, was first released on tape only on sister label Swap Meat back in 2014.
Four more Blown Out album releases later we all thought it was about time we got around to giving it the vinyl treatment. So here it is ...
Pressed in a one off edition of 500 black vinyl copies housed in new artwork adorned cover. This recording is very lo-fi in nature, as it was supposed to be. We've tweaked the levels slightly for this pressing but that's it. No remixing or tarting up rest assured. It still sounds how it was meant to at the time it was conceived.
ORDER NOW VIA THE LABEL WEBSHOP OR BANDCAMP SITE
---
HENRY BLACKER 'THE MAKING OF JUNIOR BONNER' VINYL LP OUT NOW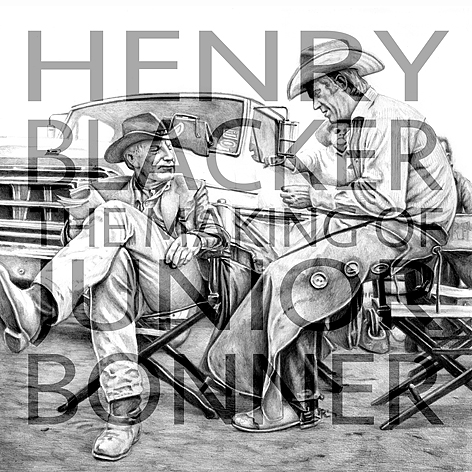 Somerset's HENRY BLACKER return with their third, and no doubt best album yet.
This nine song 40 minute record lyrically covers the downtrodden, shaking them with lysergically gloopy riffs of both the upbeat and downbeat nature. It's perfectly suited for 30 people in a bar having a night of pints. Or a packed venue in some exotic hotspotfull of characters having a night of white wines. Or would sit nicely sound tracking a person at home having a secret night on the cans alone, drowning their misery under the weight of an 8 pack of European strength lager.
Inspiration comes from all the desert rock bands and angular punk rock bands that always get listed in these things. You know the ones.
Pressed on a limited run black vinyl LP, 300 copies and a tape on sister label Swap Meat in even more limited numbers.
ORDER NOW VIA THE LABEL WEBSHOP OR BANDCAMP SITE