REPOSELP060 TO BE ANNOUNCED NEXT WEEK
The next RS release is currently being pressed over in Germany. It's expected to hit the shops on August 4th. Full release details and pre order details will be announced next week to the mailing list subscribers and then via here and the labels social media channels etc.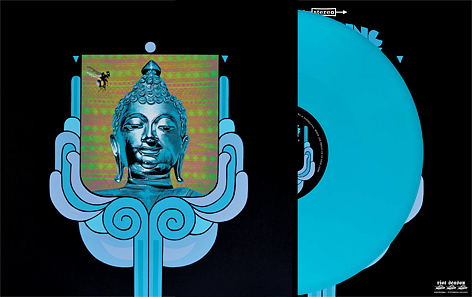 ---
ATTENTION FELLOW MIDLANDER'S
Our old Jesus Juice promoting thing has resurfaced at last. We're co promoting a show at the Hare & Hounds, Birmingham on August 17th featuring Japanese heroes KIKAGAKU MOYO with our old mates EARTHLING SOCIETY in support. Advance tickets can be purchased via Skiddle here
It would be great to see some of you there if possible! Please share the news with anyone you think may be interested.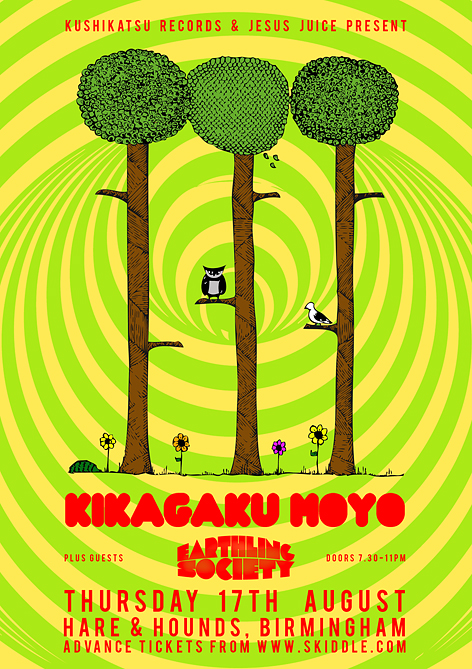 ---
LABEL UPDATE JUNE 2017
We are now in the quiet zone. The time of year when nothing much happens for some reason. From a busy start to the year to deathly quiet in the blink of an eye, happens every year for some reason. But that doesn't mean things aren't happening behind the scenes.
There are currently two new albums in production, another one due to follow next week and a repress also being sorted. I expect June/July to be completely dead label wise truth be told (except any Swap Meat tape releases of course) but from AUgust onwards we should be back on full throttle.
As always, please sign up for the mailing list if you can, that way you'll be first to know of any news/pre-orders that are coming up etc. There's a link in the header above, only takes a few seconds and once it's done it's down for good.
Thanks Andy/RS
---
TWO NEW TAPES OUT NOW ON SWAP MEAT
Sister label Swap Meat has two new tape only releases out now. The debut release from Irish band WORST and a cassette version of the latest album from Swedish band THE JANITORS which includes two exclusive tracks not available on any other format of the album. Both can be picked up via the webshop and bandcamp site as always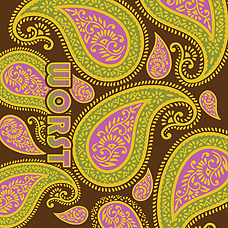 * The WORST tape is currently being repressed due to demand. Thanks!
---
USA/MEXICO 'LAREDO' LP OUT NOW
STREAM THE FULL ALBUM VIA THE QUIETUS WEBSITE HERE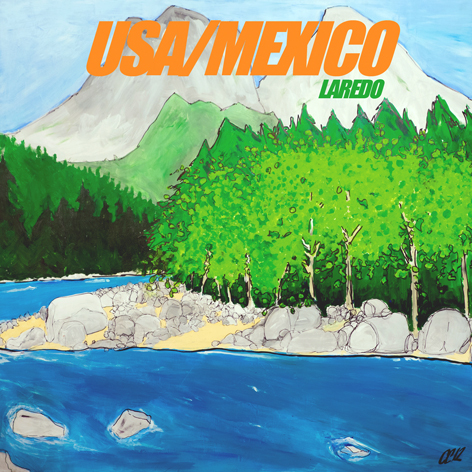 The debut release from Austin, Texas trio USA/MEXICO is ready to roll and will be in shops June 2nd. I'm covering the UK/Europe (the 12XU label are handling the USA - both editions have been cut/mastered/pressed by different folks) and there are approx 250 copies for retail pressed on leaf green translucent vinyl to go around.
The LP is now up for pre-order via the label webshop and bandcamp site. If you are in the US, you can buy direct from the 12XU label site here
For those they don't know the band consists of our old friend Craig Clouse (Shit and Shine/Todd) Nate Cross (of When Dinosaurs Ruled The Earth, Expensive Shit, Marriage) and King Coffey (Butthole Surfers) and it's a f*cking glorious noisy racket as you'd expect!
ALL MAIL ORDER COPIES ARE NOW SOLD OUT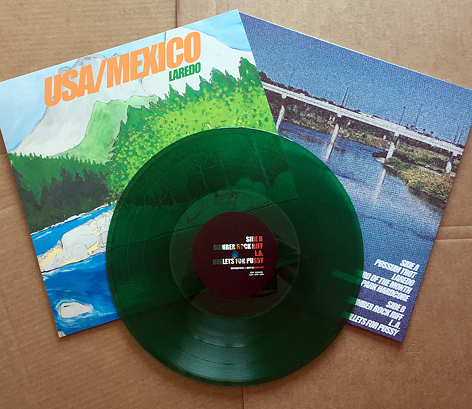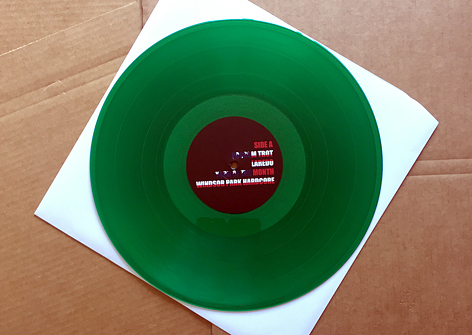 ---
HIBUSHIBIRE 'FREAK OUT ORGASM!' NEON YELLOW VINYL REPRESS NOW IN STOCK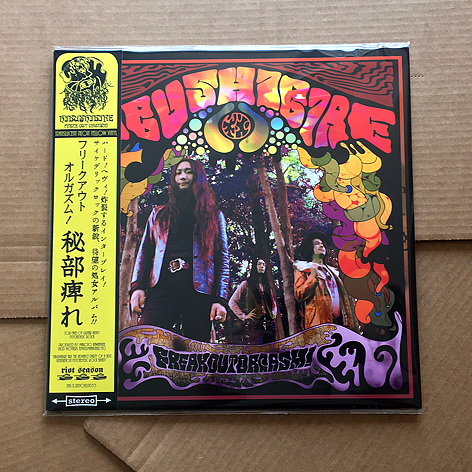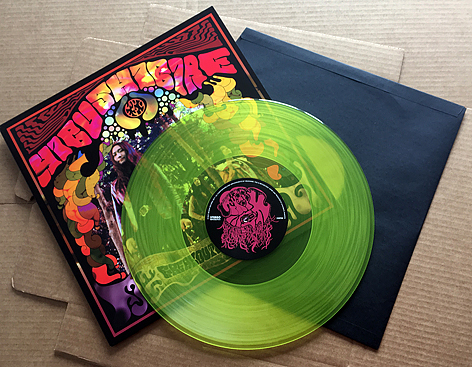 The repress of the already much loved debut album by our Japanese friends HIBUSHIBIRE is now in stock. Pressed on beautiful translucent neon yellow vinyl, it's limited to 300 copies worldwide (250 for retail, half of which have already gone) and it's up for order now.
This edition comes with a bonus Japanese style OBI strip. It looks great, it sounds great ... IT IS GREAT!
ORDER NOW VIA THE LABEL WEBSHOP OR BANDCAMP SITE
---
THE COSMIC DEAD 'PSYCH IS DEAD' LP/CD OUT NOW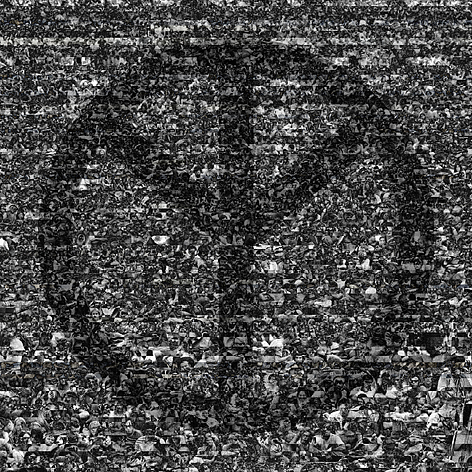 ORDER NOW VIA THE LABEL WEBSHOP OR BANDCAMP SITE (VINYL NOW SOLD OUT)
artist: THE COSMIC DEAD
title: 'Psych Is Dead'
catalogue # REPOSELP420/REPOSECD420
format: Vinyl LP & CD
label: Riot Season
release date: April 28th 2017
Tracklisting
A. Nuraghe (21:54)
B1. Psych Is Dead (8:23)
B2. #FW (15: 28)
PSYCH IS DEAD LP/CD (REPOSELP420/REPOSECD420)
The new Cosmic Dead album is coming out on April 28th and i'm putting it out. F*** YEAH!
I'm so chuffed with this that i've barely been able to keep it under wraps for the last few months. As a big fan of the band it just makes me so happy!
The album will be coming out on CD (Digipack 500 copies) and two vinyl editions. The main vinyl release will be a white vinyl edition limited to 700 copies for the world. Along with that will be a mail order only edition of 300 copies pressed on swanky silver vinyl (SOLD OUT)
I described the album the other week as making me feel like i'm half mashed trying to get out of a bath full of molasses. And i meant that in a good way honest ... Ha ... it's different!
VINYL SNAPS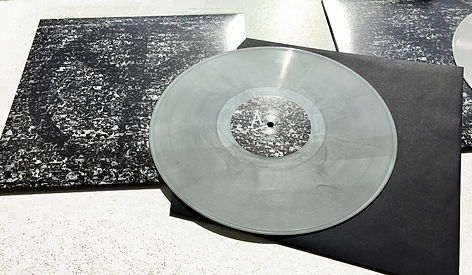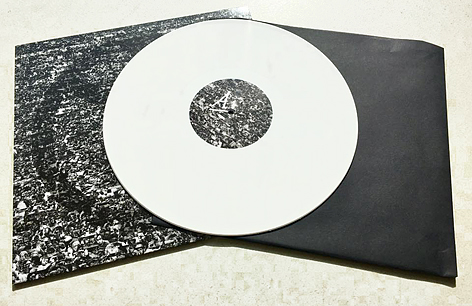 Release Blurb :
Formed in 2010, The Cosmic Dead are a quartet from Glasgow, Scotland who share their music through good vibes and better vibrations. Known for their improv, chaos strewn, Buckfast smashed against the wall take on space music, they have roamed from Roadburn to Las Vegas, Dundee to Bangalore with each album offering a meditative window into a certain time and space.
'Psych Is Dead' is the sixth full length album from the band, the glowing embers of a a few days spent recording in a sweaty Sardinian kitchen overlooking the Mediterranean Sea. Soon to be available on LP and CD via Riot Season Records, 'Psych Is Dead' is an aural exploration of their tumultuous universe.
"Like a careening, uncontainable torrent of Buckfast-powered kosmische chaos, whatever your feelings towards the Scottish quartet's synth-washed space-jams on record, their performance is something like having Ken Kesey and Spacemen 3 pour Irn-Bru directly into your third eye." - The Quietus
"The Cosmic Dead may hail from Glasgow but their music sounds as if it were created in another universe altogether" - Drowned in Sound
"A swirling, thudding vortex of sound" - Echoes and Dust
---
BLOWN OUT 'SUPERIOR VENUS' OUT NOW
Listen to the full album now courtesy of The Quietus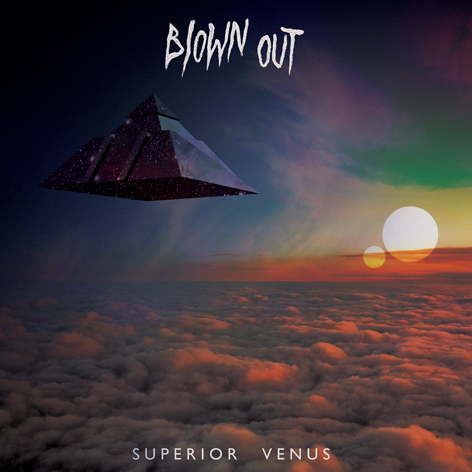 ORDER NOW VIA THE WEBSHOP OR BANDCAMP (VINYL VERSION IS NOW SOLD OUT)
While we're all still recovering from last September's epic (and now sold out) 'New Cruiser' album, Newcastle finest space explorers BLOWN OUT have been busy crafting away their follow up effort 'Superior Venus'.
The album is released on March 24th on neon orange vinyl (500 copies) and a limited run tape on sister label Swap Meat (75 copies) and once again consists of two long head expanding psych outs. You know by now what BLOWN OUT are all about ... and once again it's completely fuckin' epic.
Protector Of Kings, Ejected Comet, The Reversing Earth, The Opaque Dream, Superior Venus.
'.. the Sun rose contrary to his wont; twice he rose where he now sets, and twice he set where he now rises ..'
Telepathic Rhythms collide with High Mindstream Waste Guitar.
Heavy, melodic, destroying the whole universe in your brain.
Power Trio Powerdrive Psychedelic Rock.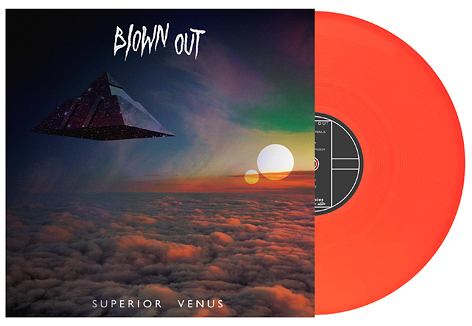 CHECK OUT THE TEASER VIDEO BELOW
The band will be touring a lot this year, and the first UK dates to support the album have been announced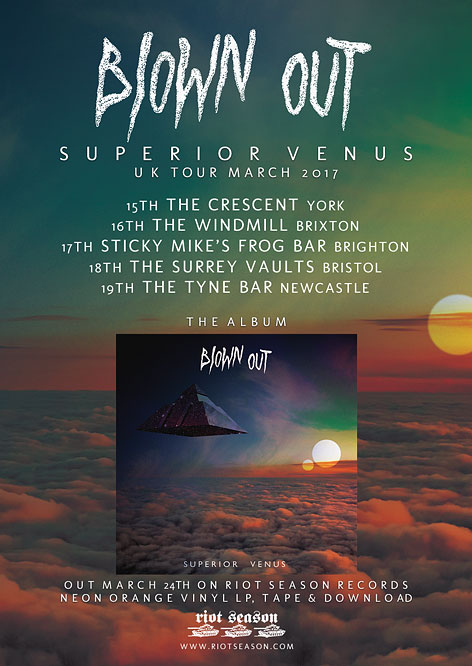 ---
CHECK OUT THE DEBUT VIDEO FROM HIBUSHIBIRE
The debut video from our new Japanese signings Hibushibire is now up on the labels YouTube page. The track 'Trepanation Breakdown' features on the bands debut album 'Freak Out Orgasm!' which is released on March 3rd, Vinyl, Tape and Download
HIBUSHIBIRE 'FREAK OUT ORGASM!' OUT NOW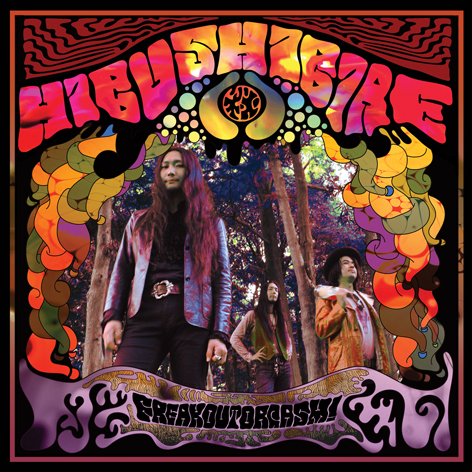 ORDER NOW VIA THE WEBSHOP OR BANDCAMP (MAGNETA VINYL VERSION IS NOW SOLD OUT - YELLOW VINYL REPRESS NOW IN STOCK)
March 3rd sees the release of the debut album by soon to be new Japanese underground heroes HIBUSHIBIRE. The album will be released on vinyl (magenta coloured / 500 copies) and on cassette via sister label Swap Meat (75 copies). HIBUSHIBIRE are an Osaka based Japanese hard psychedelic freak out rock band. The band was formed by guitarist Chang Chang and bassist 821 as a improvisation jam rock band in 2012, the present line-up has been in place since 2015
The present members are
Chang Chang (freak out Guitar/Vocal) who makes shred guitar his strong point and is given the nickname Psychedelic young nobleman
821 (freak out Bass/Chorus) who is playing an active part by various bands
Ryu Matsumoto (freak out Drums) who play with a large number of domestic and foreign musicians as improvisation drummer.
The band which consists of a member with many carriers, and their musical style changed to hard psychedelic rock accompanied by several times of members change. The large portion of the HIBUSHIBIRE's musicality is influenced by 60's hard rock, 70's progressive rock and additionally various psychedelic music, and they are pursuing original music committed to be ROCK and PSYCHEDELIC.
HIBUSHIBIRE were recently dubbed the "Advance party of a next generation psychedelic rock band" by Japanese freak out guitar guru Kawabata Makoto of Acid Mothers Temple, Mainliner etc
Freak Out Orgasm! is first studio album by HIBUSHIBIRE in their 4th year.
They had chance to record studio album during 4 years, several times, but they could not because of member change etc
The 'Freak Out Orgasm!' album was recorded in just one day at Helluva Lounge (their home ground venue), and it was overdubbed with folk instruments such as Zurna, Santur, and an electronic sound of synthesizer in order to make more psychedelic.
It was mixed by producer Kawabata Makoto of Acid Mothers Temple at his mountain top studio temple in Osaka. It became more psychedelic and exciting by making him a producer. When the show, they play songs with interplay, so it is often played long length. Tracks that are included in the album are the shortest version. 'Deep Throat River Holy Mountain High' is representative song of HIBUSHIBIRE, and the band often play that various versions. 'Freak Out Orgasm!' is the album just like a business card for the rock scene around the world to HIBUSHIBIRE. However, it might be not limited to that.
The band have many musical influences, amongst them being Acid Mothers Temple / High Rise / Mainliner / Blue Cheer / Cactus / Captain Beefheart / Comets On Fire / Frank Zappa / Funkadelic / Gong / Grand Funk Railroad / Hawkwind / King Crimson / Mountain / Sun City Girls / Sir Load Baltimore / Trad Gras Och Stenar / Ash Ra Tempel / CAN / Black Sabbath etc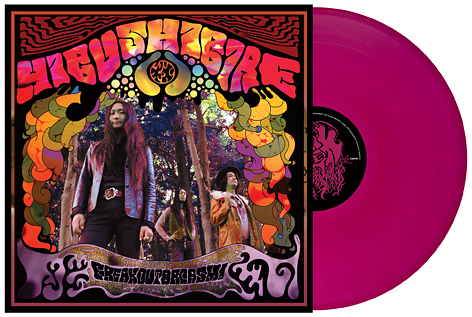 HIBUSHIBIRE plan to tour the UK for the first time during 2017. Feel free to get in touch if you want to come to a show.