LIMITED EDITION 500 ONLY WHITE VINYL 7". THE SINGLE SLEEVE ARTWORK WAS KINDLY DESIGNED BY PETE FOWLER
7" Tracklisting
1. Fly High
2. Open The Shine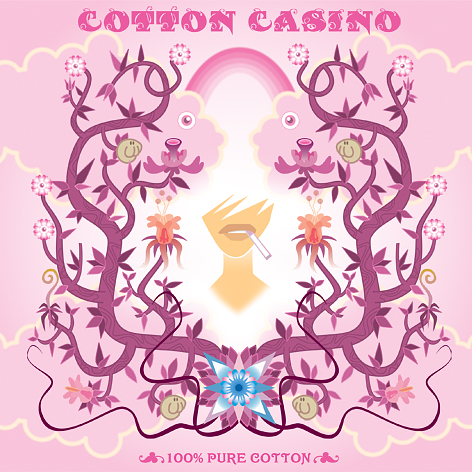 Release Info:
This first solo outing for ACID MOTHERS TEMPLE goddess Cotton Casino comes as a lovely little limited edition 7" on UK label Riot Season. Unlike the previous three RS releases, this one is a sedate affair. It's hard to explain the sound so lets just file it as 'Cotton'. The girl is from another planet and if you've ever seen her in 'super cotton' mode you'll know what we mean. Imagine if the Pizzicato 5 cut an album with Hawkwind or some trad Japanese singing sirens ... its all over the shop.
Cotton's beautiful and underused voice gets buried under sweeping space synths and weird pop. It's not heavy and there are no guitars wailing either. The full colour artwork is done by acclaimed UK artist Pete Fowler who spends most of his time doing all the Super Furry Animals sleeves (+ also the ultra rare AMT 'Monster Of The Universe' tour 7"). It looks better than great and sounds fucking mad. Super limited and 100% PURE COTTON!. Once its gone its gone for good. No repress.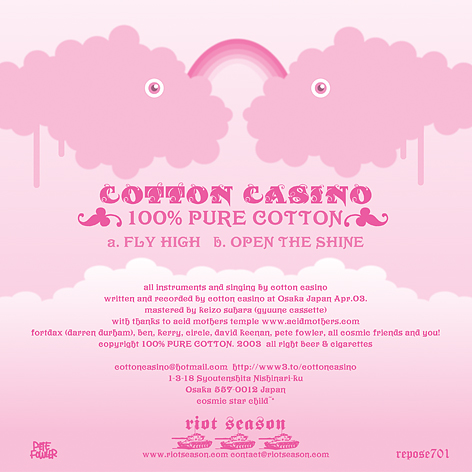 REVIEWS
Riot Season, the label that recently reissued Mainliner's Mellow Out album, has released two new limited 7"s. The first is Cotton Casino's first official solo release; she of course being the "cigarette and beer" player—as well as keyboards and voice—in Acid Mothers Temple. This 7" is actually one of very many recent releases by Cotton; those thinking maybe the Acid Mothers Temple were taking a break should look for Cotton's 3 one-song, limited to 100 CDRs on her Cosmic Star Child label, the second Double Pardons CD, as well as her upcoming We Love Cotton album on Sillyboy, all coming since late Spring/early Summer. However, those looking for more Acid Mothers may want to think twice before checking out this 7", as it is by no means pyschedelic (those looking for psychedelic Cotton should find a copy of the Cosmic Star Child CDRs). The two songs on the 100% Pure Cotton EP are bubblegum pop... perhaps if the bubblegum were laced with some sort of mind altering substance, but still bubblegum nonetheless. Think synth pop like Takako Minekawa or something like that but with free tone-bending, whistling synths filling the space around the simple keyboard melodies. The A-side, "Fly High," is mediocre; the melody beneath the whistling sounds is so childlike in its simplicity, it could have been composed by anyone. Unlike much of her vocals in Acid Mothers, Cotton sings lyrics here; they are in Japanese so I am not sure what she's singing, but on "Fly High" comes off sprightly and joyful. The B-side, "Open the Shine," however, is really good. Instead of using a simple, childish melody, Cotton uses a slow chord progression, adding drum machine for rhythm and texture—somewhat like Her Space Holiday. The tone here is much more melancholy, and Cotton's voice is very expressive, creating a very sad and evocative song, even though I can't understand a word. The song is not unlike later Joy Division, although it's no doubt 100% Cotton
FAKE JAZZ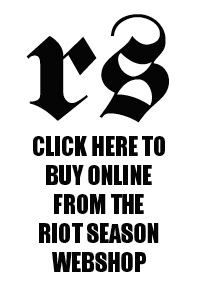 TO BUY ANY AVAILABLE RIOT SEASON RELEASE DIRECT FROM THE LABEL, PLEASE VISIT OUR WEBSHOP BY CLICKING THE IMAGE ABOVE.
ALTERNATIVELY YOU CAN ALSO BUY THE DIGITAL VERSION DIRECT VIA OUR BANDCAMP SITE