CD IN JEWEL CASE. 1500 COPIES ONLY
CD Tracklisting
1. The Man From Giacobinid Meteor Comet
2. Five Dimensional Nightmare
3. Love Electrique
4. Pink Lady Lemonade (May I Drink You Once Again?)
ORDER VIA THE WEBSHOP OR BANDCAMP SITE (IF STILL AVAILABLE)
Release Info:
'Myth Of The Love Electrique' is the second ACID MOTHERS TEMPLE & THE MELTING PARAISO U.F.O. album released by Riot Season, following the relatively laidback 'Minstrel In The Galaxy' (REPOSECD07) in 2004. Musically sitting somewhere between their 1997 self titled debut album (PSF) and the classic 'out-there' double album 'Absolutely Freak Out (Zap Your Mind!!!)' (Staticresonance), 'Myth Of The Love Electrique' explores the many shades of the AMT sound, managing to be both wild and beautiful at the same time.

From the 'in the red' guitar driven album opener 'The Man From Giacobinid Meteor Comet', to some quieter acoustic passages during 'Five Dimensional Nightmare', to the total meltdown felt halfway through the 20 minute 'Love Electrique'. 'Myth Of The Love Electrique' fully explores the whole AMT sound for the first time in years. Live favourite 'Pink Lady Lemonade (May I Drink You Once Again?)', a staple of any AMT live show, is included here on an AMT album for the first time in its normal length, complete with added space whispers from new AMT girl Kitagawa Hao, who fills the now departed Cotton Casino's tiny shoes elegantly.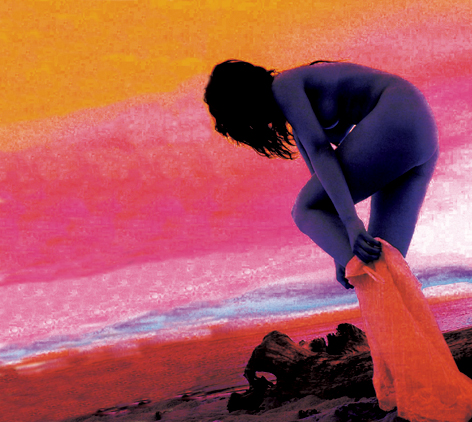 REVIEWS
Albums by Acid Mothers Temple seem to me to come in 3 different grades. You have grade 1: essential. For example: "Univers Zen ou de Zéro à Zéro", "IAO CHANT from The Cosmic Inferno ", "La Nòvia", "Minstrel In The Galaxy" and more. Then there is grade 2: good and enjoyable. For example: "Troubadours From Another Heavenly World", "Magical Power From Mars", "The Penultimate Galactic Bordello Also The World You Made" and more. Finally, you have grade 3 which is for completists only. The kind of albums you enjoy every now and again but you don't play to the mate you're trying to convert into a fan. In this category I'd include "Close Encounters Of The Mutants", "St.Captain Freak Out & The Magic Bamboo Request" and "Starless And Bible Black Sabbath".
So, I'm pleased to say that "Myth Of The Love Electrique" is a grade 1 AMT classic. Carrying on from where 'comeback' album "Have You Seen The Other Side Of The Sky?" left off, they deliver another varied album of different mods, vibes and paces. Furious fret-terror can be found on here, as can moments of minimalist, cosmic, sacred sounds. New vocalist Kitagawa Hao seems to glide effortlessly around in the music, her voice so pure and gentle that it becomes another instrument in the whirl of sounds.
"Pink Lady Lemonade (May I Drink You Once Again?)" sees them closing down the album with another old classic given an epic reinvention, just like they way they re-imagined "Dark Star Blues"for the climax of their last studio album "Have You Seen The Other Side Of The Sky?". A CD can hold about 74 minutes of music, yet some bands make albums less than 40 minutes long. No such problems here, Acid Mothers Temple as always make the most of the space and deliver another grade 1 psychedelic classic
WASISTDAS
Their second release for Riot Season, Myth of The Love Electrique provides a particularly varied set of recordings from the always-compelling Acid Mothers Temple. The fuzzed-out slacker psych rock of 'The Man From Giacobinid Meteor Comet' kicks off proceedings in fine style, a Band Of Gypsys-style wigout with added theramin to keep things suitably otherworldly. Towards the end of its twenty-one minutes, the distortion levels drop to reveal some gentler acoustic passages acompanied by synth drones. That tone is preserved on the next track, 'Five Dimensional Nightmare' a reverberating acoustic rag, coming across like Comus in space. Best of all is the inclusion of live favourite, 'Pink Lady Lemonade (May I Drink Once Again)' which includes the astral warblings of Cotton Casino replacement, Kitagawa Hao, atop an awesome prog cacophany of searing lead guitar and delayed arpeggios. A great addition to their vast, ever-expanding catalogue
BOOMKAT
Only the second AMT album to be released by UK's Riot Season label (the first being 2004's Minstrel In The Galaxy) but, oh, maybe the ten thousandth AMT album overall, right? But we're beginning to think that if AMT were to stop (or even slow down) releasing records, the Universe might end. It just could be that it's their continual championing/channelling of the '70s psychedelic krautrock freakout sound, with their typical overload of druggy electronics and crazy guitars and seductive space whispers, that's keeping the great Cosmic pulse from petering out. Certainly there's enough energy on Myth Of The Love Electrique to power a cosmos or two. This is one of those all-bases-covered AMT releases, with the band utterly rockin' and kicking out the jams on two of the four lengthy tracks here, "The Man From Giacobinid Meteor Comet" and "Love Electrique", while also mellowing out for the acoustic-kraut-folk-drone mystery of "Five Dimensional Nightmare" and a beyond-blissful 20+ minute version of live staple "Pink Lady Lemonade (May I Drink You Once Again)?". Yep, thanks to albums like this, you can count on the Universe not crapping out anytime soon. A very worthy AMT effort indeed.
AQUARIUS
The amazing cosmic cowboys of the east return with yet another new album, and it's fantastic as is relentlessly usual. In fact, it's probably one of their more essential pieces of work. 'The Man From Giacobinid...' is pretty much the Acid Mothers blueprint, with the tempo revved up and Kawabata and his ever-present knob-twiddler Higashi trading whizzes and swoops and huge arching sweeps of sound. It rocks out for fifteen minutes with their trademark freewheeling abandon before petering out, then comes their flipside: the drone-outs. Some of their previous work in this field is a little ponderous, but not on 'Myth Of The Love Electrique'. Here it's as layered and deep and compelling as ever.

And that's the reason this album is among their best. Whether it's the storming slow jam of the (almost) title track or the blissed-out latest version of the classic 'Pink Lady Lemonade', there's not a moment on this 75-minute disc when the listener is even considering turning it off or skipping track. There's no sharp turns, no abrasiveness, nothing too musically complex - but it commands the attention to the last. Its huge and spacey production and rich exotic instrumentation create a unique atmosphere that cannot be turned off. Not all AMT albums have this quality, but most do. That's what makes them an essential item in the 21st century psych-rock fan's collection.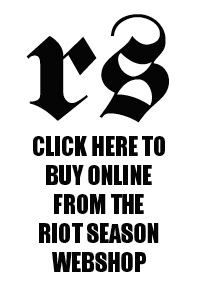 TO BUY ANY AVAILABLE RIOT SEASON RELEASE DIRECT FROM THE LABEL, PLEASE VISIT OUR WEBSHOP BY CLICKING THE IMAGE ABOVE