CD IN JEWEL CASE. 1500 COPIES ONLY
CD Tracklisting

1. Che Gia Si Fa
2. Douchebag (Tales Of Mystery Zone / Sometime In Your Pussy / Lament Of Alter Egos)
3. Traitors With Beautiful Hearts
4. Astro Elvis E.S.P.
5. Santa Sanrodriguez
6. Johnny Johnny Jerusalem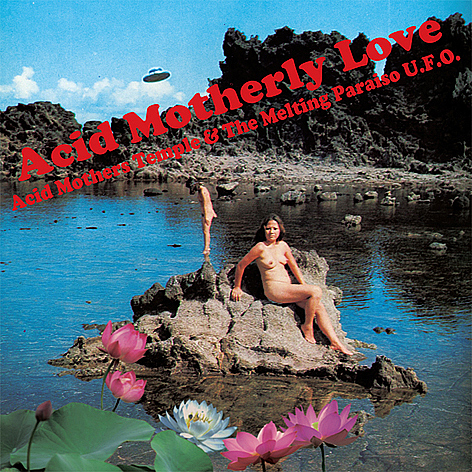 ORDER VIA THE WEBSHOP OR BANDCAMP SITE (IF STILL AVAILABLE)
Release Info:

Now firmly fixed to a solid 4 piece (Tsuyama Atsushi, Higashi Hiroshi, Shimura Koji and Kawabata Makoto) with added guest vocalists, ACID MOTHERS TEMPLE & THE MELTING PARAISO U.F.O. return to their spiritual home of the UK Riot Season for yet another OUT-THERE ride through their weird and psychedelic world. Guitars howl, riffs grow BIGGER with each minute and brains get fried along the way.
Recorded under falling ash and burning roof tiles, 'Acid Motherly Love' features every dimension of their legendary underground sound - from wild riff heavy jams, to quieter acoustic passages and spoken monologues, all capped by the trance inducing 15 minute-plus epic 'Santa Sanrodriguez'. Artwork features the obligatory naked Japanese babes in all their finery.
God Bless AMT!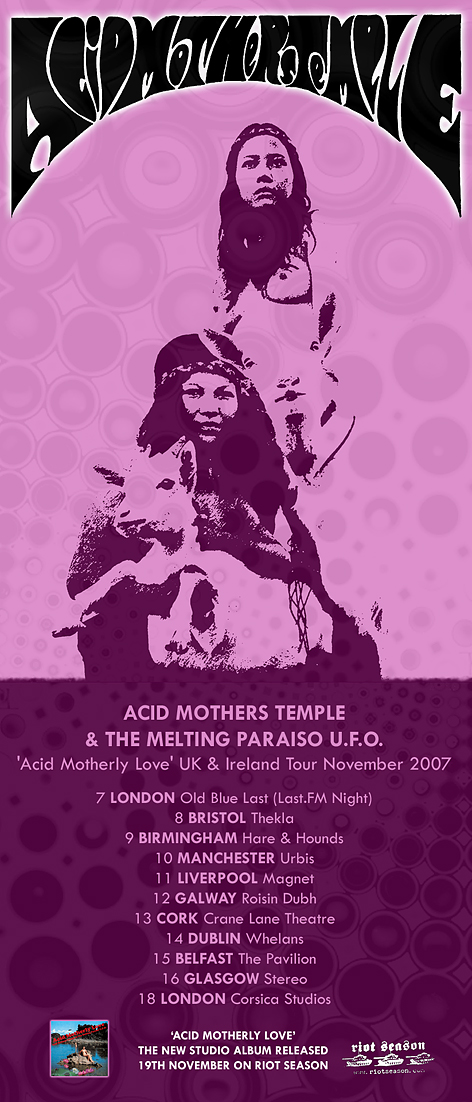 REVIEWS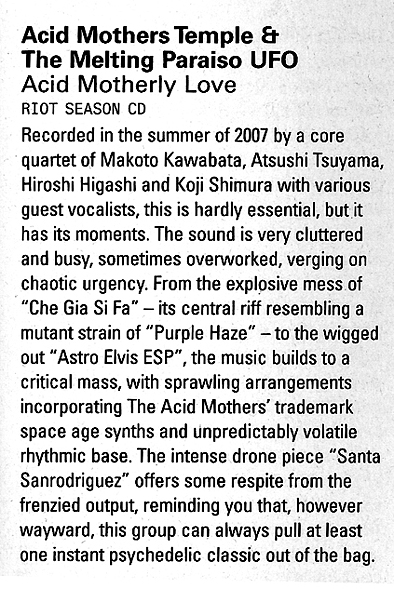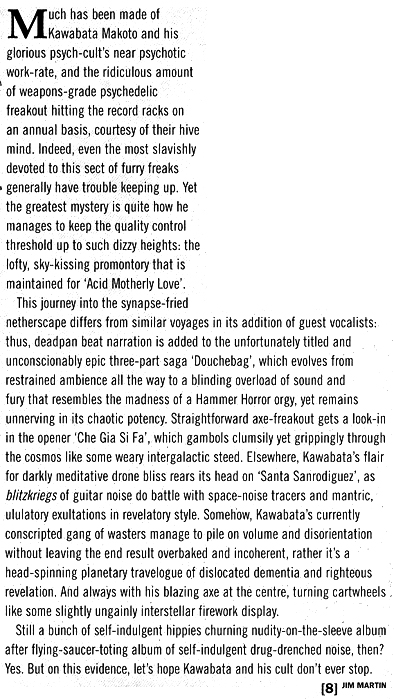 Returning to their Acid Mothers Temple & The Melting Paraiso UFO moniker, Kawabata Makoto and his fellow psych jam explorers have let loose one of their most varied, extensive discs to date. Acid Motherly Love is a prog rock banquet, which maintains its fuzzy psych credentials without losing a sense of narrative. Take the twenty-one minute three-parter 'Douchebag': it all starts off as a tranquil spoken word piece set against a backdrop of organ and acoustic guitar, only to switch to full-blown hard rocking sonic blitzkrieg, eventually winding down into a lengthy passage of feedback and oscillator tones. It's like the Grateful Dead tackling Rush's A Farewell To Kings. Probably. After all that, there's a bit of a comedown in the shape of 'Traitors With Beautiful Hearts', a sprawling four minutes of disconnected sound elements, and palate-cleansing loopiness that piles into 'Astro Elvis ESP', an all-out fuzz fest and ring modulator workout. Weirdest of all is set closer 'Johnny Johnny Jerusalem', a nutty a cappella piece featuring the kind of sound poem silliness you might hear from a jetlagged Jaap Blonk.
BOOMKAT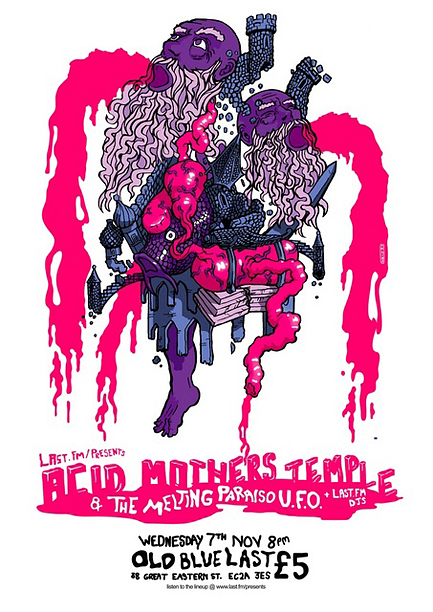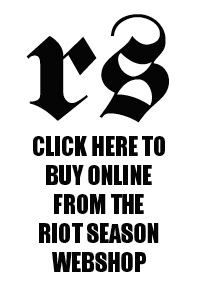 TO BUY ANY AVAILABLE RIOT SEASON RELEASE DIRECT FROM THE LABEL, PLEASE VISIT OUR WEBSHOP BY CLICKING THE IMAGE ABOVE