LIMITED EDITION 1000 ONLY CD IN JEWEL CASE. IN 2017 THIS ALBUM WAS ALSO ISSUED ON VINYL

CD Tracklisting

1. War Crows
2. Tight Collar
3. Are Nice Men
4. Fire Up The Tambourine
5. Are Coming To Kill You All
6. Permanent Vacation Part 1
7. Permanent Vacation Part 2
8. Overlord Rapture In Vines Part 9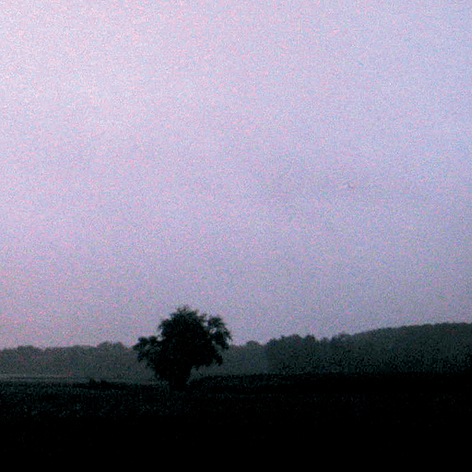 ORDER VIA THE WEBSHOP OR BANDCAMP SITE (IF STILL AVAILABLE)
Release Info:
Release Info : From headlong infusions of psychedelic rock to the limitless furrows of doom, in "Happy Birthday" London's Hey Colossus has constructed an all conquering citadel of experimental/metal disrepair. The album is a rampaging fire-cloud of superstoked riffs and ever mounting walls of feedback, a rough house collection of battering new songs driven at sweltering pace by a band with a fearless momentum. The is the record that the band has always threatened to unleash - a pitch black album for our ever scorched earth.
For fans of : Unsane, Neu!, Circle, Corrupted, Eyehategod, Fudge Tunnel, Sludge, Doom etc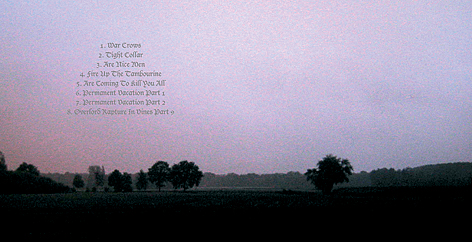 REVIEWS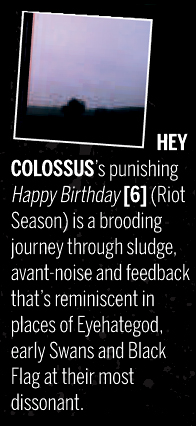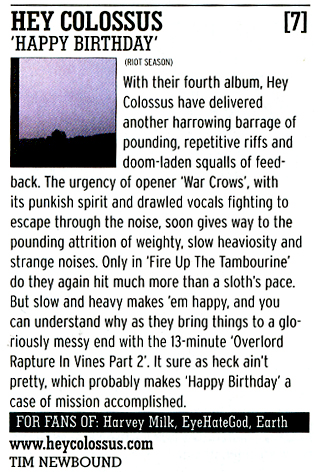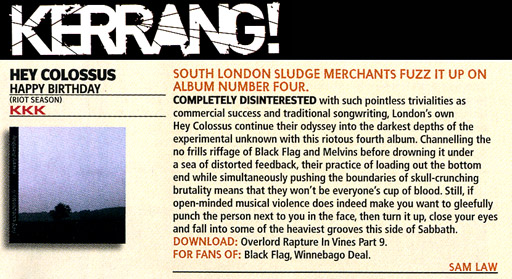 On latest opus Happy Birthday, Hey Colossus become even more harried and spacey. Thankfully, the band's out-there mentality comes across as more mad scientist than stoned hippy. The majority of Happy Birthday is static-infused chaos featuring pounding dirges that allude to the early days of hardcore but are far more comfortable wallowing in the murky soup of apocalyptic doom metal. Occasionally, subtle influxes of psychedelia creep in to create a mind-numbing experience akin to the more abrasive artistic elements of Sonic Youth, Can's oddball leanings and Hawkwind's experimental drive. Round all that out with Eyehategod's relentless dirge and Melvins' freakishness and Happy Birthday is equal parts entertaining and confusing.
EXCLAIM
Killer album. Truly magnificent. Listening to this is like being dragged face-first into the deepest circle of Hell, via metal-drenched Birmingham and repetition-drenched Berlin. Fuck! Frighteningly addictive.
DISKANT
So much good music being created around the globe it is impossible to keep up with all of it. It sucks that we only come to know of a great band like Hey Colossus when they are two, three and even four recordings deep into their careers. That I come across bands like this at all, is a chance of luck that I should thank to someone. Too bad, I am still not sure who I should thank though.
Anyway, last week was Black Sun with that amazing recording Paralyser and this week is the turn of England's Hey Colossus whose latest full-length Happy Birthday is a lesson in perfect tonalities and low bottom battering. For the most part Hey Colossus' music is far removed from that of your average doom metal band. Their songs tend to drone quite a bit and here and there their music drags in funeral fashion but somehow somewhere within their deep cavernous low trembles and the deranged vocals, their tunes manage to groove. The first song "War Crows" is perfectly placed; it's the friendliest of the bunch and it comes driven by a bass sound Scott Reeder would in his best day envy and is magnified via distorted psychedelic mini chorus voices. To say, this is the grooviest doom/stoner track I've heard all year would be a disservice to the talents of this gloomy bunch.
Happy Birthday becomes more difficult as we get further into it. The bass sound remains thick and stellar but the songs lose uniformity, adopting a more amorphous and experimental angle. The vocals are deranged throughout; it's one of the most solid consistencies of the record. They are buried amidst the fattest of sounds, underneath the thickest of tonalities, they are desperate screams constantly figuring out their topic of choice. "Fire Up the Tambourine" sounds like drowning, the invading feedback-like noise sweeps the song awashed but the steady drumbeat and the congruency of the guitar riff make this beauty the second most accessible piece.
This South London sextet demands to be heard. I urge you to check this band out. I confess, I went hunting illegally through their past material and was unable to find any of their several 7"s and full-lengths. I feel now forced to buy it through a reliable retailer. Hey Colossus has been together at least since 2003 (their oldest release dates to January 2004) and fans of mammoth sounds have a new mamma to come weep to. Highly recommended.
DEAD SPARROW
Completely disinterested with such pointless trivialities as commercial success and traditional song writing, London's own Hey Colossus contue thier odyssey into the darkest depths of the experimental unknown with this riotous fourth album. Channeling the no frills riffage of Black Flag and Melvins before drowning it under a sea of distorted feedback, their practice of loading out the bottom end while simultaniously pushing the boundries of skull-crushing brutality means that they won't be everyones cup of blood. Still, if open minded musical violence does indeed make you want to gleefully punch the person next to you in the face, then turn it up, close your eyes and fall into some of the heaviest grooves this side of Sabbath.
KERRANG!
Hey Colossus with everyone a Happy Birthday, though it doesn't sound much like it as they spear great trundling rafts of noise with subsurface megaphonic vocals (then surge, unearthly, into a sludgecore overdrive). Their single-minded spasms of FX and fervid, rhythmic imperatives mashed together make heady, mind-altering stuff; which falls, inevitably, at the riff-heavy end of the spectrum.

Their fearless partnering of doom with a generous amount of motorik linearity weighs a good few tons; and the clever part, the key to their immensity, is to be found at the point where supercharged drums, innumerable guitars and electronics coalesce into a mighty, earth-trembling whole. This grinding magnitude of sound has a sheer inevitability about it. No respite is offered – there's simply the promise of yet more feedback, more effects mangled into the fathomless low end; and the occasional explosive release on a hammering beat. Sometimes, it's like being screamed at by an omnipresent demagogue in a hurricane; one who's determined to buttonhole passers by and make them damn well listen – even if they've already been deafened by the surrounding storm. 'Intense' is an overused description, but Hey Colossus deserve it. Utterly.
PLAN B


ALBUM OF THE WEEK : HEY COLOSSUS – Happy Birthday (Riot Season)

One great big beautiful shit-storm of glorious noise and feedback-drenched wholesomely good goodness. Violence can be a wonderful thing and this is as raw and abrasive as the London band have ever been, total overkill. Now if Motörhead were to make a new album that sounded anything like this then everything would be perfect with the world. Like we said last time, Hey Colossus long since blew way past their intended aim of just making something that sounded somewhere like a place where Fudge Tunnel meet Can - compared to this, that place would be a paradise of mellow peace and ambient relaxation. This is the pure art of violent noise, corrosive hate-filled hardcore and hardboiled resonance, this is a serious heavy metal challenge, can you take it? Think a bleak and black Hawkwind in a cement mixer churning up enough sludge to crush all and then double it and add some more. This is like that time Psychic TV set out with the deliberate intention of driving the entire audience out of the Wardour Street Marquee and almost succeeded – this is a beautiful shit-storm of glorious noise. And in there somewhere under the rust and the jagged bits there's a primal sophistication waiting to be harvested, it wouldn't work if the art wasn't clever, if they weren't in some kind of structured control, if they weren't such good musicians. This is clearly an album that you'll never ever get bored with - static violence, piercing delights and clever art waiting underneath all the multiple layers of fuzz guitars that fuse together to sound like a badly recorded Inner City Unit bootleg where some weird wired tribe has taken over half the stage and set fire to the PA – brilliant! Absolutely brilliant! Only way to feel the noise is when it's good and loud, so good you can't believe it, screaming with the crowd, don't sweat it, get it back to you. Ah yes, this is indeed the full-on shit - shake your head, you must be dead if it don't make you fly!
THE ORGAN


Frenzied, noisy and good & deep too. Just as I was beginning to get really bored of this Nu-Noise thing that seems to be getting well trendy and horribly overblown and repetitive at the moment - now listen all you shitty indie zines fuelling the fire, every band playing it is NOT genius, sort it out! - along comes a band who undoubtedly
play with a fair amount of those bands but who are actually fundamentally quite different. Hey Colossus - for it is they - hail from somewhere near my own neck of the
alleged woods, dahn Saaaf Landan, and are indeed a set of noisy bastards. But while many other grump and grind, the Collosans have a few more strings
to their bow. Such as: an underlying understanding of prog rock, and enough nouse to use such to their advantage in a musical context, if you can look behind the
distorted everythings to find it. Also, they know when to play slow and how to change tempo at the same time - which many others don't. "Happy Birthday" won't be winning any gold discs, but it might yet introduce a few more people to the subtleties of this band, as it's probably harder to pick up on those in a moshpit with everything at 999 decibels. 4/5 For fans of: Boredoms, Lords, Trencher
SUBBA CULTCHA


London avant-metallers Hey Colossus are able to distil all the most ferocious and uncompromising elements of the heaviest strands of rock music, having assembled a fearsome album's worth of low-end grind, high speed thrash and syrupy psychedelia. After the bracing kraut-ish repetitions of 'War Crows', the band enter into the single-figures bpm counts of sludge-athon 'Tight Collar', only to dispense copious volumes of filth for the barely intelligible 'Are Nice Men'. And then it gets really vicious. On the cosmic stoner wigout 'Fire Up The Tambourine', the production seems to devour the frilly wah-wah guitar solos flapping about the mix, only to spit them out as pulverised oscillations. This is only the halfway point, and there's no let-up until the final thirteen-minute riff meltdown 'Overlord Rapture In Vines Part 2' which might well be the best thing here, conjuring images of Boris, Bardo Pond and other such psych-metal behemoths.
BOOMKAT


From the same dung-smeared stable as French Occult-rockers Aluk Tolodo comes Watford's finest - Hey Colossus - who show up for work with a bucketful of maggots and some early Can albums. Great to see that the Black Metal/Krautrock interface (Black Motorik, anyone?) championed by the likes of Aluk and the Circle/Pharoah Overlord posse is continuing to gather momentum. And momentum is certainly the key word where Hey Colossus are concerned. The HC boys enjoy a deep, dark draught from the Horn of Slow Heavy Sludge, right enough, but let 'em off the leash and they soon start revving-up their engines, ready to hit the road. 'War Crows' emerges from a squall of feedback sounding like Todd off their tits on bathtub crank: full-throttle, panic-stricken, pedal-to-the-metal straight down Route 666. Imagine Neu! if they'd been raised by werewolves or Klaus Dinger's corpse road-testing the Devil's own hot-rod. Breathless and beautifully messy.
FACT MAGAZINE
London's heaviest, most hypnotic head-cavers, Hey Colossus, have found a home for their third album on the Riot Season label, who have previously brought us noize from the likes of Mainliner, Shit and Shine, and Aufgehoben. Heck, the label's logo features a trio of tanks, so of course Hey Colossus is a good match for their aesthetic. Being so brutally heavy and all, tank-like basically.

Happy Birthday (ironic title we guess, this is about as far from "Happy Birthday" the song as you can get) sees Hey Colossus doing what they do best: throbbing, distorted, kill 'em all action. Uber heavy, totally bad trip psychedelic. From the feedback intro of opening track "War Crows" and the rasping, ranting throat abuse that follows amidst pulsating, amped up electric murk, this Hey Colossus album destroys like a more rockin' version of Khanate... the Khanate comparison even more apropos on the next track, the more slowly thudding "Tight Collar". Part metal, part punk, part psych... what to call it? Ugly rawk doom drone maybe? With wailing Hawkwindy ampfriedification n' FX, heading into tortured dead zones of sheer nihilistic sludge, Hey Colossus fits in with such faves as Indian, Brainbombs, Unsane, Cadaver In Drag, godheadSilo, Pissed Jeans, Vincent Black Shadow, Cavity, Rusted Shut... and those other Riot Season acts mentioned at the beginning of this review. In other words, glorious stuff for those so inclined (like us!), pulling the listener who dares inexorably into its extreme vortex.

There's eight tracks here, 46+ minutes of the Hey Colossus experience, which threatens to run itself (and you) off the rails into total insanity as it rocks and rumbles on. Can't pick fave tracks really, they're all pretty badass, but the driving uptempo umph of the waveringly blown-out "Fire Up The Tambourine" is certainly quite wicked. Even more out there, "Permanent Vacation" parts 1 and 2 is full of bottom-of-the-abyss, buried alive vocals in a shitstorm of droning distortion... And how can we not like a track, especially a pounding, noisy, rhythmic near-13 minute epic, that's called "Overlord Rapture In Vines Part 2"?? It's the psycho-delic explosion that ends this album appropriately apocalyptically. Happy fuckin' birthday indeed.
AQUARIUS RECORDS


Really coming of (middle) age, Hey Colossus take their motorik Sabbath splurge to the next logical extreme and go straight for the jugular with a no holds barred, noise-drenched feedback-fest. Songs are reduced to riffs, riffs are reduced to a few notes, and notes are reduced to aaaarrrgghhhs, as deceptively simple songs are hammered into your brain with all the subtlety of a breezeblock, played for as long as the band can drunkedly endure, before it all abruptly collapses in on itself in gloriously bloody-minded fashion. Special mention must go to the last track, "Overlord Rapture In Vines Pt. 9" (or some such bollocks), which manages to pound out two notes for a total of TWELVE minutes! Imagine Circle if they had got rat-arsed, fallen into a hedge and started shouting at you while you waited for the bus. Wunderbar
COLLECTIVE ZINE


'Happy Birthday' says the sleeve, if this was what happened on your birthday in aural form, then frankly, I feel sorry for you. Hey Colossus have come back to rattle the last dwindling drops of sweat out of us all again and it's business as usual. Even more wrapped in the thick fuzz that they seem to have now adopted from last album 'Project:Death', they set about this album with a determined and drawn out aesthetic.

From opener 'War Crows' with its stoner groove and barked vocals, to second track 'Tight Collar' with its slow and unpleasant reverberations, it's all a droning, dirty mess and it's what we have all come to expect from the super-productive chaps. Then, as if from nowhere, comes the spirit of Norwegian black metal, the production values are matched and blasting ensues in the form of 'Are Nice Men', a nice surprise.

What is even more surprising, and a little disturbing is 'Fire Up The Tambourine' a track that is either pure, insane genius, or an absolute piss take. What ensues is an all-out jam sounding track and the most high-pitched vocals ever recorded under the name Hey Colossus and it's riotous, and possibly my favourite Hey C song so far, batshit insane but incredible.

The jam-band theme continues with the monstrous 'Are Coming To Kill You All' and it sounds like rather than writing traditional songs, this time the chaps have decided to jam out certain riffs to death with a new line in static-soaked vocals (kinda sounds like someone screaming down a phone so loud its distorting, nice).

'Permanent Vacation' parts one and two follow with their slug-like pace and swathes of digital creaking, before ending with more tortured sounding phone-like vocals.
Layers upon layers of guitars and a constant, single riff gradually slow down to the end of closing track 'Overlord Rapture In Vines' which rounds off what is Hey Colossus' most tripped-out release yet, it's their mark all over it, but feels like another band altogether, this album shows what can be done when you abandon the usual songwriting drudgery.
NINEHERTZ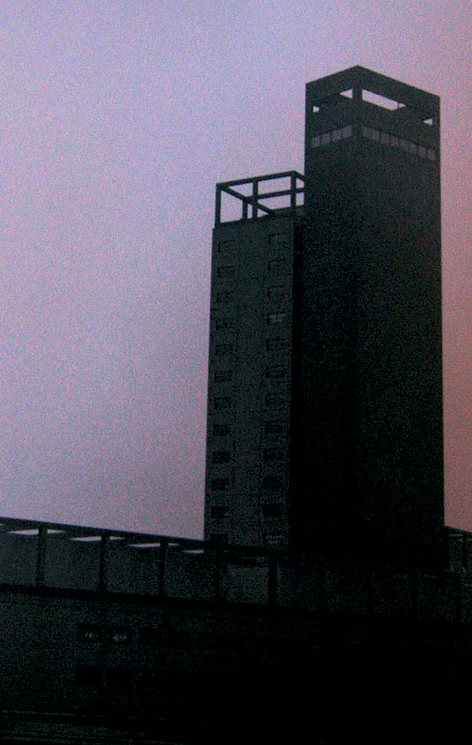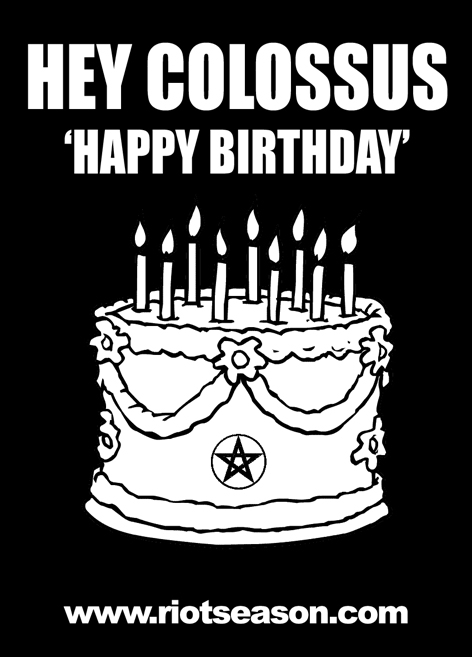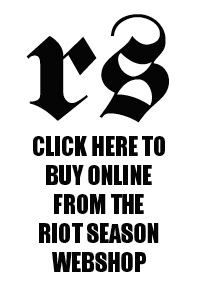 TO BUY ANY AVAILABLE RIOT SEASON RELEASE DIRECT FROM THE LABEL, PLEASE VISIT OUR WEBSHOP BY CLICKING THE IMAGE ABOVE