CD IN JEWEL CASE. MAIL ORDER COPIES CAME WITH A FREE EXCLUSIVE BONUS DOWNLOAD EP 'HEADSTRONG'
CD Tracklisting
1. Pathological Freemind Verse (2:17)
2. Right Models (1:59)
3. River Jude (2:41)
4. Indians Love Rain (6:52)
5. Suspence BIRD / HUMAN (1:47)
6. Cinghiale (2:53)
7. The Crumbled (0:12)
8. Golden Fame (5:44)
9. The Loss Of Their Teeth (1:22)
10. The Red Print (8:40) Featuring Eugene Robinson (Oxbow)
11. Torches Of Freedom (6:16)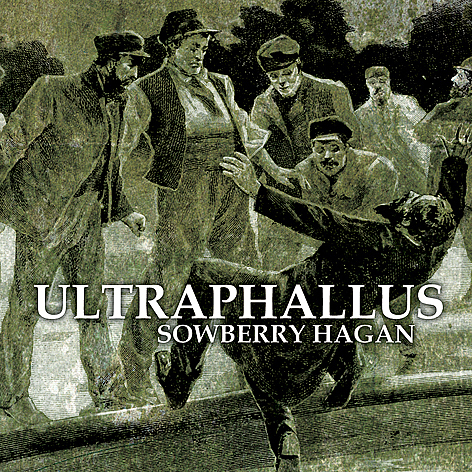 ORDER VIA THE WEBSHOP OR BANDCAMP SITE (IF STILL AVAILABLE)
Release Info:
The band, formed in Liége in 2004, and after a succession of album releases and high profile European tour slots they are back with their third album and a new sound.
Sowberry Hagan was recorded in just four days in a farm near Liége. The album combines their well-honed sound of cacophonous guitar riffs juxtaposed with hypnotic, ambient doom whilst also experimenting with new sounds. By introducing new instruments to the fold including banjo, alto and soprano saxophones, and other instrumental samples, Ultraphallus have reinvented themselves and are crafting their very own new definition of doom. They have certainly pulled out all the stops for Sowberry Hagan as they have also recruited the help of special guest Eugene Robinson (Oxbow) who carries his trademark, talented voice for an epic eight minute ambient-rock track. The result is an album more dark and more encompassing as ever before.
If you have yet to be consumed by Ultraphallus' atmospheric sounds then this is a good place to start.
Mastered by James Plotkin.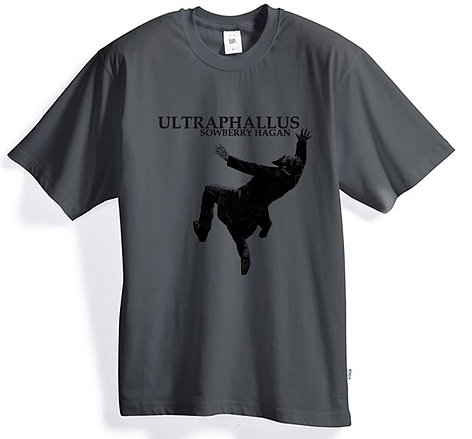 REVIEWS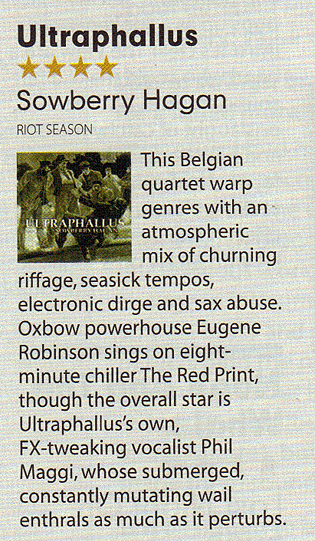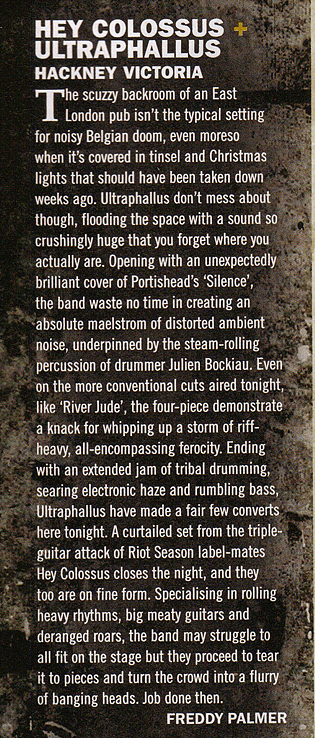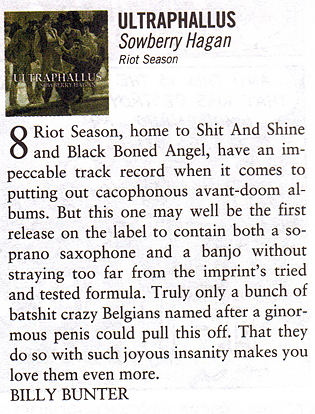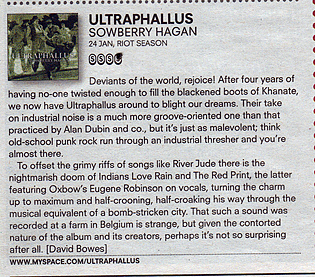 In an effort to bring the harshest, most brutal music to an ever eager audience, UK noise label Riot Season has cast its net as far as the lowlands of Europe, drawing back a find of monstrous proportions for its latest dispatch. Already hard-bitten veterans in their own country of Belgium, "Sowberry Hagan" marks the UK debut of Ultraphallus. A near unquantifiable trawl at first, it steers a path through seething industrial ambience and sense-deranging rock, vacillating from creepily abrasive tracks like "Suspense BIRD/HUMAN" to the bilious riff brawn of longer, more satisfyingly heavy pieces such as "Indians Love Rain" Singer Phil Maggi's trashcan rasp weaves with ease among these sonic wranglings, a cadaverous sound field gradually stripped away until all that's left for guest Eugene Robinson is to drool over the bones, as he does to chilling effect during the ghost-laden swells of "The Red Print". In creating this striking and unpredictable album, Ultraphallus have announced themselves as a grisly new force at large in extreme music.
ROCK-A-ROLLA MAGAZINE
As is the mighty SOWBERRY HAGAN, the latest evil monster from Liege's Ultraphallus with which I've chosen to conclude this first Reviews Section for 2011CE. Kiddies, this is one dark experience that irrigates your heart and blasts open your wintertime synapses; one motherfucker of a T R I P, perpetual and ever-unfolding like some ambient panto of Metal Deluge. Like Japan's free cult Death Comes Along, Ultraphallus exhibit a truly daring approach to their recordings, (here) capturing the moment herein with that same abandoned Abbadon approach as side 2 of Patti Smith's RADIO ETHIOPIA, or (there) presenting exquisitely researched & presented meditations on Tony Iommi in a psychological stylee, (elsewhere) mush-mouthed as Lizard Jimbo via Burton Cummings. I mean, C'mon! It makes dark sense that Ultraphallus hail from one of my World Bogey Cities (Nagoya and Munich are the others), but there's a satanic inventiveness of presentation to this SOWBERRY HAGAN – in its cinematic presentation that pitches this record outside of categories and into 'instructional' i.e.: useful. Released on the always-fascinating Riot Season record label (www.riotseason.com), it's pretty early in the year for SOWBERRY HAGAN to be setting the rock'n'roll bar so high. Gentlemen, you are to be congratulated!

HEAD HERITAGE / JULIAN COPE
I wasn't massively keen on reviewing this album. Not because it's shit (it's good), but because I have the kind of flu that only Beecham's Max-est of strengths (other brands are available) can deal with. The kind of sinus-raping man-disease that makes you want to listen to nowt more than the hoarse rattle of your clogged windpipe – just so you know you are still alive.
But Ultraphallus it is. Straight out of Belgium, "Sowberry Hagan" is Album the Third since their 2002 formation, and it ticks all the right doom/sludge boxes – with that added bit of P.E experimentation that sets Riot Season bands apart from the hipster Hoi Polloi of noise.
"Sowberry Hagan" itself (regardless of what the press release says) is rather utilitarian in form. The ethos seems to be "Make what you can with what you've got" (Banjo aside). And I don't mean that as a detraction, because they fucking kill it. Sonically, the static buzzsaw-fuzz layers over the songs disembowel you like a rusty knife through tripe. 'Proper' hardcore wailing (think more Refused than pig squeals) steer the songs through a rancid canal. Watertight rhythmic plodding menaces.
The last two tracks are a bit of an about-face, however. The unsettling ambiance hinted at on the majority of the record is allowed to consume completely. Oxbow's Eugene Robinson (somewhat of a 'voice-of-nightmares-for-hire') wipes toxic scum from the top of an effervescent vat of sludge and found-sounds, yodelling 'It rains on the just and the unjust alike'. Grim.
This form continues into album-closer 'Torches of Freedom', which echoes some of Content Nullity's more unsettling and contemplative moments. A sampled monologue reinforces the 'abandon hope, all ye who enter' dogma, albeit exasperatedly.
A solid album, is 'Sowberry Hagan', with tantalising hints of the next long player. I'll be waiting.
ATTN MAGAZINE
What a splendid and sumptuous thing this is. A vast, oily pool of murk that crashes blithely between thundersome, brute-force riffing, Yowish noise-rock caterwauling and introspective bouts of fizzling, nape-tingling ambience. Perhaps the closest point of reference would be a more lumpen, less artful (note: this is NOT a criticism!) take on the terrain Oxbow were mapping out with 'An Evil Heat', and the fact that Eugene Robinson lends his distinctive vocals to one track is more than a little telling. Regardless of their varied pool of influences 'Sowberry Hagan' is very much its own beast, a bizarrely triumphant confluence of sounds and styles that's as comfortable clubbing you roughly round the head with an over-sized Iommian riff as it is melting your mind with wheedling sax runs or errant banjo licks.
COLLECTIVE ZINE
When you're presented with a band called Ultraphallus, a number of things might run through your head - besides the epic greatness of such a moniker, of course. However, whatever you think the accompanying material might sound like - say, apocalyptic, neo-fascist, euro-dance (just me?) - what does in fact lie beneath this imposing title are some of the most potent and uncompromising pieces of music that many of us would probably, quite effortlessly, label 'heavy', or perhaps more specifically - and to the band's disdain - 'doom', within a fraction of a second.

Dealing with the latter though, there are elements present in the Belgian group's latest effort, Sowberry Hagan, that are about as gut-bustingly heavy, achingly slow and disgustingly morbid as one would ever hope to hear from anything else haggardly taped to the genre. The spewing murkiness of opener, 'Pathological Freemind Verse' certainly brings about feelings of despair and indeed impending doom with it's slow, sludgy grind and bleak, bass-heavy fug. Much like the unforgiving gut punch of 'Indians Love Rain', which, as it emerges from flurries of tense, guitar atmospherics, soon descends into scattered moments of pure evil, pre-empting a riff of pure blues-inspired chaos.

But, like all good records this is an album too explorative and ever-changing to fit inside any man-made, and in this case, doom-shaped, pigeon hole. Purposefully recorded to omit a continuous, almost impenetrable haze - sometimes as a result of the 'Phallus's decision to record some tracks rough'n'ready in the practise room - the combination of full-force brutality, uncompromising samples and noise-manipulation help imbue the record with a palpable sense of destruction and danger.

Having said that, there are a few 'straight-up' numbers that show an occasional yet no less impressive knack for just getting straight to the fucking point with a bludgeoning, skull-crusher of a riff. 'Right Models' is a fantastic example, boasting rampaging, murky guitar licks and throat-slashing howls performed at such a pace, and with such groove that it sounds like apt musical accompaniment only to bikers - preferably undead - kicking the shit out of each other on some barren highway. 'River Jude' too, capitalises on the band's ability turn minimal notes into ear-baiting murder weapons, this time, adopting a more sluggish pace.

If things weren't already creepy and intrusive enough, 'The Crumbled's 12-second tip of the hat to 'Dueling Banjos' and, in turn, Deliverance, the movie that steeped it in infamy, interjects a little tongue-cheek darkness. Soon after, 'The Red Print' demonstrates another dirt-encrusted jewel in Sowberry Hagan's crown, teaming up with Oxbow's Eugene Robinson. Not nearly as direct as much of the material Robinson has been known to lend his hands and iron-clad croon to, let alone some of the pieces on this album, but this eight-minute long passage is just as, if not more unsettling, setting up the searing noise of closer, 'Torches Of Freedom'.
Ultimately, Sowberry Hagan might be an endurance test for anyone adverse to
sprawling, manic and punishingly hard music but a rare gift for lovers of
all things doom that want more balls, less formula. 8/10

DROWNED IN SOUND
Gloomy. That's Ultraphallus' sound in a nutshell. Sowberry Hagan doesn't shy away from this word, mixing equal parts sludge rock, drone, musique concrète and ambience. It sounds like a "chalk and cheese" type of situation, but believe you me, it's more of a "peas and carrots" thing.
Sowberry Hagan starts with two tracks that forebode the later half of the album. 'Pathological freemind verse' (!) is full-on atmosphere and 'Right models' goes a little punky, bleeding into 'River Jude', where a larynx seems to have been replaced by a distortion pedal daisy-chained to a green ringer. It all seems to be a short song affair, until it gets to track four.
Track four? 'Indians love rain'. I have no idea what the title refers to, but I can tell you straight of the bat that it's the best track on the album. It's not as experimental as 'Cinghiale', which sports a muddied sax solo buried deep in the mix, but it's a pretty good song that is unnerving and punchy, slow but not plodding.
It's obvious there is some sense of humour in this band, and they put a quick, blink-and-you-miss banjo solo (12 seconds) called 'The crumbled' before a pretty heavy song ('Golden fame'), that again uses a banjo as an extra brush in their palette of sound. Again, foreboding.
Ultraphallus seemed to save the best for last. Sowberry Hagan finishes with a rope-a-dope, called 'The Red Print' and 'Torches of freedom'. The first is an unsettling slow-burner heavily seasoned with strange noises (sounds like a distorted sample of someone crying), a bassy synth and a very anguished voice, delivered by Eugene Robinson (from Oxbow, a legendary noise band from San Francisco).
'Torches of freedom' forgoes any vocals and just lets the instruments do the talking. The droning sounds, the distorted speech samples and the general mixing of the song makes it a perfect album closer. It could easily be the soundtrack of the ending cutscene of a videogame, the one where everything is revealed and the twists come to pull the carpet below your feet. I personally feel like I'm watching the cool ending for Diablo 2, but your experience might vary.
Muddy, heavy and a little paranoiac, Sowberry Hagan gladly will swagger its sludge genre gold star everywhere it goes. If you like ominous, stark music, check it out. Be sure to use to use some good headphones, as there a lot of stuff going here that adds to the atmosphere (creepy voices, found sounds) and it can be lost in the cheaper sets of earbuds.
THE FOUR OH FIVE (7/10)
Deviants of the world, rejoice! After four years of having no-one twisted enough to fill the blackened boots of Khanate, we now have Ultraphallus around to blight our dreams. Their take on industrial noise is a much more groove-oriented one than that practiced by Alan Dubin and co., but it's just as malevolent; think old-school punk rock run through an industrial thresher and you're almost there.

To offset the grimy riffs of songs like River Jude there is the nightmarish doom of Indians Love Rain and The Red Print, the latter featuring Oxbow's Eugene Robinson on vocals, turning the charm up to maximum and half-crooning, half-croaking his way through the musical equivalent of a bomb-stricken city. That such a sound was recorded at a farm in Belgium is strange, but given the contorted nature of the album and its creators, perhaps it's not so surprising after all.

THE SKINNY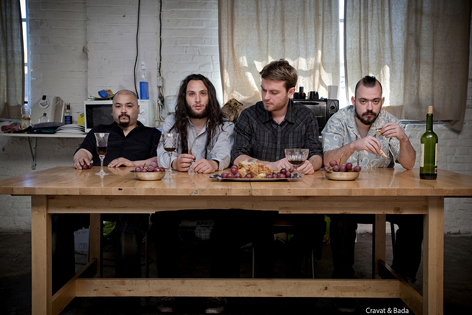 UK TOUR WEB BANNER 2011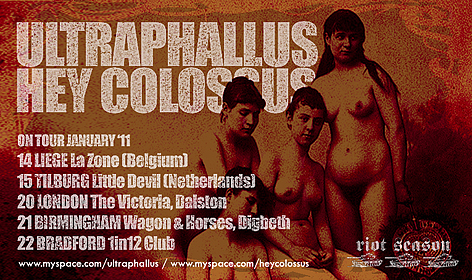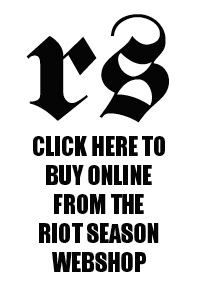 TO BUY ANY AVAILABLE RIOT SEASON RELEASE DIRECT FROM THE LABEL, PLEASE VISIT OUR WEBSHOP BY CLICKING THE IMAGE ABOVE