CD IN JEWEL CASE
CD Tracklisting
1. Solar Ipse
2. Avant Primitiv
3. No Process
4. Doxa Caveat
5. Hordes
6. Anno Fauve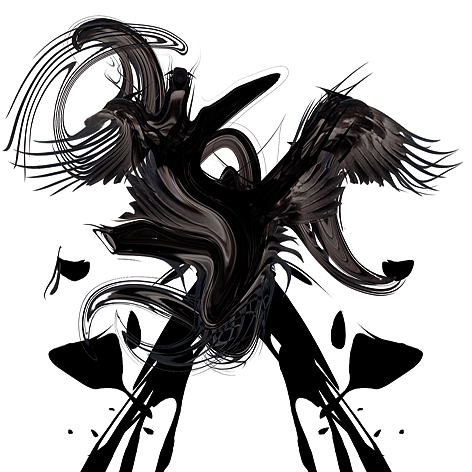 ORDER VIA THE WEBSHOP OR BANDCAMP SITE (IF STILL AVAILABLE)
Release Info:
What you'll hear trapped within this plastic jewel case, are the remains of three years cutting up and piecing back together in their secret South coast bunker. "Anno Fauve" sees the band collaborate once again with stereo guitar virtuoso Gary Smith (Mass, Glass Cage, Powerfield etc) and once again they've succeeded in stretching all known listening boundaries!

AUFGEHOBEN are not to be taken lightly. AUFGEHOBEN are threatening to play live soon. Be afraid!

"Anno Fauve" is an album for those who like their music DIFFICULT. As if the density, dynamics and bludgeoning distortion levels that have become the hallmarks of an AUFGEHOBEN release weren't difficult enough, "Anno Fauve" is an album that performs more conceptual back-flips than a whole troupe of dialecticians, is scored with more weather-worn fractures and fissures than the pyramids or Samuel Beckett's face, and is laced with the kinds of ambiguities, extremities and refusals of resolution that mean it will only divulge its secrets slowly over eons while leaving its central mysteries intact.

"Anno Fauve" took one day to record and almost three years to complete, and it's the third album from the "mysterious" and sonically extreme Brighton and London based collective AUFGEHOBEN­, who have been described as one of the very few British bands to be "genuinely stretching the boundaries of accepted listening laws." Their working practices are unusual; they rarely meet, never rehearse, never write, play only to record, and subject their recordings to such violent editing and processing procedures that little of the music's improvised core remains intact. Despite the fact that the music begins in improvisation, AUFGEHOBEN have no interest in preserving anything of the organic interaction between musicians. As one reviewer remarked, AUFGEHOBEN "take a shitstirring delight in going after these purist truisms with chainsaws." They retain a strict policy of anonymity (they refuse name credits on any of their albums) and since their collaboration with stereo guitar virtuoso Gary Smith (Mass, Glass Cage, Powerfield etc) began at the dawn of the millennium, they've been gourdportalplaning their way across the turbulent sonic debris at the extreme edge of any possible improvised rock music.

With "Anno Fauve", bludgeoning riffs of "beyond metal intensity," squalling shards of live sampling, and the relentless forward thrust of depth-charged rhythms courtesy of two overdriven drummers, are pushed beyond destruction into desolate spaces where the constituent elements of rock music appears to become impossible; an obliteration of riff, of rhythm, of meter and of the rules of interplay where everything folds in on itself or becomes mired in a primordial stew of disjunctive rhythms or a static swirl of asynchronous ellipses.

Their two previous albums, "Magnetic Mountain" and "The "Violence of Appropriation" appeared under the name Aufgehoben Nō Process on Junior Meat Recordings and had a devastating impact on anyone who came with reach. The contraction of name, however, has yielded an album that's as expansive as it is dense, demanding and ultimately rewarding.

Reviewers are agreed on three things about AUFGEHOBEN: the wellspring of inspiration, their methodology, and the intensity and extremity of the sound world they inhabit:

AUFGEHOBEN have been compared to "the best of the current Japanese scene - imagine the noisiest Japanese psychrockers (Mainliner, Musica Transonic, High Rise, Boris) with a healthy dose of Merzbow added in!"; They employ "a music-improvised-live-then-sampled-and-deconstructed methodology a la Phantomsmasher, Radian, and Pluramon. Imagine one of the loud, noisy, semi-industrial bands from the early '90s Pathological stable (God, Terminal Cheesecake) attempting some sort of instrumental modern-day take on experimental krautrock, with Merzbow doing the mixing!"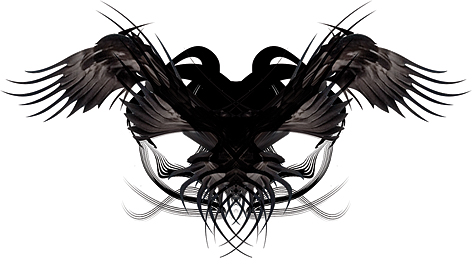 REVIEWS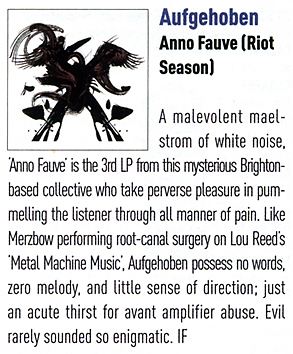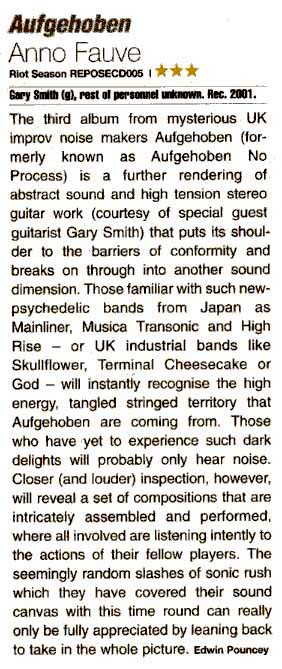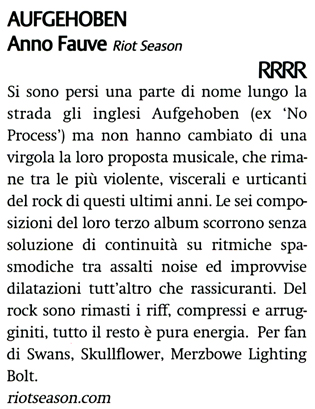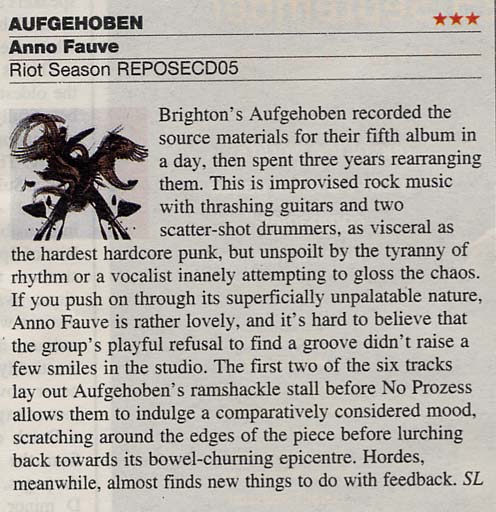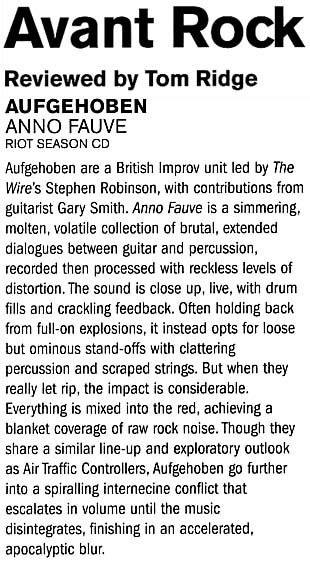 Every now and again a record comes along that defies you to ignore it, and here's one of them. This is the third album from Aufgehoben, an English outfit whose members like to remain anonymous (though it's known that improv guitarist Gary Smith likes to put in the odd guest appearance). The band never rehearse, meet only to improvise and then painstakingly edit and process the recordings of their efforts.
Let it be said, this is noisy stuff. Though there's a similarity to the distortionfests of Merzbow and the like, Aufgehoben are essentially a rock group. Their feral, faintly psychedelic assaults recall the fuzzed out meanderings of Faust or the acidic blast of Guru Guru, played back through a stereo system on the verge of collapse during an electric storm. Smith's trademark stereo electric guitar lurches from huge feedback sweeps to submarine blips or sheets of power (dis)chords. I've not found much to enjoy in Smith's previous work, but here the context seems just about right as Aufgehoben's twin drummers spar with each other or lock into monumental psych-rock patterns that Smith tries to force apart with jagged bursts of noise. Nice.
There are slivers of electronics too, but Aufgehoben's approach to the studio (which essentially means turning everything up to 11) makes it hard to tell who's doing what. It also makes for a deeply satisfying rush at times, particularly when their sludgy rock pulse is accelerated into viscous gobs of noise or howls of feedback. If you know what Francis Bacon did to Velazquez's portrait of Pope Innocent X, then you'll have some idea of what Aufgehoben are doing to rock music; reducing it to a violent, nightmarish smear of a thing. It's cathartic, ugly, beautiful and hard to ignore. You might not want to listen to it everyday, but there'll be times when nothing else will do. Nasty, brutish and short.
BBC.CO.UK (EXPERIMENTAL REVIEWS)
Who? Self-confessed 'difficult' and anonymous Brighton/London guitar noise collective
Sounds Like? Skullflower in a bad mood or Merzbow with a migraine.
Standout Track? The gathering storm clouds of 'Avant Primitiv'
Verdict? A blistering Racket that will take the enamel off your teeth. It Shreds.
ROCKSOUND
"Recorded in one day, then processed over three years, here is an orgasmic maelstrom. Transmitting as much calm unease as bewildering force, Aufgehoben's third release is beautifully fleet-footed, intensely musical, tantalising ugly and almost tangibly sexual. As if a winged piledriver were coupling with a steel drum, in a furnace.
The dynamic of controlled rage and loose agility in these sounds allows distortion and crushing weight to convey structure (of sorts), suggest tension, power, struggle, and ecstacy. It's left for us, the listeners to decide when it is tender or violent, casually murderous or lovely. In the swirl, stutter and slam of twin drummers, electronics and guitar, I hear irritation, the layering of musical nacre, and formation of pearls. Surrendering to the implausible rhythm (it's pointless to tap your foot) allows for a strange relaxation to occur in the listener.
Far from creating contrived sterility, the three-year attention to detail pays off, with Aufgehoben appearing to never indulge in bloodless thrash or plodding wankery. No cliche distracts the listeners from organic engagement with the energy, sweetness and integrity of this music. Equally, they don't tip into a parody of extremity, and deserve to avoid attracting jaded evocations of darkness, evil, or aggression. Sure, at times the volume goes up to 11, but it's timed to perfection and a fine balance is undisturbed.
Like discussing past liaisons with a true love, it seems improper or gratuitous to liken "Anno Fauve" to past proponents of anything similar. Suffice to say, comparisons favor Aufgehoben's (mainly) unknown players. In truth, the identity mystery pleases me, probably more than it should. I listened to the CD and was gobsmacked. Apparently there is a different version with some changes in content, track order and packaging. Taking fetishism further, 200 are available (hand-numbered) in clear vinyl, for those who find that sexy. I must confess, I do.
BRAINWASHED
"Anno Fauve" is definitely one of the more gratifying crash and burn noise releases to send needles spiking in the last six months. And Aufgehoben is not for everyone. That being said, those who like their noise terror so distorted that ears will bleed two blocks over will likely find much to appreciate within this tangled sound web. Guitar, percussion and electronics are the main weapons of choice, but that meager description hardly prepares the listener for the aural brutality that is captured in these grooves.

The listener is tested from the opening seconds of "Solar Ipse" as ominous low hums rumble beneath electronic bleeps and distant jazz percussion, deceptively luring him in for a closer look only to have his face melted off as the ensemble builds swiftly from a mellow liquid mass to the mangled shriek of a derailed locomotive tumbling down the side of a bottomless chasm. "Avant Primitive" is where their mastery of free jamming discord fully shines as minor key guitar squiggles and electronics build to another flailing tornado before settling as a heavy-as-shit jam that brings to mind the intensity of the meanest PSF bands, Jimi Hendrix and the Contortions at the same time, but the intensity of this performance and the super-distorted production make it an utterly unique and stupefying experience.

It all works because the more extreme noise moments are balanced out with some magnificent restraint. The heavy percussion--and it is thunderous--interacts well with the visceral guitar sound, which fully engages whether quietly tickling the cortex or blasting the skull to shreds. Also of note are the electronic embellishments, including live sampling, which further explode and collapse their relentless dynamics. "Anno Fauve" is a blood curdling, and surprisingly nuanced racket that should appeal to fans of Sightings, Skullflower and Wolf Eyes, and few others.
FOXY DIGITALIS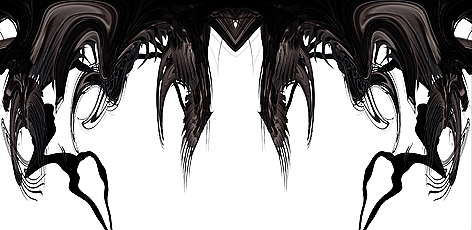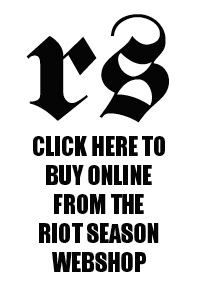 TO BUY ANY AVAILABLE RIOT SEASON RELEASE DIRECT FROM THE LABEL, PLEASE VISIT OUR WEBSHOP BY CLICKING THE IMAGE ABOVE