LIMITED EDITION 500 ONLY BLACK VINYL LP. INITIAL COPIES CAME WITH TWO VERSIONS OF THE SLEEVE, THE CORRECT BLACK AND METALLIC SILVER ONE AND THE WRONGLY PRINTED BLACK AND WHITE ONE
LP Tracklisting
A1. Mental Castle In The Mountains (7:12)
A2. Arigato Explosion (4:38)
B1. Japantenna No 347125 (7:02)
B2. Satori Shower Camouflage (5:11)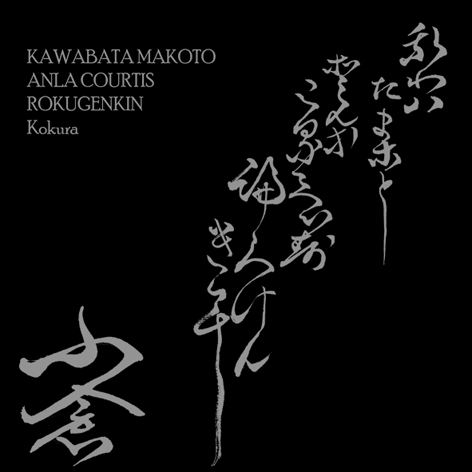 ORDER VIA THE WEBSHOP OR BANDCAMP SITE (IF STILL AVAILABLE)
Release Info:
'Kokura' was recorded under dark skies and howling winds, deep in the bowels of a Japanese club as the country shook outside. Recorded last year on a short tour of Japan, 'Kokura' is the fruits of a live collaboration between Acid Mothers Temple / Mainliner main man KAWABATA MAKOTO, Argentinean guitarist ANLA COURTIS (Reynols) and Japanese underground musician ROKUGENKIN. Based around hushed, mellow drones and hypnotic, yet restrained guitar wails, 'Kokura' is the first fruits of their labours and captures the sound of life beneath a hurricane.
This release came with two different sleeves, the first batch sent out were black and white due to a cock up at the manufacturing plant. The second batch were black and silver. Some mail order copies came with both!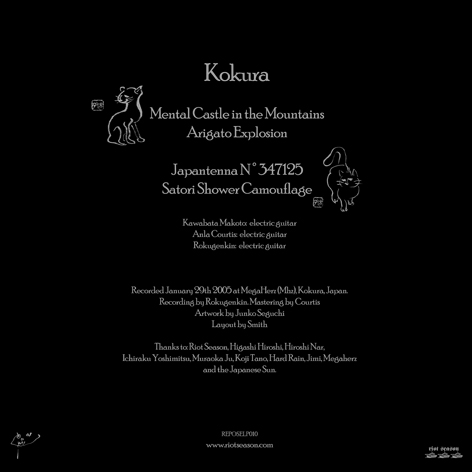 REVIEWS
This is something I really like! A collaboration between the Acid Mothers Temple mainman Kawabata Makoro, Argentinean guitarist Anla Courtis and Japanese underground musician Rokugenkin, it is a slow moving fuzzed out slice of drone. I admit I'm a real sucker for this kind of stuff, but these guys know what they're doing. The press release likens it to Sunn o))) at half volume but I don't really think that's fair - Kawabata and chums don't really approach the metal spectrum, rather this is fuzzed out guitars breaching the ambient music spectrum, closer to the work of Pelt or the quieter moments of Hototogisu than any of Sunn o)))'s doomy friends. Highly recommended.
BOOMKAT