LIMITED EDITION 500 ONLY BLACK VINYL LP WITH DOWNLOAD CODE. ALSO AVAILABLE IN A VERY LIMITED RUN OF PROMO CDR'S
LP Tracklisting

A1. Black Hole (11:01)
A2. Cane Trader (10:59)
B. Please Maintain (21:59)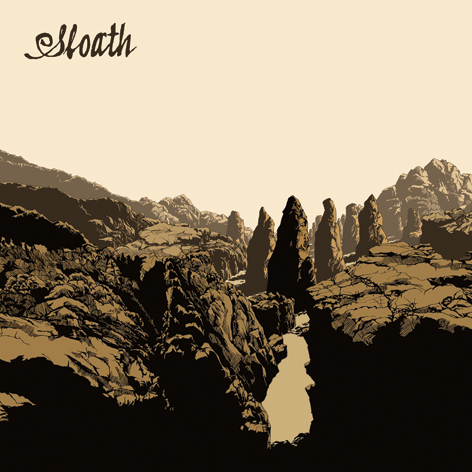 Release Info:

Sloath are a sickly, unwholesome, long & short-haired five piece from the south coast of England, brought together

by a mutual desire to play the slowest, loudest and heaviest music possible using guitars, bass, drums and chant-like vocalisations.

Although formed in the summer of 2007, two years later, the original line-up of Luke and Leon (guitars), Kai (vocals), Dave (drums) and Tom (bass) finally recorded this album of loud, slow and heavy music at Brighton Electric Studios, which is to become their debut release on the Riot Season label.

The band has spent the last year touring up and down the UK & Europe, sharing stages with the likes of Acid Mothers Temple, Burial Hex, Om and White Mice, either delighting or tormenting unwary audiences with their obnoxious yet soothing psychadelic performances that has rightly earned them a

fearsome reputation as a live entity.

Sloath are quite clearly enjoying themselves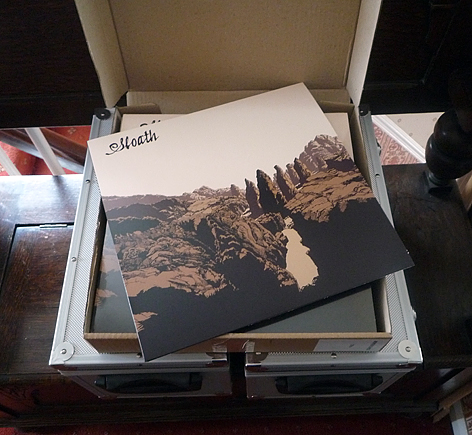 For fans of : Sleep, Harvey Milk, doom and sludge. Heavy riffage and deep vibrations
SLOATH are:

Luke (Guitars)
Leon (Guitars)
Kai (Vocals)
Dave (Drums)
Tom (Bass)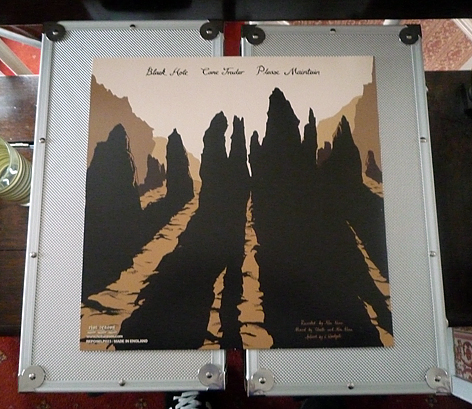 REVIEWS

Hereís some really bloody amazing stoner rock shit from the sunny side of the UK. Sloath do that trick where they only use about two riffs per song, but the riffs they pick are better than 99% of the ones already out there. Itís deceptively simple, meandering along yet thunderous in its flattening power, with obscenely blown out distortion and indistinct howling deep in the mix. ďCane TraderĒ is the standout here. If I ever get to see them play that one live, I might just bang my head right off my shoulders. Three songs, forty minutes, get in
COLLECTIVE ZINE
Sloath exist in an ever-more-crowded, and increasingly tiresome corner of the musical world. They play crushing, sludgy heavy rock with the tempo turned down to a snailís pace. As do many other bands. Crushing, sludgy, slow-tempo heavy rock is becoming the alternative bandís modus operandi du jour, because perhaps itís the kind of music thatís often misconstrued as easy to make. Itís not, which is why so many bands fail at this stuff. Anybody can play a slow riff over and over, but not all can make doing so engaging, powerful and effective.
Sloath get things pretty right on their self-titled debut album. Three tracks only, none less than ten minutes long, the last almost twenty. What they seem to have grasped is that when youíre making this kind of noise, it starkly exposes every element, and demands of the listener an appreciation of repetition that had damned well better get rewarded. So when writing about this itís difficult to do much beyond pointing out some of the important turning points in each track: overall, this is an album of hard riffs, slow speeds and a seemingly non-shifting sensibility, but itís surprisingly rich and crafted when pulled apart.
ĎBlack Holeí blasts in with a full frequency wall of sound. Feedback curls and meaningless vocal wails are swallowed into long howls of guitar before a glass-shattering six-string scream cuts things to an abrupt end. ĎCane Traderí seems almost traditional at first Ė a circling riff with skittering drum patterns. Five minutes in, it begins to break things apart, with the introduction of dive-bombing guitar lines which drag the tune down into a deeper circle of noise. ĎPlease Maintainí begins as almost tender, with a sweet melody turning, through three notes, into a dark place. Echoes of plucked notes are warm and comforting. Around nine minutes in, the rug is pulled and things get ramped up, get more serious. Speakers can barely contain the squall of layers that are repeatedly added (one of which is almost a guitar solo, unwound to a tenth of normal playing speed). After seventeen minutes, we reach the other side of the storm, with shimmering echoes of cymbal gradually bringing the album to a close. The in-the-red fuzz sounds of a recording that canít really handle the volume in the studio adds a certain physicality to the album Ė like itís angrily contained within the silver disc, but bursting at its edge.
DISKANT
Sweet lysergic lord this shit is heavier than pig championís coffin. three tracks of tectonic plate shift articulated by ten legs of teetering thuggery. pushers of death-row inertia, of death-rattle anticipation. feels like the fear of falling, of collapse. letís call it glacially paced, ponderous; rewarding patience with a warm bongwater bath; rewarding patience with zen frottage, rubbing gently, teasing. no rush, no race, no finish. just a continuum of juddering hypno-heaviness that moves me to a state beyond bliss, beyond beyond. a mesmeric thrall of repeato-riff, five chord progression. a relentless electric march into the viscous tar-black core of doom. primitive. elemental. unfurling and unfolding in skullshuddering sprawl. a relentless slo-mo binary vocal fug and percussive thud. a narcotic heart thumping in beat with theta waves of loping low-end buzz, synchronous with thick bloody blood through veins and arteries glooping right to my pleasure points. youíd do well to immerse yrself in this blackpsych ooze, this molasses morass of vibratory om. iím waving. and drowning
COWS ARE JUST FOOD
Sloath's self-titled debut fairs a little better for the Riot Season label than Hey Colossus and the Van Halen Time Capsule, delivering a similarly sludgy vision of the doom world, albeit performed with much more aplomb and joie de vive.

While the idea of this sort of dirge-doom sounding 'joyful' smacks more than a bit like a contradiction, this Sloath-ian quintet are clearly enjoying every second of their Sabbathian existence, trudging along with blood and thunder all along the way.

'Cane Trader' is the best of the three lengthy jams contained here on Sloath, keeping the listener occupied just fine throughout its eleven minute running time. This is a pittance compared to the twenty-two minute sonic boom which is album closer 'Please Maintain', however; a suitably massive end to a record which, through multiple listens, maintains Sloath's status as a band to watch in the future
HELLRIDE MUSIC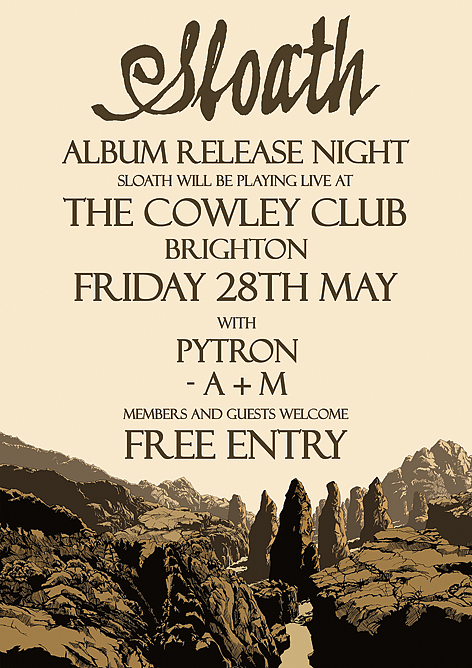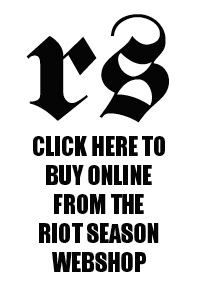 TO BUY ANY AVAILABLE RIOT SEASON RELEASE DIRECT FROM THE LABEL, PLEASE VISIT OUR WEBSHOP BY CLICKING THE IMAGE ABOVE.
ALTERNATIVELY YOU CAN ALSO BUY DIRECT VIA OUR BANDCAMP SITE OR ITUNES