LIMITED EDITION VINYL LP WITH PRINTED INNER SLEEVE. 400 COPIES PRESSED ON BLACK VINYL AND 200 RED VINYL. THE VINYL WAS A SPLIT LABEL RELEASE WITH ITALIAN LABELS SHOVE & SANGUE DISCHI WITH EACH LABEL GETTING A THIRD OF THE PRESSING. MAIL ORDER COPIES CAME WITH AN A3 PROMO POSTER AND CD COPY (DISC ONLY) THE CD VERSION CAME IN JEWEL CASE WITH 8 PAGE BOOKLET AND WAS LIMITED TO 500 COPIES
LP Tracklisting

A1. Bardo Thodol (12:51)
A2. On The Stem (9:17)
B1. Destrudo (4:07)
B2. A Teardrop On Your Grave / Downfall Of Xibalba (16:27)
CD Tracklisting
1. Bardo Thodol (12:51)
2. On The Stem (9:17)
3. Destrudo (4:07)
4. A Teardrop On Your Grave / Downfall Of Xibalba (16:27)
All mail order orders come with a free bonus download track, a mighty fine cover of the Cherub's 'Stag Party'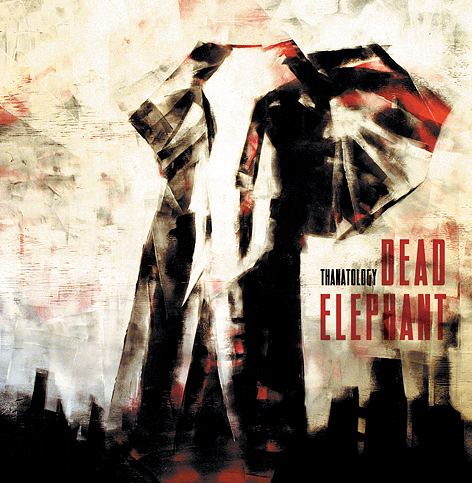 ORDER VIA THE WEBSHOP OR BANDCAMP SITE (IF STILL AVAILABLE)
In their own words:
In this order of things life sometimes is cruel. Sometimes we feel caught in a strange trap. The events appear to us as a dark spiral and our destiny is get lost in it. There, it's very difficult to understand what is right and what is wrong. There, something must burn and you must accept to lose it. From the consciousness that some things must die in order to change is born Thanatology, the new album from Dead Elephant out in June for Riot Season.
Thanatology aims to investigate the process of acceptance of loss, a concept particularly timely, son of these transition times.
The conflict that emerge in the feral struggle of the parts is where Dead Elephant made their own research. Musically the core of the album is represented by the meeting between the Dead Elephant music approach and the funeral march of South Italy. The claustrofobic and visceral force that emerge from the album trying to go over the stagnant preconceptions of heavy music speaking to the cerebral and to the bowels. Their powerful sonic assault have a wide range of influences that pass through the heavyness of bands like Cherubs, Jesus Lizard, Colossamite, Melvins, Black Sabbath, Celtic Frost and the psychedelic attitudes of Ash Ra Tempel, Cluster, Neurosis and Badalamenti soundtracks.
Dead Elephant's born in 2002 and its first release was SING THE SEPARATION in 2005 (Unfortunate Miracle) followed by LOWEST SHARED DESCENT in 2008 (Robotradio)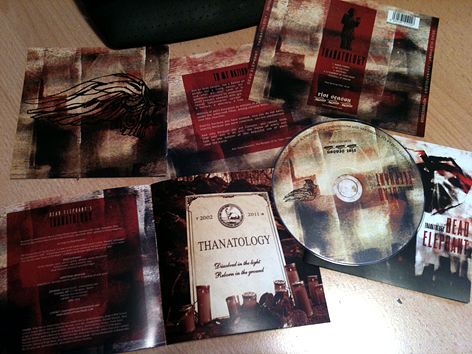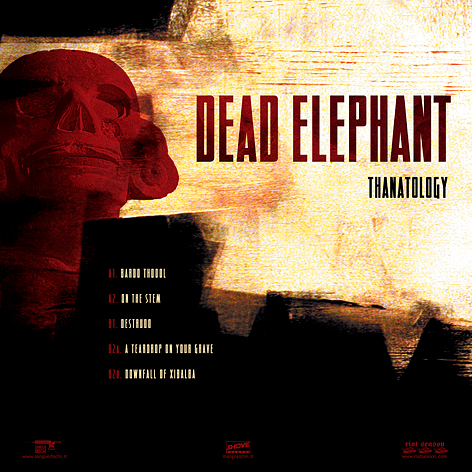 REVIEWS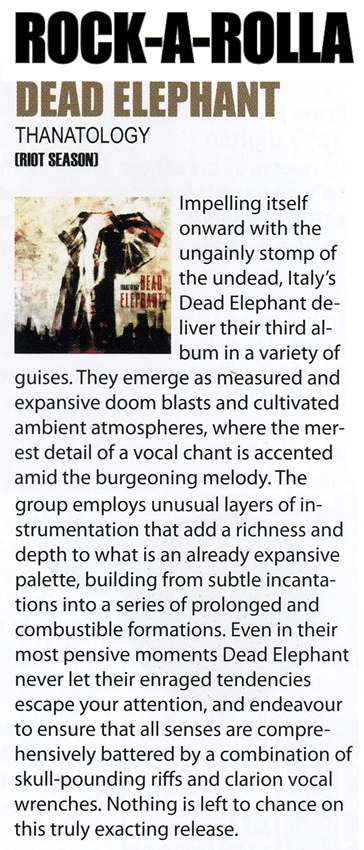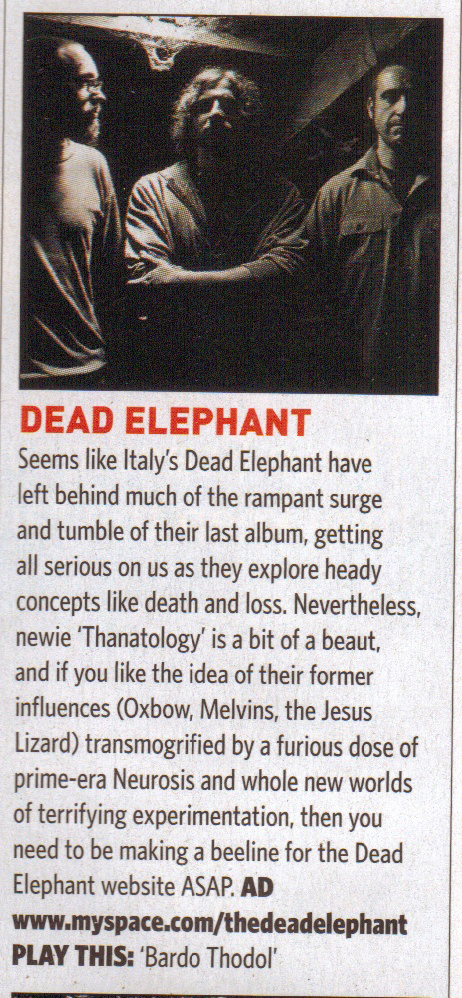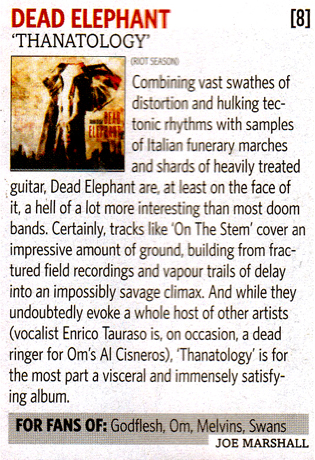 With Thanatology, Dead Elephant arrives a full step ahead in their own style, bringing new realms of stylistic differences coming from Doom and Ambient music to their Post-hardcore roots and for a surprise even classical Italian funeral songs. Thanatology, is album about death: the prefix greek "thanatos" by itself means death and by conclusion what we have here is somekind of musical study about this thematic. Of course, "death" is a current theme on heavy music since at least Black Sabbath. The entire genre called "death metal" is there for everyone to see how heaviness is a strong allied to the morbid thematic. So, what in Dead Elephant could be pointed as new on this so common theme?
A lot: the first song "Bardo Thodol" seems to be inspired by the centenary "Tibetan Book of the Dead" also called "Bardo Thodol" in native language, which is a funerary text of the Tibetan culture that describes several steps of the spirit after dying, such as flying around the city with flashes of memories and waiting the reincarnation. It together with the excerpts of old Italian funeral marches show a little about what kind of work we have here. But, let's focus on what really matters.
The sound: Dead Elephant manages to bring a slow and very heavy sound, in the first song "Bardo Thodol" the legacy of Doom Metal is very present and at the same time the vocals seems to be very post-hardcore oriented. It's very much screamed but sounds full and dense at the same time, there are chorus and composed lines of mantra phrases and clean vocals that seems like ritualistic intonations. The guitar riffs sound just gargantuan, it is like this big wall of slow and distorted noise, strong steps like a giant dead elephant itself.
The heavy sound is not everything on this album: there are long periods of atmospheric and distorted chords that manage to draw a very dense atmosphere of a real dark feeling, strange noises, pulsating bass lines almost without the natural tone of the instrument, very gloomy and lonesome soundscapes that really help you get the feeling of that fore-mentioned fly after death. Everything is suddenly broke down by the strong wall of guitar riffs, strong drum beats and sludge passages with very creative cymbal explosions and right fixed effects and vocals.
There are only four big songs on this album and the second "On the Stem" starts with one excerpt of an old Italian requiem which is barely being mixed with the guitar textures until it breaks to the wall of heavy guitars again. Ladies and gentleman, this is a great contribution to heavy music. From the very gloomy whispers we are immersed in a mix of dantesque landscapes and organized chaos. Slowly we come to a strong moment of the album, there is this great and haunting mantric chorus mixed with screams and fast drum work which, at the whole, is simply breathtaking, this is a big highlight of "Thanatology"
"Destrudo" is the shortest track here and I could say a little reminiscent of Neurosis in their most post-hardcore moments, it's also the song that most sounds like their previous album, more fast and less grandious someway. It's still very heavy with explosive drums and very vivid bass lines, very audible and distorted. The track provides a big amount of energy, what is good in this somewhat depressed context.
The last track "A Teardrop On Your Grave / Downfall of Xilbalba" is the big surprise of the album and at the same time where are some of its weak points. It's a light and soft sad instrumental ballad, very slow and ethereal while at the same time keeping the doom feel. After about seven minutes of this melody doing its job, what sounds a little tiresome after a while since it doesn't change that much, we got the final explosion, with the walls of sound returning to complete the album with a strong moment. It's a great track in several aspects, but it somewhat lacks the sense of diversity and creativity that comes through all the album, being a little repetitive even if it works extremely well in the atmospheric work. It's far from bad, but not so good as the rest.
Resuming, this is a very concise record, very well worked in little details, the timbres are crystalline at the same time they are huge and strong. It's a great effort and everyone who is on metal and especially Neurosis fans should take a look on it.
SPUTNIK MUSIC (4/5)
Falling somewhere between the drone mantras of Om and Neurosis' apocalyptic post-metal, Dead Elephant's third album Thanatology is most certainly not an easy listen, but it is a rewarding one given time. The twelve-minute 'Bardo Thodol' opens with heavy, crawling riffs and focussed chants before drifting into a world of bass rumbles and subdued, crackling feedback. 'On The Stem' features dark, swirling electronics and a hint of melody that segues into spiky riffs and ferocious screams. The relatively short four minutes of 'Distrudo' are quite appropriately some of the most chaotic and thrashing of the album. Saving the best till last, 'A Teardrop On Your Grave / Downfall Of Xibalba' travels through delicate, gloomy keyboards before merging with satisfyingly lumbering distortion. Italy's Dead Elephant may be providing a challenging take on heavy music but at the end of the day, Thanatology is an incredibly satisfying record.
THE DIGITAL FIX (8/10)
Diverse 2nd release from Italian prog-metal band. 'Thanatology' spans the meditative doom metal passage of 'Bardo Thodol', through sepulchral black metal (replete with throaty hollers) with 'On The Stem', to the expansive Badalementi-meets-Bohren-And-Der-Club-Of-Gore-at-a-Neurosis-therapy-session atmosphere of 'A Teardrop On Your Grave / Downfall OF Xibalba'.
BOOMKAT
Record number three from this Italian noise rock / stoner doom power trio, and weirdly enough the first one of their records to get reviewed on the aQ list. Weird because these guys are amazing and are right up our (and presumably your) alley, a killer twisted hybrid of classic Sabbathy metal and more modern noise rock, downtuned Neurosis-y sludge and spaced out psychedelic dronemetal, a la countrymen Ufomammut. Opener "Bardo Thodol" starts out with a riff that's a dead ringer for Sleep, of course these guys add some chanted monk-like vocals, the vibe droned out and psychedelic, and when the rest of the band finally kick in, the sound is EPIC, massive, and heavy as fuck, a crushing mathy doom sludge dirge, the vocals alternating between a monstrous bellow and a wild feral shriek, the churning riffage and damaged drum pound laced with a surprising amount of melody, and all sorts of strange sounds in the background, that sound like bells and singing and other mysterious field recordings, which are apparently actual recordings of Italian funeral marches, super dramatic, especially when the band cuts out completely, leaving just the mournful wail of distant horns, draped over a strange hushed soundscape of backwards drones and muted muddied effects, the band slowly building back up again, and launching anew into another onslaught of pound and pummel, of soaring metallic heaviness.
The rest of the record unwinds in a similar fashion, the lumbering doomic heaviness tempered with long stretches of vocal drones, of spidery psychedelia, bursts of spazzed out math metal, of grinding noise rock frenzies, finishing off with the epic 16 minute two part closer, the first part of which is a gorgeous stretch of ambient minimalism, all tinkling melodies, barely there rhythms, distant swells, soft squalls of psychedelic guitar, swirling drones, and a deep rumbling buzz, that slowly builds into the second part, a feedback drenched, stop start noise rock blow out, soaring synths over crushing crashing chords, delirious drum pound and wild howled vox, a weirdly tripped out abstract psychedelic finale.
AQUARIUS RECORDS
"The intro is the most you can listen to Om without call on Al Cisneros, but the registry changes immediately, and despair becomes undisputed leader. Doom, dissonant and sharp Psychedelia, convulsed noise and ambient passages with the frothing at the mouth with rage that also when show a twist of light, it crash onto a glass wall and consequent crazy splinters: this is Thanatology, a blacket of heavyness and slowness (too easy to be treated in the last steps of the dead elephant) at the edge of neurosis. Funeral and lacerating inserts alternate with neurotic obsessions (the darker side of Californian band) generating an endless black mantra. The Dead Elephant go further, looking for the warping and purest darkness, and they succeed like few others."
RUMORE MAGAZINE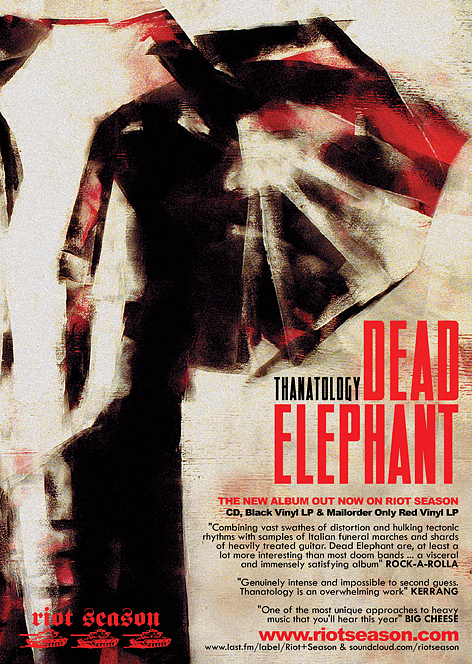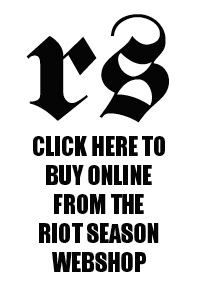 TO BUY ANY AVAILABLE RIOT SEASON RELEASE DIRECT FROM THE LABEL, PLEASE VISIT OUR WEBSHOP BY CLICKING THE IMAGE ABOVE