LIMITED EDITION BLACK VINYL LP HOUSED IN WIDE SPINED MATT PRINTED SLEEVE
LP Tracklisting

A1. White Keys (2:20)
A2. Infinity Of Stops (3:22)
A3. Anna Mae Wong (7:01)
A4. Bishops (3:57)

B1. Canadian Money (5:39)
B2. Right Side Of The Hall (3:03)
B3. EE (0:45)
B4. Reduction (7:49)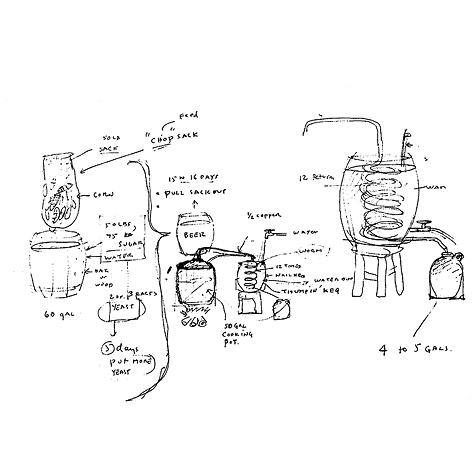 ORDER VIA THE WEBSHOP OR BANDCAMP SITE (IF STILL AVAILABLE)
Release Info:

The third release for UK label RIOT SEASON (following Mainliner/Tsurubami) is also the third album release for NYC trio SIGHTINGS. Following their two acclaimed albums ('Sightings' on Load + 'Michigan Haters' on Psycho-Path) this eight track bastard takes the Sightings sound just that one cm further. The sound is still chaotic, worrying, charming, unnerving, brutal and beautiful all inside 34 minutes. It will dish out a throbbing headache if listened to at the wrong time have no doubts. The sound of sheet metal guitars, god of thunder bass thugery and drums that sound like trash cans being beaten to death are all present and correct. Its no-wave-white-noise-streetbum-inyourface goodness. The vinyl is a limited pressing and will be accompanied by a CD version on Load Records.
REVIEWS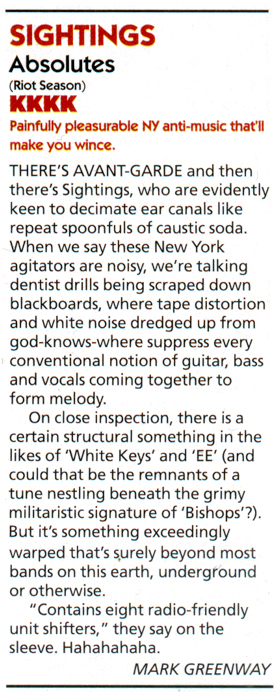 Painfully pleasurable NY anti-music that'll make you wince". THERE'S AVANT-GARDE and then there's Sightings, who are evidently keen to decimate ear canals like repeat spoonfuls of caustic soda. When we say these New York agitators are noisy, we're talking dentist drills being scraped down blackboards, where tape distortion and white noise dredged up from god-knows-where suppress every conventional notion of guitar, bass and vocals coming together to form melody.
KERRANG!
SIGHTINGS... a complete baaad-ass hate fest with sub-dermal bass, paper thin razor guitar and Axis of Evil drumfuckery. The guitar wails, the bass thuds, and the drums keep time in some far off region of space, allowing Sightings to capture the sound of their chaos. Sure, this kind of stuff isn't for everyone, but if you like your Dice Black, your Pussy of the Harry variety, and even your Bolts to be Lightning, the odds are that you'll dig this record something fierce.
DUSTED MAGAZINE
Sightings are all muscle, dispersing with the intellect that fueled the original no wave and the detached coolness that even a howling James Chance exuded. Instead, they erupt forth with a sound straight out of the garbage disposal, dripping with liquids of questionable origin, encrusted with week-old coffee grounds, and smelling like the sewers of their hometown on a hot August day. Injecting the searing electrical current of a guitar tone utilized by Mars with a shot of hairy-chested testosterone, Sightings wouldn't play Sumner Crane & Co. in a broadway musical based on the scene. Instead, they'd be the hooligans jeering at the musicians on the city's less reputable street corners, only with surprising experimental rock leanings.
FAKEJAZZ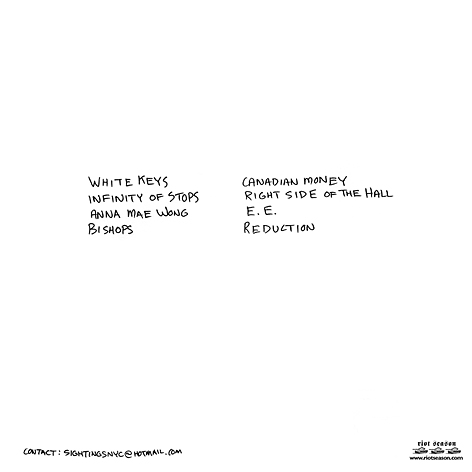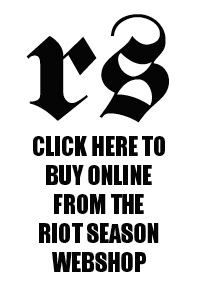 TO BUY ANY AVAILABLE RIOT SEASON RELEASE DIRECT FROM THE LABEL, PLEASE VISIT OUR WEBSHOP BY CLICKING THE IMAGE ABOVE