LIMITED EDITION 500 ONLY DOUBLE BLACK VINYL AND CD, FIRST EDITION CD CAME IN A GATEFOLD CARD SLEEVE, THE SECOND EDITION CAME IN STANDARD JEWEL CASE. THE FRONT SLEEVE ARTWORK DIFFERED SLIGHTLY BETWEEN THE TWO FORMATS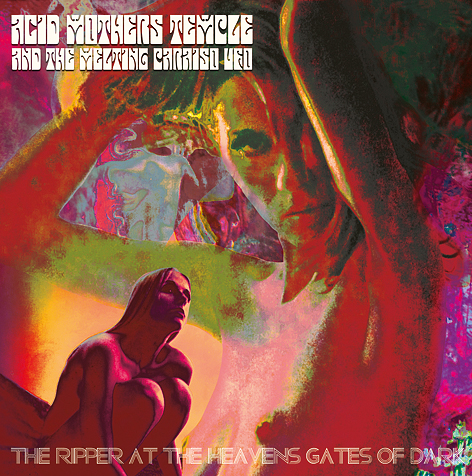 ORDER VIA THE WEBSHOP OR BANDCAMP SITE (IF STILL AVAILABLE)
2xLP Tracklisting
A1. Chinese Flying Saucer (12:03)
A2. Chakra 24 (4:07)
B. Back Door Man Of Ghost Rails Inn (15:17)
C. Shine on You Crazy Dynamite (21:57)
D. Electric Death Mantra (19:22)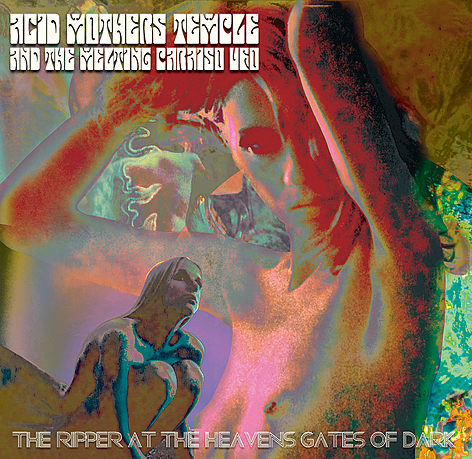 CD Tracklisting
1. Chinese Flying Saucer (12:03)
2. Chakra 24 (4:07)
3. Back Door Man Of Ghost Rails Inn (15:17)
4. Shine on You Crazy Dynamite (21:57)
5. Electric Death Mantra (19:22)
Release Info:
The renowned Japanese Cosmic freak-out heavyweights return with a brand new studio album and tour, marking ten years since their mothership first descended on the UK ....
Now a steady four piece led by Kawabata Makoto (guitar) and including Tsuyama Atsushi (bass/vocals), Higashi Hiroshi (synthesizer/guitar) and Shimura Koji (drums). The collective recorded the album in the aftermath of the Japan disaster at their mountaintop retreat where the collective still reside.
With the exception of the album's opener 'Chinese Flying Saucer' and it's unashamedly obvious musical references to Led Zeppelin II (hello 1969!) the rest of the album locks into a much more laid-back groove than on recent AMT releases. This dynamic shift is best displayed on the 22 minute jam, 'Shine On You Crazy Dynamite' and also the album's closer 'Electric Death Mantra'. The band opt for less frantic explosions of electric guitar overload and fuzz, replacing those elements with a more epic, blissed-out and at times brooding Japanese psychedelia, with more emphasis on acoustic guitars, sitar, organ, synthesiser and at times, really trippy vocals (most prevalent on 'Back Door Man Of Ghost Rails Inn'), recalling the twisted psychedelics of early Pink Floyd. Yet still, their sound remains so expansive that it is easy to become totally immersed in this album.

Epic in proportions, cloaked in a cosmic haze and shimmering in a synth utopia. 'The Ripper At Heaven's Gates Of Dark' maintains AMT's status as masters of out-of-this-world music and reveals their darker side of the moon.

CD is limited to 1500 copies, and is packaged in a special first edition 350gsm card gatefold sleeve. Repress will be in standard sleeve.

Double vinyl edition limited to 500 copies for the world and features slightly different sleeve artwork.
Acid Mothers Temple & The Melting Paraiso U.F.O. at the time of this recording were
Tsuyama Atsushi : monster bass, voice, soprano sax, cimpo flute, soprano recorder, acoustic guitar, cosmic joker
Higashi Hiroshi : synthesizer, dancin'king
Shimura Koji : drums, latino cool
Kawabata Makoto : electric guitar, electric bouzouki, sitar, organ, percussion, electronics, speed guru
Recorded at Acid Mothers Temple, Japan
Produced & engineered by Kawabata Makoto
Digital mastered by Yoshida Tatsuya
Members photo by Justin "God" Waters
Photos by Kawabata Makoto
Artwork by Shigeno Sachiko
Special thanks to Ghost Rails Inn (
http://www.ghostrailsinn.com/
)
A3 PROMO POSTER GIVEN AWAY WITH INITIAL MAIL ORDER VINYL COPIES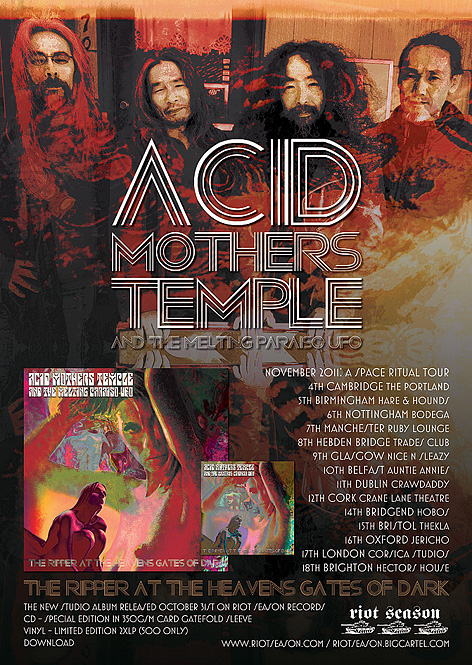 REVIEWS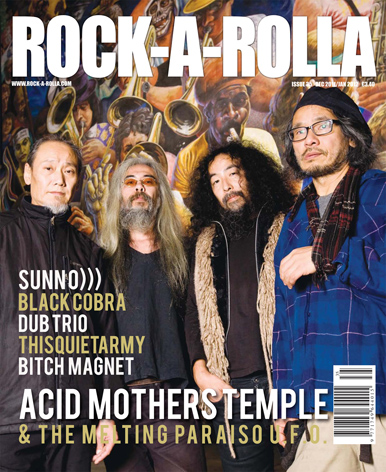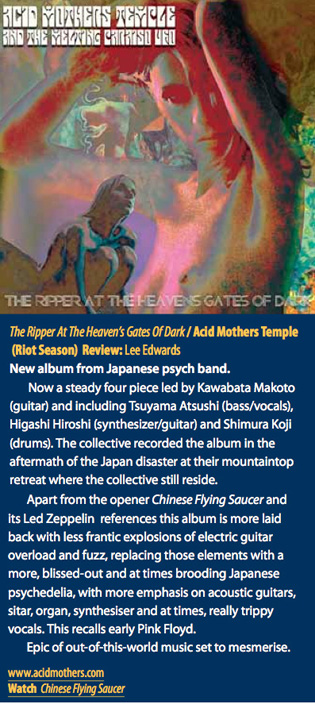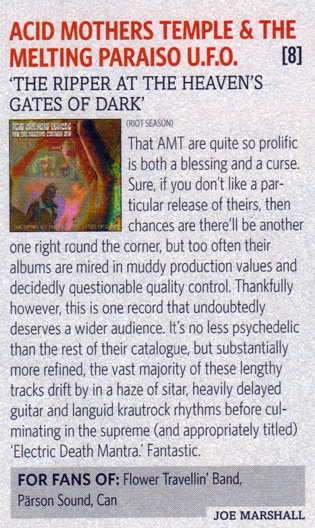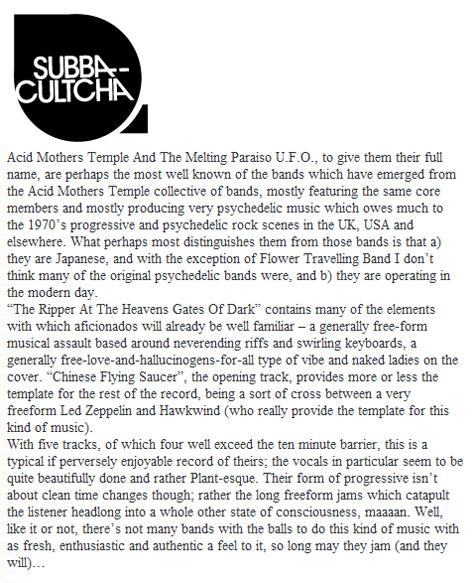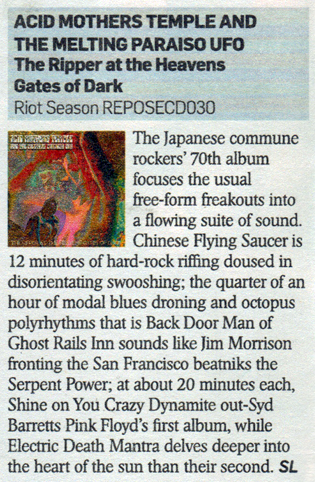 There are many uncertainties in life but you can always be sure that Acid Mothers Temple will continue to crank out album after album of claustrophobic, psycho-psychedelia from atop their Japanese mountain retreat, like crazed astronomers sending out distorted signals into the vast expanse of space. If you're familiar with the band at all (and if not just re-read that opening sentence) then you know the drill by now – this is shamelessly retro, trippy stuff, put down on record with reckless – almost maniacal – abandon.
On opening track "Chinese Flying Saucer" the guys lock into a series of Led Zeppelin-style grooves and ride them out for twelve minutes while bass-playing singer Tsuyama Atsush yelps like Robert Plant intermittently. After that exhaustive trip, the brief "Chakra 24" is a moment of inner calm and and tranquility; gently bluesy acoustic guitars form a melody while the constant, earthy drone of a sitar, drenched in reverb so that the twang rings out forever, lingers reassuringly in the background. Again, this is kind of a spiritual cousin to Led Zeppelin's "Battle of Evermore" although without any sense of urgency – Atsush scats care-free somewhere in the midst of the mix.
"Back Door Man of Ghost Rails Inn" runs the gamut of 'out-there' late sixties, early seventies bands, sounding like a hoarse Jim Morrison fronting The Grateful Dead whilst running through "Paint it Black" with Ravi Shankar. "Shine on You Crazy Dynamite" is a 22-minute freeform jam with a distinctly grind-house, B-movie horror feel provided by the organ, subtly funky bass and the babyish, improvised freakout vocal stylings of Atsush. Album closer "Electric Death Mantra" is a slowly lurching, typically 'Indian' raga, based around a cyclical sitar riff. As the song speeds up to a frantic pace it implodes.
And so ends another sonic chapter in the topsy turvy tale of Acid Mothers Temple, although by their standards this is a pretty laid-back outing. The accompanying press release makes a point of mentioning that the album was recorded in the aftermath of this year's disastrous Japanese earthquakes although you wouldn't know it to listen to it – as if no tremors could penetrate the mountaintop hideout of these curious monks. As per usual the main reason to come to AMT is for the genuine authenticity with which they deliver their sonic workouts so as long as you're not expecting anything new then you're in safe hands with these Acid Mothers.
THE SLEEPING SHAMAN
A simply must-have current import CD title by the Acid Mothers Temple. In some ways, this title sort of reminds me of their Have You Seen the Other Side of the Sky disc ('06). One reason is obvious – because both CD's have at least five actual songs, not like (a lot of the) typical Acid Mothers CD's – as a lot of their music have (just) two tracks per disc. Each cut here fully serves its purpose. The opener – the twelve-minute Chinese Flying Saucer appears to be the AMT's own personal tribute to Led Zeppelin. Chakra 24 and Back Door Man Of Ghost Rails Inn are more like one's own personal soundtrack to a most memorable acid trip – nice sitar playing – and it's nice to hear vocals all the way through an Acid Mothers Temple cut, especially when that song's duration clocks in at fifteen minutes. Then there's Shine on You Crazy Dynamite that's like your semi-typical AMT mayhem with perhaps a touch of Pink Floyd influence in there somewhere, and the total freakout, mind-scrambling epic – the nineteen-minute Electric Death Mantra. Saw on the label blog that AMT these days has a stable as well as lasting four-piece line-up – both in the studio and on tour. Personnel: Kawabata Makoto – guitar, Higashi Hiroshi – keyboards & guitar, Tsuyama Atsushi – bass, flute & vocals and Shimura Koji – drums. The overall sound, feel and vibe of The Ripper At The Heaven's Gates Of Dark clearly achieves the excellence that Acid Mothers Temple has been known for at least fifteen years now. AMT'S work here is in no way a rip-off of psychedelia, acid rock (as some of the squares that I once knew called it) or trip rock of the '60′s or '70′s – but an extension of such. CD is a limited edition of 1,500 copies + the 2-lp vinyl is one of 500 copies. Definitely worth many repeated plays. Quite possibly the best Acid Mothers Temple CD I've heard in a while now.
AURAL-INNOVATIONS
Speed guru and multi-instrumentalist Kawabata Makoto has been leader of his ever expansive Acid Mothers Temple for over 20 years now. With names under various monikers that stem from the Acid Mothers Temple collective, the people who have come to call AMT their family have been some of the most adventurous, creative and free willing musicians out of Japan's avant-garde and psychedelic scene. Acid Mothers Temple & the Melting Paraiso U.F.O., Acid Mothers Temple & The Cosmic Inferno, Acid Mothers Temple SWR and Kawabata Makoto & The Mothers of Invasion are just a few derivatives and musical settings this collective has branded themselves under. Shifting players and musical ideologies have given away to 100′s of hours of superb Japanese psychedelia. They are the embodiment of 90′s psychedelic music.
What separates Acid Mothers Temple from their contemporaries in Japan is the spiritual and ancient tones they achieve. When you deep into an Acid Mothers Temple song, these elements flourish all over the place, normally at the hands of Kawabata Makoto himself. Boredoms to Merzbow, the pioneers of the Japanese psych movement has been led in large by Kawabata and his Acid Mothers Temple collective. The group has released records with well over 20 different labels and has completed works with Krautrock founders Gong and Guru Guru. Their albums evoke a sense of the heavens, a sense of purity, deep meditation and power through the relationships they forge harmonically. It's no wonder how modern pioneers like Guru Guru and Gong have embraced Kawabata and his group. With a rich legacy, it's easy to assume the recorded output falls in line just the same. If you add all of the solo releases and group releases, we are talking 300+ albums. With many albums relying on the same sonic palette, one can assume that the variation from album to album isn't enough to warrant this number of releases. The emotional landscape, however, is always shifted from album to album and proves to be the landing point. This music is of ritual, a commune of like minded spirits under the main frame of a singular vision and pulse. Like any psychedelic group, the cover designs, liner notes and overall aesthetic of the albums they produce become just as important as the music itself.
Every year a new collection of Acid Mothers Temple related materials explodes into the public spectrum and we are all taken on yet another ride in this vehicle Kawabata Makoto and Acid Mothers Temple have created. Riot Season is one label among a handful who have stuck with Kawabata and AMT since the groups first formal releases in the 90′s and early 2000′s. The label must have felt like they struck gold when Kawabata sent them the final mastered sessions for the newest program in the Acid Mothers Temple saga, The Ripper at the Heaven's Gates of Dark. Released on CD and a limited edition double LP pressing of only 500 this year, Kawabata and his most trustworthy core group of the Acid Mothers collective have brought something very special to the table with The Ripper at the Heaven's Gates of Dark. Credits for this record as printed on the album are as follows: Tsuyama Atsushi (monster bass, voice, soprano sax, cimpo flute, soprano recorder, acoustic guitar, cosmic joker), Higashi Hiroshi (synthesizer, dancin'king), Shimura Koji (drums, latino cool) and Kawabata Makoto (electric guitar, electric bouzouki, sitar, organ, percussion, electronics, speed guru).
If you have seen Acid Mothers Temple live you will already know how active the group is vocally. The The Ripper at the Heaven's Gates of Dark definitely adds the vocal sensibilities of their live performances. Where female vocals have dominated many of their studio albums with Cotton Casino having been in the band for so many years, the use of vocal contributions from Tsuyama Atsushi are just as imaginative and surreal. The freak out guitar parts are still intact for anyone familiar with the usual styling of Kawabata. Guitar shoots in all directions, roaming around the mix as free as a bird. Within the first 5 minutes of the beginning piece 'Chinese Flying Saucer' you are heavily into a merge of the influence from Led Zeppelin II and the landscape AMT has been known for with all of their releases. At around 4 minutes, the music shifts and becomes centered around one of the moments so common place in the long stretched out versions of Led Zeppelin's 'Dazed and Confused'. Each song plays on this idea of referencing an icon of the 60′s and 70′s. With the added electronics, synthesizers, vocals and guitar passages, this is what Led Zeppelin would have sounded like if Jimmy Page was a little more concerned with spiritual tones and not Alister Crowley.
The angular lines Kawabata achieves on he Ripper at the Heaven's Gates of Dark are unreal and show his advanced level of musicianship. There's a lot of relying on effects, pedals and other elements that shift the color tones in the music but these cats can play, no question on that end. More so than any other AMT release in recent years, this record runs ever so smoothly with long and very relaxed free form jams. The album was recorded in the recent wake of the radiation leakage in Japan after the devastating earthquakes. The titles of the songs all tie to pivotal musicians of the 60′s and 70′s. The obvious connections come in the form of Pink Floyd, Led Zeppelin to the Doors. Regardless, the rest of the album is classic Acid Mothers Temple modern psychedelia. Intense states of energy with sitar perfectly interjected in fields of lightning speed runs.
The sound achieved on The Ripper at the Heaven's Gates of Dark parallels the type of controlled chaos AMT are known for. By the end of the album, the group is in full psychedelic freak out jam mode, with drums showing faint signs of audible distinction. It's the type of sound that is genuinely perfect with the way it is mixed. No compression, no filters, just raw and ready to fuck your mind up. Put to tape in their Acid Mothers Temple recording compound, the way Kawabata bends and stretches his notes sounds as if he is pouring his heart out to the world for his people from the recent devastation inflicted on his land and people. Whatever the intention may be for this album, it is one that will surely impress even the most jaded purveyor of 60′s and 70′s music. This isn't a replication, this is an extension of one of the most beautiful groups crafting in the name of psychedelic music.
SOUND COLOUR VIBRATION
With its pun title based on the Syd Barrett Pink Floyd album, the new Acid Mothers album seems to be one of their most scorching psychedelic yet, but in a very traditional way. The opening track "Chinese Flying Saucer" has Led Zepplin's "A Whole Lotta Love" stamped all over it, from the opening riff to the faux Robert Plant vocals to the bizarre middle instrumental lead guitar work out. In a strange way it reminded me of a lot of bands who used to play at the Alice in Wonderland club in the Eighties and certainly would not have seemed out of place within their DJ set list. (Hmmmm, just what London could do with is a great psychedelic club again, are you out there Christian?) Bonham-esque military drum fills happen over Kawabata's steady chunky guitar playing. The production sounds lost in the early '70s and the track sounds better because of it. A good firm, solid and surprising opener.
You can almost visualise a Haphash album cover design and the smell of patchouli oil pervading the air while Tibetan bells ring and someone reads the I Ching"Chakra 24″ is an acoustic guitar and sitar interlude in a very '67 feel. The vocals on this sound like a strained blues take on Robin Williamson of the Incredible String Band. You can almost visualise a Haphash album cover design and the smell of patchouli oil pervading the air while Tibetan bells ring and someone reads the I Ching just like Barrett did on "Chapter 24.""Back Door Man of Ghost Rails Inn" starts with more acoustic guitars and bass and drums playing in Indian raga style to set off that mystical East feel. When the drone vocals and the lightly played electric kicks in you are already being transported to the side of Mount Kailash where in a cave a young sadhu sits and meditates. The vocals begin to turn all Jim Morrison bluesey but still retain a certain amount of mysticism about them, the feel of clouds gathering around the peaks and a gentle rain begins to fall.
"Shine on You Crazy Dynamite" begins with Syd-style guitar scrapings over the usual AMT space synths and an organ fugue. Here we are straight into Floyd Piper At The Gates Of Dawn territory. When the bass starts to play a steady note and the organ begins to swirl we are in "Interstellar Overdrive" mode. The only thing to distract from this is the vocals/voice that intones over the top of it all. Kawabata plays gliss guitar in true Barrett form. This would sound wonderful played live at a small venue with a proper late sixties liquid light show as the whole sound is quite convincingly '67 psychedelia. And if you don't touch the brown acid it could probably transport you back to the UFO Club during the summer of Sgt Pepper. The cosmic middle section is very spacey and rather than a pummelling lead guitar that would normally kick in by these points, the Mothers stay true to subtle echoed vistas of the early Floyd mixed with Electronic Meditation-era Tangerine Dream.
would sound wonderful played live at a small venue with a proper late sixties liquid light showThe final track on the album is "Electric Death Mantra." Again, we start off making our way back to the '67 psychedelic sounds. A Jerry Garcia-style guitar motif plays over Nick Mason-style rolling drums; here again the production sounds very sixties with the drums not having a loud gated crack about them. Vocals spill out over the top and sound quite subdued within the mix of the song. The track moves along at a steady rambling pace with slow peaks before dropping down again. The piece has more of a West Coast blues vibe than the previous tracks but like Floyd's "Set the Controls," it begins to build a momentum within the drums and the raga style guitar noodlings get more frantic. Then blissful lead guitar kicks in around the 12 minute mark and you take off on a rocket ride to the stars.
This is one of AMT's finest excursions into pure '67-style psychedelia with the feel and atmosphere of albums and performances of that period, a real mini-triumph for the band and certainly a different sound excursion than their last few releases. Now all they need is a UFO Club to perform this in entirety for the acid drenched throngs. Far out man…….
FREQ.ORG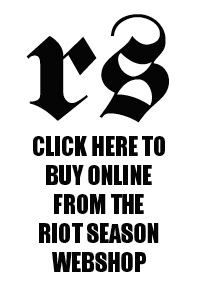 TO BUY ANY AVAILABLE RIOT SEASON RELEASE DIRECT FROM THE LABEL, PLEASE VISIT OUR WEBSHOP BY CLICKING THE IMAGE ABOVE