LIMITED EDITION VINYL LP (500 x COLOURED VINYL FIRST PRESSING & 300 x BLACK VINYL SECOND PRESSING) AND CD. THE FRONT ARTWORK DIFFERED SLIGHTLY BETWEEN THE TWO FORMATS
CD/LP Tracklisting
1. OM Riff From The Melting Paraiso U.F.O. Part 1
2. OM Riff From The Melting Paraiso U.F.O. Part 2
THE VINYL EDITION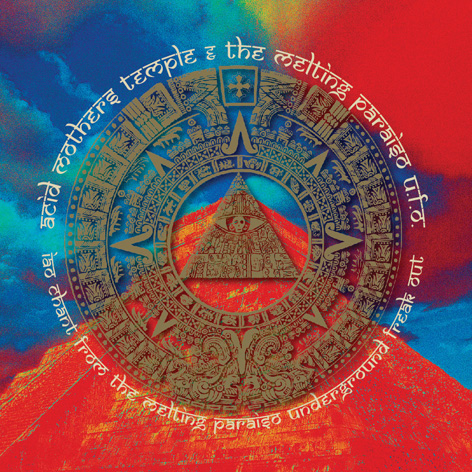 ORDER VIA THE WEBSHOP OR BANDCAMP SITE (IF STILL AVAILABLE)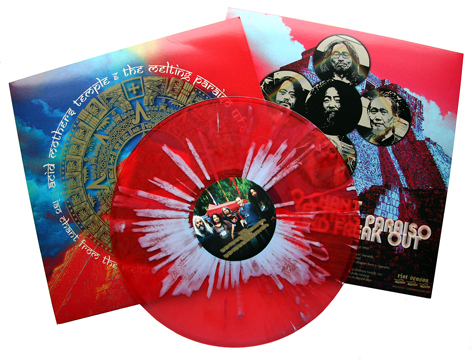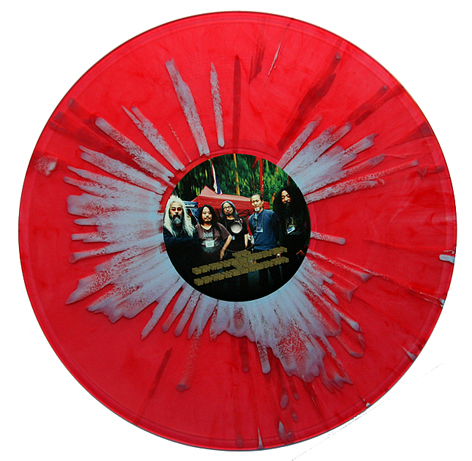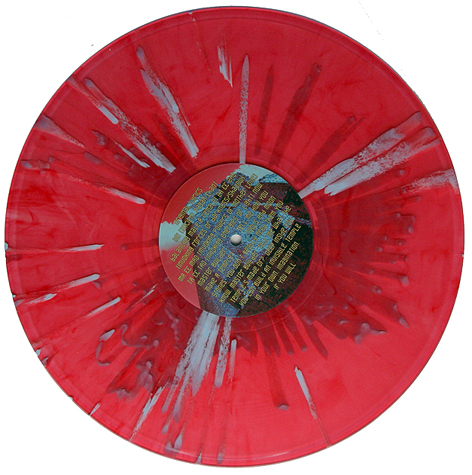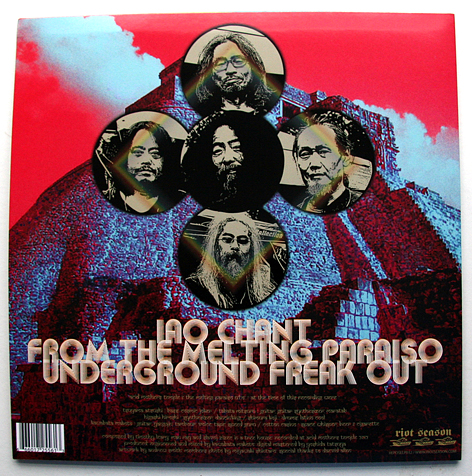 THE CD EDITION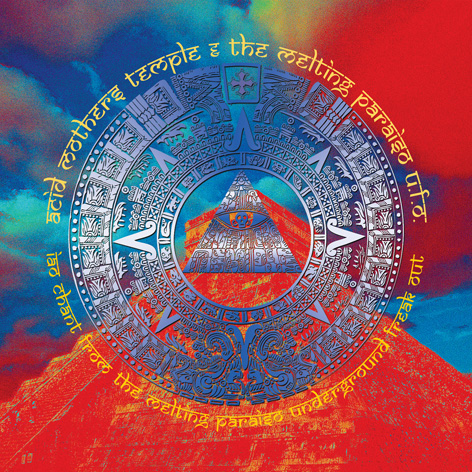 ORDER VIA THE WEBSHOP OR BANDCAMP SITE (IF STILL AVAILABLE)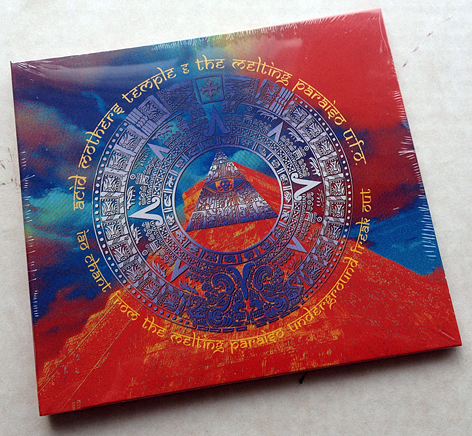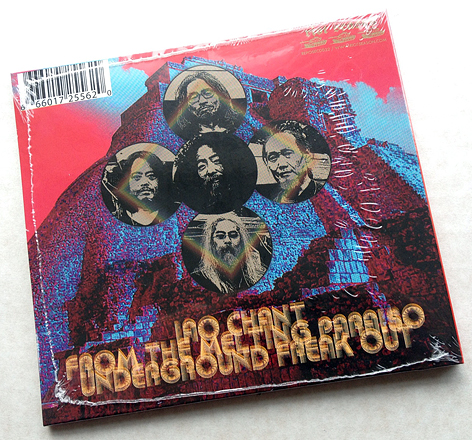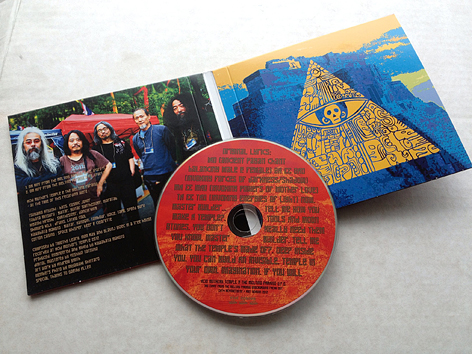 Release Info:
AMT return with an expanded Melting Paraiso U.F.O. line up featuring the added guitar skills of Japan underground legend, and new full time member Tabata Mitsuru.

'IAO Chant From The Melting Paraiso Underground Freak Out' finds the band revisiting the past and once again taking Gong's infamous 'Om Riff/Master Builder' to soaring new heights. This is a completely new version/recorded in a new Japan, one still coming to terms with recent catastrophic events. Split into two almost equal parts, 'OM Riff From The Melting Paraiso U.F.O. Parts 1 & 2' this is the sound of a reinvigorated AMT playing some of their most up-tempo and groove based music for some time. The laid back nature of last years acclaimed 'The Ripper At The Heaven's Gates Of Dark' opus is put firmly aside, in favour of some heads down cosmic riff heavy freak-out.

Taking the original classic work as the backbone, and stretching it out to new heights, taking on an almost Krautrock sense of repetition and sonic attack. This is definitely more akin to the much loved AMT live sound, and should appeal not only to long time AMT converts but pot headed pixies and a new generation discovering what guitar based music is all about too. File under Acid Mothers Temple, Gong, Krautrock, Psychedelia, etc etc

Available as a CD packaged in card gatefold sleeve (initial pressing only), first edition splatter coloured vinyl LP (limited to 500 copies worldwide) and black vinyl repress (limited to 300 copies worldwide)
Acid Mothers Temple & The Melting Paraiso U.F.O. - at the time of this recording were :

Tsuyama Atsushi : bass, cosmic joker
Tabata Mitsuru : guitar, guitar synthesizer, maratab
Higashi Hiroshi : synthesizer, dancin'king
Shimura Koji : drums, latino cool
Kawabata Makoto : guitar, yangqin, tambour, voice, tape, speed guru
Cotton Casino : space whisper, beer & cigarette

composed by Timothy Leary, Man Ray and Slavoj Zizec in a tree house
recorded at Acid Mothers Temple 2012
produced, engineered and mixed by Kawabata Makoto
digital mastered by Yoshida Tatsuya
art work by Andrew Smith
members photo by Miyawaki Shintaro
special thanks to Daevid Allen
THE PROMO T-SHIRT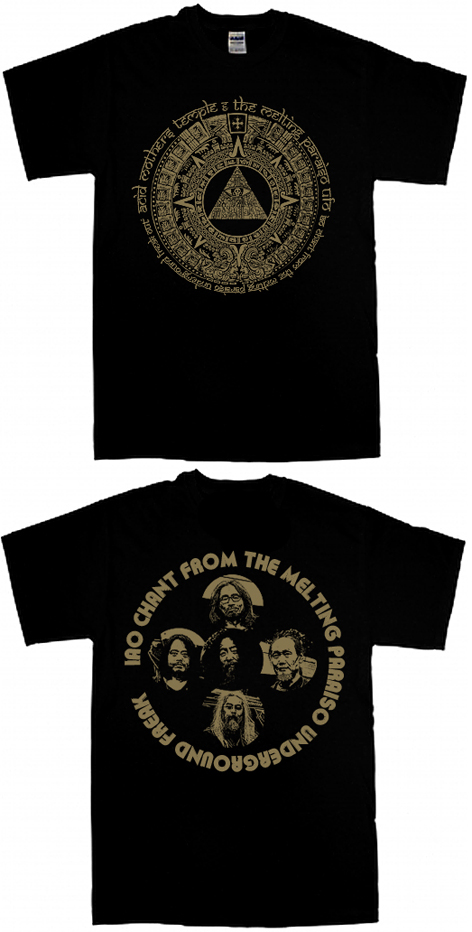 REVIEWS

This release marks what feels like the unstoppable Japanese juggernaut known as the Acid Mothers Temple's millionth outing. With a discography as eclectic as it is prolific, there are few branches of heavy/"out there" music that guitar wizard Kawabato Makoto's group of demented psych-warriors haven't touched on; this year alone has seen them churn out records of (by their standards!) pretty standard psychedelic freakouts as well as an abstract jazz album called "Son Of a Bitches Brew". This particular offering belongs in the former category, and takes as its starting point a Gong track called "OM Riff/Master Builder". However, where this band is concerned, there is no such thing as a straight cover, and this is decidedly one of their better efforts (look, I love them as much as anyone, but no-one can put out 3-4 albums a year and suffer no loss of quality whatsoever!).
One of the elements that I've frequently found lacking with the AMT's recorded output is that the albums rarely match up to the power and sonic overload of their infamous live shows. Granted, there's no way (except going to the show!) of experiencing the wonder of seeing Kawabata set fire to his guitar (and himself) and then proceed to pull out a second guitar solely for the purpose of smashing it to smithereens, or to gawp at the amazing dancing of keyboardist Hiroshi Higashi! But this album has the speed, variety and lunacy of those live shows, with the sound not being too much of a muddle at all, mixed just right and providing a very engaging trip to outer space.
These two tracks are easily one of the best representations of the band's live sound (as the good folks at Riot Season promised!), and as such come with the highest recommendation for both newcomers and old fans of the band! People already acquainted with these guys know what to expect – for the rest of you, well, basically this is forty minutes of the best psychedelic freak-out zap-your-mind band on the planet, at the peak of their powers, and frankly no-one else comes close to matching the aura of humour and technical wizardry on show on this very fine record!
THE SLEEPING SHAMAN
Acid Mothers Temple and the Melting Paraiso U.F.O - IAO Chant From The Melting Paraiso Underground Freak Out (Riot Season)
This time we are reviewing a record called IAO Chant From The Melting Paraiso Underground Freak Out by a band of Japanese hippies called Acid Mothers Temple and the Melting Paraiso U.F.O. The reason I am calling them hippies is because by the looks of them on the back of the record they are hippies because they have long hair and beards like the hippies from the sixties and their record cover looks like a record from the sixties because it has a sixties pattern on it - I've never been a hippie because I've always kept my hair short but I wouldn't mind growing my hair a bit.
This record is funny because when you take it out of the cover it's not black because it is red with white splashes on it and I thought this was very interesting because I've never seen a record like that before. This record is also interesting because even though it is an album it only really has one song on it called IAO Chant From The Melting Paraiso Underground Freak Out U.F.O. with part one on side one and part two on side two. It only has one song on it because it is a very long song and you can only fit so much on a record.
The music on side one starts off with a long noise and then the guitars and drums and some strange keyboard noises and some singing all starts off together after a bit and it's very loud and very rocking indeed. I tried to make out what they were singing but I couldn't even though they were repeating it over and over but I suppose they could be singing in Japanese and sometimes it is hard to hear the voices anyway because the guitars are so loud. The music keeps doing the same thing over and over again and I think this is a very interesting way to make music and would be very good to listen to if you were a hippie. The music doesn't carry on the same forever though because it changes and the singing stops and there is more guitars later on which I think are played very well and they're also lots of great science fiction noises from a keyboard that I liked a lot. Near the end of this side of the record everything starts getting faster and faster and a bit mad and they sound like they're having a lot of fun and then it all comes to an end with all sorts of different things going on - I liked this very much.
On the other side which is part two of IAO Chant From The Melting Paraiso Underground Freak Out U.F.O. and it starts off with long guitar noises and voices which sound a bit like throat singing which is a type of singing you sing by going AAAAAAHHHHHHH. The guitars all get a bit noisier and there are also noises which sounds like metal being chucked about and also a noise that sounds a bit like a donkey. After a bit of this messy type music the guitars and drums start up again proper all of a sudden and it is the same tune as was on the beginning of the other side of the record except maybe a bit noisier, this goes on for a while and at one point I thought it might go on for ever but it didn't because what it did was get noisier and noisier and more mad-sounding and then stopped with a bit long noise - I liked this side of the record too and think it is very interesting to have a big long song getting noisier and noisier and going mad because it makes a nice change from shorter, more normal songs.
Overall I would say that I liked this record very much; I thought it was interesting, noisy, a bit weird and good fun, I would give it 10 out of 10.
PETER KEMP RECORD REVIEWS