LIMITED EDITION 200 ONLY BLACK VINYL LP WITH DOWNLOAD CODE. SPLIT LABEL RELEASE WITH SUPER FI & SWARM OF NAILS
LP Tracklisting
A1. You Won't Know Till You've Cried
A2. It Didn't Get Any Better
A3. Lacerations To Hands And Faith
A4. Way Of Bastard
B1. We Failed
B2. Since His Collapse
B3. The Live You Live
B4. Way Of Snake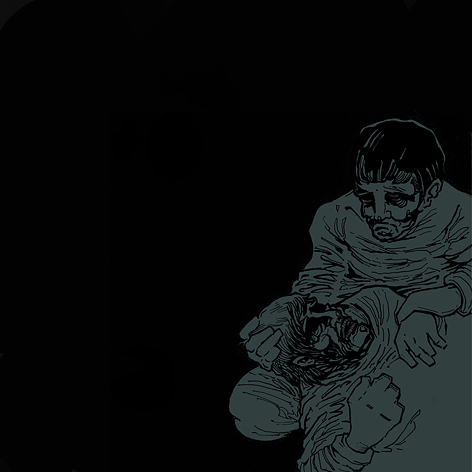 ORDER VIA THE WEBSHOP OR BANDCAMP SITE (IF STILL AVAILABLE)
Release Info:
Art Of Burning Water were born out of the 'white flats' of Hanwell (W7) and the pre-gentrified homes of Hammersmith (W6) in West London in 2001. The sound of suburban alienation and misfit isolation forged an awkward visceral sound that was too punk for the metallers, too noisy for the arthouse crowd and too weird for seemingly everyone else. AOBW continue to plough their own furrow despite personal injury and often chronic disorganisation. with self-promotion taking a back seat to the importance of sound creation to combat the often ugly hardships of everyday living.
Like Slayer gone sludge, AOBW channel the prime noise-rock of vintage Zeni Geva and Godflesh with the more complex rhythmical riff obsessions of the Melvins, Keelhaul and mid-period Voivod. In saying that however, AOBW also adhere to the original punk philosophy of 'anything goes'. There are no restrictions. Punk isn't about Discharge (as good as they were and are), studded belts and crusty bum flaps. Punk is the heart to tell the narrow minded to get fucked.
"This Disgrace" continues the more spontaneous writing approach of third album "Love You Dead" with some emotionally draining dirge sections akin to a more budget "Children Of God"-era Swans, "What's This For?" period Killing Joke as well as the "Souls At Zero" beatings of Neurosis. All subject to opinion of course.

REVIEWS
"Angular, sneery fuckers from Lahndahn town, The Art Of Burning Water have been toiling away for a decade or thereabouts. Occasionally they delivering fragmented transmissions of their Noise Rock-inspired metallic bludgeon when you least expect it from whatever bunker/dungeon/borstal they spend their time locked away in. They've worked in near obscurity for most of their existence. Which, to be fair, has worked in their favor – or perhaps in your favor if you're hearing them for the first time here – as that self-same, almost hermetic approach has allowed them to fine tune their assault in their own sweet time. "This Disgrace" is album number four, and their strongest offering yet. With eight tracks in under half an hour, it strolls in, batters you and fucks off in the blink of an eye. There's not a tremendous amount of fat on these bones, and they've finally delivered the lean,mean killing machine they've promised to for years. AOBW have the brain to brawn ratio bang on. The caveman ferocity in the riffing is welded to a super tight and musically articulate rhythm section for one thing, and the songs are designed to satisfy the ears and the gut in equal measure. AOBW do not simply flail around without giving the listener something to latch on to – just check out the surprisingly catchy "We Failed" for one, and note how it never sacrifices brute force even at the most melodic points (although "melodic" is a relative term here). "Lacerations To Hands And Faith" changes tone from a swift act to violence to a lurching dread, offering up a killer headbanging riff in the process that would make the likes of Old Man Gloom drool. That band are actually a handy enough comparison if, heaven forfend, you might be looking for one. The same slightly leftfield approach to heroically brutal guitar sludge, the same occasional indulgence in samples and noise – though AOBW reign that tendency in unless absolutely necessary. In the glorious Sleep meets Steel Pole Bathtub melee of "Since His Collapse", they emit the same psychotic glee that the Hydra Head super group exude at their best. Overall however the comparison is more in approach than in sonics – and AOBW are very much their own men. Is this Metal Ireland material? Yeah. Fuck yeah, this sounds like metal to me – it's the kind of music we should be classing under the "sludge" heading rather than mongos with Matamps singing about dragons and bongs. Nowt wrong with that at all, don't get me wrong, but this is a more mischievous warping of the kind of elements at work in some of that genre. It fucks with traditions and delivers with a keen thirst for blood. But at the end of the day it still gets the fists waving and the head banging. Heirs perhaps to the throne vacated by the late, great Fudge Tunnel – Art Of Burning Water would probably just smash the thing up and use the wood to smash up their instruments. If you're looking for an album to kick start your 2013 with a pair of steel toes, "This Disgrace" could be just the record you need."
METAL IRELAND
"Let loosed from the wastelands of our nation's capital in 2001, Art of Burning Water return with a savage new album in the form of "This Disgrace" This veteran noise making machine comes on strong from the outset, blasting out of the gate with "You Won't Know Until You've Cried". Its bludgeoning, gut-level intensity creates the parameters for the carnage that follows, where taut, angular guitar lines are merely lead-ins for a series of battering injections of brutal velocity. The unalloyed violence of "Lacerations to Hands and Faith" and "We Failed" simply beggar belief, fashioning a rabid form of blood-spattered expression as brusque as anything wrought by Unsane or Zeni Geva. Since the demise of Part Chimp and Taint, AOBW are the closest UK counterparts to these noise rock luminaries, and this staggeringly vicious album more than proves that very point."
ROCK-A-ROLLA
"What do you do when one of the greatest bands in the world release and album on one of the greatest labels in the world? That's right... Art Of Burning Water on Riot Season. Although extremely welcome, it is a little bit surprising. Riot Season specialise in drunk as hell overdrive, gonzoid freak out noise rock of the highest order, whereas sludgecore thinkers AOBW are an outfit of pummelling metal precision. The results are dazzling. AOBW give IMO their best album to date here. Not only do they appear to be a metal band, they also incorporate a potent concoction of textural unpredictability that rather like the Melvins, Tad or Goatsnake twist out the sound into endless fresh and exciting forms. The guitar tone is thick and merciless, the drums relentless. When I first saw them back 10 years opening for Mastodon and High On Fire at the Underworld I was literally blown away. I thought they were the next big thing. In metal life spans are much longer, and it is my sincerest wish that AOBW find that big audience. But as long as they are making records as fucked up, huge and tone-owning as this, that's all that matters."
FOXY DIGITALIS
"London's Art Of Burning Water mark their debut for Riot Season (co-released with SuperFi & Swarm Of Nails) with the LP 'This Disgrace', album number four and the follow up to 2010's 'Head of the Tempest' which saw the light of day via Super-Fi and Hate Life Records. I have kept an eye on this band since first being introduced to them a few years back by one of the guys from London based DIY promoters 'I Hate The Kids', who had hosted one of their gigs and thought they would be to my liking. Their sound is hard to categorize, their off the wall approach combines elements of noise rock, punk and sludge and thrives on feedback and discordance whilst delivering the entire package like a sledge-hammer to the face. With 'This Disgrace' they have managed to up the ante some-what, still sticking to the initial formula, yet honing their skills, delivering an extremely focused and intense statement which should definitely turn a few heads. Feedback and dissonant repeated phrases open proceedings on 'You Won't Know Till You've Cried', some (German?) vocal samples kick in and then we are hit with the opening salvo, an intensely heavy riff which is interspersed with more off kilter guitar tones and scathing, tortured vocal deliveries which build in intensity before 'It Didn't Get Any Better' kicks in with one hell of a crushing, techy riff that just gets me every time – low down and dirty stuff. From here on in they don't really let your attention drift very far at all; 'Lacerations To Hands And Faith' has simply one of the best breakdowns I have heard in a good while, around the halfway mark take the already ridiculous riff and drop the tempo to a crushing pace which will have people banging heads so hard as to induce whiplash. 'Way Of Bastard' sees out the A side with an explosion of feedback, distortion, vocal manipulations and frenzied drumming, the shortest track on the album clocking in at just over a minute acts as a brief, yet chaotic intermission. 'We Failed' does not mess around, a repeated drum flurry underpins the hardcore influence of the guitars and vocals until the piece breaks apart into a completely unforgiving, despair-ridden dirge then back again, a technically excellent piece of work. 'Since His Collapse' rears its ugly head next, vocal murmurings and a particularly melancholic guitar line that smacks of post-rock sets the scene, before yet more delicious tech-heavy riffage simply melts your face off, one of the highlights of the album in my book. 'The Live You Live' is rowdy as hell, definitely one to get the crowd going pit crazy, relentlessly heavy from the word go, choppy riffs and agro vocals beat you to a pulp getting you in the right state of mind to deal with the closer 'Way Of Snake'. A huge wall of noise washes over you for the duration as the album comes to a close, blast beats are heard way off in the background while swathes of vocals are distorted beyond comprehension, simply kicking the last bit of life out of you as the LP comes to an abrupt end. Fantastic stuff and another step up the ladder for Art of Burning Water, make sure you snap up one of these limited 12"'s before they disappear!"
THE SLEEPING SHAMAN
"It was at King Alfred's pub in Southampton that I first heard Art Of Burning Water, during a run of UK dates late last year. What I remember is this: a muddy gush of volume surging out of PA and amplifiers with crooked scraps of hardcore jutting out of it; guitar contorted into jagged stabs and discordant groans, vocals trampled mercilessly into the noise, drums keeping the spill within the vague, rusty constraints of song-form. Nothing too drastic has changed in the transition to the recorded format – the riffs have been permitted to emerge and protrude from within the sludge a tad, although much of the sound still abides by its status as a violent and obscure grey matter; screams buried by their own low fidelity, splurges of white noise adding an ugly serration to the guitars on either side. Such a sound is delightfully applied throughout. "You Won't Know Till You've Cried" clears its throat on feedback before stumbling over one, solitary note for 90 seconds straight – panicked film dialogue raises the pressure until it hammers the door down, eventually bursting open as the album's very first cathartic opening. Meanwhile, "The Live You Live" – this reviewer's particular favourite – throws itself back and forth between winding, quick-fretted stampedes and pure atonal hurricane, embarking on a terrifying pendulum swing between fits of rage and sheer loss of control. It's all over in 27 minutes, scorching the silence to follow with its gloomy (and thankfully momentary) tinnitus imprint."
ATTN MAGAZINE
"AOBW channel the prime noise-rock of vintage Zeni Geva and Godflesh with the more complex rhythmical riff obsessions of the Melvins, Keelhaul and mid-period Voivod" according to the press release. I don't think I've ever read such an accurate sentence on a one-sheet before. Basically, Art Of Burning Water are the UK's best kept secret. For over a decade they've been bashing out top notch noise rock riffs. In the past couple of years they've really been stepping it up quite a bit and this 4th LP has come along while their last one is still hot. I'm not arguing though because it's great to hear these songs that have absolutely killed live finally being recorded. Although most of the riffs are pretty complicated they have a raw, fluid looseness to them which keeps them on the punk side of things. And, despite some odd time signatures, there's a swing and a groove to the music. Your head will be banging constantly although onlookers might give you strange looks due to your odd movements. Art Of Burning Water also have that other vital element - hooks. You can't really whistle the tunes but you will get riffs stuck in your head. And they don't mind repeating a simplistic riff now and again or chugging away on one note. Very satisfying. Generally it's that style but Since His Collapse is a bit of a change. Gets a lot more intriciate and math-rocky. Perhaps like their old touring partners American Heritage. Weird time signatures and abstract guitar lines all over the place. They do finish it off with a cheeky e-chug riff (although it's completely un-moshable). Fingers crossed they stick around for at least another decade."
SPOONFUL OF TAR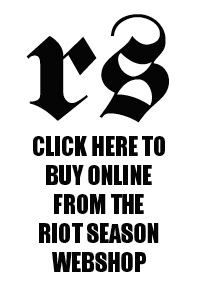 TO BUY ANY AVAILABLE RIOT SEASON RELEASE DIRECT FROM THE LABEL, PLEASE VISIT OUR WEBSHOP BY CLICKING THE IMAGE ABOVE