LIMITED EDITION 500 ONLY LP PRESSED EQUALLY ON WHITE (250) AND SWAMP GREEN (250) COLOURED VINYL. CD HOUSED IN A MINITURE VINYL STYLE SLEEVE WITH INNER AND CASSETTE (80 COPIES). THE CD & TAPE CONTAIN AN EXCLUSIVE BONUS TRACK 'THE DISPOSSESSED'
LP Tracklisting
A1. Revelation Space (11:31)
A2. Taitan (5:27)
A3. D.D.D. (2:05)
1. Revelation Space (11:31)
2. Taitan (5:27)
3. D.D.D. (2:05)
4. The Dispossessed (9:28) CD EXCLUSIVE TRACK
5. New Sun (20:29)
Cassette Tracklisting
A1. Revelation Space (11:31)
A2. Taitan (5:27)
A3. The Dispossessed (9:28)
B1. D.D.D. (2:05)
B2. New Sun (20:29)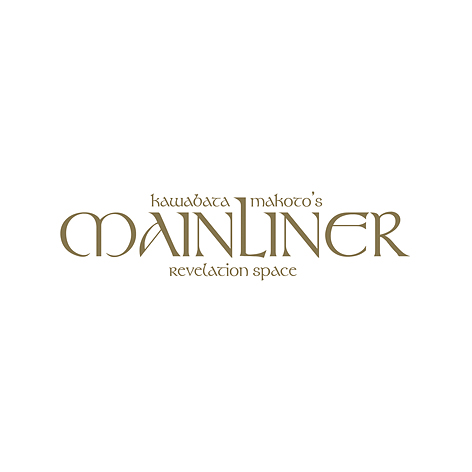 ORDER VIA THE WEBSHOP OR BANDCAMP SITE (IF STILL AVAILABLE)
Release Info:

One of the most celebrated Japanese Underground bands have returned! It may have taken over 12 years, but Kawabata Makoto, guitar guru and head honcho in Acid Mothers Temple, has finally decided to get his celebrated 'psychedelic solid free attack group' back together. Joining original Mainliner members Kawabata Makoto (motorpsycho guitar) and Koji Shimura (drums) is new recruit Kawabe Taigen (bass/vocals) and the trio still kick up one hell of a sonic racket.
Confusion surrounds the exact details of the recording, but they seem to date from December 2011, and from Kawabata's mountain top temple studio-cum-home. The man himself, as always, is shying away from sharing too many of the magick details about the Mainliner rebirth. And the stark, minimal black with gold sleeve keeps the mystery intact, apart from the grainy band photo on the rear.
All said, 'Revelation Space', is a comeback statement of intent. And it's firmly in the same 'in the red / raw' camp as the original trio's classic 'Mellow Out'. From the initial speaker shaking feedback burst of opener 'Revelation Space', right through to the closing 20-minute epic 'New Sun' (which showcases Taigen's otherworldly howl perfectly) there is no let up in the brutal delivery.
This will no doubt delight those Mainliner diehards who never thought they'd see the day again, and all those with a love of over the top guitar howls and punishing feedback levels, but always under pinned by some righteous grooves.
KAWABATA MAKOTO'S MAINLINER is ...
Kawabata Makoto : Guitar
Kawabe Taigen : Bass, Voice
Shimura Koji : Drums
All words by Kawabe Taigen
All music by Kawabata Makoto
Recorded at Acid Mothers Temple on 20th Dec. 2011
Produced, engineered and mixed by Kawabata Makoto
Art works by Andy Smith
Special thanks to Nanjo Asahito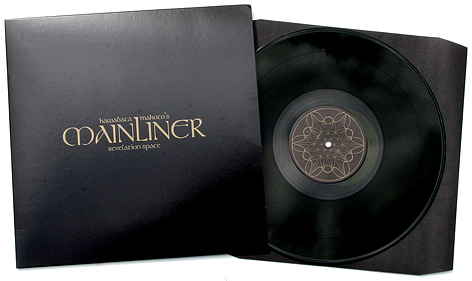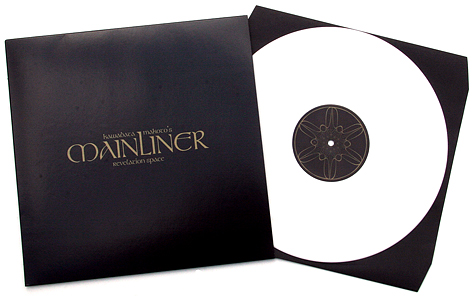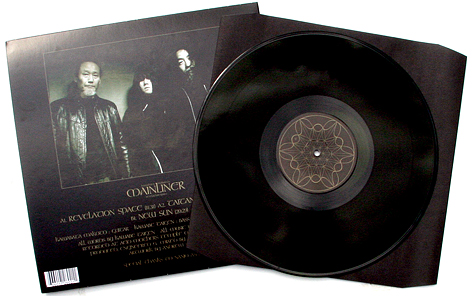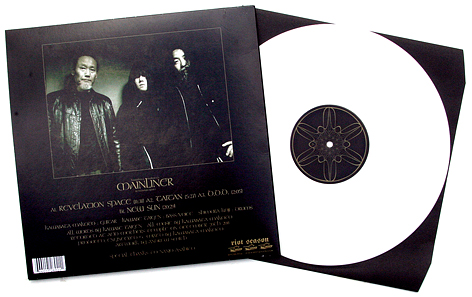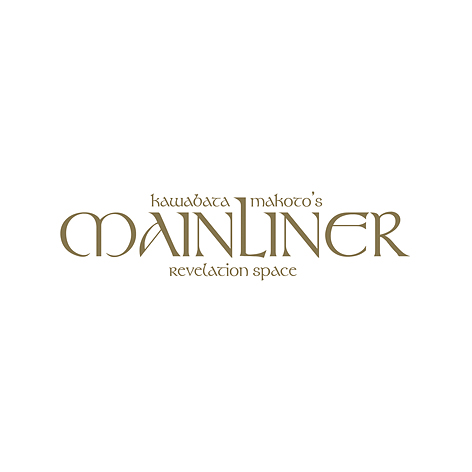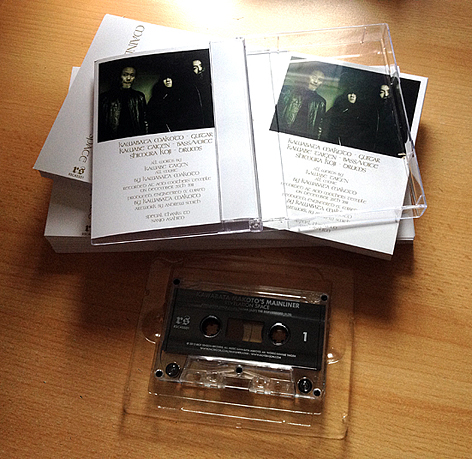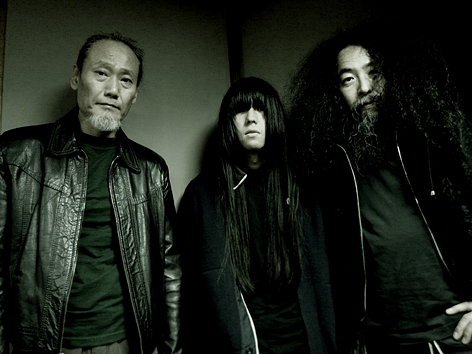 REVIEWS

Totally deadly, mind-melting psych-rock grooves by Acid Mothers Temple's Kawabata Makoto with Kawabe Taigen and Shimura Koji. A must for the heads!
BOOMKAT
Kawabata Makoto, as those of you know your Japanese noise underground will be aware, is the guitarist and main man of the legendary Acid Mother's Temple, and Mainliner is one of his off-shoot bands. In fact this self-styled "psychedelic solid free attack group" haven't released anything since a run of albums in the late 1990s, and Revelation Space is their first with this line-up of Kawabata on guitar, Shimura Koji on drums and Kawabe Taigen from Bo Ningen on bass and spooky, atmospheric vocals.
As you might expect from a man that I last saw setting his Fender Strat alight in London's Corsica Studios last year, Kawabata's guitar is central to this album. On first listen, it seemed that the guitar was mixed about four times as loud as the rest of the band. It took time to adjust to his incredibly modulated guitar sound, and appreciate that the other musicians are working with him and not just flailing around unnoticed in the background.
The music takes its starting point from classic psych rock and Kawabata's playing is a mutated version of what Jimi Hendrix and Ritchie Blackmore were doing a long time ago, although the sheer volume introduces a distinctive crunch and crackle to the sound, placing it more in the vein of the challenging noise improv of Ruins or Keiji Haino.
Having said that, Mainliner is very much a power trio, and there are 4/4 rhythms and riffs galore. Revelation Space is a difficult but rewarding listen and it is definitely not for everyone. From the opening blast of noise – and it is a blast - on the title track there is no doubt that this is an uncompromisingly loud album, and Kawabe's reverbed, distant vocals drift behind Kawabata's intense guitar onslaught. The instensity doesn't let up over the 11 minute duration of the piece, though Shimura's drumming attempts to bash out a groove amidst the walls of feedback.
The shorter piece 'Taitan' contrasts well with the relentless rhythms of the title track, as it builds a subtle atmospheric sound. Kawabe's vocals are a ghostly howl and the drums and guitars shift from noisy ambience to full on sonic assault. The punky two-minute 'D.D.D' is more like Bo Ningen than Acid Mother's Temple, and still that intense wall of sound does not let up. 'The Dispossessed' starts with another good groove, the bass riff almost at odds with the drifting vocals, and it is punctuated with the machine-gun-style drumming before the guitar gets wild again.
At 20 minutes in duration, closing track 'New Sun' dominates nearly half the album. Again the vocals sound ghostly and distant, almost at odds with the groove going on, and Kawabata saves his most thrilling playing for this one. Both Acid Mother's Temple and Bo Ningen have strived to take psychedelic rock somewhere new, and this passion shines through with Mainliner, particularly on this track, which manages to fit within the rules of psych-rock jams and also push the boundaries that bit further.
Approach with caution due to the intense and relentless volume levels, but if you are a fan of loud and challenging psychedelic music you will find plenty to interest you here.
THEFOUROHFIVE
To those who'd forgotten, Mainliner were one of the countless Acid Mothers Temple splinter groups who aimed to out-fuzz, out-rock and generally usurp every other band, ever. After releasing a spate of albums, CDrs and cassettes in the late 90s they disappeared but twelve years on, they've returned with a new album and a new member in the shape of Bo Ningen/Devilman's Taigen Kawabe on bass, but it's safe to say that their mission is the one thing about them that hasn't changed. This is distorted to infinity, crackling, bristling garage psych that should be played loud enough for ASBOs to instantly materialise on your doorstep.
As 'Revelation Space' crunches, then explodes, into life, the overwhelming impression is solely that of Kawabata Makoto's insane, freewheeling guitar, barrelling everywhere like a caffeinated bear in a padded room. He is The UltraHendrix and, placed impossibly high in the mix, it takes a while before you realise that anyone else is even there. It's when Koji Shimura's percussion starts pounding with frenzied intent and Taigen's soft voice drifts in on halcyon clouds that they seem more like a functional unit, each driving the other towards that hallowed peak where the MC5 meets Fushitsusha.
The mellow trip of 'Taitan' is a blessed moment of respite after the opening ten minutes, Taigen softly moaning while shards of distortion rise up out of the mist like Nessie. The creeping discordance grows with the rumblings of Shimura's kit and there's a sense of cinematic grandeur in the way it simply ascends out of nothing into a fierce battle between guitar and drums, but it's likely only Takashi Miike could accurately illustrate its intensity. It's followed by the brief punksplosion of D.D.D., the one moment where it's all about Taigen. Fast, fierce and driving, the family resemblance to Bo Ningen is strong, right down to the whooped, distorted vocals that ripple off into the centre of the Earth.
The crackly, bristling tone of this album is one that's almost tailor-made for vinyl which is why it's almost painful to remark that the CD- and cassette-only track 'The Dispossessed' might well be the strongest track on offer, perfectly pairing a simple, pulsating bassline that could loop for years while never losing its kick with the screaming guitarwork of Kawabata, splitting off into a freeform acid-jazz jam and then re-joining in a blissful marriage of funkiness and insanity. It sounds like how Mainliner should sound, brash and weird and lodged firmly in a bubble of 70s sonic excess and acid flashbacks.
Then again, the epic closer of 'New Sun' does that too, it just takes a bit longer. Exuding cool, right down to the loose swagger of Shimura's drumming as the song settles into its groove and the deep, gravelly rumble of Kawabata as he readies himself for the colossal explosion of doom that lurks in the middle, it screeches its way through more propulsive riffage, more distorted freakouts and more finger-bleeding solo nuttiness than the average stoner band tackles in an album, but the feel of this album is that they couldn't tone this down, even if they wanted to. Put together, this trio have simply let rip with the biggest sounds they could imagine and it's laid out for the world to hear in all its brain-mangling splendour. Technically astounding and with a relentless energy, it's undoubtedly going to be a tough listen for some but for everyone else, there's nothing to do but to turn this up loud and to wait for the police to knock at the door.
THE SLEEPING SHAMAN
Ahh Mainliner, a bunch of psychedelic Japanese chaps including Acid Mother Temple's Kawabata Makoto on guitar. They were going for 'The World's Most Maxed out, fuzzed out band' award between 1996 and 2001 but then they stopped making music… bollocks! Anyway, after a 12 year recording hiatus and now armed with Kawabe Taigen from Bo Ningen on bass they are back with Revelation Space! Has there ever been better news in the history of visible the universe? Not really, no.
Mainliner's sound can be compared to some long haired Japanese guy storming into your bedroom and smashing your skull with a breezeblock for 40 odd minutes (in the best possible way of course). The good news is the breezeblock effect against your skull is still there, the hugely distorted guitars conjure up a hurricane of carnage! You can feel it in the first couple of seconds of the opening track also named 'Revelation Space'; you are immediately assaulted with enough feedback to take out a massive tank factory. This time however, hidden behind the wall of sheer brutality there is a hint of mellowness intertwining with it, it sounds like chilled retro grooves being created by some random stoner at the back of the room who doesn't know what day it is. Don't get me wrong though, the crushing guitars still dominate this record and it's still arguably the heaviest music you could ever treat your mind to, it just offers another dimension. The vocals are trippy and soulful, they manage to stand up to the chaos and join in, making a significant contribution to turn 'Revelation Space' into a real ermm… revelation.
There are changes of pace, which often means tearing into another doom-esque jam that will make you nod your head like a mother fucker. Think Earthless and Merzbow hammering out an unrehearsed collaboration album whilst having swallowed broadsheet sized tabs of industry strength acid. There's not a hint of disappointment with this long awaited beast and it is more than worth the wait. It finishes with 'New Sun' which is a 20 minute plus jam which is nothing short of legendary. It's so full on that there will be times you find yourself in a dark tunnel, wondering if things have gonetoo far whilst you fearfully stare down it towards a bright light. My advice would be to reach for the light with open arms, let Revelation Space take you wherever it wants you to go… there's no escape.
ECHOES AND DUST
Now I am not the biggest fan of Japanese Noise/Space Rock music but I know who Kawabata Makato is. He is the legendary genius behind Acid Mothers Temple. And all the other spin-off bands that fall under the Acid Mothers Temple family. He is one highly talented dude.
I knew a little bit about Mainliner as well. They made quite an impression with fans and critics in the late 90s and they sort of disappeared or went on hiatus.
Their new album - Revelation Space - will probably piss of a lot of our regular viewers as it's not an easy album to listen to at all. Distorted Drone based epic Space Rock Psych Riffs are the order of business today.
The opening title track is a 11:30 minute epic blending Noise, Space Rock, Psych Rock amongst a sprawling Drone Background that actually feels like a distress signal in space. It ain't pretty but it's some brilliant instrumental work from everyone involved.
Taitan is less chaotic and noisy but still a hard listen at times but it does have some cool ambient based Space Rock passages to fry your brain to. Haunting vocals near the end give this album a real sense of danger to it.
D.D.D is a 2 minute assault on the senses and is probably the most straight forward song on the album. It has fast paced riffs with even faster vocals to match. Just when your really into the groove of it all it sadly ends. Which is a shame as I was starting to like this song.
The Dispossessed is another 9 minute epic blending distorted Noise/Space Rock Passages with more haunting vocals from Kawabe. Kawabe is one of my current fave vocalists from one of my fave Psych Rock Bands - Bo Ningen. If you haven't checked out Bo Ningen I urge you to do this now. Amazing band.
But back to The Dispossessed. It was around about this time I was beginning to enjoy the overall experience of the album. Distorted riffs and loud walls of noise come crashing down around you. You can tell why Mainliner have such a great reputation amongst Psych/Noise/Space Rock scene as they have a sound totally unique to their own.
And now we come up to the last track. And what a fucking track it is. New Sun is a 20 minute thunderous epic of noise, sounds and heavy atmospherics. This is where Mainliner lay everything on the line and prove what a brilliant band they are. Haunting, demonic, beautiful, loud, angry and confusing as hell all in one epic distorted package. It ends the album on a high.
Revelation Space won't be to everyone's tastes. But if you have the patience to listen to an album with real substance then you will duly be rewarded with a great Psych/Noise/Space Rock masterpiece.
Kawabata Makoto's Mainliner are a visionary band and this is a visionary album. It's brilliantly put together and I can't recommend it highly enough if your a fan of this type of music.
Amazing. End Of.
THE SLUDGE LORD
Writing a review of the new Mainliner album, or pretty much of anything that has come from the mind and fingertips of Kawabata Makoto, is something only a fool would attempt. You can't really capture a state of being in words. You can describe it, but to do so you have to first analyse it, and just by subjecting it to scrutiny you are altering its consistency, reducing it to easily digestible chunks.
Kawabata Makoto is, of course, also the driving force behind the mighty Acid Mothers Temple – the Krautrock-influenced psychedelic rock band who came careering out of Japan in the mid-90s looking for all the world like they'd just fallen in a wormhole in the Cologne of 1970 a day earlier. Some words which you could use to describe his musical output would be: experimental, improvisational, ambient and mind-altering. His music is an unhinged space rock journey across the cosmos, with no boarding point, no destination and no estimated time of arrival. Basically it's a proper magical mystery tour.
And Mainliner share this principle, only they are in more of a hurry to get to nowhere. There's urgency in the repeated riff mantras, aggression and spike in the improvised guitar curlicues, atrial fibrillation in the rhythms – but the result is total meditational noise. The bus may be travelling at 200mph, but it's still going in circles, spirals, looping the loop and looking in on itself. Only the two minute track 'D.D.D' breaks the cycle – being a "balls to the wall" garage rock acid outburst. But every good trip needs just a moment of frantic panic.
The opening foundation riff on the closing 20 minute 'New Sun' is worth the price of admission alone. It is a rhythmic riff wrangled and wrought from a freeform distorted wail – no notes as such, just a perfect balloon animal of sonic extremes.
It goes without saying that this won't be to everyone's taste. But check your critical mind at the door, leave the analysis to people with more time on their hands, and just sink into it and this is one mighty cosmic slab of mind-expanding joy.
THE MIDLANDS ROCKS
Kawabata Makoto is not going to make things easy for you. I knew there was a very familiar sound to this, but I didn't know which Japanoise rock band he had devolved from. Was it Boris ? Or Ghost ? Neither. He is the mainstay of Acid Mother's Temple and I have to admit first of that I am not very familiar with the band because I can't know everything (even though I'm trying). The only Acid Mother's temple album I have is "Magical Power from Mars" because it had an awesome hologram of a spaceship on the front. It's pretty good but this is a very different affair. Extremely noisy, fuzzy garage rock that is spaced out into extended jams that frequently devolve into a noisy squall of guitar picking and scratching that would qualify as solos if they weren't so intentionally deconstructed. It's not just noise though and the garage band feel and production gives it a necessary structure, while the feedback and ear piercing squalls project it into avant garde experimental territory. With ghostly wails and proto punk elements the whole thing fits together well and if you're a fan of the bands I mentioned above (particularly Boris) then this should sit well with you. If not your neighbours.
SITTING NOW
They've been around forever in some form or another but Kawabata Makoto's Mainliner are back with a brand new album of loud, intense psychedelic guitar screechery.
It's loud and it's out of control, which is a wonderful thing. On the surface, we are faced with incredibly noisy guitar solos that reach the very limits of the noise spectrum, at times feeling poised and full and at others feeling like they're drowning in a sea of feedback. I don't know about you, but I like my music loud and this fits the bill perfectly. Listen to it through headphones, volume at it's highest, for maximum pleasure.
Beneath all of the noise and insanity, there's some beautifully composed psychedelic songwriting. Gentle, wispy vocals feel almost haunting beneath all of the noise. I mean the majority of you reading will already be aware of Mainliner in some shape of form, but if not then you're in for a treat. The production is cleaner than some of their previous work but it feels like the noise has intensified over time. An experiment in maximal guitar playing. The juxtaposition between calm, soft vocals lines and heavy, assaulting guitars works in perfect harmony. I don't really want to listen to music that's made in any other way.
CRAIGNESS
Acid Mothers Temple spacehead Kawabata Makoto has resurrected his stoner trio Mainliner for a brand new and devastatingly psychedelic freeform groove-splatter odyssey. The rhythm section of Kawabe Taigen and Shimura Koji settle into relentless, repetitive grooves that anchor the tracks with a churning intensity while Makoto shrieks and splatters over the top with a super-saturated, bowel-liquifyingly crunchy guitar tone which rides high in the mix full of defiantly piercing buzz and scree.
All this is often backed up with vocalisations treated with so much reverb and echo that they're just ethereal blurs and sinister garbled moans, a desolate cloud drifting over the clattering, galloping wreckage which pounds itself into the most primitive part of your subconscious, tempting us to a violent new freedom. The two minute noise-punk breather of D.D.D. which comes before the epic 20-minute closing track is particularly fun, but there's a whole smorgasbord of harsh psych-noise riffing and indulgent free exploration here for those brave enough to investigate!
NORMAN RECORDS
Lift off the needle. Is there an unearthly amount of dust on there? A thought then occurs, of course – it's the new Mainliner album. For the uninitiated, Mainliner are most certainly one of the seminal Japanese underground psych pioneers of the 1990's. I think Trading Standards are still on the lookout for them after releasing their debut album 'Mellow Out' in 1996. A tremendous amount of red light clipping Germanium fuzz, industrial strength compression and Amon Duul style astral wailing put paid to any notion of 'mellowing out'. They furrowed along the fiercely inventive, extreme Japanese psych lines that bands such as Les Rallizes Denudes laid out – only taking it further and further out there with a (in their own words) 'Psychedelic Solid Free Attack Group' sound.
So, after 12 years Kawabata Makoto (perhaps better known nowadays as the wizardly guitar dervish in the wonderful Acid Mothers Temple, and their countless derivations) has decided to reconvene Mainliner without any explanation to the extended layoff, or indeed the unexpected return. Without the other underground stalwart and original member Asahito Nanjo (member of High Rise and millions of other bands) in tow, Makoto has taken Mainliner (with new recruit Kawabe Taigen) to his mysterious mountain -top retreat/studio, presumably as its closer to the stratospheric reaches where this music belongs, to cook up or summon down this new and beguiling album.
It's fair to say that this album will not to be everybody's tastes. I would have great difficulty imagining it sitting comfortably in the collection of your common or garden, pipe and slippers, bank advert sound-tracking 'folk' band fan for example, but if you are prepared to retune your ears to the caustic guitar eruption running in parallel with some heavenly cosmic chanting, then you will be richly rewarded.
'Revelation Space' starts as it means to go on, opening with the title track, loosening the lava flow guitar into your poor little ears. At once bracing and thrilling, it's not long until your senses acclimatize and make sense of the seeming chaos. Album closer, 'New Sun' is an absolute delight - more of the same, yet different. Helpful, I know, but this a constant throughout this album. You can discern guitar grooves boiling out of the maelstrom of fuzz, yet Mainliner don't seem content with hammering the same idea endlessly towards the finish line.
CD buyers get an extra (great) track, whilst vinyl plebs like me has to content them self with coloured vinyl. Ah well. Either way, mellowing out is not on the agenda here.
BEARDROCK
It's been 12 years since the last rumblings of Mainliner, a Japanese psych/blowout trio who terrorized underground music throughout the '90s with a series of beyond-heavy, unbelievably loud and dense recordings -- what you'd expect from a lineup including both Acid Mothers Temple guitarist Kawabata Makoto and High Rise bassist Nanjo Asahito. Nanjo has since departed the project, and squatters' rights being what they are, Makoto-san has tacked his name onto the group, joined by drummer Koji Shimura (AMT, Miminokoto) and Bo Ningen's Taigen Kawabe on bass. If there is more room on these recordings than on previous Mainliner efforts, thank Makoto, whose style of play -- cosmic debris and interstellar transmissions spaced out with blues riffs, minimal vocals pushed to the back of the mix, and a rumbling rhythm section -- makes it so, the claustrophobia of records like Mellow Out replaced with a bigger room sound, though no less threatening or aggressive. Five tracks here, two long ones (including the incredible 20 minute closer "New Sun," which approximates the relentless highs of Afflicted Man's Get Stoned Ezy) carve out a bright and threatening new beginning for the trio, one that fans of heavy Japanese psych and stoner sounds should be tracking down, pronto.
OTHER MUSIC
Kawabata Makoto's Mainliner is one of many side projects created by Acid Mothers Temple mainman Kawabata Makoto. They released several famously noisy records back in the nineties and early noughties, but then disappeared without warning. Why they have now returned we also do not know. One reason may be linked to the presence of new bass player and vocalist Kawabe Taigen , who fulfills the same roles in London-based psyche-metallers Bo Ningen. It may be that Makoto gazed down from his mountain top temple and saw the great works of the mighty Bo Ningen and decided he had found a worthy collaborator.
Now if you've been paying attention you'll know I'm a lover of Japanese rock music (what do you mean you haven't?!) and was delighted to hear of this musical hook up between two of my favourite live artists. I'm not familiar with Mainliner's back catalogue, but am a huge admirer of the awesome Acid Mothers Temple live experience, and Bo Ningen's "Line The Wall" was my album of 2012.
So that's the pedigree and background: what does it sound like? Well, I wrote the following about bonus track 'The Dispossessed', but I think it gives a good idea of the Mainliner experience – It's like hearing a chill wind blow through blackened trees whilst short-circuiting war droids savagely destroy each other on the battle plain. It is so dischordant at times you may well find yourself begging for relief.
If that sounds like your kind of thing then read on.
Opener and title track 'Revelation Space', like so much here, seems to be a heavily improvised noise epic of sometimes painful feedback and distortion, Taigen and regular drummer Koji Shimura create several punishing grooves over which Makoto shreds and shrieks. Makoto's guitar style here can best be described as a mix between the most experimental of Jimi Hendrix and the most anguished of Kurt Cobain.
It's not all out and out fury: 'Taitan' is spooky with sighing vocals over spiky and soaring feedbacked guitars. Later Can-esque drums emerge to amp up the supernatural vibe. It deserves to be the soundtrack to one of those sick Korean horror movies. 'D.D.D.' is an unusually brief, heavily distorted proto-punk tear up. It's the closest we get to the early Bo Ningen template.
Closing 20 minute epic 'New Sun' opens with an uncharacteristically traditional riff and Taigen's chant like vocals as the band settle into a thuggish space rock groove for some time, but whenever it breaks down you wince as you know Makoto is preparing to attack again.
This is as extreme an album as I care to listen to this year, that it is a comeback album by a man who's been playing since the 1970′s is pretty incredible. It kind of puts Black Sabbath's return in perspective! Now the majority of the time I'd rather listen to "13″ than "Revelation Space", but it's worthy of massive respect and is a must hear for fans of psyche rock
THIS IS NOT A SCENE
Mainliner first leaked from Japan in the '90s, their low slung Stooges riffs, plangent psychedelic feedback surges, and exhaust rattle improvisations unprecedented in their pulverizing intensity.
The trio soon dissipated, guitarist Kawabata Makoto recording a subsequent sixty-two albums with the deeply dippy Acid Mothers Temple.
But the title track of the reformed Mainliner's album opens with a bomb-blast of stuttering guitar and distant monastic chanting, immediately reasserting their status. New Sun's twenty minute stew of Neanderthal noise and sun worshiper psalmodies manages to be both meditational and maddening
STEWART LEE