LIMITED EDITION 250 ONLY ONE-SIDED WHITE VINYL 12" WITH DOWNLOAD CODE
12" Tracklisting
A1. Massacre-Rock Deviant Inquisitors (Part 1)
A2. Massacre-Rock Deviant Inquisitors (Part 2)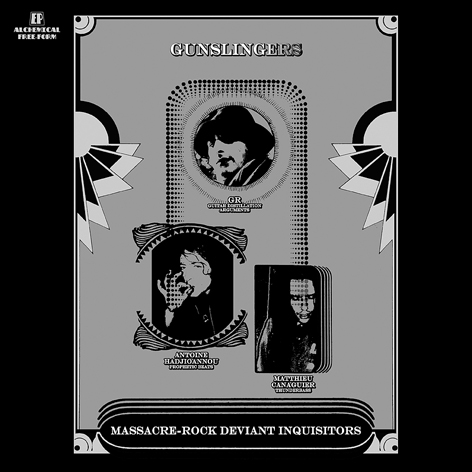 ORDER VIA THE WEBSHOP OR BANDCAMP SITE (IF STILL AVAILABLE)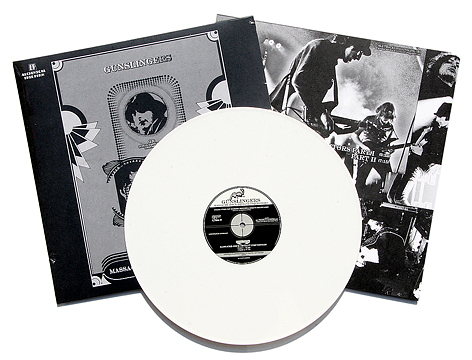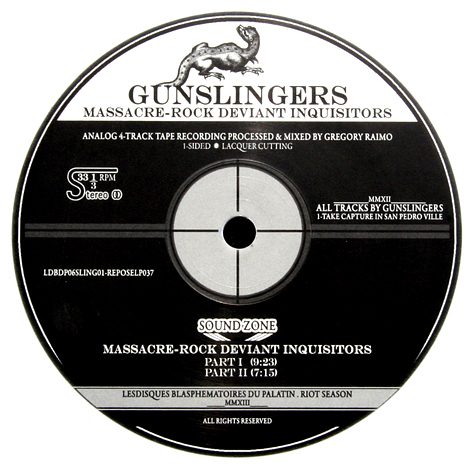 Release Info:
If you really ever fancied getting some true menacing power juice wherein nothing is to gaze at with hygienico­‐aseptic envy, it's heavily recommended that you experiment with these Deviationist French 'garçons', supreme Heads Extraordinaires of San Pedro Ville and whose futuristic morality & vision led to the founding of the mysterious outfit GUNSLINGERS ... MASSACRE‐ROCK DEVIANT INQUISITORS.

Nobody's ever really known about what has to be considered as the accurate band name—are both groups of words switchable or only one ?

Such sharp connection between the terms would indeed almost make us define the band as being such as to require battling with the fluids of naming mayhem by use of avant‐garde nonsense with relentless precision.

Hey Slingers, come here a minute!—make your way forward to have us now explore further into the insanity orbit of yours… Freakin' weirdos, this 3rd sonic missive (following 'No More Invention' & 'Manifesto Zero') is a frantic outburst of unsubmissive tonal hallucination that reaches to the Parapet of acid proto­‐psych'punk and fully generatorized under the cunted mark of 'alchemical free-­‐form'; such immediate perilous activator of the jubilant excitation underlying the phantasmatic primitive mind. Its dynamics is infernal, shiny & oily, sudden & impulsive, serpentine & excavated, opaque white & translucent crimson combined within an aboriginal fire's luminescence.

GR's 6-­‐string visionary electric monster is an insurgent bottomless creature whose arousing & provoking distorted deployment shoots at everything that DOESN'T move or doesn't get right into the accidental flow's subtlety ; then vertiginous riffage & master anti‐riffage (laden with urgent electrifying fuzz-­‐wha) merge savagely into one another, the kind of shamanic rapture that gets you triply high as Matthieu Canaguier's Thunderbass & Antoine Hadjioannou's Prophetic Beats expand massively into a psychotic fierce drive all the way, spreading pulsating emanations like scorching comets, and meeting in ethereal pathways with GR's venomous disenchanted-­‐&-­‐no-­‐less-­‐magnetizing voice which pours down arguments like swirls of traumatized sputum. In one word, these Slingers serve you another authentically twisted self-­ confessed disaster, a 2-­‐part fearsome exploration that will, once again, make your eyes bleed.
The third release from cult French band GUNSLINGERS (a trio featuring prolific guitar guru GR and Antoine & Matthieu of Aluk Todolo on Drums and bass respectively).
Co released with French label, Les Disques Blasphématoires Du Palatin (GR's own label) this release comes as a limited edition one-sided white vinyl 12". Pressed from lacquers for extra sonic clarity, and housed in a heavy thick card sleeve/jacket. Each label is getting around 225 copies and there will be no repress or CD version.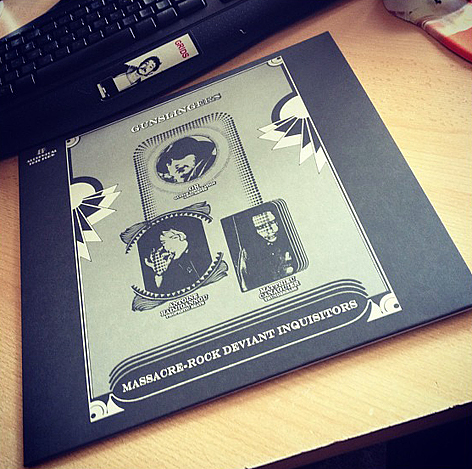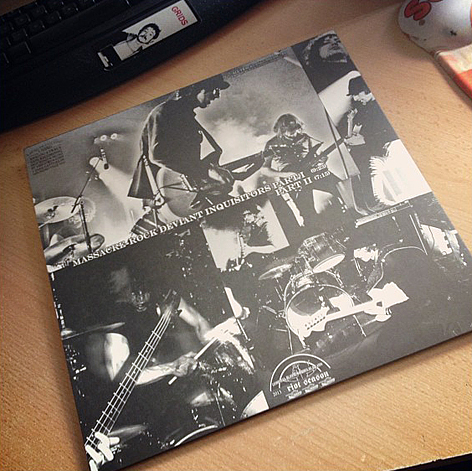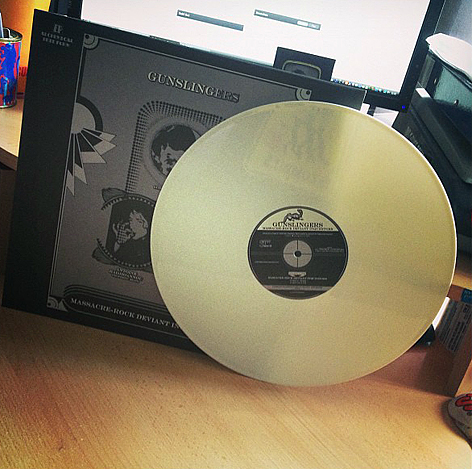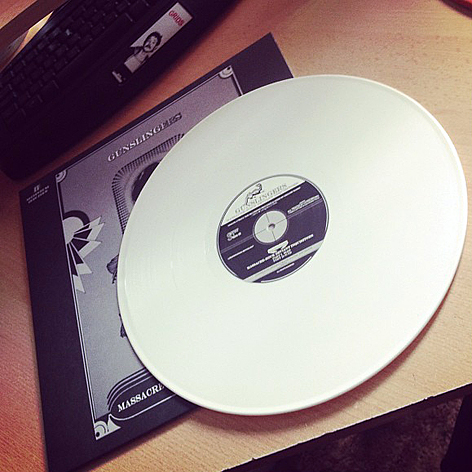 REVIEWS
While it's undoubtedly fair to say that France's Gunslingers are a rock & roll band at heart, it'd perhaps be more accurate to say that they're a little bit different from the usual leather jacketed garage rock mob that also try to fly the r'n'r banner. If you were to resurrect Buddy Holly, rough him up a bit (a few choice pills wouldn't hurt), pair him up with Frank Zappa and have them cover The Cramps, you'd be starting to touch the awesome bizarre-world of Gunslingers.
Despite being released on single-side vinyl, 'Massacre-Rock Deviant Inquisitors' is an EP that consists of a single track split in twain, although the differences that lie between the two tracks go well to illustrating the trio's two-headed approach. Part one is a high-octane burst of surf-rock groove and noisy menace, a hillbilly concoction that sounds lifted straight from a 50s exploitation feature where greasers face off against mean-ass gals who don't take shit from no-fucking-body in a drag race to the bitter end. Vocals are delivered in an unintelligible drawl that hints at country but settles on attitude, the utterances coinciding with the tortured strains of guitar that attempt to invade the fiery bolero they've got going on. Messy and chaotic, it works because the noisy elements of Gunslingers feel the same as the more structured aspects, sharing an unfuckwithable attitude and a loose swagger that lets them run off at wild tangents almost imperceptibly.
Part 2 keeps the same groove but starts to let their psychedelic aspirations steal the show for a little while, the guitars take on less discordant tones but still adopting strange, outré forms that hover about three foot off the solid groove the bass lays down. It has to be noted that the drumming on this never lets up for even the slightest moment, lightly tapping out a constant metallic beat with the desperate energy of a hormonal woodpecker, and as it fuses into the concrete low-end it starts a train of momentum that seems unstoppable. Bursts of six-string molestation rise and fall, ranging from a muted drive to straightjacketed atonality, before the song ends on an understandably abrupt note but this is music that moves so fast and so wildly that there's no way to decelerate. No, this is noise rock for people who hate noise rock. It's for when you want to smoke too much, drive too fast and die too young, and it not only loves it but it revels in it.
THE SLEEPING SHAMAN
Amazing one-sided ass-blaster from this underground French psych/power trio in an edition of 500 copies on white vinyl: the third release from this shady outfit after No More Invention and Manifest Zero is a true six string monster, with the kind monomaniacal application of wah, spuzz and endless tangles of fuzz begging comparison to early High Rise as guitarist 'GR' makes like Munehiro Narita over "prophetic beats" and "thunderbasss". GR's vocals come over like a squeaky grunt-speak amalgam of Tampax and Endless Boogie, making with indecipherable gnomic rock/roll interventions while the group marry Split-era Groundhog-isms and endless Afflicted Man-style keepin' on. Pretty amazing. Recommended for fans of the early PSF sound, Birds Of Maya, Sunflare, George Brigman, Morning After et al.
VOLCANIC TONGUE
I think its fair to say the paired down titles of this extended player (erm… Part One and erm… Part Two) are somewhat at odds with the less than minimalist approach employed by Gunslingers. Imagine , if you will, some primetime Japanese Psych band playing a wild Comanche beat Train Kept A Rollin', half cut with some mean biker speed and given limited studio time. If this sounds like your idea of (White) Heaven, then really, you are in for a treat.
Gunslingers are based around guitarist/singer Gregory Raimo, who perhaps articulates the band's raison d'être best himself when he says (verbatim) 'If you really ever fancied getting some true menacing power juice wherein nothing is to gaze at with hygienicoaseptic envy, it's heavily recommended that you experiment with these Deviationist French 'garçons', supreme Head Extraordinaires of San Pedro Ville and whose futuristic morality & vision led to the founding of the mysterious outfit.'
Well, Quite. But it's this kind of splenetic word play that runs through Raimo's vocal outbursts, so much that you're never quite sure if he has a crazed preacher's zeal or is simply just wired to the moon. Likewise his guitar playing splutters forth with a similar electrified freneticism, escaping in between his manic vocal refrains like snakes escaping a sliced bag. Needless to say - Julian Cope is a big fan. Aluk Todo's rhythm section Antoine Hadjiouannou and Matthew Canaguier have been drafted in to keep the backing just about on the rails with a surging amphetamine drive, giving Raimo free reign to fire of Sonny Sharrock style guitar expulsions.
This is by no means a long album (actually, it's more of an EP) and given its frantic delivery, it seems like its over in a blink of an eye. Two tracks (the aforementioned Part One and Part Two) rattle along at full pelt. It's definitely not for the faint of heart neither, but if thrilling, electrified proto-punk psych is your bag, then this is most definitely for you.
BEARD ROCK (4/5)
Gunslingers are straight out of the blocks: guitar screaming and writhing through boisterous rock 'n' roll improv, bass slinking between the frets with bite and seduction in equal part, vocals drool sass into vintage microphone, and drums propelled by a ride cymbal that ticks away with the same juvenile incessancy as a baby with a rattle. There's no gradual momentum-gathering or "bedding in" period here; top speed is achieved instantly, and Gunslingers hurtle into the eternal horizon powered by a loose, rickety appreciation for groove and volume.
Massacre-Rock Deviant Inquisitors is two tracks and 16-minutes in total. Its brevity is something of a tease, as both of these jams sound like they could happily crash around indefinitely – instead, my only alternative is slide the needle back to the starting point, like a child developing an obsession with his very first record single, and repeat the experience all over again. It's fantastic fun, bringing together noise rock's raucous attack and the ecstatic, all-flailing energy of early rock 'n' roll.
ATTN MAGAZINE
What do you get if you cross Turkey Bones & The Wild Dogs with a demented take on the Gun Club? Gunslingers.
Using the rhythm section from Aluk Todo, the 2 tracks merge into a 17 minute trip that pulses and sprawls like a drugged-out snake crawling through your brain. Distorted vocals alternate between slurred speaking and disjointed yelps, giving the impression of someone trying to recite poetry under great duress. If you have ever thrilled to the guitar playing in the VU "I Heard Her Call My Name", you are in for a treat. Chaotic train-wreck solos and riffs are pushed to the front with reckless passion and aggression that only overdriven amps can provide. This is primitive punk/psych and I can only wish for an album worth of material!
BLACK INSECT LAUGHTER
An outta nowhere surprise from the mystery package received last week (still working on deciphering the anonymous donor's handwriting...it might be from a Tom Somethingorother, I'm not sure) that really rocks the socks off. A group of French origin, these Gunslingers make a rather unholy racket with their gear sounding like a lost seventies underground aggro filtered through eighties jadedness. Reminds me of the infamous En Why fringe no wave group Jack Ruby with Dilton Doiley on lead vocals. A left-field effort that will probably only appeal to a fraction of you, but oh what a fraction of you'll be tearing the sheets to confetti once you hear this!
BLACK2COM
This time I am record reviewing a record from Gunslingers who are a loud rock band with three people in it from france. The music from this Gunslingers record was sent to me from Andy from the record label Riot Season so I'd like to thank him for that and I hope he likes the review. I've done a few Riot Season reviews now of bands like Hey Colossus and Acid Mothers Temple and they are always really noisy rock bands because that's the sort of band that Riot Season deals with and I always enjoyed listening to them because I like noisy rock music so I am looking forward very much to doing this review.
Gunslingers are a very noisy band indeed and on this record they do two songs (one on each side) called Massacre-Rock Deviant Inquisitors (part one) and Massacre-Rock Deviant Inquisitors (part two) and they are quite long songs because they are nearly ten minutes each. The record starts off on side one with a short quiet noise but then the guitars and drums get started and it gave me a bit of a shock cos everything started all at once really quickly. When I heard the name Gunslingers I thought of Cowboys and that made me think of Country and Western music like Dolly Parton and Hank Locklin but this isn't Country and Western at all because Country and Western isn't really noisy music and in Country and Western music you can work out what they are singing but on this music the voice sounds all weird like a person out of a cartoon like Woody Woodpecker and you can't really make out what the words are because they are a bit fast but I think they are in English and not French because thought I heard the words I don't give a damn in it somewhere near the middle - I liked this way of singing though because it's a bit different and a bit funny.
The music on this record is a bit different and funny too and I thought it sounded like 60's and 70's rock bands like The Who or Jimi Hendrix but a bit faster and a bit crazier; I think this is very crazy music indeed and that Gunslingers must be crazy people to make music like this but I think that's ok - The reason that I think this is crazy music is that all the way through it sounds like they are going a bit mad and making as much loud, fast noisy music as they can all at once.
The other song on the other side is pretty much the same and it starts off all noisy and fast and rocky and then it stays that way all the way through till everything is over. I think this is ok though because it is very exciting music that moves about and it is also very rocking and I think it must have been a lot of fun to make this music and if I was ever in a band I think I'd like to be in a band like this.
Overall I think I would say that this is very good music by a very good, interesting band and I think everyone should listen to it because I bet they would like it because it doesn't really sound like other rock bands. You can hear what this record sounds like by watching the video below. I would give this record 10 out of 10.
PETER KEMPS RECORD REVIEWS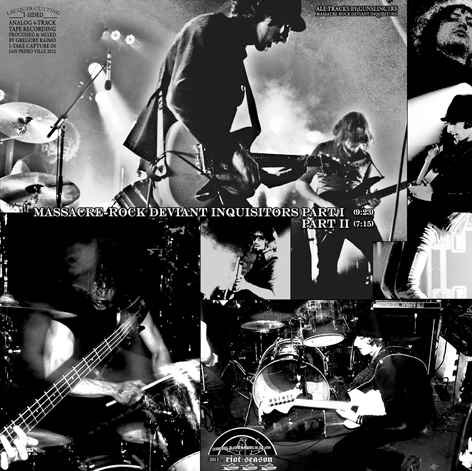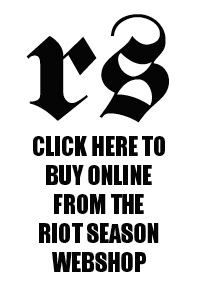 TO BUY ANY AVAILABLE RIOT SEASON RELEASE DIRECT FROM THE LABEL, PLEASE VISIT OUR WEBSHOP BY CLICKING THE IMAGE ABOVE