LIMITED EDITION 500 ONLY WHITE VINYL LP, HOUSED IN CLEAR PVC SLEEVE WITH PRINTED A4 PAPER INSERT
LP Tracklisting
A1 The Trees Shall Mourn
A2 Don't Look At Me Don't Leave Me
A3 Recommencons
A4 Spider
A5 L'oubli
A6 Tavern Snacks
A7 Bridge Of The Nose Nape Of The Neck
B1 I Could Make You Be A Woman
B2 Calling Them In
B3 A To Z Of Boy Singers
B4 Maybe I'm Right Maybe I'm Wrong
B5 Fishermans Jumper
B6 Witte Kat
B7 Liberty Wallpaper
B8 Life Like A Life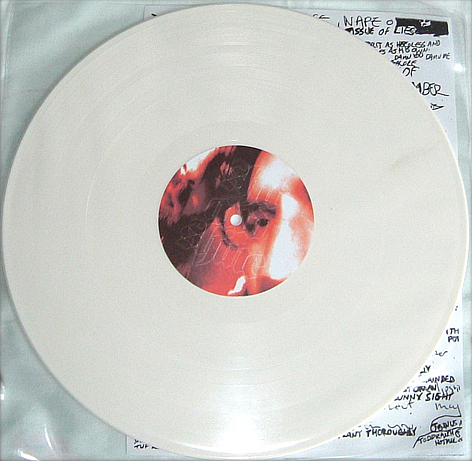 ORDER VIA THE WEBSHOP OR BANDCAMP SITE (IF STILL AVAILABLE)
Release Info:
INTRODUCING SHIT AND SHINE
Larry Mannigan recently won accolades at the Hampton Court and Chelsea flower shows for his glorious rose hybrid named "child of the summer rain", which blooms in mid-November. Larry has requested that he may never be photographed or interviewed and likes to consider himself the "darkhorse"of the trio. Frank Mcayhan teaches the importance of safety around water and has won several bronze medals in local swimming competitions. C.Clouse is a keen map reader and rambler, just the kind of person you might like to run into if you were lost on a blustery hilltop in the lake district. Together Larry, Frank and Clouse have combined their unique interests and translated them into breathtakingly ear-appealing vignettes, treating us the listener to a marvelous lost universe of fantasy-completely appealing, impeccable in its taste and typically Shit and Shine!.
Through sheer steely determination and deliberate love of life Shit and Shine have scaled the ladder of rock hierarchy bringing you their opus "you're lucky to have friends like us". And indeed we are lucky to have friends like them because together they have brought us a breathtaking musical exhibition of the finest quality recordings that will alternately excite and thrill, soothe and relax today's discerning music lover. Shit and Shine wish you as much happiness in life as they have had in making these recordings. They are currently in south America recording mudslides for a film soundtrack. They will be spending the winter months relaxing on a well earned boob cruise in the Caribbean. Larry, Frank and Clouse have one request from you and that is simply to ENJOY!
Larry Mannigan : Drums
Frank Mckayhan : Bass, Guitar, Vocals, Lawnmower
C.Clouse : Guitar, Bass, Vocals, Lawnmower
RECORD LABELS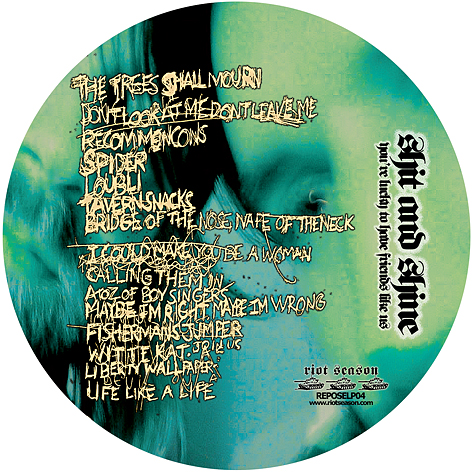 A4 INSERT