Upon releasing their now sold-out self titled debut album in 2010, Sloath claimed 'more soon!' … Four years on they have finally delivered 'Deep Mountain'. In place of the wide, white spaces of the debut, shorter tunes slam corkscrew riffage home with a new-found rhythmic propulsion. Behind the filthy power chords (redolent at times of Harvey Milk or Melvins), the overblown scut of Les Rallizes Denudes or Mainliner, and the state-altering sonics a la Bardo Pond, a mud-scuffed classic rock sensibility informs the songs and their structures. Having submitted to the influence of Creedence, ZZ Top and the Groundhogs, 'Deep Mountain' is no doom-rock trawl – with the exception of blissful, glacial centre piece "The Toucher", the songs here are for the party or the road trip.
SOME HISTORY:
2007: Five veterans of Brighton's rock scene gather with the intention of playing slower, louder and heavier than any of them have previously. Initial songs are developed with the aid of weapons-grade skunk, Polish beer and a heady cocktail of cheap rum and apple tango. Tunes built from super-distorted power chords and crushing, throbbing, squalling drone stretch at times past the half-hour mark. Early gigs are marked by deafened, blissed-out audiences, blown amplifiers and mid-set fist fights with venue managers.
2010: Debut album finally released on Riot Season, featuring three monolithic slabs of psych-sludge, but the band has already moved on, having written and discarded a whole LP's worth of new material, before holing up in their practise space to record six brand new numbers for album number two. The songs are shorter and faster, unlike the mixing process, which due to various members' life stuff takes four years to complete. In the interim, various comings and goings leave the band stripped back to a four-piece, working on yet another batch of new material in twice-yearly spurts of activity.
2014: New songs are debuted at a couple of riotous February gigs before the band scatters once more to the four corners of the globe. LP #2 'Deep Mountain' is finally completed and handed in to Riot Season. Touring plans are laid and delayed...
Thus far Sloath have shared stages with Acid Mothers Temple, Decapante, Kogumaza, Om, Part Chimp, Bardo Pond, The Unit Ama and White Mice. They intend to hit the road in support of 'Deep Mountain'.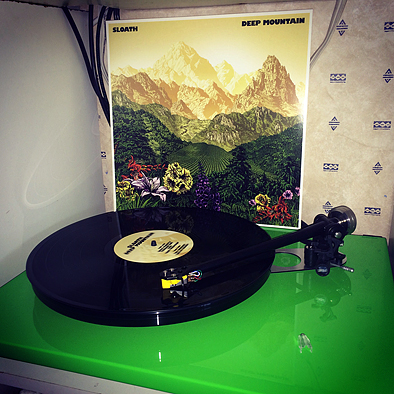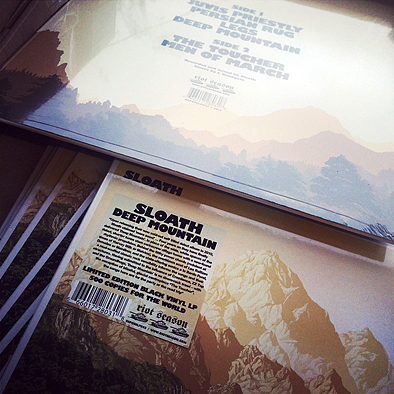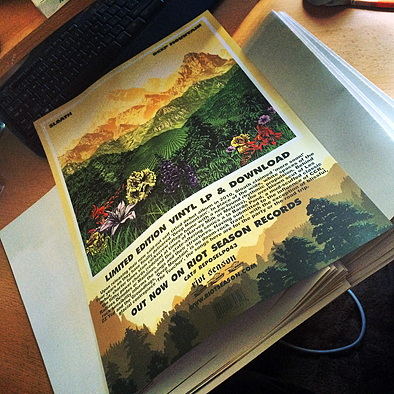 REVIEWS
The swamp-blues of Sloath's 'Deep Mountain' captures the strut of Led Zeppelin bit with the vocals submerged in the fuzz and fury of the riffs. Almost all of the album is delivered with the same merciless, mid-tempo series of hammer blows.
THE WIRE
Brighton's most fiendish outfit are in fighting mood with "Deep Mountain", coming out of hiding with a cache of hard boiled sludge grooves designed to run right through the unwary. From the thrusting opener "Juvis Priestly" to the power drone of "The Toucher", this is one seriously hirsute platter, cut by a band that is clearly enjoying itself. The Harvey Milk-like lurch of "Persian Rug" is one whale of a time on its own, with a fatback cascade of a riff worth the price of admission alone. The vocals are buried so deep as to be near asphyxiated in the mix, caught in the glut of Neolithic riffs and ageless rhythms. A rambunctious listen, righteously recommended
ROCK-A-ROLLA
Sloath's new album after a four year wait is a lot more energetic than you might expect from tracking their sluggish release schedule, or from hearing their lava-crawl debut album. That self-titled LP on Riot Season is a brilliant, underrated, sludgy masterpiece which crawls through its three lengthy tracks but with such doomy groove and texture that it's always absorbing. So here, on Deep Mountain, it's initially surprising to hear that the pace has picked up a bit, and there's SEVEN whole tracks, but still present are the blasted, overblown sound, occasional vacantly intoned vocals, and the rhythms which break and then roll in again like the surf: it's unmistakably the same band.
It's immediately evident with the rattle and fuzz that opens first track 'Juvis Priestly' that they've "submitted to the influence of Creedence Clearwater Revival, ZZ Top and the Groundhogs" as the press kit has it. Here we have a collection of heavy, bluesy rock tracks that might have been recorded in 1974 but then accidentally dropped down a well to collect a few decades of extra scuzz, decay and mutant slime. The classic rock heritage is most obvious on the ZZ cover 'Legs', but throughout the record the upbeat tempos and kicking riffs seem like the earlier slothlike Sloath have been plugged in at a higher voltage, same low-end buzz but now amped up to the eyeballs.
But while the riffing is a bit more lively, this is by no means Van Halen 'Jump' territory: it's still blown out tones and downtuned rumbling grooves and rather than clean lines and cheerleading shouts. While the tracks start out energetic, as they continue there's a gradual, subtle deconstruction back into the primeval swamp as structures slowly unwind and work themselves apart at the seams. The ends of the tracks are like monochrome, slow-motion videos of car crashes or trees falling: imminent destruction, collapse into nothing is inevitable, but it's fascinating watching the detail of bits falling off, careening and collapsing into each other, subsiding into satisfied syrupy hum, before the next track lurches into gear.
Avoiding the new focus on punchy riffing entirely, the 11-minute track 'The Toucher' appears to have got so stoned it was late for the first album, and only managed to catch up with the band here. The tempo drawls out, leaving trails of damaged tone to sprawl between each thumping beat, while there is room in the middle for a lost-in-the-desert wander before the murky slabs begin falling around you again. I'll be honest, most often for me it's the sludgier and slower the better, so I do prefer the longer track and their earlier style, but with this record they've proved their sound is so distinctive and pleasingly dirt-encrusted, I'd happily sit through their versions of Ennio Morricone soundtracks or nursery rhyme covers.
ECHOES AND DUST
Sloath from the English south coast has been around since 2007 and released their self-titled debut on Riot Season back in 2010. Taking time writing and recording a follow up, 4 years to be precise, their excellent sophomore wax 'Deep Mountain' is about to hit us early in November, again courtesy of Riot Season. Being a brand new aquaitance to me and hitting home real good with yours truly, I went into P.I. mode trying to learn more about the band. However, that's easier said than done since very little information about them can be gathered. At first that bothered me since I am a line-up freak wanting to know who's who. But as I kept listening to 'Deep Mountain' I grew to like their secretiveness. After all, music should do the talking which Sloath certainly focus on to great aplomb, meaning OCD folks like myself have to pay attention to the important stuff. So apart from unleashing a great, great album these Blighty boys are teaching an old dog, me, knew tricks. Who knew that that was even possible?
Already when the first bars of opener 'Jurvis Priestly' have been played, Sloath sets the record straight. Their Modus Operandi is slowish, pulverisingly heavy doomy sludge á la Sleep and Harvey Milk soaked for years in a huge riff casket finally seasoned with deep reverb. The end result is an extremely hypnotic and mesmerizing head trip of the highest order. Being the fastest track, everything's relative, on the album the pace is brought down a notch or two as 'Persian Rug' slowly slithers it's way through a haze of afghan kush and spaced out riffing. Close your eyes and man, you're off to another world! Next up is 'Legs' where Sloath goes bluesy. The whole approach of the song is steeped in blues, if you don't believe me just listen to the slide solo. Nuff said, great song you hear?!
The title track picks up where 'Legs' left off, the only exception is a reversion towards their love for sludge, mixed with psychedelic jam parts. Sounds strange? Well, it isn't. In fact, it's bloody marvelous. The longest song on the album follows, The Toucher', and it crawls along slowly and purposefully, building up feelings of elatedness and out-of-body experience. Trance-inducing in it's repetiveness I feel cleansed and invigorated every time the song comes on. Ending in a full tilt blend of rifforama and psych, 'Men Of March' continues down headtrip alley allowing the listener another chance of astral travelling...and it couldn't be better.
My boss at The Sludgelord, Steve, has a knack for sending albums by, to me, unknown bands and I truly appreciate that. So many great bands would have flown past me undiscovered otherwise but now I am fortunate enough to hear so much great music. Sloath is defintely a top notch gang and I must check out their debut, as must you reader along with 'Deep Mountain' of course. If you as a listener want to be challenged while playing an album, then Sloath's the band for you. Great stuff!
THE SLUDGELORD
Crafting the kind of vintage sounding stoner psych that purists have come to expect emerging from the easy rider and rise above sound houses, Sloath return to the fray with their second full length the six track song 'deep mountain'. Out on parole doing good listening business is teaser 'legs' – a trip-a-delic bad dude that sounds not so dissimilar to a seriously bonged out and gone Leaf Hound that comes brimming and overdosing in all manner of sparked out and tripping wasted blues motifs and top drawer Blue Cheer sludginess which turntable wise translates simply as totally shit faced and out there.
THE SUNDAY EXPERIENCE
Sloath released their eponymous sold-out album in 2010 on Riot Season, with the promise of more to follow, soon…
The vagaries of life though, saw fit to enforce a 4 year wait for their shortly to be released follow-up album "Deep Mountain". Following various permutations since their original formation in 2007, the band played a couple of high octane gigs around Brighton in February earlier this year as a five piece, before vanishing once more into the ether. Thankfully a tour in support of the "Deep Mountain" album release has been hinted at.
Sloath's sound is both uplifting and crushing at the same time, think the boogie-woogie shuffle of Skynyrd crossed with Fudge Tunnel's "Hate Song", and you have maybe part of the deliciously complex recipe. Notable tracks on the album are an almost unrecognizable reworking of the ZZ Top classic "Legs", gone are the pop hooks, replaced with formidable slabs of impenetrable riffage. Side B opens with the epic 11 minute plus "The Toucher" which is perhaps a clearer point of reference for their earlier material. A slow, ponderous, formidable, builder of a track, relentlessly intent on dragging your complicit, supplicant form along for the trip.
There is an underlying richness of texture within the seemingly meaningless "vocals", rendering them on a par with, and in complimentary concert with the instrumentation. That the band can maintain this glacial pace whilst remaining enticingly engaging, bears full testament to the musicianship on offer here.
BACKSEAT MAFIA