LIMITED EDITION 300 ONLY NEON PINK VINYL LP HOUSED IN A PVC SLEEVE SEALED WITH STICKER. COMES WITH DOWNLOAD CODE
LP Tracklisting
A1. Practicing To Be A Doctor (23:03)
B1. Here Come The Vikings (2:05)
B2. Seeing Life Through A Young Mans Eyes (1:36)
B3. Kitten Mask (2:45)
B4. When Extreme Dogs Go Wrong (5:19)
B5. Unchained Ladies Shopper (4:20)
B6. No Darling, Its A Pentagram (3:19)
Long overdue vinyl release of Shit And Shine's second album 'Jealous Of Shit And Shine' originally released by Riot Season on CD only back in 2006.
Back when Shit And Shine were just a mere two piece with a wicked sense of humour and a lawnmower, 'Jealous Of Shit And Shine' came out and knocked folks bandy. The original CD didn't last long and was never repressed, and for the last 9 years CC (Craig Clouse) has been badgering Riot Season to give it a vinyl release. So here it is, in (almost) all of it's original fucked up glory. The audio has been tweaked a little to make it more vinyl friendly by the man himself in his Texas bunker, but it's still a completely messed up brain fuck of an album. The kind only two men and a lawnmower can make.
Split into two parts, side A is the live favourite 'Practicing To Be A Doctor', almost 24 minutes of pounding tribal drums and a ridiculously addictive bass line that just rolls on and on ... if you never saw them do this live with anything up to 30 drummers you missed out big time. Maybe they'll bust it out again one day. Side B features the more wacky/noise/avant-garde side of Shit And Shine. Chaotic distorted blasts, mesmeric chuntering, tortured guitars and drums disguised as seven tracks. Absolutely fucking delightful, and absolutely like nobody else out there. 100% Shit And Shine and it's no wonder folks are jealous.
The NME included 'Jealous Of Shit And Shine' at #88 in their '100 LOST ALBUMS YOU NEED TO KNOW' feature saying "I love 'Jealous Of Shit And Shine' the same way I love everything they do; the utter wretchedness coupled with humour; the surprising depth of what could seem initially like a one-dimensional sound; the cast iron but utterly uncontrived 'absolutely-don't-give-a-fuck-about-what-you-think-ness' that it exudes. Although it sounds really abrasive, some song titles and the artwork spell out their playful streak pretty clearly"
Summed up well.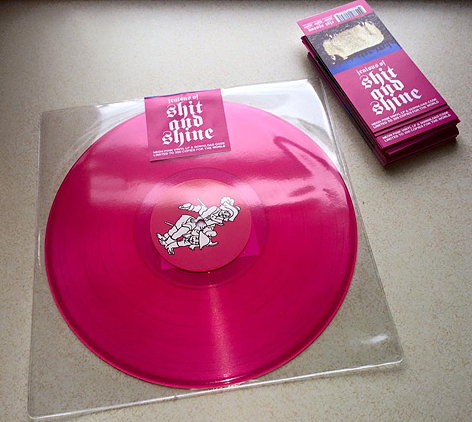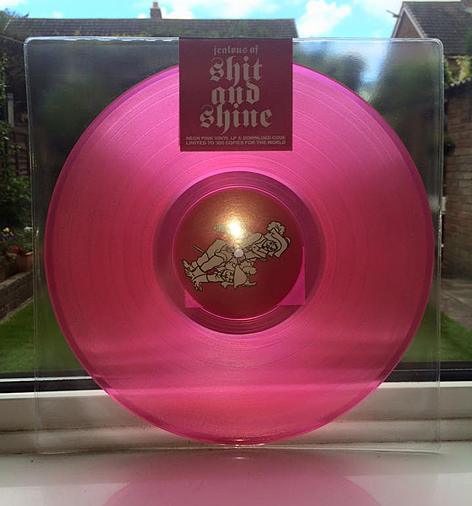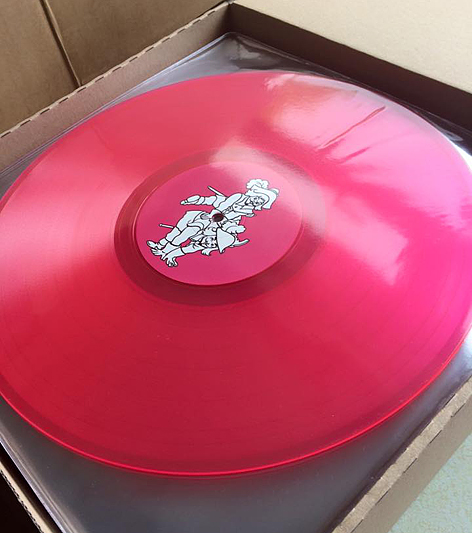 Extra Info:
So the first SHIT AND SHINE record ('You're Lucky To Have Friends Like Us') came out on Riot Season on vinyl so white it gave you the urge to bite into it. It really did. Hell, it was even worth a lick and a sniff. That one sold out pretty quick so SHIT AND SHINE begged Riot Season to put it out again on CD. Riot Season obviously being the class act that they are and always have been have gone and put it on CD. Hoorah!! not worth biting into but still tasty.Verrrry fucking tasty.

After that the boys strayed into southern territory and recorded the 45 minute Latitudes series masterpiece 'Ladybird'. Have you heard it? Brilliant. Absolutely top fucking shelf and totally untouchable. If you haven't heard it i'm not surprised because that came out on limited CD and sold out pretty damn quick too. There are rumours of a vinyl only repress because the kids want it and the kids keep asking but its still just a rumour. Ahem!

Funny thing about SHIT AND SHINE is that most people know of them because of their live shows and not their recordings. Shame really but that's the price they pay for releasing such quality in low quantities. Name dropping time: Acid Mothers Temple, Lightning Bolt, SUNN O))),Earth. They've played with the heavy hitters and held their ground like true champions. Recently they played a sold out show at this years Sonar festival in Barcelona where they were billed as "group of the year". Rightly so. Usually they have between 5 and 10 drummers onstage and 2 bass players. At a show in Germany last year they had 10 drummers, played one riff on the 2 basses for almost 2 hours, blew one of the p.a. speakers, played on while toxic smoke filled the room and the speaker was changed, and then played for another hour. Fucking ridiculous. Fucking genius. FUCKING LOUD!

So anyway time for a new record and here it is. 'Jealous Of Shit And Shine'. Cheeky cunts. Appropriate though. Like 'You're Lucky To Have Friends Like Us', this one is all over the place but quite a bit more refined and mature. The songs are a bit longer. Not such a slap on the back of the neck like the earlier stuff. Less of a head rush and more like a an intense trip that could go VERY WRONG at any moment. They've roped in one of their heroes BEN WALLER from the COUNTRY TEASERS for vocals on a song called 'Unchained Ladies Shopper'. Sounds like something between Country Teasers and early Sonic Youth I suppose. W hat a great combination! SHIT AND SHINE are all about great but totally awkward combinations. There's a song called 'There Are 2 Bakers Now' for instance, where you can hear twigs snapping, people fucking, and mud sloshing around while a seriously eerie ritualistic drum thud thud thud plays out over the top of some kind of satanic chant?! mmm hmmmm. Or the song called 'When Extreme Dogs Go Wrong' that sounds like some totally kick ass evil southern rock break down but with a sun burnt scumbag drunk football hooligan rattling on about how "Wherever I go ,I go for football".

They do a 35 minute cover version of their beloved early nineties Midwestern retard rock heroes THE STRANGULATED BEATOFFS. The song is called 'Practising To Be A Doctor'. Anybody remember that? a true classic and SHIT AND SHINE do it justice. What a great riff! A riff that totally deserves to be played for at LEAST 35 minutes .sounds even better with the 6 drummers pounding the shit out of it! fucking great. Really really fucking GREAT. Oh yeah, and it wouldn't be a shit and shine record without a couple trashy ass stupid euro pop numbers. 'Hot Vodka'. Oh god. Take a disco bass line crank it into the red and get a French homeless guy to croon over the top. CLASSY. 'Seeing Life Through A Young Mans Eyes'- like Merzbow doing electro! why the fuck not?! add a couple of really nasty scummy drug/noise rock blasts in the form of 'Here Come The Vikings' and 'No Darling it's a Pentagram' and there you have it- 'jealous of shit and shine'. This is the REAL fucking DEAL!
REVIEWS


There's certainly a lot of hype around British noise-mongers Sh*t and Shine; they were heralded as the best band of Sonar 2006 (not that hard) and have been blogged about incessantly after supporting Sunn O))), Acid Mothers Temple and Lightning Bolt... but what are they like on record? Well they're loud, they're really loud, and distorted as if you couldn't have guessed - every sound is as if it's been dubbed to cassette tape four or five times, it's melted, munged and shocking - did I mention it's totally f*cking great too?
The number of drummers the band has ranges from two to four depending on who you talk to, all I know is that they have drummers plural, and they use their percussion wisely. Whether they use it to simply restrain their Wolf Eyes-style noisy leanings ('Here Come the Vikings') or whether they use it as the centrepiece of the track ('Practising to be a Doctor') it's clear that Shit and Shine are a drum oriented act. With broken keyboards and clearly malfunctioning amplifiers the band come across like a noisy avant-rock version of Volcano the Bear, with an absurd humour that puts them way ahead of their contemporaries in the noise-rock scene.
They appear unwilling to drop easily into one category or another instead penning tracks that flirt with just about any genre you can bring to mind. An incredibly daring but at the same time puerile and very amusing record, 'Jealous of Shit and Shine' should turn the bloggers choice into the word on the lips of tired journos everywhere. As if this wasn't enough the initial copies of the album are bundled with an extra cd of their long-gone vinyl only album 'You're Lucky to Have Friends Like Us' - lucky indeed.
BOOMKAT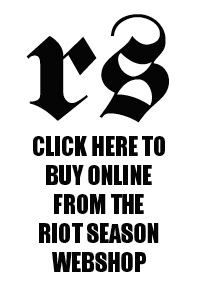 TO BUY ANY AVAILABLE RIOT SEASON RELEASE DIRECT FROM THE LABEL, PLEASE VISIT OUR WEBSHOP BY CLICKING THE IMAGE ABOVE
---------------------------------
OTHER RELATED RELEASES THAT MAY BE OF INTEREST