LIMITED EDITION 500 ONLY SPACE BLACK VINYL LP HOUSED IN FULL PRINTED 350GSM SPINED OUTER SLEEVE WITH BLACK INNER BAG. THE FIRST FIFTY COPIES CAME WITH A FREE PROMO CD-R OF THE ALBUM
LP Tracklisting
A. 'New Cruiser' (15:38)
B. 'Phase ll' (16:12)
'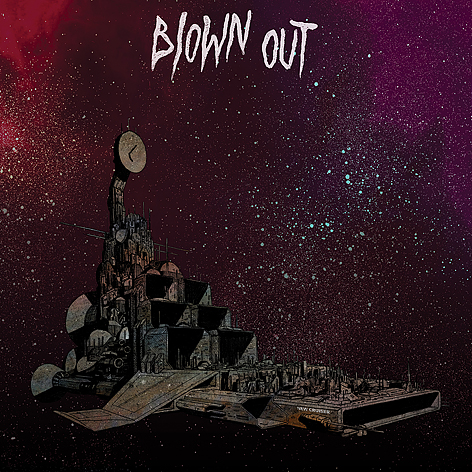 ORDER VIA THE WEBSHOP OR BANDCAMP SITE (IF STILL AVAILABLE)
This is what 'psychedelic' music is all about....not flowers and sugar cubes and paeans to long lost pastoral idylls, but music that can transport you'
Newcastle Trio continue on their voyage through deep fuckin' space. Powerdrive psychedelic rock. Two huge tracks of blistering leads, mind melting brain changes and max fuzz. Influenced heavily tonally al la Peace On The Mississippi/Crash Landing 3rd generation cassette culture, tight Grand Funk oblivion rhythm mind chemistry. Play High and Loud.
Recommended for fans of Psychedelic rock, spaced out jams, Acid Mothers Temple, Bong, The Cosmic Dead, Les Rallizes Denudes, Earthless etc
Features members of Pigs Pigs Pigs Pigs Pigs Pigs Pigs, Khünnt, Bong, HaiKai No Ku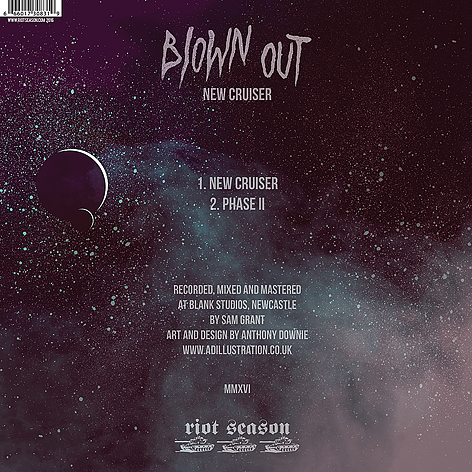 REVIEWS
When you look at the pedigree of the musicians involved in Blown Out, with members of Bong, Pigs Pigs Pigs Pigs Pigs Pigs Pigs, Haikai No Ku and 11 Paranoias, it's no wonder that together they create such an unearthly racket as they do on New Cruiser. Welcome to the new album from Mike Vest and co and prepare to have your entire body shaken to the core. There may be no songs where we're going, but there sure is a heavy load of psych coming your way.
And that's how Blown Out work. Not for them the mundanity of having actual songs. They prefer to see where their explorations take them and like the Cosmic Dead on steroids, they take no prisoners in their aural assault. You can either turn away or you can succumb to the wonders within, it's your choice…the blue pill or the red one?
From a critics point of view (and it is fucking difficult to find some solid ground here), you are faced with a two part entity with no beginning and no end, but a whole lot of middle. How you describe that is completely in the ear of the beholder and you may want to don some headphones for this whole experience.
Maybe experience is the precise word we are looking for. Amongst all the loudness and drone is a rather clever execution of how to make space rock in the 21st century. Almost as if the music becomes a living entity, it grips you and forces you inside its swirling mass before it spits you out the other side. There are no familiar tropes here, this is just pure out there madness, which never once lets go over the course of half an hour. They say Reign In Blood is the most intense half hour you can spend, this must come close. You'll hardly listen to it on the school run anyway.
It's bloody great though. The swirling mass of noise resets your inner brain and takes you on a trip before making you feel completely cleansed. Almost like some satanic version of whale music, this one works in the opposite manner yet still achieves the same result. One can only imagine what the new age traveller may makes of it if you swap their tape of ambient cretaceous beings with what can only be described as possibly some type of psychedelic Cthulhu who wraps its tendrils around your brain and gives them a good shake before leaving you to try and work out just what the hell you have listened to. You thought Gnod had it wrapped up for confusing the hell out of you? Blown Out take it to another level. Great stuff.
ECHOES AND DUST

New Cruiser is the latest slab of deep space psychedelia from Blown Out, the instrumental power trio led by Bong guitarist Mike Vest. There are u lot of bands around doing this kind of heavy/cosmic amplifier worship but nobody does it better than these guys. Channelling the sludgy groove of Peace In Mississippi era Hendrix. the incandescent soloing of Loop and the murky relentlessness of early Hawkwind. Blown Out create a maximal hyper- saturated sound that suggests an unfolding vastness.
The title track orbits around a funky, slow motion bass-Iine illuminated by an ever-expanding halo of starburst guitars plotting a trajectory that drags the listener along in it's gravitational wake. 'Phase ll' features an urgent, busier bass-line and guitars that are less 'blissed out' and more 'pissed off'- it feels like being sucked back towards some tumultuous event at the beginning of time, the track ending with the tortured death pangs of a new universe.
SHINDIG MAGAZINE
Not content with having Dodge Meteor as one of his bands, Mike Vest – quite possibly the UK's equivalent to Ty Segall hits us up with an album by one of his other outfits, Blown Out.
Vest likes to invest in all things noise infected. This album ' New Cruiser' consists of just two tracks and is more akin to vinyl as you can simply flip from one side to the other making it much more suitable to a black skatey or in fact a coloured record release.
Track 1 is the album's title as well. It has a theme to it through its 15 odd minutes: driving guitars, impenetrable drums and a criminally good love of psych and post rock. It never deviates from that course and whilst you might be quick to add that it lacks conviction due to its constant use of repetition, you would be very wrong indeed because the syrupy licks and rumbustious power chords soar at a level that only the clouds can reach. At around 10 minutes in the guitar takes a turn to the darker side, they brood and stand over you like a pending apocalypse might do, drenched in reverb and when the drums step up their game it becomes a battle of wits that neither side really wants to win but instead merely succeeding in upping the anti.
So what about the flip side 'Phase II', well it continues the dark theme that haplessly runs through its predecessor and is just one elongated jam of maelstrom proportions with its firecracker like delivery. But with just over five minutes left of the 'Phase II' the band take their foot off the pedals and let a drone of squall and fried synth become the central focus before a Cosy Powell like drum solo rises like the bastard son of drum extravagance before packing a punch that even the late great Joe Lewis would be afraid to match up against.
Ripped to the hilt with cathartic lines of blackness, Blown Out have effectively created a game of two halves. Two halves that smash your ears to within an inch of needing to acquire a hearing aid.
SOUNDBLAB
What's to be said about

Blown Out
that many, myself included, haven't said already? The fact that they are leviathans of heady, noisy psych is now common knowledge among people with exceptional music taste (that means you, dear reader). They are a band whose output is as prodigious as it is consistently excellent. The (un)holy triumvirate of Mike Vest (Guitar), John-Michael Hedley (Bass) & Matt Baty (Drums) have released some 3 albums of new material in the space of just over a year ('Planetary Engineering', 'Jest Black Hallucinations' & the digital only 'Celestial Sphere') plus the brain scrambling 'Live Transmissions III' - by anyone's standards that is a hell of a work rate, which is nothing but good news to us mere mortals who crave all the face-melting, earth-moving psych we can wrap our ears around. So, to the new album, New Cruiser', out later this summer on Riot Season
the home to all things noisy.
The album comprises of just the 2 tracks; 'New Cruiser' and 'Phase II', both of which exceed the quarter of an hour mark. 'New Cruiser' dives straight in with some deep, rolling bass, crashing drums and the trademark guitar from Vest. The track rolls and pitches along its way, based, as ever, on repetition (the bass of Hedley becomes positively hypnotic) while the guitar weaves heavy, reverb-drenched patterns in the sky. Blown Out have become masters of this - music that is heavy enough to affect the gravitational pull of nearby planets whilst still having the ability to mesmerise....the music that has you nodding whilst staring into the distance. This is what 'psychedelic' music is all about....not flowers and sugarcubes and paeans to long lost pastoral idylls, but music that can transport you. In Blown Out's case, that means a one way ticket to the far reaches of known space...with a huge shit-eating grin on yer face. If 'Phase II' may sound a tad familiar to some, that's because it is a reworked, longer version of the same on 'Celestial Sphere' (on a purely personal note, I'm glad that some of that album will make it on to vinyl). It continues pretty much where 'New Cruiser' left off...blistering, fuzzy wah-wah, jackhammer drums and undulating bass all coming together to create an Heironymous Bosch like vision of hell....Vest's guitar positively wails at times like some poor tormented denizen of the underworld. Like 'New Cruiser' it is the repetition that holds the power...for all of the freewheeling, freakout guitar, it has a structure and a form to which the rhythm section sticks rigidly. This is the less-than-secret ingredient in the Blown Out recipe..the tightness of form that allows a freedom of expression....sounds oxymoronic I know but without the drums/bass creating a framework the guitar of Vest would sound chaotic and functionless, but instead it sounds free but purposeful. In all, 'New Cruiser' is another unqualified success...guaranteed to scramble the brains and scare the neighbours...what's not to love. Stunning!
DAYZ OF PURPLE AND ORANGE
LIMITED EDITION PROMO CD-R (SEE WEBSHOP)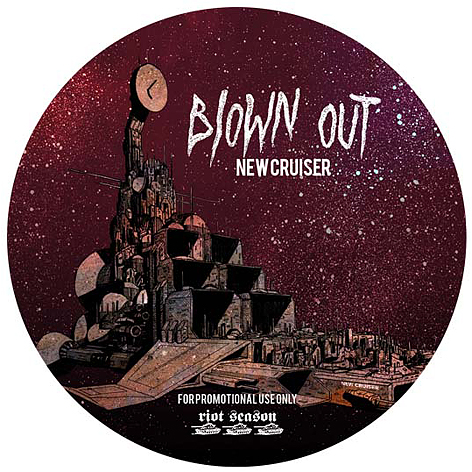 LIMITED EDITION A3 PROMO POSTER