CHECK OUT THE DEBUT VIDEO FROM HIBUSHIBIRE
LIMITED FIRST EDITION 500 ONLY MAGENTA COLOURED VINYL LP HOUSED IN FULL PRINTED 350GSM SPINED OUTER SLEEVE WITH BLACK INNER. AND A LIMITED TAPE RUN OF 75 COPIES ON SISTER LABEL SWAP MEAT.
SECOND VINYL PRESSING ON TRANSLUCENT YELLOW VINYL WITH OBI STRIP (300 COPIES)
THIRD VINYL PRESSING ON PURPLE/ILIAC COLOURED VINYL (300 COPIES)
FOURTH VINYL PRESSING, ON CLASSIC BLACK VINYL (300 COPIES) IN GLOSS FINISHED SLEEVE. THE BACK COVER AND CENTRE LABELS ARE SLIGHTLY ALTERED ON THIS VERSION (2021)
2021 BLACK VINYL REPRESS NOW AVAILABLE
ORDER VIA THE WEBSHOP OR BANDCAMP SITE
LP Tracklisting
A1. Lucifer's My Friend (2:52)
A2. Hallucination Valley Blues - Flying Shiva Attack - Hallucination Valley Blues (Reprise) (10:06)
A3. Trepanation Breakdown (6:23)
B. Deep Throat River Holy Mountain High (19:54)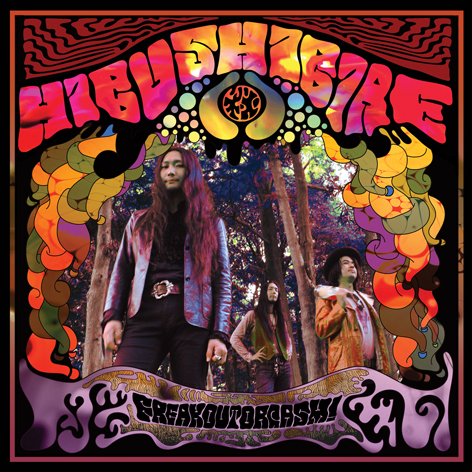 March 3rd sees the release of the debut album by new Japanese underground heroes HIBUSHIBIRE. The album will be released on vinyl (magenta coloured / 400 copies) and on cassette via sister label Swap Meat (75 copies). HIBUSHIBIRE are an Osaka based Japanese hard psychedelic freak out rock band. The band was formed by guitarist Chang Chang and bassist 821 as a improvisation jam rock band in 2012, the present line-up has been in place since 2015
The present members are
Chang Chang (freak out Guitar/Vocal) who makes shred guitar his strong point and is given the nickname Psychedelic young nobleman
821 (freak out Bass/Chorus) who is playing an active part by various bands
Ryu Matsumoto (freak out Drums) who play with a large number of domestic and foreign musicians as improvisation drummer.
The band which consists of a member with many carriers, and their musical style changed to hard psychedelic rock accompanied by several times of members change. The large portion of the HIBUSHIBIRE's musicality is influenced by 60's hard rock, 70's progressive rock and additionally various psychedelic music, and they are pursuing original music committed to be ROCK and PSYCHEDELIC.
HIBUSHIBIRE were recently dubbed the "Advance party of a next generation psychedelic rock band" by Japanese freak out guitar guru Kawabata Makoto of Acid Mothers Temple, Mainliner etc
Freak Out Orgasm! is first studio album by HIBUSHIBIRE in their 4th year.
They had chance to record studio album during 4 years, several times, but they could not because of member change etc
The 'Freak Out Orgasm!' album was recorded in just one day at Helluva Lounge (their home ground venue), and it was overdubbed with folk instruments such as Zurna, Santur, and an electronic sound of synthesizer in order to make more psychedelic.
It was mixed by producer Kawabata Makoto of Acid Mothers Temple at his mountain top studio temple in Osaka. It became more psychedelic and exciting by making him a producer. When the show, they play songs with interplay, so it is often played long length. Tracks that are included in the album are the shortest version. 'Deep Throat River Holy Mountain High' is representative song of HIBUSHIBIRE, and the band often play that various versions. 'Freak Out Orgasm!' is the album just like a business card for the rock scene around the world to HIBUSHIBIRE. However, it might be not limited to that.
The band have many musical influences, amongst them being Acid Mothers Temple / High Rise / Mainliner / Blue Cheer / Cactus / Captain Beefheart / Comets On Fire / Frank Zappa / Funkadelic / Gong / Grand Funk Railroad / Hawkwind / King Crimson / Mountain / Sun City Girls / Sir Load Baltimore / Trad Gras Och Stenar / Ash Ra Tempel / CAN / Black Sabbath etc
FIRST MAGENTA COLOURED VINYL PRESSING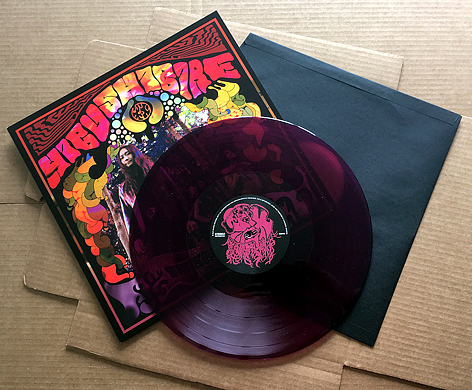 SECOND YELLOW VINYL PRESSING WITH BONUS JAPANESE STYLE OBI STRIP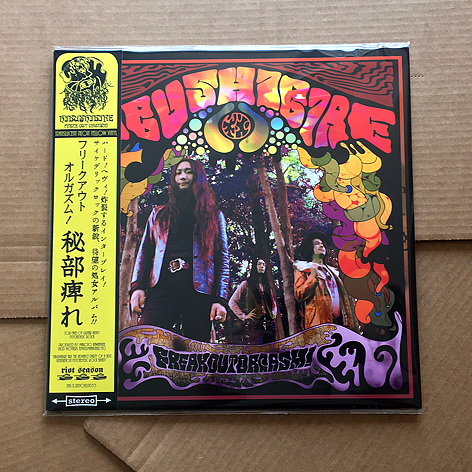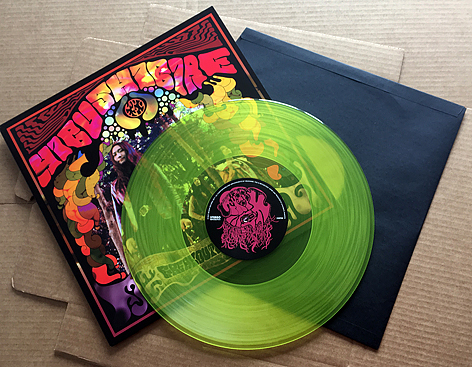 THIRD PURPLE/LILAC COLOURED VINYL PRESSING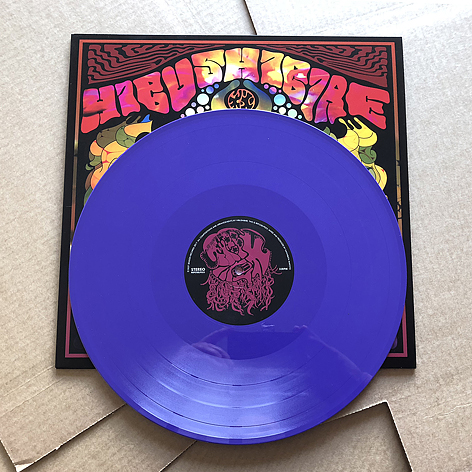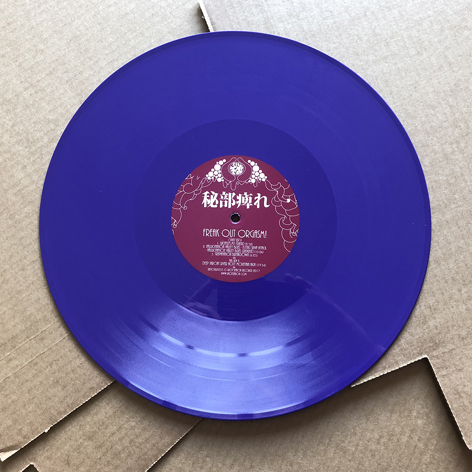 ORDER VIA THE WEBSHOP OR BANDCAMP SITE (IF STILL AVAILABLE)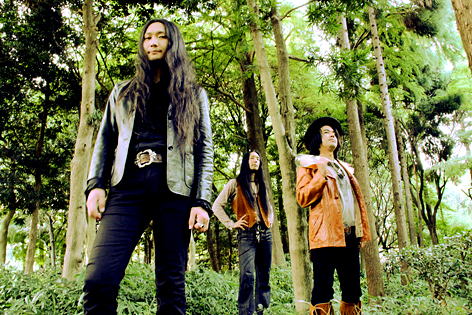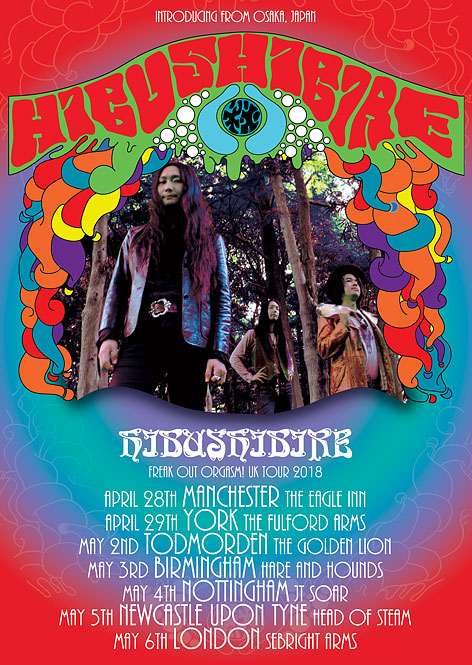 HIBUSHIBIRE UK TOUR APRIL/MAY 2018
April 28th Manchester / The Eagle Inn (with Earthling Society)
April 29th York / The Fulford Arms
May 2nd Todmorden / The Golden Lion
May 3rd Birmingham / Hare and Hounds
May 4th Nottingham / JT Soar
May 5th Newcastle / Head Of Steam
May 6th London / Sebright Arms
REVIEWS
Fuck me! I think I've died and gone to psychedelic heaven! If anyone had asked me what I would really want from a freak out, heavy-as-fuck psych band I would have to say I would want the sheer guitar pyrotechnics of Acid Mothers Temple, the hard-as-nails scuzziness of The Heads, the lead heaviness of a fucked-up Blue Cheer and the instrumental dexterity of Hendrix on speed. Guess what, that band exists and they are called HIBUSHIBIRE.
Remember that name folks 'cos they are destined to be your next favourite band. The band, formed by guitarist Chang Chang and bassist 821 as a improvisation jam rock band in 2012, are joined by drummer Ryu Matsumoto and the album is produced by Kawabata Makoto of Acid Mothers Temple who has described them as "Advance party of a next generation psychedelic rock band". HIBUSHIBIRE are not so much cut from the same cloth as AMT but hewn from the same rock. This album is fucking huge! 'nuff said and much kudos to Riot Season for giving this a release...and a heartfelt thankyou for bringing this into my life!

There are just the four tracks, spanning almost forty minutes. The opener, 'Lucifer's My Friend' is a short but oh so very sweet sonic blast - the guitar raging straight from the get go. The intensity this lot manage to build over such a short span is impressive if not freakish and it sets the tone for the psychedelic histrionics to come. 'Hallucination Valley Blues - Flying Shiva Attack - Hallucination Valley Blues (Reprise)' takes seventies heavy psych as a basic building block but warps it until it becomes unrecognisable. Yet again the intensity and the sheer power grabs you by the balls and refuses to let go..you think that grip is relaxing a tad but then a freak out of mythic proportions hits you squarely between the eyes (or ears). It is the soundtrack to a mental breakdown; it skews the senses and scrambles your synapses until you are but a gibbering wreck dribbling on the floor. But what is so impressive is that it does not rely purely on ferocious guitar shredding and volume - there are subtle hints of an eastern motif that permeate through the fuzz and flashes of creative genius that provide a cohesive force holding everything together to create a fully formed end product....simply majestic! 'Trepanation Breakdown' takes it cue from some of the legendary Japanese psychedelic acts...and then some! Its amped up bluesy scuzz positively bursts from the speaker and that guitar...wow! One can imagine Chang Chang's fingers like a hummingbird's wings, flying across those strings ..such dexterity and skill. 'Deep Throat River Holy Mountain High' is the last, and longest, track - it takes up nearly half of the album's running time. It starts with some beautiful, lilting psych guitar, restrained and floating on the ether and true to it's oriental roots. This track relies more on atmosphere and rich eastern vibes than stark power - the guitar is still the star, but this time power is forsaken to be replaced by rich, mellifluous wah-wah that gradually blossoms into a lush but restrained freak out. Just over the halfway mark things break down and the same lilting eastern guitar heard at the beginning is re-introduced but this just heralds a noticeable shift in momentum...the tempo is upped and the ferocity heard in the first 3 tracks is back - the guitar squalling and soaring backed by the rock solid rhythm section. The last moments of this opus see the return once more of the opening refrain..and a chance to catch one's breath.

I've reviewed over 300 hundred records since I started this blog and I cannot remember a record having such a visceral impact as 'Freak Out Orgasm!' or the same jaw-dropping splendour and power. In fact, the last time I felt it was probably the first time I ever heard Acid Mothers Temple. This is a magnificent record and one where I seriously wondered whether I would review it, purely because words cannot truly portray that feeling you get when you first hear a truly exquisite record. I've waxed panegyric about many albums, all of which I stand by, but this....this is special! It's got unrestrained power, true technical skill, sublime moments of clarity and all with a true sense of purpose. Simply put....it's fucking genius!
DAYZ OF PURPLE AND ORANGE
I have a thing with my kids called 'the eight second challenge', when they can't find something I reckon I can usually find it within that time period…I usually do. I thought of this when I first listened to this HIBUSHIBIRE album, because it took me easily less than eight seconds to realise that this was going to be
AN ABSOLUTE FUCKING MONSTER!
I'd never heard of the band before Andy from Riot Season sent this along, and I think he must have had a similar experience when he first heard it…it's that sort of album that you feel has already been there in your life, yet simultaneously you are so eager to hear every bar of its exciting magnificence for the first time.
HIBUSHIBIRE are an Osaka based Japanese hard psychedelic freak out rock band and the album is produced by Kawabata Makoto of Acid Mothers Temple at his mountain top studio temple in Osaka…that's basically all you really need to know, but I'll continue…
Kicking things off is the relatively short track, 'Lucifer Is My Friend', and sees the band get stuck right into a groove from the outset with everything turned up to 11 for maximum impact. This is an intense and high powered opener with some stupendous fast riffs that tell you that this isn't so much going to be a ride and a major expedition into a far out psychedelic freak out zone.
Straight after than comes 'Hallucination Valley Blues – Flying Shiva Attach – Hallucination Valley Blues (reprise)', yet another stonking track beginning and ending, as the title(s) suggest(s) with some great heavy fuzzed-out blues with a total mind bender of a freak out in between.
If anything HIBUSHIBIRE crank it up even more for 'Trepanation Breakdown' which immediately reminded me of The Heads…and not just The Heads…The Heads on top form.
This. Is. A. Total. Banger!
If 'Freak Out Orgasm!' were an exhibition, and what a brilliant totally fucked up exhibition it would make, 'Trepanation Breakdown' is seriously worth the entry fee on its own. A real fuzzed up on the edge of the abyss colossus that you'd just want to hear over and over again.
So that's side one, I guess. Side two is comprised of just one track…a twenty minute leviathan 'Deep Throat Holy Mountain High' which starts giving from the first bar to the last. Just get yourself lost in the fuzzed wah wah reverbed guitar, overdubbed with some Japanese folk instruments which give it a unique and otherworldly feel. Wonder at what this track would be like live as wave upon wave of aqueous power slams into you before the band drift into some spacey meandering that takes you into their cosmic void before bringing you out again by returning to the riff that started the track off. Then its full power towards the end of what has been a real sonic experience.
As if you haven't guessed by now I think that this is one heck of an album. After four years existence the band have delivered a debut that has not only arrived fully formed, but equipped to blown anyone who listen to it out of the water. It's brutal and its heavy. But HIBUSHIBIRE are not a one trick pony… this is a varied album and the band are the real deal…I'm going to be playing this album regularly for years to come…about that I have no doubt.
PSYCHINSIGHTMUSIC.COM