LIMITED EDITION BLACK VINYL LP HOUSED IN FULL PRINTED 350GSM SPINED OUTER SLEEVE (PRINTED ON REVERSE BOARD) WITH BLACK INNER & DOWNLOAD CODE. FIRST PRESSING ALSO COMES WITH A WRAP AROUND STYLE OBI STRIP
ORDER VIA THE WEBSHOP OR BANDCAMP SITE (IF STILL AVAILABLE)
LP Tracklisting
A. Mood-Stabilizer Part 1 (19:16)
B. Mood-Stabilizer Part 2 (17:08)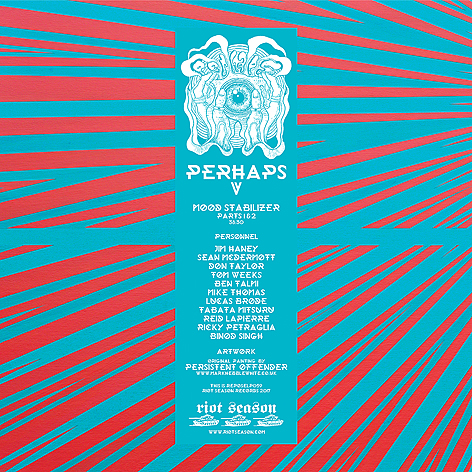 SPECIAL EDITION LP & CD-R 'V:REDUX'
There is also a special edition of 75 copies that come with an optional bonus CD-R called 'V: Redux' featuring a totally reworked version of the album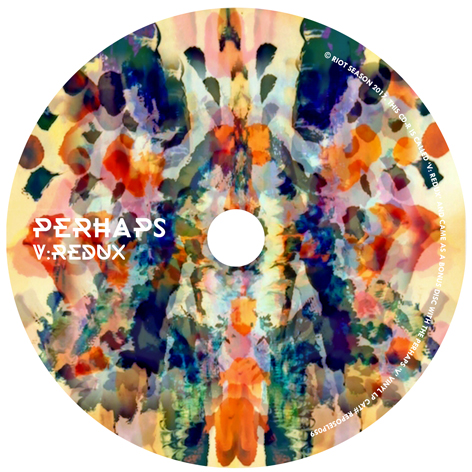 "You are an explorer, and you represent our species, and the greatest good you can do is to bring back a new idea, because our world is endangered by the absence of good ideas. Our world is in crisis because of the absence of consciousness."
Terence McKenna
Odd disturbances are about. Yes, definitely odd. Deep, carnal rumblings akin to the kind one only feels in times of great danger, or great reverence. The kind of hyper-intense inter-environmental buzzing that drives men to kill for no reason they can feverishly describe at a later period when the buzzing finally ceases, and their sanity returns with the cold, wet realization of the deeds they committed with their own god-given hands.
PERHAPS came into existence at the hands of Jim Haney at the Berklee College of Music in 2012. 'V' is their fifth release, the previous 4 being self released gaining infamy amongst listeners, and notably collaborating with Makoto Kawabata (Acid Mothers Temple), Cotton Casino (Acid Mothers Temple), Tabata Mitsuru (Acid Mothers Temple), Kenneth Topham (Giraffes Giraffes), Man Man (Bryan Murphy), Grass Is Green / Speedy Ortiz (Devin McKnight), Ben Talmi (Art Decade / Ben Talmi solo), Damo Suzuki (Can) etc.
As Perhaps' discography grew, stories of the group's incredibly unorthodox and experimental methods of composition and recording began to emerge.
With 'V', the band's fifth release, now finished and impending release; it appears as if their approach to recording and composition has changed very little by means of mystical influence and general mischief. The months in which the recording of 'V' took place was certainly interesting, rumours began to emerge of the band's presence in the Himalayan mountains, presumably for the gargantuan natural acoustics Haney has notably mentioned as a key to Perhaps' recording process. While it is not entirely certain whether or not the group remained in the Himalayas for the entire length of the 'V' recording endeavour, a certain cult-like attraction to seek their whereabouts became favourable amongst some diehards.
The few who seemed to succeed on the trip returned with contrasting results. Those who were lucky returned in a perplexing state of enlightenment, divulging stories of mountains speaking great cosmic secrets, while others returned temporarily blind, or not at all. However, now that the album is finished there is little left to do but go along for the ride; And while complacency seems the easiest way to approach the unapproachable, the daunting question still stands: How far did they go this time? We've all felt it a little bit. Whether it be merely an uneasy feeling, or a full blown psychotic breakdown, one definite thing is for certain: "V" is done, and it's a doozy. No use for cardio or keto in preparation for this one, just light some incense, pour a Chivas, and buckle up. Or don't, it won't matter.
Personnel:
Jim Haney
Sean Mcdermott
Don Taylor
Tom Weeks
Ben Talmi
Mike Thomas
Lucas Brode
Tabata Mitsuru
Reid Lapierre
Ricky Petraglia
Binod Singh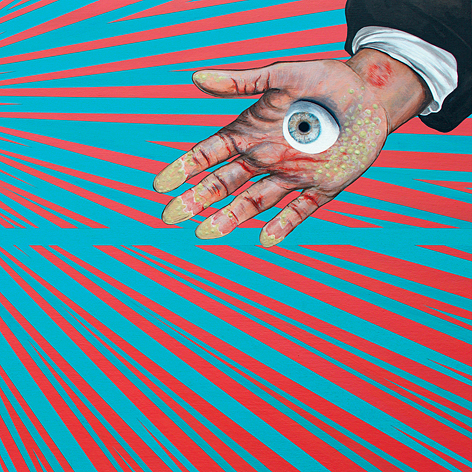 REVIEWS
The fifth album (as the title indicates) from Perhaps credits no fewer than eleven members of the group, comes wrapped up in a mind-altering sleeve — all jagged reds and blues with a eyeball-in-hand motif that shrieks LSD ahoy — and consists of two parts of vinyl to its one track, the intriguingly titled "Mood-Stabilizer".
Having collaborated with the likes of Makoto Kawabata, Cotton Casino and Tabata Mitsuru from Acid Mothers Temple and Damo Suzuki, among others, it's no surprise therefore to discover that the album opens up the doors of audio perception in a wandering warp and weft of pleasant tones that soon lift off into somewhere not too far away from the metronomic groove of Can's "Mother Sky" and Hawkwind's "The Aubergine That Ate Rangoon" and all points lysergic in between. This level of intense space rockery comes complete with meandering sax lines that Nik Turner would feel right at home with, and as it settles into the long haul, things take turns that, while never unexpected, signify a band who are comfortably peaking in their temporally elongated trip to the outer reaches of inner space
En route, they coast on burbling arpeggiations that soon dissolve and digress into filtered oscillator ripples and contortions that both the late Dik Mik and Higashi Hiroshi would delight in rendering upon the heads who dig having their brains briskly scrambled (stormed, even). They encounter sheer walls of fuzzy fed-back guitar, buzzing organ trills, shifting white noise scree and plunging ravines of bass expansion (some doubtless courtesy of Tabata himself, who is one of the eleven crew of Starship Perhaps), relentlessly leading the listener into plains higher and freakier as they do so.
It's a journey at once profound as it is familiar, pushing all the spine-tingling buttons, switching the synapses and setting the corpus a-twitching to the motorik motion that by turns demands attention of both the feet and the heart. "Mood-Stabilizer" isn't afraid to skronk abstractly either, nor to ramble and roam the sputtering freeways littered discarded junk percussion and to throw in a chunk of groovesome hand drumming when the moment is right — and those cowbells seem like they might still be attached to some bovine quadrupeds of a slightly cosmic kind — if they really are cowbells. Of course, the sleeve notes suggest that the album might have been recorded in the Himalayas too.
V is the sort of album that suggests giving it some concentrated attention, taking time out from the cares and quibbles of the so-called real world. As was observed repeatedly on Hawkwind's "Utopia", "If you want to get into it, you've got to get out of it", and this Perhaps do with both alacrity and ebullience.
After those three brain-melting cortex mashing motherfuckers of albums, this fifth outing from Boston-based collective might seem an odd choice. Yet I would suggest a closer listen might reveal it to be the perfect come-down as more of this album's qualities emerge. Like the other records here there are an amazing number of influences and styles coming into this. There are Kraut elements, both in terms of sound and structure… improvisation being the key here. This leads to some interesting free-jazz structures that were also evident in different ways in the previous two albums from Plastic Crimewave Syndicate and TBWNIAS. What I like about this album most, though, is way that it progresses in a way that teases you along and draws you deeper and deeper into its complex sonic web.
This is an album that seeks to convince. It is an album that feels big… there are long arcs of sound that only gradually change; the album comprises two glacial tracks that seem to move at geological speed in one sense yet also feel full and alive. There are themes that remain, yet there is also a dynamism here… a sense of urgency… of running out of time. According to the blurb for this album the musicians went out to the Himalayas for an unspecified length of time. The whole visit seems veiled in uncertainty as to what happened… the out come of this album (and the very different alternate versions of the two tracks that are available on an accompanying Cdr) would suggest, though, that they underwent some sort of profound experience because this does feel like a record that is full of meaning that perhaps can only be unlocked with repeat listening, something that will not be a chore.