LIMITED EDITION BLUE VINYL LP HOUSED IN FULL PRINTED 350GSM SPINED OUTER SLEEVE WITH BLACK INNER & DOWNLOAD CODE
A LIMITED AMOUNT OF MAIL ORDER COPIES CAME WITH AN EXCLUSIVE BONUS CD-R ALBUM ENTITLED 'CROOKED UNDER MOONLIGHT'. THIS CD-R WAS ONLY AVAILABLE AS A PACKAGE WITH THE LP AND LIMITED TO APPROX 150 COPIES (NOW SOLD OUT)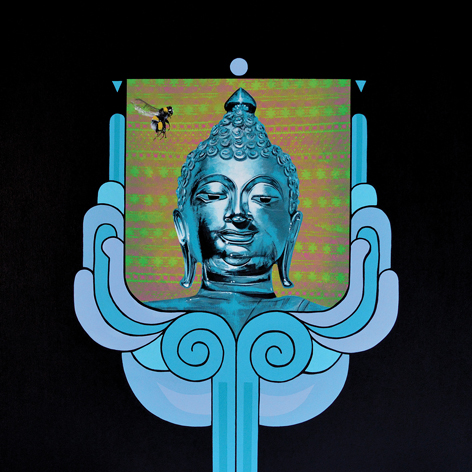 ORDER VIA THE WEBSHOP OR BANDCAMP SITE (IF STILL AVAILABLE)
LP Tracklisting :
A1. Can You Levitate? (7:08)
A2. Ascent To Godhead Part 1 (Godhead / Going For Refuge / The Celestial Mind) (16:01)
B1. Electric Bou Saada (14:35)
B2. Ascent To Godhead Part 2 (8:53)
Blurb :
Fleetwood psychonauts return with their second album of 2017. Whereas 'Zen B*****d' was a re- imagining of ancient songs from the back catalogue, 'Ascent to Godhead' consists of brand new compositions improvised in the studio. No Hawkwind-esque generators are to be found which are synonymous with the space rock genre.
Instead we have a calamitous howl more reminiscent to the Birthday Party than to Gong. Earthling Society's unique song writing abilities remain however; where no song starts and ends the same, constantly morphing into something new. Jazz and eastern rhythms are at the forefront of 'Ascent to Godhead'. Taking inspiration from Alice Coltrane, Sun Ra, Far East Family band, Tidori Takada amongst others.
This is no hippy claptrap from the sunshine playroom, it's an album that ties your brain in knots, and oozes spiritual meaning.
Also included is the long lost garage rocker 'Can You Levitate?' Recorded in 2009 and only unearthed earlier this year. Proving that earthling Society were belting this stuff out long before the current psych scene with it Elevators' call to arms and Butthole Surfers splashdown.
All compositions by Fred Laird except Godhead Part 1 by Kim Allen / Fred Laird / Jon Blacow
Recorded, mixed and produced by Fred Laird at Shugden Jan – March 2017
Except 'Can You Levitate?' recorded at the glass factory winter 2009.
Mastering by Chris Hardman at CH sound
Artwork by Persistent Offender www.markhebblewhite.co.uk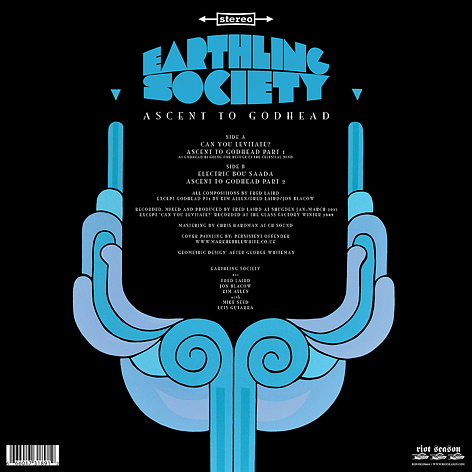 Earthling Society are :
Fred Laird - Guitars, vocals, electric tanpura, recorder, bouzouki, Buddha
box and lap steel
Jon Blacow – Drums, Tablas and Percussion
Kim Allen – Fender bass and fretless bass
With
Mike Seed – Tenor Sax on 'Godhead Parts 1&2'
Luis Gutarra – Bass on 'Can You Levitate?'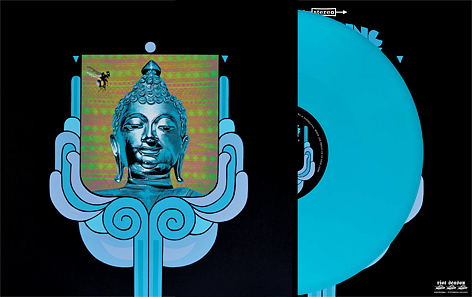 THE BONUS CD-R 'CROOKED UNDER MOONLIGHT'
Crooked Under Moonlight' Bonus CD-R Tracklisting
1. Babylon Grove (15:08)
2. Pomegranates (4:44)
3. Ritual in Bou Saada (9:51)
4. Sunshine Radiation (5:54)
5. Jerusalem Highway (5:01)
This bonus 'album' was only available direct from the label and was limited to approx 150 copies packaged together with the LP only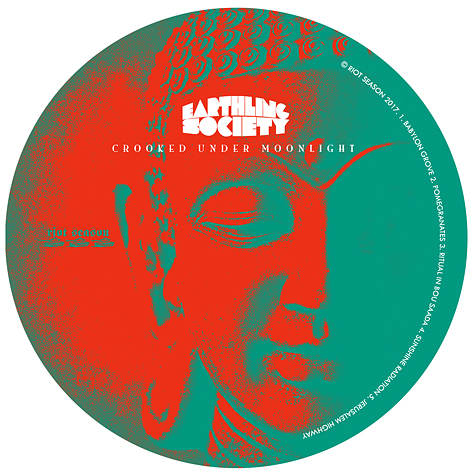 REVIEWS
Pretty much the number one band for truly psychedelic music these days, Earthling Society are also pretty prolific. Granted, previous release Zen Bastard was a re-recording of older songs, so to counteract that we now have an album of new songs, mere months later. You could maybe forgive them for any drop in quality but on the basis of Ascent To Godhead, they seem to be on a bit of a roll.
Not that Earthling Society have ever released anything subpar. They're not that kind of band, and main man Fred Laird keeps a steady ship through not just Earthling music but also the many offshoots. It's led to a body of work which is somewhat of a maze, this time there is no exit though, it's a place to get lost in. Added to this body is now Ascent To Godhead which may in fact be there most out-there album yet and their crowning glory.
Surprisingly it starts off with another old song, 'Levitate Me'. A song originally written in 2009, this full on glam stomper that takes everything great about MC5 and The Stooges and wraps it up in a celebratory vision of glorious space-rock, is the perfect follow on from the Zen Bastard album. It's also the closest you'll get to normality so cling on to it while you can as things get very weird from now on.
There's always been a strong streak of free-form jazz and Sun Ra running through Earthling Society music and 'Godhead pt1' continues that tradition. A rambling tribal dub infused track, it meanders through your brain causing all manner of doors to open. Drifting from jazz to dub, with raging guitars one minute and calm ambience the next, it's almost difficult to call it music in any traditional sense. It's true psychedelia, the kind that gives you a high without having to take drugs.
Where 'Godhead pt1' lays claim to that lost festival slot at 4am, 'Electric Bou Saada' takes leave of the planet altogether as it's swirling beginning becomes the moment when you finally cross over into some higher plain. It's an intense freak out after the relative steadiness of 'Godhead pt1' with both parts becoming one in the journey to where-ever it is that Earthling Society are taking you. It's a fantastical out of body and mind experience, best experienced loud through headphones.
'Godhead pt2' brings us slowly back down to earth although you feel irreparably changed by what you have been through. It's an almost spiritual movement, although the only Godhead here is the one you meet within your mind, not some mystical alien being up in space. That search for an higher plain of psychedelia is reached and you can never be quite the same again. If music is experience then this is the kind that can alter your way of thinking. It should come with a warning that only true psych heads need apply but that would spoil the fun for those wishing to dabble.
If you have ever had or shown any interest on psych then you need to experience Earthling Society. There is nobody quite like these for making music to truly take you out there. A phenomenal release from the best psychedelic band around.
ECHOES AND DUST
Regular readers may have noticed that this is not a website that necessarily features every release by a band. This is because I try to cover as many bands as possible, and that means that I sometimes have to leave out albums by groups who I have previously covered, not because they are poor, rather that I struggle to find new things to say about them. There are few notable exceptions to this, which the 'band cloud' to the right of the screen will attest.
One such band is Earthling Society, who I first came across with their Riot Season release 'England Have My Bones', and since then have come to appreciate as an act who are always willing and able to pull out a surprise or two with every album. This is because each release has a different feel to it, As a result following the band is never boring. More than that, its always fulfilling.
Part of this may be that the order of the records they release is not always the same as when the music is written, a good example of this being 'Zen Bastard', released earlier this year on Drone Rock Records, which was a cracking re-imagining of earlier compositions.
Now comes a release that is something of a combination of the old and the new, again from Riot Season, which shows both how the band have developed their sound, and how Earthling Society founder Fred Laird has evolved his ideas over the last few years. It also showcases just how long this band have been going, long before the current interest in psych music had been re-kindled.
The album opens with a recently found track from 2009, 'Can You Levitate?', which is a real rocker of a number… as heavy and out there as anything the band have done in recent years. It is true that set against the rest of the album this track is much more raw, less subtle and nuanced, yet it has an immediacy to it that works well as an album opener and manages to set the rest of the album in context. One this you mustn't do, though, is to hear this track and make your mind up about the album on that basis. Well this is an Earthling Society record, so you're not going to do that anyway, and anyway all the tracks here are linked through Laird's ongoing spiritual search… a key strand in the band's output.
The other three tracks on the album make up a suite of music that have a real flow to them. Starting of with 'Ascend To Godhead Part. 1'. A fantastically long and meandering track which you immediately get as having a strong Indian influence with the sound of a harmonium dominating the early part of the number before so hard guitar and jazz influences come in as the track settles into a rhythm around a tabla beat. But, as the track title suggests, this is not so much a song and a journey with different movements mapping out the spiritual path that is being enacted here. Hence, there is a mid-section that is slower and more considered, the chants and wisps of sound perhaps marking out an encounter with manifestations of the unknown. Either way it is beautiful and meditative, as the sitar sound dominates… The track the comes back to the tabla beat and to an end of sorts that is as mysterious as it began, although most definitely leaving the listener in a different place altogether… which is what ritual does.
In contrast to this contemplative track 'Electric Bou Saada' is a more upbeat, in many ways a jazz/ rock hybrid which could be horrific, although here it is handled very well. I would say that the basic structure of this track is a jazz one, the drumming really shaping and configuring the beat. Around that though there is real evidence of why, for a number of people I know, Laird is becoming one of the key guitarists in the psych genre…such that it is. The soaring work here, in some ways reminiscent of that which he performed on 'Zen Bastard'; and certainly as I've witnessed in some recent live performances, suggest that he is growing in confidence and ability. Then ten minutes in the whole thing changes, as if some great revelation is encountered. Out goes the screaming chaos, in comes order and melody… this transformation is one of those that the band always seem to make work in a way that you would think would be incongruous, but weirdly isn't. The other thing to say here is that while this track is very different to the two on either side of it is evidences how Earthling Society can keep a theme going through very different musical styles.
Which brings me to the track being premiered here, 'Ascent to Godhead Part 2'. For a split second you think it's going to be a reprise of 'Part 1' before the screaming brass and vocal smack in…an utter catharsis of Laird yelling 'freedom' over and over again. This feels like an purge, a release from the ties that bind… a letting go… an outpouring that is his own emotion and drama. It is only when the guitar kicks in at three minutes that you feel that there is any control to the track as the whole band freeform their way to an as yet unsure conclusion. It is usually the case that you're not sure where Earthling Society tracks are going… in this case you feel as if you just need to cling to it and trust the outcome, which is what I suspect the band are doing as well. Gradually this trust is repaid with the sort of comedown that enables you, the listener, to begin to relax. This first time I heard this I felt my body loosening up in a way I rarely get with music… trust repaid.
As far as I'm concerned Earthling Society have done it again. Here is an album that manages to confound expectations, and deliver something that is significantly different from the previous release, exploring new and familiar musical areas and genre. Again it is the way that these influences are melded together that make the album special and while the inclusion of a track from eight years ago doesn't fully cohere with the later work here it does provide evidence of a continuing path of consciousness by the Laird and in no way detracts from the new material. Rather it underlines the increasing maturity of the band's output. With this album you get to rock out, think, wonder and experience; and that surely is the Earthling Society way.
For their second album of 2017, Earthling Society open with Can You Levitate?, a poppier tune than any on their recent collections. Still, this is hardly of radio-friendly length, and they do eventually lay into some harsh psychedelic guitar in the second half of it. If anyone's then still in any doubt about their commitment to space rock, they've included a full-length extra CDR with initial mail-order copies, which'll doubtless have evaporated by the time this goes to print.
The band's dedication to the legacy of Alice Coltrane, as demonstrated on 2014's England Have My Bones, is also underlined. There's some beautifully languid jazz vibes on the first part of the title track (the two parts finish either side), complete with brain-scratching saxophone, set over horizontal Eastern instrumentation.
The second act then opens forcefully, with the squall of Electric Bou Saada, which later settles into an evocation of North Africa (further expanded upon on the CD-R), underpinned by lithe bass. To finish, the sax returns in a John Zorn style, squealing away over torrid note-troubling, before fading into a palate cleansing synth coda.
Earthling Society continue to show that they understand psychedelia from any number of angles. Seek them out, buy the records, book them, assist their ascension.
RECORD COLLECTOR MAGAZINE