LIMITED 400 ONLY BLACK VINYL 2xLP IN FAT SPINE SLEEVE WITH PRINTED INSERT. FEATURES THE ORIGINAL 'RRR' LP RE-CUT AND REMASTERED FOR THIS EDITION AND A BONUS SECOND ALBUM OF UNUSED TAKES / ALTERNATIVE VERSIONS FROM THE ORIGINAL RECORDING SESSIONS IN 2011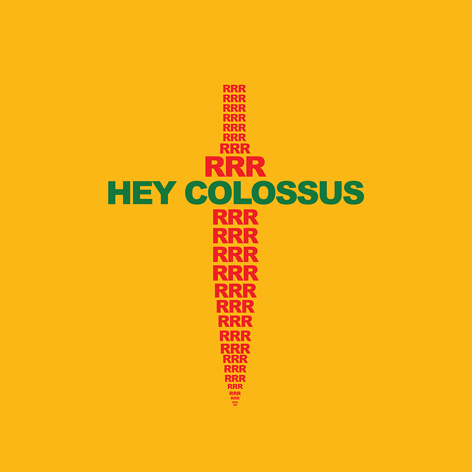 ORDER VIA THE WEBSHOP OR BANDCAMP SITE (IF STILL AVAILABLE)
LP Tracklisting
A1. Teased From The Nest (5:02)
A2. The Drang (4:32)
A3. RRR (2:58)
A4. Rotated For Success (8:24)
B1. Almeria, Spain (5:35)
B2. Warmer The Belter (8:10)
B3. I Am Bunga Bunga (5:19)
C1. Teased From The Nest (Alt Version) (6:14)
C2. Under And Under (3:41)
C3. Rotated For Success (Alt Version) (8:46)
D1. RRR (Alt Version) (4:11)
D2. I Am Bunga Bunga (Italo Version) (5:25)
D3. Warmer The Belter (New Born) (6:53)
D4. Teased From The Nest (Alt Version) (5:13)
Limited edition 400 only black vinyl 2xLP housed in a 350gsm fat spined colour sleeve with printed double sided insert. One off pressing .. NO REPRESS!
RRR was Hey Colossus's seventh album, originally released back in 2011 by Riot Season on CD and ridiculously limited LP. This reissue has the original LP plus it comes with a bonus LP containing different takes and versions and a cut that didn't make the first press. It is housed in a single 350gsm fat spined printed sleeve with insert and download code.
THE STORY: The band had a weekend booked in at The Dropout Studio, Camberwell, the winter of 2010. They were going to do 'some recording'. The Friday of the weekend the six piece played a show at The Windmill in Brixton, home to the roof dog. The show was a typical (of the time) debauched affair, in the post show glow the band asked Jon (Notorious Hi-Fi Killers) and Leon (Shit+Shine) to come down to the session the following day: BRING GUITARS, WHAT CAN GO WRONG?. By noon they hadn't shown up so they got called: WHERE ARE YOU? Neither believed the offer to be true, by 1pm they showed up with guitar + synth in tow. An hour later RRR was being recorded by the now 8 piece band, lights down, volume up. Over 48 hours it was done. Not a single idea was brought to the table but somehow it all fell into place, assuming you think 'falling into place' sums up RRR (it totally does).
The original vinyl sleeves were all hand painted in Somerset by an artist called Chav, they took three months to do with each one being totally unique. The gatefold sleeves, all the inners were incredible works of art. The front and back were stencilled. The paint was blagged from a car spray paint firm, they sent three pallets to get the job done. A begging letter was sent to them and it fell onto some welcoming ears. Christ knows how it all came together. These copies are almost impossible to come by, rarely appearing anywhere. They sold out instantly.
Riot Season is re-releasing it on March 2nd 2018, there will be 400 copies, 2xLP. It won't get repressed again so for those who bought the original keep it safe and buy this one for the bonus record. For those new to the band following the record triple LP drop over the last couple of years on Rocket Recordings tuck in, but be prepared.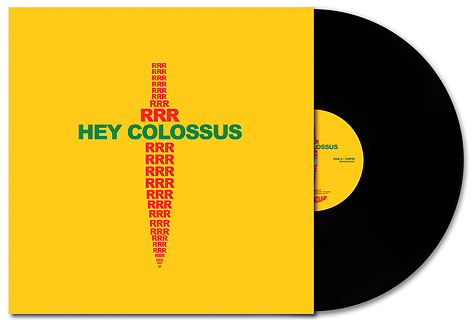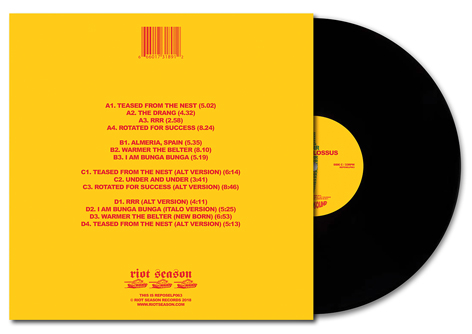 Original 2011 Press Release :
RRR is the seventh album for Hey Colossus, and the third for Riot Season (also home to Circle, Acid Mothers Temple, Shit And Shine, Black Boned Angel, Todd, Sloath, Ultraphallus etc). This album follows last year's Eurogrumble Vol.1 LP, which received broad acclaim as well as landing in some end of year lists also (notably in ROCK A ROLLA magazine top 50 of the year).

The band formed in 2003 as a five piece, based in London. Eight years on (and with line up changes reminiscent of The Fall) they are now a seven piece based in London and Somerset (though nine people perform on the album). RRR was recorded through the winter of '10-11 in Dropout, South London, home to analogue tape and all things loud. Mixed by Drumcunt and Basspuppy, mastered by Hamilton Industries (Part Chimp's tub thumper).

RRR is definitely more varied than previous Colossus records and it explores more subdued, quieter passages. Such moments of calm are not the only varied thing about the new record, Hey Colossus also explore the swooping filmic sounds akin to many a film score, think along the lines of Taxi Driver and Spaghetti Westerns. Some Krautrock-esque mantras also come into the fold, combined with a Nurse With Wound / DNA influence. Alongside this, 'The Drang' keeps up the one riff, one tune - like Sabbath done through NEU! that HC are hard for. There is a choice Berlusconi baiting Can inspired clangathon, 'I Am Bunga Bunga', with a rant that is buried but audible.

The result of all of these amalgamating sounds is a Hey Colossus album unlike any other, out with the old and in with the new. RRR is the perfect soundtrack for the spring and summer months, assuming you like the idea of the Butthole Surfers manning the BBQ, Faust cleaning out the pool, and GG Allin manning the bar.

After touring heavily throughout the past year hitting up Germany, Holland, Belgium, Ireland, and Turkey (flying in for one gig with pals Part Chimp, to CLOSE an art gallery in Istanbul), Hey Colossus are preparing to invade venues across the UK to play out this new material. Though dates are still being confirmed, its already panning out to be their biggest UK tour yet.
There are nine people on this album:
ROBERT DAVIS - Electric Guitar, Vocals
TIM FARTHING - Electric Guitar, Vocals
JONATHAN RICHARDS - Electric & Acoustic Guitars
JOE THOMPSON - Bass Guitar
LEON MARKS - Synth Modulator
RHYS LLEWELLYN - Drums
PAUL SYKES - Vocals & FX
DUNCAN BROWN - Additional FX
VALENTINA MAGALETTI - Additional Vocals
ORIGINAL 'RRR' REVIEWS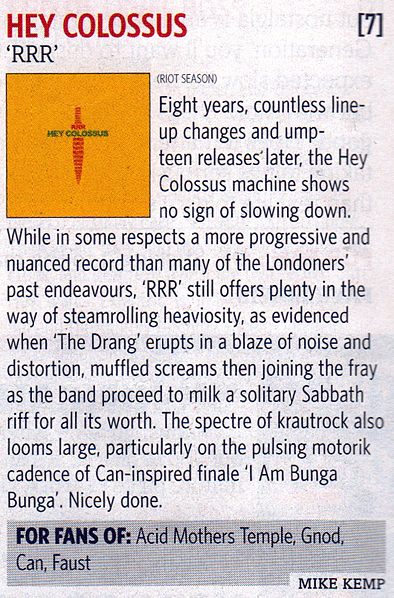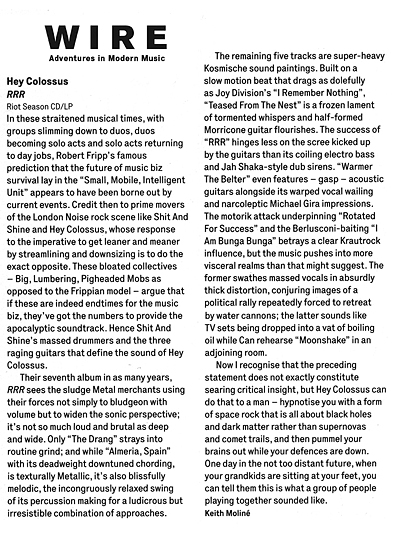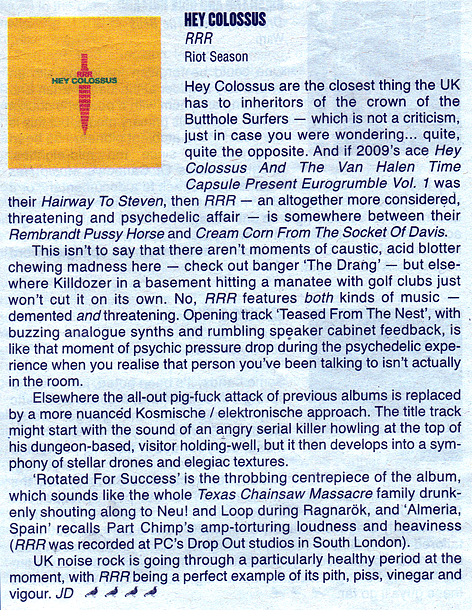 Hey Colossus have been releasing records for seven or eight years now and they always get good reviews and have a core of a few hundred people who buy them without much thought (this writer included) and their 'prowess' in the 'live arena' is 'fabled' and they form an important part of a recognisable and creative scene of noisy belligerent London rock bands and heck, why don't I just say it, they have cult appeal. HOWEVER, when compared to… comparable bands who have been plugging away since at least the first half of last decade, in a similarly uncompromising mindstate, it seems like they're in a bit of an impasse.
The two that spring to mind for me here are Boris and Oneida, who share with Hey Colossus an ability to lock into cyclical hard rock lock-grooves, switch between styles without seeming magpie-ish, and smuggle vicious noize in under cover of relatively friendly tunes. They've both become significantly bigger since 2004, which ushers in that old grouch about British bands not being taken as seriously when they do 'this kind of thing'; this, in turn, invites people to get on the defensive and suggest that you only like them because they're British. What a wretched to-do. And all this while, Hey C just keep thudding away, chonging out, releasing crazy/great album after crazy/great album. RRR is their sixth proper, full-length joint, and they're getting closer to actual uniqueness each time.
'Unique' is used relatively, of course. You can't stamp a copyright on droney instrumental jam room gurgles with deeply-buried meditation-intonation vocals, spaghetti Western parts and an excerpt of a conversation by someone with a strongish South London accent – but that's what 'Teased From The Nest', the first track, is, and it's hard to think of (m)any other bands who this could be. Scads of bands out there splice Krauty repetition and sludge ugliness, indeed you might think the combination 'played out', but they don't tend to do it as well as 'The Drang' and ACTUALLY sound like Eyehategod caught in an inescapable cold turkey trance. Synthesisers, a relatively new weapon in Hey C's inventory, are possibly not being used this excellently as a noise weapon by any other fringe rockers out there – 'Rotated For Success' has this motorik drill thing going on, super-muffled noise dude vocals and astrally piercing modulations, all of which adds up to something pretty chi-bothering.
'Almeria, Spain', an instrumental, is like the sludgiest thing Bardo Pond never brewed up; alternatively, if you happened to hear Virginian doom band Cough's monumental Ritual Abuse album from 2010, it measures up to parts of that. It sits next to 'Warmer The Belter', where notes are sparse and drawn out and a sort of calm takes hold, albeit an eye-of-the-storm calm; yet you never get that "hey, not sure if you noticed but we're pretty eclectic, looks a bit more impressed maybe?" subliminal message feeling. Although it helps that both these tracks feel at least partly improvised, and run into each other (as with all seven on the disc) this speaks volumes for Hey Colossus' ability to craft a personality and aesthetic belonging to them. They are ribald (the final track on here, a Buttholes-worthy deathpile of freeky FX and ritualistic voices, is topically titled 'I Am Bunga Bunga'); their ribaldry is sometimes specifically British (their last album was called Eurogrumble Vol. 1, which suggests a long and glorious history of buying Viz from motorway services to stave off van boredom). They are however extremely serious about making killer out-metal, and even if they don't seem that anxious to become a self-sufficiently big and properly appreciated band… well, maybe we the world should force it up on them.
DROWNED IN SOUND (8/10)
"Hey Colossus are the closest thing the UK has to inheritors of the crown of the Butthole Surfers — which is not a criticism, just in case you were wondering… quite, quite the opposite. And if 2009's ace Hey Colossus And The Van Halen Time Capsule Present Eurogrumble Vol. 1 was their Hairway To Steven, then RRR — an altogether more considered, threatening and psychedelic affair — is somewhere between their Rembrandt Pussy Horse and Cream Corn From The Socket Of Davis.
This isn't to say that there aren't moments of caustic, acid blotter chewing madness here — check out banger The Drang — but elsewhere Killdozer in a basement hitting a manatee with golf clubs just won't cut it on its own. No, RRR features both kinds of music — demented and threatening. Opening track 'Teased From The Nest', with buzzing analogue synths and rumbling speaker cabinet feedback, is like that moment of psychic pressure drop during the psychedelic experience when you realise that person you've been talking to isn't actually in the room.
Elsewhere the all-out pig-fuck attack of previous albums is replaced by a more nuanced Kosmische / elektronische approach. The title track might start with the sound of an angry serial killer howling at the top of his dungeo- based, visitor holding-well, but it then develops into a symphony of stellar drones and elegiac textures. 'Rotated For Success' is the throbbing centrepiece of the album, which sounds like the whole Texas Chainsaw Massacre family drunkenly shouting along to Neu! and Loop during Ragnarök and Almeria, Spain recalls Part Chimp's amp-torturing loudness and heaviness (RRR was recorded at PC's Drop Out studios in South London).
UK noise rock is going through a particularly healthy period at the moment, with RRR being a perfect example of its pith, piss, vinegar and vigour."
THE STOOL PIGEON / THE QUIETUS
"oh it's almost pretty isn't it? like a garbage disposal wearing lipstick. you might lovingly, tenderly stroke its rouged, perfumed mouth-hole but you wouldn't put anything pinkandfleshy in there would you? aye… unlike the hirsute pigfuckerry and brutal scatology of previous hey colossus (and the van halen somethingorother) records this bugger's gone and shined it's shoes and combed it's hair a bit. gone and got themselves an oily germanic sheen.
hums and haws it's way into life, rumbling and wheezing like a geriatric neurosis. séance chatter and monkish om's. morricone hoom and twang. the feedback of dead machines. a kind of unsettling hushed intro, some gentle frottage before tetsuo the iron man starts fisting the amplifiers. and following with grim inevitability; the monolithic monochording you expect from these bloody savages. a three second squall of narcotic doomish repeatoriffing atop the binary fug and thud of drums. gonna skullfuck your brittle heads, it's shrieking.
and it slips between these two tropes with uneasy restraint. veering from fugly guitar mangling to theta wave symphonies. from the title track's cold clammy panic, like michael gerald from killdozer growling incomprehensibly atop wonky synths and the thick amplified blood-voom of irregular heartbeat. to the bardo pond on a tight schedule stonerry of almeria, spain and the motorhead / neu! mashup of rotated for success.
it's a record that threatens, shuffles and stumbles along with an unwieldy prettiness. a lairy drunk girl in high heels. an enneahedronic continuum of juddering hypno-heaviness. a hairy nonagon of bastardised motorik and fugly pummelling psych. sweet package fellas".
COWS ARE JUST FOOD
"Despite churning albums out at a startling rate, the quality control on Hey Colossus' assembly line of acid-doom rarely dips below the magic mark of 'skull-crushing' and RRR, though not achieving new peaks, isn't about to let the standard slide just yet. Taking assorted cues from Om, it's an unnervingly restrained album where the wrought-iron riffs take a backseat to the aura of the spiritual, spiralling Middle-Eastern melodies cloaked in incense and mysticism.
Teased from the Nest turns this into an art, low ministerial chants overlaying melodies of the souk before mangled guitars creep in, subtly paving the way for The Drang, essentially one behemothian riff that gradually pours into the ears like cement. There are numerous forays into krautrock-like mantras, closer I am Bunga Bunga achieving the greatest access with turning the whole shebang into a coherent stream, but there's enough on these seven slabs to keep both the red-eyed toker and the whisky-guzzling headbanger happy 'til the next album, which is probably on its way already"
THE SKINNY
"Purely by taking the time to even stumble across this webpage, you will most probably be aware that "heavy" can take on all kinds of forms when it comes to music. What South London-lurking noise-urchins Hey Colossus define as their take on this art is a brand of intense, smothering humidity: a confused storm cloud in a sky of confronting electrical pressures. It's certainly a chaos you can describe as big, and I spent a fair few listens scratching my noggin trying to decide if it was also clever.
You've got to bear with me when I try to describe this, it's not easy. 'RRR', presumably pronounced "ruuuuhhhhhhhhhh", haunts you with chanting, swirling, colliding, and hypnotically intimate resurrection of long dead human souls. Its power is in its gathering rumble, which at times resembles a cult of robed, long-haired monks hunched over smouldering incense, their eyes rolled toward the backs of their skulls in an ecstasy of noise-worship. It's feedback meditation. It's the sodomising of the choir of holy virgins with a Marshall stack. It's drenched in its own lactic acid, wailing out for release from its self-inflicted cage of anguish and dead memories.
Yet, through this misery, I hear familiar screams. Scratched copies of Electric Wizard's 'Come My Fanatics', fragmented imprints of Neurosis and scorched ladles of Japanese behemoths Boris and Acid Mother's Temple swim silently in the murky depths of the kind of morbid psychedelia once owned by Amon Duul. The ghost-riffing influence of Part Chimp is also apparent, with the recording setting of 'RRR' at said band's Dropout Studios no doubt impacting on the sessions.
Opener 'Teased From The Nest' terrifies from the off, feedback trickling through soft, tentative percussion surrounded by the echoes and whispers of dungeon-dwelling spirits. 'The Drang' boasts a riff big enough to sink an ocean and lurches it through gauntlets of scything electronic torture, with drums flailing wildly in the gloom. The title track is the soundtrack to your sedated hallucinations upon the operating table of a UFO with alien beings performing experimental physicals on your fatigued flesh. 'Rotated For Success' sounds like NEU! on a cosmic bender, in a blender. 'Almeria, Spain' rapes chords of their solidity and grinds them with a mangle cast in wrought iron by Leatherface from the Texas Chainsaw Massacre. 'Warmer The Belter' is a krautrock cave of morbid enchantment. Finally, having looked forward to closer 'I Am Bunga Bunga' being a Silvio Berlusconi-themed raunchy sing-a-long, I was disappointed to find not even so much as a squeal of a belly dancer nor a classic soundbite of a pompous political retort amongst the Circle-esque minimalist banshee techno.
One that could definitely never be filed under E for easy listening, 'RRR' is an accomplished feat of knicker-shittingly dark sounds. Ultimately, I missed the guitar-based heaviness brought by the likes of peers Khanate and Gnaw, but this serves as a reminder that 'heavy' is often as much a mentally-influencing concept as it is a physical demolition of ear drums. An acquired taste, this veers far more to the experimental prog side of the doom genre, so I would only ever recommend this to fans of very extreme sounds, but yet it is suitably grim for any spare hour of soul-release you may feel the need for. Signor Berlusconi must be so proud..."
THE SLEEPING SHAMAN
"This record is by the Hey Colossus band and there were only 250 copies made of the record all painted differently. Hey Colossus are from London and make noisy rock music with loads of guitars and heavy drumming and lots of screaming and shouting.
The record starts off with slow guitars and screaming ghostly voices like from a horror film, this first track ends with some talking and then goes into the next song which sounds like they are swinging the guitars around their heads and banging them on the floor - it is a much louder track with more drumming and reminds me of a noisier Black Sabbath. The next song slows down a bit and has vocals which reminds me of witch-doctors making spells. Next song starts up with sounds like kids in nursery messing round then there's guitars and a lot of noisy feedback which sounds like a very very windy day and then the drums start banging and there are dark voices screaming ARRRRRRRRGGGHHHHH ARRRRRRRRRGGGGHHH and the guitars get louder before they all wind up very noisy but then calm down at the end.
First song on the second side is called Almeria, Spain but doesn't sound too Spanish it just sounds like noisy electric guitars but that's good. I have been to Spain, I liked it very much because it's nice and hot over there and we saw models made of sand and the beaches were lovely. The next song does sound a bit more Spanish as it starts with a guitar which sounds like a Spanish church bell and a deep voice which sounds like somebody praying and another voice which sounds like somebody dying. The song is very slow and lasts eight minutes long which is very long but I like it very much. The closing song is faster and has talking in it and what sounds like a priest in the background and then lots of loud guitars come in - it is a good way to finish the record.
Overall I think this was very good record by a brilliant band and I would give it ten out of ten."
PETER KEMP'S RECORD REVIEWS