LIMITED EDITION 300 ONLY BLACK VINYL LP. HOUSED IN A 350GSM BOARD PRINTED OUTER SLEEVE WITH BLACK INNER BAG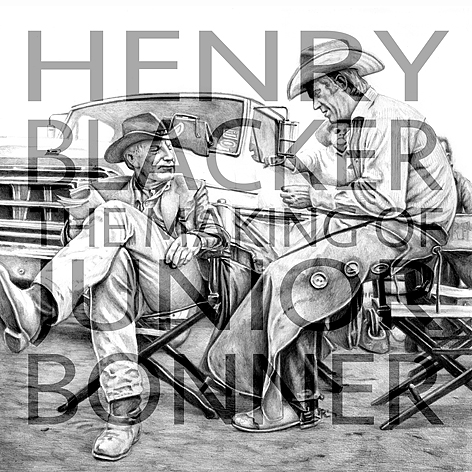 ORDER VIA THE WEBSHOP OR BANDCAMP SITE (IF STILL AVAILABLE)
LP Tracklisting
A1 Cag Mag (4:43)
A2 Two Shapes (4:04)
A3 Roman Nails (3:28)
A4 A Dredger Thirst (5:03)
A5 Shingles To The Floor (3:42)
B1 Cellmate (5:33)
B2 The New Evil (4:22)
B3 Keep It Out Of Your Heart (4:52)
B4 Little Lanes (5:14)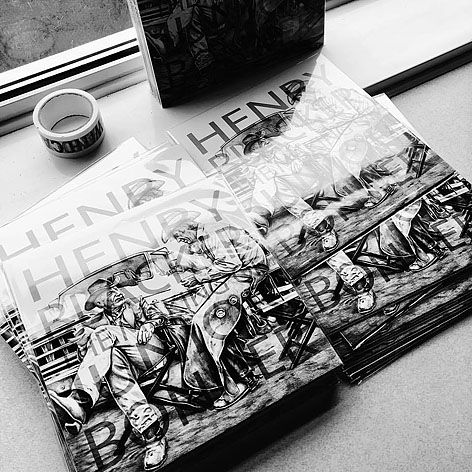 Blurb :
Third full length from Somerset trio Henry Blacker, follow up to 2013's Hungry Dogs Will Eat Dirty Puddings and 2015's Summer Tombs. As with the first two Riot Season is again taking on the release.
HB Formed because there's nothing to do in Somerset. HB Formed because the other band they do (Hey Colossus) rehearse in London and they wanted a band they didn't need to travel the width of the country to jam with. This nine song 40 minute record lyrically covers the downtrodden, shaking them with lysergically gloopy riffs of both the upbeat and downbeat nature. it is perfectly suited for 30 people in a bar having a night of pints. Or a packed venue in some exotic hot spot full of characters having a night of white wines. Or would sit nicely sound tracking a person at home secretly having a night of cans alone, drowning their misery under the weight of an 8 pack of European strength lager.
Inspiration comes from all the desert rock bands and angular punk rock bands that always get listed on these things, you can imagine. Bands that list bands on these things that they want you to think they sound like are ridiculous. They did recently get included on a recent Bandcamp piece: 'Top Ten UK Noiserock bands', but that list didn't include Drunk In Hell so it's not to be trusted.
This record was recorded in Bristol and Barton St David by Ben Turner. Look up Barton St David, it's in the middle of nowhere and it's really lovely. It's also where HB rehearse. It's got it all, and biscuits on top.
HENRY BLACKER ON TOUR APRIL/MAY '18
6th April - Reading, South St Arts Centre - w/ Head Drop / Blimp
13th April - Plymouth, Union Corner - w/ Brunel
18th April - Paris, FR, Instants Chavires - w/ Lower Slaughter
19th April - Rouen, FR, Les 3 Pieces - w/ Lower Slaughter
20th April - Lyon, FR, Le Troksen - w/ Lower Slaughter
21st April - Liege, BE, Insert Name festival
26th April - Brighton, Sticky Mike's - w/ Part Chimp
19th May - London, Borderline - w/ Pere Ubu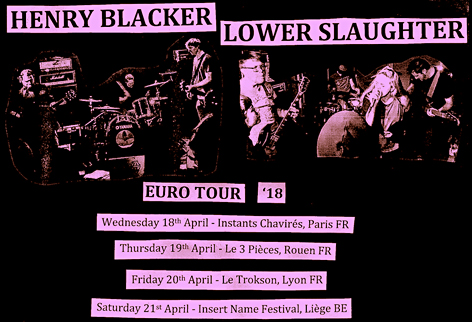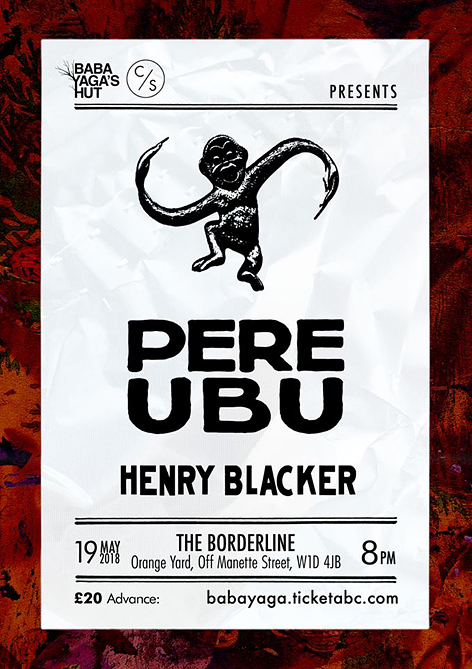 REVIEWS
Henry Blacker is the Somerset based half of the mighty Hey Colossus. It's what they do while the other three are swanning about being part of the metropolitan liberal elite or otherwise enjoying big city entertainments unavailable in the rural west country. The Making of Junior Bonner is their third album and it lands with a pleasingly dirty, heavy thud. Like something it's taken the two of you an hour to drag out of the woods and up a muddy bank finally dropping into the boot of your knackered four door. It smells a bit of spilt diesel and woodsmoke.
It's not a massive departure from their previous two albums and like them both it's excellent, uncomplicated, shit-kicking fun. If you're quick you can get a free CD of their first two with it, astoundingly good value but the sort of thing that makes me ruefully shake my head. How are any of those left lying around the Riot Season office? How are a band this great not more widely beloved? It's a sackload of riffs and great thick fuzzy guitar, irresistible forward motion. If you like Hey Colossus but you've not checked them out you're really slacking – imagine if 'Hot Grave' was a band.
They get called stoner rock and compared to Queens Of The Stone Age a bit more than they'd probably like and, yeah, you can hear it in the opener 'Cag Mag' a little. Still, if Queens are blasting out across the desert in a shiny corvette full of misplaced self belief Henry Blacker are more like a fight in the car park of a carvery that ends with everyone making up and buying each other drinks until closing. They'd have sat comfortably on the bill between Tad and Nirvana in 1990, or USA Nails and Casual Nun this summer. You get the idea, dirt simple noise rock with chunks of punk and metal sticking out of it, they're absolutely great.
Their recipe is not fancy or overly complex but they do vary it, 'Two Shapes' is a full tilt rager with a great false ending. 'Keep It Out Of Your Heart' is almost a pop song buried beneath the sludge and appears to be about resisting the toxic ideas in some newspapers and mainstream discourse "Keep it out of your heart, keep it out of your mind and your mouth". A certain, roadside-ketamine-death of a personality comes to mind. Tim Farthing's vocals switch between a submerged affectless drone and a fierce roar in occasionally disturbing schizophrenic fashion that make his words hard to pick out but when you can they're usually great.
There's nothing here as immediately funny as 'Shit Magus' or gut punchingly moving as 'Summer Tombs' off the last album and the general mood is of dark tales sometimes at odds with the upbeat music. 'Shingles To The Floor' is another charging rocker with a deceptively sweet chorus buried in it and finds him driven by guilt to suicide "I did a dreadful thing, and now I'm going to swing, up from the attic beam". On the very next tune the violence turns towards an abusive cellmate "last night I murdered my cellmate, strung him up with his sheets" over a slower more doom soaked riff. I'm almost 100% sure this isn't all autobiographical.
Not content with all the impressive guitaring, singing, growling and songwriting Tim once again provides the artwork which gives the album its name (he's probably great at pool and a really good cook too, sickening really). A startlingly accurate pencil rendering of a photo of Sam Peckinpah and Steve McQueen on set during, well, the making of Junior Bonner. It's not clear if it has much direct bearing on the record's contents but… Junior Bonner was a film that ruefully looked at the fading American west. It was Peckinpah's next film after Straw Dogs, which featured some dark and bloody doings down in the west country. Surely such elegantly drawn parallels must be more than serendipity.
On 'The New Evil' they get an impressively metal swagger going, a thread that peaks on final track 'Little Lanes' with a double shot of Iron Maiden in its galloping opening, but Maiden if they'd been left out in a field for years, Rusty Maiden. It may or may not be about poor phone reception in Somerset but they get a great groove going before heading back over the field into the night. Seriously now, buy this record and tell your friends because they deserve your love.
I know this is their third album now, but three things still present themselves as nicely suprising when hearing Henry Blacker - the first being that this is, largely, a spin off band from the mighty Hey Colossus, second that at times they follow a pure stoner rock line, and third that it is so good. Not that I'd expect anything less, but first of all - where do they find the time? - and then the stylistic stance, not one I'd naturally associate.
The opening two tracks are phenomenal. Cag Mag begins with a big punked up stoner riff, continuing through as if Greenleaf or even Colour Haze are in the room. It is glorious, a song trapped in my head days after hearing it first. Two Shapes is itching to be unleashed from the start, a burst of pace when freed, a Hermano style evident throughout. The flair at the end is ridiculous fun, channeling a pure desert spirit of the greats.
There's reminders of the whole Kyuss family tree, from Mondo Generator on Shingles to the Floor, to early QOTSA or Brant Bjork's solo material on Keep It Out Of Your Heart, whose grizzly jaunty riff is all smiles and fuzz. There's an aggregate Desert Sessions mood throughout, and the excellent closing Little Lines brings thoughts of Blues for the Red Sun and its bass rumble in its boisterousness.
There are hints outside of stoner rock realm, AmRep sounds for example, on A Dredger First for one, and even that has me thinking of The Heads to begin with, the slacker vocals drifting in non-committedly on the sedated introduction.
All in all, this is an awesome exhibition of how stoner rock can sound relevant in 2018, the commendably restrained vocal performance a perfect accompaniment to the fuzz-out roll. It might not maintain the heights generated in the first couple of tracks, but that's a quibble barely fair to mention, as ...Junior Bonner is a joyous ride of high end stoner rock.
The Hey Colossus offshoot trio are still churning out material so croonsomely fuzz-ridden that it's every bit as wicked as Queens Of The Stone Age's early triumphs (they attract that comparison an awful lot but some clichés become clichés for good reason). Yet Henry Blacker don't get the credit they deserve because they're small fry on a low-scale (if excellent) label and are middle-aged blokes from Somerset with day jobs and other commitments rather than tall Californians with enough adoration and arrogance to strut around kicking photographers in the face.
Whereas previous Henry Blacker albums have opened with the most accessible tune and sequenced the rougher and weirder tracks later on, The Making Of Junior Bonner remains pretty hip-swingingly accessible throughout (the occasional effects-laden roar aside). Conceivably, then, this third LP is Henry Blacker's Songs For The Deaf. Embrace its greasy splendour and purchase the album in your millions, people. Put them in the same league as Alison Wolf and The Royal Bloods. Let's have them supporting Foo Fighters and hanging out on CBeebies.
UK Sludge Rockers - Henry Blacker - come of age with their splendidly heavy new album - The Making Of Junior Bonner. Henry Blacker has been more recognised for being a spin-off band from Henry Blacker. Though that's going to change with this album. As Henry Blacker are three albums into their career and this is perhaps their most complete and most confident record to date.
The previous two albums saw Henry Blacker creating a Punk/Sludge/Stoner sound with varied results. I'm a huge fan of their first two records but The Making Of Junior Bonner is in a league of its own.
Opening track - Cag Mag - is a sludgy driven number with heavy outbursts of Punk driven Stoner Rock sounds. The song wastes no time in creating a not so subtle atmosphere where the music drifts from one psychedelic sound to the next. The doom based guitars can be quite melodic and heavy at the same time with the pounding drums adding quite a progressive feel. Henry Blacker's overall sound does feel inspired by the "Miami/Florida" sound that spawned such killer bands such as Torche, and Floor. Though Henry Blacker still retain a certain British charm with the delivery of the vocals.
Second track -Two Shapes - offers a more "upbeat" kind of sludgy groove with the music being slightly louder than the vocals. When the heavy psychedelic sounds appear the music becomes that little bit heavier. The one part I enjoyed the most about this album is how Henry Blacker added elements of Desert Rock to their overall sound. So the whole feel of the album can be quite upbeat and sunny in places whilst still offering a bleak atmosphere on certain parts of the album.
Third Track - Roman Nails - is one of the loudest songs on the album with Henry Blacker unleashing a trippy amount of aggression.
The Making Of Junior Bonner has its fair share of experimental moments with the band changing their overall sound on certain songs of the album with fourth song - A Dredger Thirst - offering a fine line between Psychedelic Stoner Rock riffs and the bleak Sludge Rock vibes. The lyrics are slightly depressing in places and shows you how Henry Blacker have improved as songwriters since their debut album.
My complaint about Henry Blacker two previous albums that they were on for too short. Mostly under thirty minutes. So it's good to see this album being on for a more reasonable forty minutes. The second half of the album is equally good and heavy as the first part with Henry Black playing a more daring sound on tracks such as: Shingles To The Floor, Cell Mate, Keep It Out Of Your Head and Little Lanes.
The production is good for the most part. However there were a few parts where I had to increase the volume on my portable music player. It won't stop your overall enjoyment of the album but it's something you should lookout for.
The Making Of Junior Bonner sees Henry Blacker at the top of their creative powers and offers one of the most entertaining Sludge/Stoner Rock albums you'll likely to hear all year. A definite contender for one of the year's best albums.