LIMITED EDITION TRANSLUCENT VIOLET COLOURED VINYL LP. HOUSED IN A GLOSS FINISHED 320GSM BOARD PRINTED OUTER SLEEVE WITH BLACK POLYLINED INNER BAG & DOWNLOAD CODE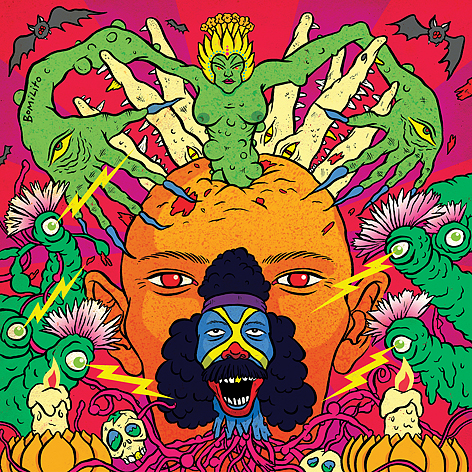 LP Tracklisting
Side A
Theme from MO - The Demon
King Boxer
Inauguration In The Buddha Dome
Mountains Of Bliss
Super Holy Monk Defeats The Black Magic Muthafucker
Side B
Spring Snow
Jetavina Grove
Mo the Demon was recorded at Leeds college of music between November 2017 – February 2018. The basis of the album was to record an imaginary soundtrack to the Shaw Brothers batshit psychedicrazy Kung Fu horror 'The Boxer's Omen' aka MO or demon.
The story is an everyday one.
After a Hong Kong kickboxer is paralysed by a cheating Thai competitor, his mobster brother vows revenge and journeys to Thailand for a duel. Along the way, our hero is met by bizarre visions, entered into a Buddhist monastery, and begins a quest to save the soul of a deceased Monk (his twin brother in a past life) who died at the hands of a powerful black magician.
We've all been there. However the movie descends into a kind of spiritual Jodorowsky mushroom fest that is completely deranged and is therefore one of those perfect midnight movies.
So we got free studio time at LCM in November and just went 'fuck it' lets make an imaginary soundtrack in homage to such a great movie.
Taking inspiration from all the things musical that have inspired us over the years. Berlin era Bowie, Prime Magazine circa 'Correct Use Of Soap', Electric Funk Miles, 'Caravanserai' Santana, Embryo and god knows what else (it doesn't really matter as it all ends up Earthling Society), we think we've made a groovy as fuck concept.
Then, Invited back in February we decided to record 2 stand alone pieces 'Spring Snow' and 'Jetavina Grove' and bring all our space rock elements and psych raga back into the fray. Throw in some super cool Korean vocals courtesy of Bomi Seo of Tirikiliatops and run the guitars through a harmonizer H910 (as used by Visconti on Low an Heroes) and its the perfect swansong to the last 14 years of playing live and recording together.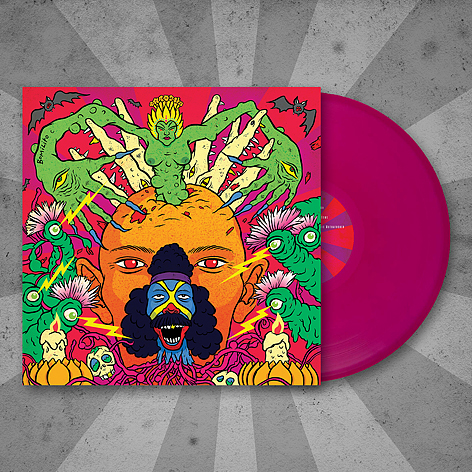 Recorded at LCM Leeds between Nov 2017 - Feb 2018
Produced and mixed by Harry Laird.
Additional production Fred Laird
Engineered by Harry Laird and Dec Van Riel
Mastered by John McBain at JPM mastering
All songs by Fred Laird except Theme from Mo -Demon by Allen/Laird
Fred Laird - Vox, Electric and acoustic guitars, harmonizer guitar, Marimba,
Mellotron and Drones.
Kim Allen - Bass
Jon Blacow - Drums, tablas and congas
Special guest - Bomi Seo - vocals on Spring Snow
REVIEWS
The front cover illustration may be a rewarding indication. This still is an odd affair for me. While following Fred Laird's approach a bit during the recent years, I know that he is an innovative head by all means. 'We think we've made a groovy as fuck concept', he says. Okay!? And 'it doesn't really matter, as it all ends up EARTHLING SOCIETY'. Period! In order to get into the music, sometimes further even perhaps, this implies to reserve more time and patience in general. The story, just an everyday one, if you will ask the innovator, is dealing with a Hong Kong kick boxer, who is out all over in Thailand having diverse adventures ...
... then once being paralyzed, but revenged by his brother ... eventually - remember the album title - a demon comes into consideration ... eh ... otherwise, would you please confer with Fred himself for getting deeper into that? The music then, quite simply, who will be surprised, is set to be an imaginary soundtrack for this thematical background. Including him as the protagonist on guitar and other goodies, as well as the reliable longtime companions Kim Allen (bass) and Jon Blacow on diverse percussion instruments.
The forerunner album 'Zen Bastard' reflected a more retrospective orientation, quasi back to the roots due to more common space rock given. Well, this obviously is looking forward, here they are testing boundaries again, I would say. As promised it's a dynamic affair, equipped with much groove served by the solid rhythm section. But you'll be also faced with an orgiastic acid guitar, drone and feedback battle in some cases. The album's Main Theme marks a fantastic entree, multiple guitar tracks are merged, turns out to be really melodic also.
King Boxer comes in a similar way with quirky electronics on top, where Inaugaration Of The Buddha Dome then will appear like a break, a mental downfall hereafter. The vinyl B side is deriving from another recording session. Spring Snow shows a compelling spoken word collaboration with Bomi Seo. Something special for sure, an exotic Korean touch will serve a welcomed variety. The wondrous Jetavina Grove finally comes with vocals and an indo/raga fundament featuring tablas, saz, sitar or whatsoever exactly.
Well, it took me some extra time to get used to this stuff, which will be released on Riot Season Records soon. Repetitive at a first glance, the diverse nuances unfold step by step though. Fred Earthling's next move marks an interesting full-blown expedition. With pleasure I will give some applause for such an ambitious and rather unusual strategy. Dedicated to those listeners who are searching for heavy space rock off the beaten path, arranged with acid guitars all over.
progarchives.com
Just when I thought that my records of the year list was beginning to form in my head along comes the new Earthling Society platter to send my list into a tailspin.
The album was recorded at Leeds College of Music as an imaginary soundtrack to the Shaw Brothers Kung Fu horror movie 'The Boxer's Omen' (or 'MO' as it is sometimes referred to) and features the regular trio of Fred Laird, Kim Allen and Jon Blacow. One look at the range of instruments played on the record and the film plot (read more on the link above) tells us it will be quite a different Earthling Society trip and certainly more than just a soundtrack.
'Theme from MO – The Demon' kicks off with what can only be described as a vibrant far eastern Kosmische and indeed Bowie-esque melody which builds up to a fine head of steam of Crazy Horse proportions with guitar fireworks running through it before fading out to a sequence of bleeps. What follows is 'King Boxer' a wonderful, full on seventies action movie psych funk fusion groove very much influenced by Miles Davis's peerless heavy funk fusion and indeed the more exploratory grooves that prime period Santana could produce. If a crate digger came across this track on a lost classic soundtrack library album they would be very happy indeed and it's a wonderful earworm with this listener right now. 'Inauguration Of The Buddha Dome' is perhaps on more familiar Earthling Society territory and whips up a heavy psych maelstrom of swirling noise before we emerge into 'Mountains of Bliss' a lovely short feature for Fred's guitar soloing over a blissful groove. 'Super Holy Monk Defeats the Black Magic Muthafucker' is not just a tremendous title but a fantastic longer form guitar excursion with some wonderful soloing over repeating raga like rhythmic figures before a howling storm of noise envelopes the whole piece. 'Spring Snow' features guest vocals from Bomi Seo and at over 10 minutes is quite stunning. It starts with a brief echoing vocal over a beautiful shimmering Eno-esque soundscape that leads into a short interlude of wasp like drones before a full on space rock onslaught kicks in, driven by pounding rhythms and a crunching riff over which guitars and synths fly sky high. The track concludes with a reprise of the earlier mysterious vocal including an atonal, almost free form accompaniment of marimba and tape effects. 'Jetavina Grove' concludes the record and is a song of two halves, starting with a rare vocal and a lovely warm acoustic 'Beatles in India' feel before launching into another cosmic blast off that gradually comes down to earth in a long raga influenced fade.
There is so much to enjoy on this record and it raises the already high bar set by Earthling Society even higher. It skilfully avoids being simply entertaining pastiche and elevates its influences to produce a very fine fusion of musical styles through great playing and writing. I don't expect to see 'The Boxer's Omen' anytime soon on TV or in an arthouse cinema but I now have my own very entertaining movie in my head based on this record and if I ever do see it I know this will be the perfect soundtrack. I urge you to invest in this record which comes out on 21 September but will doubtless have sold many pre-release copies so be quick.
terrascope.co.uk