LIMITED EDITION BLACK VINYL LP & MINT GREEN VINYL LP'S BOTH HOUSED IN GLOSS OR REVERSE MATT BOARD FINISHED 350GSM PRINTED OUTER SLEEVES, WITH BLACK POLYLINED INNER BAG & DOWNLOAD CODE. CD HOUSED IN A GLOSS FINISHED GATEFOLD CARD SLEEVE WITH BONUS TRACK
YELLOW VINYL REPRESS COMING MID JANUARY 2019 - PRE ORDER NOW VIA THE LABEL WEBSHOP OR BANDCAMP SITE
Due to demand, we've decided to repress the LP version after the original black & green vinyl versions and CD sold out quickly. The repress is in production now, and will be a limited 300 only edition pressed on sun yellow vinyl and housed in a 350gsm high gloss sleeve featuring this new alternative green artwork courtesy of artist Jessica at The Giant's Lab.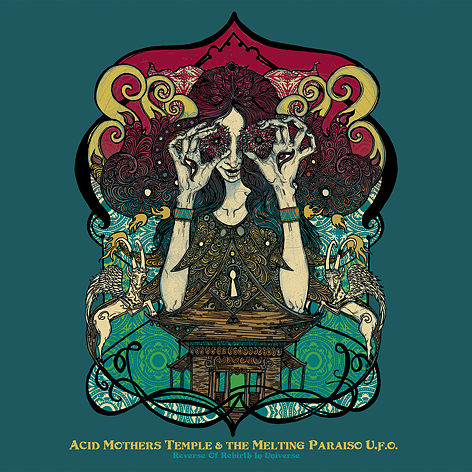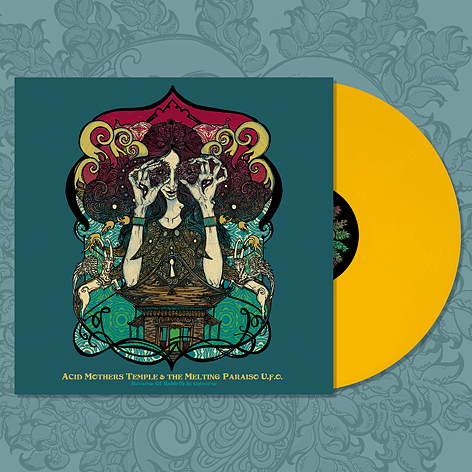 THE ORIGINAL LP (BLACK & GREEN) AND CD ARTWORK BELOW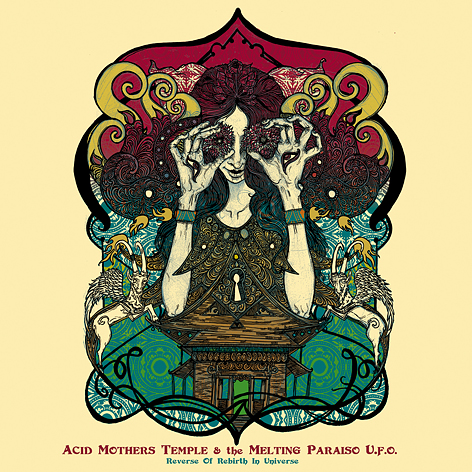 ALL THE MAIL ORDER ALLOCATION OF THE ORIGINAL BLACK & GREEN VINYL AND CD ARE NOW TOTALLY SOLD OUT. THANK YOU!
BLUE VELVET BLUES (2018) PROMO VIDEO
Tracklisting
1. Dark Star Blues (9:22)
2. Blue Velvet Blues (12:15)
3. Black Summer Song (20:22)
4. Flying Teapot (16:21) * CD Only Bonus Track *
"In 2016, 21 years after Acid Mothers Temple & The Melting Paraiso U.F.O. were founded in Osaka, Japan, there was a major shift in the line-up and "Next Generation" was added to the bands name. We now view the first 20 years of the bands career as chapter one in our story, and we are now turning the page to start chapter two. In 2018, it's time to re-record our classics with this new line-up, we just opened the door to the next stage!" (Kawabata Makoto 2018)
Twenty four years into their existence, Acid Mothers Temple & The Melting Paraiso U.F.O. have circled the globe at least a few dozen times, released over 100 albums in their various guises and played thousands of shows.
In recent years, they've experienced seismic line up changes which has given them yet another new lease of life ... or a rebirth if you will. Original members Kawabata Makoto (guitar, speed guru) and Higashi Hiroshi (synthesizer, noodle god) are now joined by Jyonson Tsu (vocal, midnight whistler), Satoshima Nani (drums, another dimension) and Wolf (bass, space & time) and as anyone that has seen the new line up live will testify, things have gone even more cosmic ...
'Reverse Of Rebirth In Universe' sees the band return to their old label Riot Season for the first time since 2012's 'IAO Chant From The Melting Paraiso Underground Freak Out' (CD still available). Both label and band have gone on some wonderful journeys during that time apart but both felt the stars were finally correctly realigned to renew their partnership in all things weird.
Long time AMT fans will immediately recognise some of the song titles listed on the album sleeve here. But the songs themselves have been reworked and transformed far away from their original versions. New boy Jyonson Tsu's quiet, almost whispered vocals bring a whole new aura to proceedings, despite the familiar riffs hidden in the depths below them. It's so laid back in places it's practically horizontal, with only occasional trademark piercing guitar squeals threatening to destroy the peace and calm. The whole of side two is taken up with the twenty minute epic 'Black Summer Song' .. and if this is an indicator to where the AMT mothership is heading going forwards we're all in for another fucked up and magical ride.
If you stepped off the AMT ride over the years, possibly overwhelmed by the amount of releases they were once firing out ... it could be time to step back on it and check out where they're currently at. In a world that's more messed up than ever, we could all use a little break away from the norm, and nobody takes you as far away from the norm as possible as Acid Mothers Temple & The Melting Paraiso U.F.O.
The CD version comes with a sixteen minute bonus song, a cover of Gong's 'Flying Teapot' which has never previously appeared on CD.
REVIEWS
Having seen Acid Mothers Temple a billion times since 2000 with a shifting cast of characters and, recently, gradual list of long-standing members bowing out, I can testify that something of a rebirth seems to have taken place within the cosmic freak-out crew still led by original members Kawabata Makoto and Higashi Hiroshi. Based on a recent Cafe Oto show in London where the band excavated some of their early gonzo outsider-kosmische-folk jams, it seems fair to attribute much of this new lease of life to new member Jyonson Tsu. This enlightened space-being appears to perfectly embody the exotic instrument, imaginary language, ridiculous esoteric mythology and general sonic otherworldliness of the band as set down on what I'd consider to be the collective's classic run of early 2000s albums. So it makes perfect sense that they've decided to revisit some of that weird charming magic in an album put out by Birmingham label and perennial supporters Riot Season. As hinted in the inside-out title Reverse of Rebirth in Universe, the record comprises two new versions of tracks from more than a decade ago, a long new piece, and, for the CD version only, a cover of a track by 70s faerie-botherers Gong.
First we get 'Dark Star Blues', first appearing in studio form in 2004 and fast becoming a live favourite for its intergalactic doom-crushing riff. Here its a more whimsical, lighter wisp, with emphasis on Jyonson's vocals from the very start, though the iconic riff is still there, at first on tentative taut-rubber-band twang, then on a wider massed collection of acoustical organs. While far more restrained than the usual live rock-out, there's still room for some good drum fills by Satoshima Nani on the upbeat before that sticky-heavy riff downbeat. Jyonson's voice, while sounding like often random syllables (reportedly they're fond of singing in entirely invented languages), sticks to melodic lines, and really transforms the breakdown section into a proper chorus. Then at the end we have some wild Makoto manic flaming-guitar-in-the-fireworks-factory, though without a full blasting noise backup it's a spectacle admired from a safe distance, rather than the ecstatic joy of getting trapped in the red offered by some versions of this.
'Blue Velvet Blues' was first heard as a full record-long classic on the Pataphysical Freak Out Mu!! album. On this new twelve-minuter, the opening chord is a wonderful grounding in reverby, consciousness expanding acoustic-electric psych, instantly transporting you to the sonic Temple of the Acid Mothers itself. The track overall isn't quite as cavernous as the clanging junkyard canyon original, but there's still a healthy enough amount of sky-clawing rust-lightning in the guitar for the first five minutes or so. This is before the cosmic vocal reflections come in, which again add a far-out gentle weirdness trip, as the spontaneous singing is chased around by the firefly trails of Hiroshi synth peeps and zeeps.
The flipside, a long impressionistic new track has several sections where different rhythms compete, knitted together with a kind of smoking zoned out drone haze hanging round the back of the soundscape constantly, reminding a little of the bonus track on the CD version of La Novia, building slowly and exploring weird corners at its own pace. Especially so at the end, where we seem to be tipped into a murky sound world of hearing a reprise of the track through a glass darkly, or maybe through a flying saucer's transistor radio. Pleasingly odd! The bonus track is more than a quarter of an hour of 'Flying Teapot'. I'm no great fan of Gong, a bit too silly and twee for me, and the Acid Mothers Gong sets I saw years ago didn't inspire me at all (in fact Daevid Allen chasing Cotton Casino around the stage with weird flappy hands on sticks was pretty creepy). It seems Acid Mothers have picked a decent track of theirs though, with a lively funky bassline which allows some guitar and synth improv to unfold, with Wolf's rumbling bass towards the end even hinting at previous bassman Atsushi Tsuyama's intrepid wandering lines of old. Not wildly keen on the team vocals but I'll blame Gong for that, and anyway there's soon enough some wild ray-gun smooshes and crackles to take us out.
So, Reverse of Rebirth In Universe feels like something of a boundary marker, a sense which is underscored by the press release talking of 21 years of the band, and of turning the page to a new chapter. If there was ever a slight hint that the band had expended their lurid cosmic noise energy over the decades, then such concerns should be dispelled as this record prompts us to look into the next years, no, centuries, of Acid Mothers Temple and the Melting Paraiso UFO!
ECHOES AND DUST
As the title alludes, this is a rebirth; a new incarnation and phase in fact of the legendary acid-rock psychedelic transcendental freak out that is now in its 23rd year of cosmic operations. Founding instigators Kawabata Makoto and Higashi Hiroshi have in recent years welcomed a new intake of worthy disciples; adding vocalist and 'midnight whistler' Jyonson Tso, drummer from 'another dimension' Satoshimi Nani and the bassist, known only as, Wolf to its ranks. Their first task it seems is refreshing and transforming previous sonic stunners and rituals from the extensive Acid Mothers Temple & The Melting Paraiso U.F.O. back catalogue; part of an on-going repackage of the iconic troupe's music that has recently seen, for the first time, a cassette tape release of both the In C and La Novia opuses by Kamikaze Tapes. Coinciding with a recent European tour, the Osaka outfits sprawling Reverse Of Rebirth In Universe album essentially breaks-in a new generation of collaborators.
Krautrock replicates, bowing in reverence at the temple gates of their German inspirations, but also carrying on the lineage of their native country's own experimental doyens (groups like Les Rallizes Dénudés and the Far East Family Band), the Acid Mothers have carried the torch for acid-rock, the avant-garde and progressive when forbearers and contemporaries have faded or disbanded. Relighting the flame and going even more 'cosmic' (if that was even possible) the new recruits breath life once more into a trio (quartet if you have the bonus track version, which I'm reviewing) of moonage daydreams, Tibetan new age fantasies and wild psychedelic improvisations.
Transducing the entire Yeti and Wolf City Nepal esotericism and hippie magic of Amon Düül II into one monumentous caravan procession, the album's opening epic anthem, 'Dark Star Blues', showcases the Acid Mothers signature occult cosmology. All at once hypnotizing, doom-y, melodious, trudging and noodling this far-out blues trip free falls into a wrestling guitar manic jazz jam after ten minutes of Byzantium universe soul-searching to reach a certain nirvana state of enlightenment. By contrast, though still untethered to earthy realms, 'Blue Velvet Blues' (about as far away from the blues genre that you can get) mixes tremolo Western echoes with the pining aching and waning guitar work of Ash Ra Temple and what sounds like Grace Slick yearning over a drowsy drum beat. Talking of vocals, the motorik driving 'Black Summer Song', sounds like a holy union of Nico and Damo Suzuki; ethereal and hauntingly wooing over a Future Days period Can meets Klaus Dinger's Japandorf project backing.
The bonus, 'Flying Teapot', if you haven't had the aural pleasure yet, leans more towards Embryo and Agitation Free; a progressive, acid-jazzy warp factor ten freeform trip of stargazing and druggy indulgence: A perfect finish in my book.
In a sprawling swirl of grooves and flailing, wilding display of guitar experimentation and oscillations, the Acid Mothers, boosted by the 'next generation', reinforce their reputation as one of the most out-there, influential and dynamic forces in cosmic rock. With a back catalogue that constantly keeps evolving they manage to push further and beyond the band's past triumphs and freak-outs to deliver something energetically and dynamically refreshing. Here's to the next phase in the Acid Mothers legacy; one that seems to show a promising glowing future of possibility.
MONOLITH COCKTAIL