LIMITED EDITION 750 ONLY BLACK VINYL LP
LP Tracklisting

A. Dragon (22.10)
B. Empire (23:43)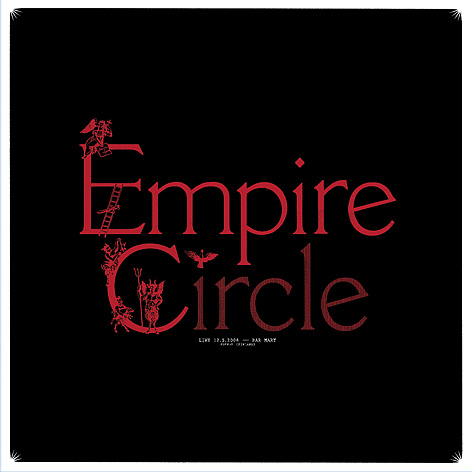 ORDER VIA THE WEBSHOP OR BANDCAMP SITE (IF STILL AVAILABLE)
Release Info:

Not many bands continue to amaze with each new release these days, but Finnish legends Circle are an exception to the rule. The masters of the hypnotic riff return with a vinyl only release called 'Empire' containing two long tracks called 'Dragon' & 'Empire'. The album was recorded live earlier this year in Porvoo, Finland but you'd never know it was a live record as there is so much stuff going on its mind-boggling not to mention the production is superb. 'Dragon' sounds like Can jamming with Sunburned Hand Of The Man whilst 'Empire' sounds like the 'take-a-riff and beat it into submission' Circle we already know and love.
'Empire' was recorded 12.5.2004 at Bar Mary, Porvoo, Finaland by Tuomas Laurila
Mixed and produced August 2004 by Jussi Lehtisalo
Artwork by Musta Kirahvi
Circle at this time were :

Janne Westerlund (Guitars, Vocals)
Mika Rättö (Keyboards, Vocals)
Tomi Leppänen (Drums)
Jussi Lehtisalo (Bass, Guitars, Vocals)
Janne Tuomi (Percussion)
Tuomas Laurila (Sound Engineer)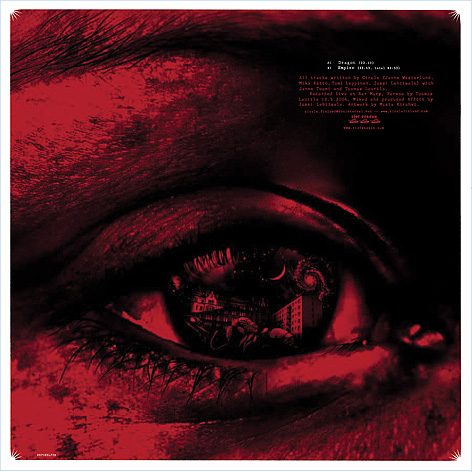 REVIEWS
"Circle are a very productive Finnish band that play psychedelic rock. While most of their music is built of repetition, the band have been branching out into more freeform space rock territory and just full on fuck you in the head music. This record is one of those. The LP features two long trip out songs recorded live in May 2004 and exclusive to this 500 copy vinyl only release. "Empire" is a strange improvised track and the lyrics are in English (quite rare for Circle). Mika Rätto sounds really different when he vocalizes in English. After the mostly acoustic beginning the electric fuzzed out distortion guitar slowly works its way to the front of the mix and the groove begins and the vocals fade away. A menacing bass bubbles up from the bottom of the sound. It starts to loop out of control and Mika powers back to the front of the mix. It is really interesting the way the sound evolves and is mixed up and down during the psychedelic journey. This track is a trip for sure and speeds up quite fast at the end and has a great organ solo. Intense! "Dragon" is the other side of the record and is a bit like a raga with tabla like drums, spaced out vocals and a droning organ. Some acoustic guitar and bass layer into the sound as the acid trip takes hold. Sounds like a really bad trip for someone or a really strange time. Far out!"
AURAL INNOVATIONS
"I've been wanting to hear Circle for a long, long time, and hearing Empire now leaves me wanting to track down everything else they've ever released as soon as possible - it's nothing short of amazing. Two long (22/23 minute) tracks, recorded live in Finland early this year, introduce Circle as one of those rare bands who seem to combine effortlessly many aspects of the music I love. A (presumably) semi-improvisational style, played on traditional 'rock' instruments, mixes the laid-back rhythms and strange vocal stylings of early-70s Can with a heavy abstract psychedelic feel. Relentlessly repetitive melodies swell and build from delicate beginnings into intense, cloying chunks of sound. Circle seem to slot into a group of bands I'm slowly becoming more familiar with, as I discover whole new worlds of sound experimentation - Double Leopards, Sunburned Hand of the Man, Dead C, etc. It's exhilarating and exciting to find vast, previously uncharted areas of wonderful music! Then again, it's hard on the wallet too..."
DISKANT