LIMITED EDITION WHITE VINYL LP HOUSED IN A 350GSM GLOSS FINISHED SLEEVE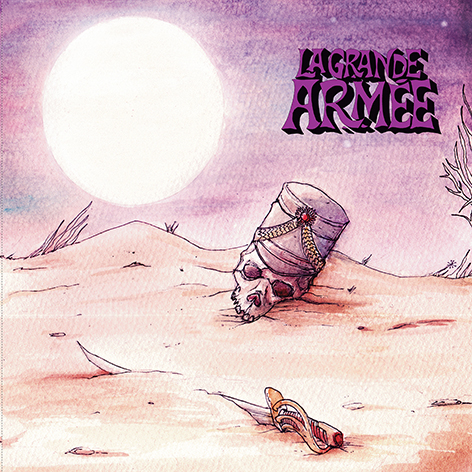 ORDER NOW VIA THE LABEL WEBSHOP OR BANDCAMP SITE
LP Tracklisting :
A1. El Canto De Las Ballenas (7:28)
A2. La Tripa Intergalactica (5:51)
A3. Normandia (7:53)
B1. Misiles Desde Pyongyang (5:24)
B2. Viaje Al Vacio (4:54)
La Grande Armée is an instrumental band that mixes psychedelic stoner and progressive rock inspired by blues and instrumental rock & roll of the 70's, born in November 2017 in the commune of San Pedro de la Paz, VIII region, Republic of Chile. I came across these guys purely by accident earlier this year when their digital EP appeared on a post in a Facebook group i follow. I liked it that much I got in touch with the band and proposed a vinyl version for which they've remixed the EP and added two extra new/live tracks to fill it out.
The members of La Grande Armée (as of September 2019) are:
Juan Carlos Márquez Carmona (Guitars)
Frank The Franker (Bass)
Natalia Vogel (Drums)
La Grande Armée records its first self-titled EP´ in February 2018 in Ático Records LTDA (Concepción, Chile), published on February 12, 2019.
All the recording work was made by the sound engineer Felipe "Arie" Guiñez in Ático Records LTDA (www.aticorecordsltda.com), Serrano street #1060, city of Concepción, Republic of Chile.
This album was attended by Joaquín Landero on drums.
Art by Jonathan "Abyssmo" Cheuquen Oviedo.