LIMITED EDITION TRANSPARENT RED VINYL LP, HOUSED IN A 350GSM GLOSS FINISHED OUTER SLEEVE WITH BLACK POLYLINED INNER BAG & DOWNLOAD CODE
ORDER NOW VIA THE LABEL WEBSHOP OR BANDCAMP SITE
LP Tracklisting
A1. Lifeship (4:50)
A2. Saturn (12:47)
B1. Nuclear Fuel (11:06)
B2. Slide (3:41)
B3. Centuries (6:21)
Formed from the ashes of Drunk In Hell and Blown Out, OZO are a blazing improvised alto sax free jazz rock trio made up from Graham Thompson (Ballpeen), Karl D Silva (Drunk In Hell) and Mike Vest. (Drunk In Hell, BONG, 11Paranoias, Melting Hand)
For fans of Pharaoh Sanders, John and Alice Coltrane. Improvised and experimental alto sax workouts, lead drums, fluid thunder bass and freak out guitar melodies. OZO Saturn is 5 tracks of black impulse meets harmonic stooges.
MIKE VEST TALKING ABOUT OZO
"I've been waiting to start a band with Graham Thompson and Karl D Silva. Karl used to play Sax in the Drunks (Drunk In Hell) and Graham is amazing drummer who plays in lots of bands. He can play everything and is really great at production and mixing. Couple of bands fell apart or just became unproductive, so I moved on, like I did. Graham's drum track were so good and alive that I came up with the idea to have him leading the tracks. Added bass line and asked Karl to blast through in one take. The results came back and it sounded awesome. So here we are."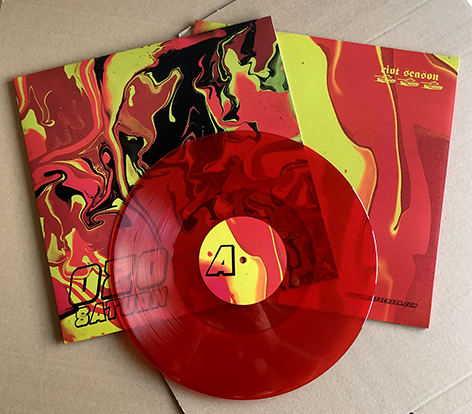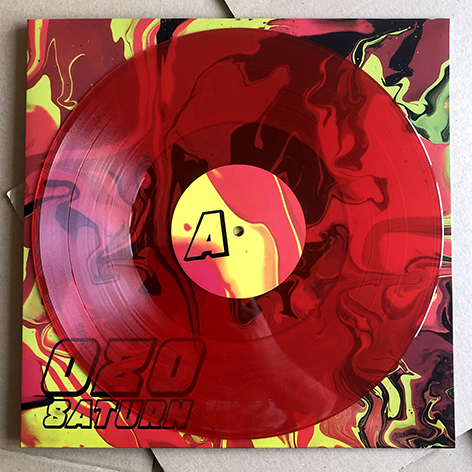 REVIEWS
It seems fitting that OZO should make their debut roughly concurrent to scientists unveiling the highest resolution to-date images of the surface of the sun. The Newcastle Upon Drugs — sorry, Tyne — UK, three-piece are ostensibly led by guitarist/bassist Mike Vest, known for his drone plunge in BONG and the spacey reach of Blown Out, among a slew of others. Joining Vest for the five-track debut album, Saturn (on Riot Season Records), are Ballpeen's Graham Thompson on drums/mixing/mastering, and alto saxophonist Karl D'Silva (a bandmate of Vest's in Drunk in Hell), and together, the trio burn through improvisational pieces of varied tenure but largely united purpose, as though someone flipped a switch and said, "okay, go," and off they went. Entirely instrumental, the record wails through most of its 38-minute run, Thompson's drums not so much holding progressions to the ground as propelling them up from the surface into the airless ether, as heard on the shorter "Side Way," just three-plus minutes, but a jazzy vibe that urges listeners to pick their favorite Coltrane for a comparison (Alice!) and roll with the heady, dug-in spirit. They are gone and gone and gone.
Would be almost unfair to call it self-indulgent, since that's the idea. The exploratory go-ness of these pieces, especially as a first offering of any sort from OZO, are a clarion to free-fusion tweakers and anyone anywhere slightly out of phase with their surroundings, the just-don't-fit feel comes through resonant through "Lifeship" at the outset and again in the resilient echoes and avant drum expressions of closer "Centuries." Of course, an obvious focal point for the LP are its two broadest jams, "Saturn" (12:47) and "Nuclear Fuel" (11:06), which together comprise the majority of Saturn's runtime. While "Lifeship" and "Slide Way" burn out cosmic and "Centuries" harnesses an emergent wash of noise alongside its noteworthy rhythmic freakery, it is the drift and shove of "Saturn" and the encompassing howl of "Nuclear Fuel" that ultimately define the album, appearing in succession as they do after "Lifeship" as though OZO were aware of the challenge being issued to their audience — a sort of dare-you-to-keep-up mentality that seems as much a repellent for squares as a clarion to the lysergic converted. Come get down, come get obliterated. Fair.
The nature of extreme music is to seek not just a specialized listenership, but a that-much-deeper connection therewith on account of the rareness of the bond. One suspects that with OZO, those who can match wits with the band's interstellar scorch will line up to do so again and again, which is fortunate since there's already a second record in the works, titled Pluto. Walking through Saturn's fire unscathed is no easy feat, of course, but in addition to Vest loyalists, the jazzy appeal of these tracks should open as many minds to what OZO are doing as it might close. One way or the other, they're doing it, and the resultant response feels like a secondary consideration at best.
That is, none of this material comes across as having been written with an audience in mind. I don't say that as a dig against it, since I don't think that's what OZO wanted to do in the first place, and they stay true to their mission throughout. It just means they're working on a different level and toward different ends. To go further, none of this material comes across as having been "written" at all. More like it was found, or perhaps pieced together out of elements floating in the air around the room where the instruments were set up. The inherent value of Saturn comes in capturing an expressive moment, the urgency of what's being done and the traditionalism of free jazz as a forward-reaching reaction against form.
Vest, D'Silva and Thompson sound like people who find the conventional boring. Maybe that's true and maybe it isn't, but it's the portrait they paint in the burning oranges and reds and yellows of Saturn, a sense of heat duly depicted on the album's cover. However off-the-cuff it may be — I don't know if it's entirely improvised or if there were overdubs after the fact or what — the feeling of spontaneity in that moment is what's most being sought, and it's what's most prevalent throughout the five pieces that comprise the album. The songs leave no room for compromise. The commitment to outward-directed freakery is unflinching, and for many if not most who take them on, OZO will simply prove too much. Like a machine burning overload. That, too, is a purposeful intent on the part of the band. They're willful in abandoning normality for the swirling chaos that consumes "Nuclear Fuel" in its later reaches, and the dream-sequence distortion of "Centuries" that wraps up is high order psychedelic noir that is just as likely to melt minds as expand them.
Dangerous? To a point, maybe. I don't know if OZO are ever at risk of really falling apart here, and if they did, it would be easy enough for it to become all part of the non-plan, but as they move through the liquefied abrasion of "Lifeship" into the title-track, the feeling of something unhinged and vital is palpable. Credit for that should and must go to Thompson, who instead of trying to harness some cohesion and structure from out of all this churning brew becomes part of the freakery, no less exploratory than D'Silva's channel-spanning horn echoes or Vest's effects-laced guitar. As noted, OZO are already working on their next full-length, which one can only imagine will continue their through-the-temple-into-the-brain plunge, and however the two works may ultimately relate, their debut burns with an intensity worthy of standing alone as it inherently does in sound and style. Saturn presents a vision of psychedelic and space rocking extremity rarely honed to such a degree, and its vibrancy borders on blinding, which is all the better for OZO to catch you off-guard with their next hairpin turn. Hu-mans beware.
Ok there's going to be two versions of this:
Version 1:
This album is sen-fucking-sational!
Version 2:
Sometime you hear something and it's just what you need at the time. Coming off the back of what has seemed like a dark winter, the shoots of spring are beginning to emerge… renewed energy beginning to come back and more light every day.
As you may have guessed this winter has not been the best as far as I'm concerned but I'm starting to look forward to the future again, and this album seems to have caught my mood perfectly.
Perhaps it's the fact that OZO are themselves a band that have emerged from the break up of other bands, such as the peerless Blown Out, and Drunk in Hell. But they have emerged in a way that I would not quite have expected.
That's because I think its fair to say that I didn't expect the emergence of a free jazz space doom funk megalith, well you wouldn't… would you.
So while such as Blown Out was like ramming your way through a black hole in a well travelled, yet sturdy, freighter… this is something else altogether. Yes the bass-lines still feel like they are made up of the very fabric of life itself, and the guitar swoops and soars around the tracks like eddys in the space-time continuum, but there's something more liberating going on here… as if a weight has been taken away and something new can be tried.
A big part of this is the use of the sax in this music, and that is evident from the opener 'Lifeship' which sets out the band's intentions from the outset. They say that this is for fans of Pharaoh Saunders and the Coltranes, and who could argue with that as an aim… free and easy, but heavy as fuck!
After that 'Saturn' is an absolute revelation… put together all the ingredients so far and add in a big dose of funky danceability… man I'd like to hear this one live… boogie on down and set your pacemakers to stun! Sensational track!
Arguably, you're never going to follow that… so rather than more of the same 'Nuclear Fuel' takes a more studied approach…. more like the molten lava through butter approach leaving heavy sediment in its wake. The sax seems absent but you gradually hear it coming to the fore as if it needed to take a break from the previous track… when it does re-emerge is seems to transform the music again… without really changing anything.
'Slide Way' is so short it could be released as a single, and has a wonderful heavy smoothness to it as if a layer of honey was sitting on top of a tempestuous sea… yet gradually absorbed by it as it becomes increasingly angular and fragmented. I really like how it does seem to almost slide into madness… a terrific four minutes!
Last up is 'Centuries' with is ominous beginning signalling something geological may be about to happen! I found myself thinking this until well into it before realising that it was already happening. Central to this are the drums which pound away through most of the track in a free-style which encourages the rest of the band to do the same… there is a sense of stasis… of never quite solidifying in anything tangible, and yet at the end there's a feeling of completion… the journey rather than the destination being the key… and if you're going to call something 'Centuries' then it's not exactly going to have a beginning, middle and end is it?
I really liked this album because I had already felt that Blown Out had probably gone as far as they could with their sound. This album offers something different both from that, and within the set itself. There's a degree of variation here that makes this a very satisfying listen, and acting as an excellent prism through which to look forward… long live free jazz space doom funk!
'Saturn' is released by Riot Season Records on 7th February 2020, and is available to pre-order here and here.
We start this edition of New Weird Britain, and therefore the 'Boring Twenties' (© me, in the pub last Saturday, roughly five seconds before feeling great shame over this coinage), with some radge old lags who are embedded throughout these columns like raisins in a plum duff. We end it that way, too, and in between there's a phalanx of first-timers, the creatively promiscuous and some people you might know already, only wearing a different hat. Basically, much like it was before. Don't let some numbers on a calendar mug you off, I beg!
Nothing mysterious about OZO, at least in their component parts: a guitar/sax/drums trio featuring Mike Vest and Karl D'Silva, who performed together in Drunk In Hell and have discographies I'd rather you spent time researching yourself, plus Graham Thompson, ex of a remarkably wide spread of north-eastern English bands.
It does, though, seem like a project that was intentionally conceived in private: one minute nothing, the next they're recording an album and the next it exists, is called Saturn and is on Riot Season. No live performances yet, but this sick synthesis of psychedelic rock muckspreading and cosmic jazz outness would likely slay given sufficient wattage.
Trippy and snaky as these five freely associating pieces are, OZO feels like a logical progression for the two ex-DIH members at least. D'Silva's approach to the alto sax has evident spiritual/cosmic jazz touchstones that warrant being able to freak out without bludgeoning, while the guitarist's approach to improvisation, put to good use in doom and noise projects, more than holds its own when in a 'jazz context'.
His essential tone is fairly similar to recent Vest ventures like Melting Hand, whose rocked-up cover of Joe Henderson's 'Earth' on their last album is a precursor of sorts to Saturn. Expect oceans of phaser and wah; sax flipping 'tween sustained ripples into space and stabby squeals; drums loosey-goosey but thumped with a rocker's hairy paw; a really great record which avoids the many pitfalls of jazz/rock crossbreeding while not coming off like OZO had to try hard to manage this.
Given that Mike Vest's work-rate never seems to let up, it can be quite daunting, and a little wearying approaching yet another release from on of his umpteen bands, yet with OZO he really does have something which demands you to listen. Not that you shouldn't listen to all his other stuff, although a future primer may provide some inkling of where to start if uninitiated, yet with OZO he seems to have tapped into a realm which has not quite reached his grasp…that of free jazz.
Now, you can argue the fact that in fact, all his music is based in some way on free jazz, and given the propensity for his space rock shenanigans to expand both their length and your mind, you are never too far from a "freak out" moment. Here, on Saturn, that "freak out" is truly gripped by the horns and thrown straight at you though, making for a quite enticing listen.
It's probably best at this point to cast a warning that this may not be for the uninitiated. OZO are deep, and by deep we mean hitting straight into the heart of the Sun Ra psychedelic explosion whilst imbibing a mouthful of Frank Zappa acid tabs…do they exist? If not, they should do. We digress, or rather, trip lightly on.
So the music…well, it leaps right to the point as the alto sax on 'Lifeship' grips you and pulls you head first into a maelstrom of noise. This noise then never lets up until the very end, and even then it's arguable that the music still plays on in some other region of your mind, never to let up, a constant keening sax, knocking on the confines of your skull to be releases. That release has happened though, for the full glorious 40 minutes or so that Saturn unravels your mind. It's playful, it's frightening, it's jolly well looking for a good time and will not stop until it finds it.
Listen, if you want an album that is gonna test you, whilst also being a damn fine listen then this is for you. That is, of course, if you fall into the category of the heavy psychedelic free jazz section in your local HMV store (they tried it in Tesco, but those Adele albums next to it caused eruptions in the ether, causing a few babies to cry). If that's really not your bag then stay well away. For us here at E&D towers, well, this is our morning cup of tea quite frankly, and use it to as a wake up call on our morning car journey to work. Obviously later it soundtracks a more bohemian vibe but hey, that's too crass. Turn on, tune in, and drift out….man.