LIMITED EDITION CASSETTE WITH DOWNLOAD CODE
Tracklisting
A1. Hallucinatory Pagoda Part 1 (19:24)
A2. Hallucinatory Pagoda Part 2 (19:55)
B1. Live At The Tower Newcastle (19:04)
B2. Live At Wharf Chambers, Leeds (23:12)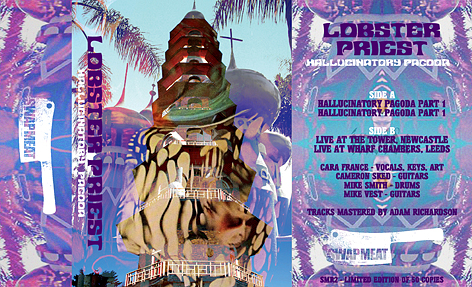 Release Info :
The second release on RS offshoot label Swap Meat. This time it's a trip into the murky world of Lobster Priest, featuring members of featuring members of Bong, Haikai No Ku etc. Completely out there psychedelic guitar howls lost in a murky fog of sludge filled riffs. Hi-fi this isn't, righteous it is.
'Hallucinatory Pagoda' is split into two movements on side A (totalling just under 40 minutes) whilst the B side features two bonus live performances totalling around 45 mins.
The first edition was limited to 50 numbered copies with orange tape shells with printed colour inlay/insert. A second edition of 25 copies with baby blue shells followed shortly after the first sold out.