LIMITED EDITION CASSETTE WITH DOWNLOAD CODE
Tracklisting
A. Brazen Bull (17:53)
B. Dead Eyes - Live (24:08)
The bonus download code contains an extended 38 minute version of 'Dead Eyes'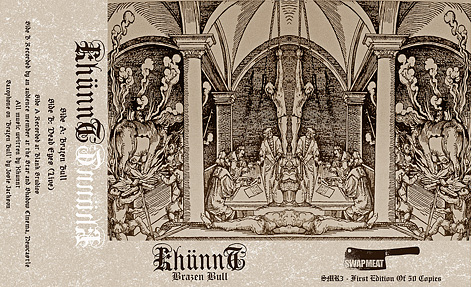 The third release on RS offshoot label Swap Meat!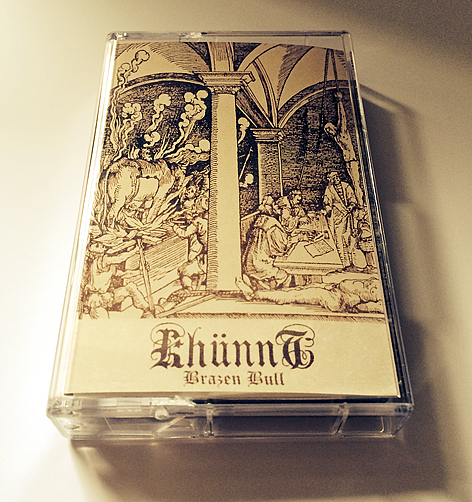 Cassette only edition of 50 numbered copies with download code. This first edition comes with yellow tape shells. Second run of 30 numbered copies comes with white tape shells
Release Info :
Formed in 2006, Khünnt have fervently explored the boundaries of esoteric music, from minimalist noise, cack-rock and ESP screams to live improvisation, fog-beat and psychedelic city mantra. The latest incarnation of the band sees them spiralling down a long hole howling a gale of blighted sustain, aggravated nowhere-isms and chunks of sheer bedlam, finally splashing heavily around the bottom of the mirrored well.
Khünnt worship as one at the toes of a tortured and hopeless entity, utilising no-tune guitars, primal riffs, freeform noise, savage vocals and unrelenting repetition to manifest their perpetual entrapment in the illusion of modern life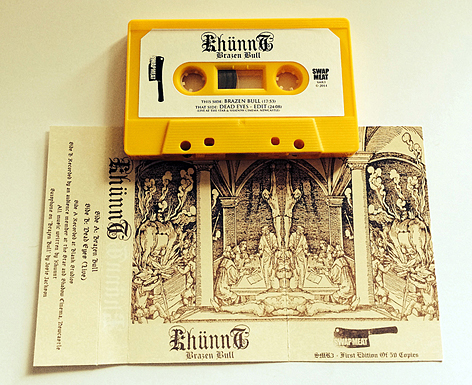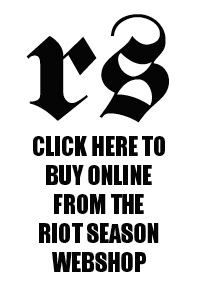 TO BUY ANY AVAILABLE SWAP MEAT RELEASE DIRECT FROM THE LABEL, PLEASE VISIT OUR WEBSHOP BY CLICKING THE IMAGE ABOVE.
ALTERNATIVELY YOU CAN ALSO BUY THE DIGITAL VERSION DIRECT VIA OUR BANDCAMP SITE