SHIT AND SHINE SXSW 2014 ACTION
---
HENRY BLACKER HUNGRY DOGS WILL EAT DIRTY PUDDINGS VINYL, CASSETTE & T-SHIRT OUT NOW
The HENRY BLACKER debut album 'Hungry Dogs Will Eat Dirty Puddings' is out now. The album is available on vinyl, a very limited run cassette and digital download. Learning Curve Records will be handling the US version (both labels will have exactly the same copies).
If you haven't ordered a copy direct you will be able to get them from your chosen record shop as of now (if they are having trouble getting it in for you, tell them to contact SRD). Support your local record emporium if possible!
If you are a fan of digital downloads, please consider buying direct from the label if possible. You will of course get a free download code with any purchase of the vinyl or cassette editions. Every penny helps!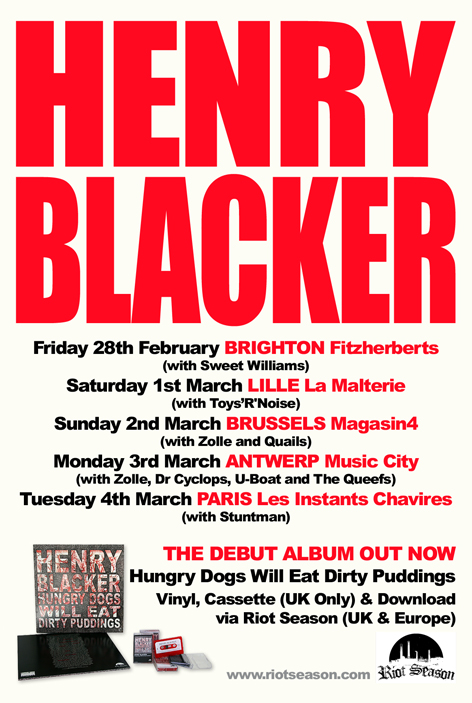 HENRY BLACKER
'Hungry Dogs Will Eat Dirty Puddings'
catalogue # REPOSELP039/RSCASS02
format: Limited Edition Vinyl LP (500 Copies, co release with Learning Curve Records (USA) with each label getting half the pressing) and Limited Edition (50 Copies) Cassette with exclusive bonus song 'Go To Ground'
Tracklisting
A1. Crab House (3:32)
A2. Pullin' Like A Dray (3:50)
LISTEN
A3. Your Birthday Has Come And Gone (4:06)
A4. My Majesty (3:11)
B1. Scumblood (2:47)
B2. Pearlie (5:43)
B3. A Bone & A Thistle (3:06)
B4. Temple Controls (3:40)
The Cassette edition has an exclusive bonus track, 'Go To Ground' which isn't available anywhere else (or digitally)
Release Info:
HENRY BLACKER are a rock band, a three piece, two from the group HEY COLOSSUS and a brother on the drums. These are the times they thought, let's: WHOOP AND A HOLLER. Recorded August 2013 for £450 by Westminster Brown (Tim Cedar, Part Chimp) at the legendary Dropout studios, South London whilst a man from Torche watched on.

"Finally England provides a credible power trio. Fans of 70's heavy boogie will love it, but it'll also appeal to folk that dig Clint Foetus, Rapeman, Kyuss, Uncle Acid, Melvins, QOTSA/Desert Sessions. One of the (many) things I like about Hey Colossus (with whom Henry Blacker share two members) is their unrepentant Rockist streak, and boy is that made manifest on this offshoot. The album starts with a riff that would sit quite happily on 'Grand Funk', 'Blues for the Red Sun' or ZZ's classic 'Deguello', but within seconds the Henry Blacker English Power-Boogie identity is patented. Some of the vocals treatments are classic Billy Gibbons (the Manic Mechanic sprang to mind) meets early QOTSA era Josh Homme. Available on vinyl and a limited run cassette from Riot Season, the cassette is strangely appropriate because these eight musings on aging, power, and failure are driving music. This is the album that the maniac in the monster truck is playing as he triesto mow you down in a 70's drive-in movie. It's the album Kowalski is playing to keep his drug and fatigue-addled mind alive as he heads for the Vanishing Point." (Toby Mearing)

The band have a Resonance FM session on January 24th, and play an album launch with label mates Bad Guys the same evening at Brixton Windmill.
HENRY BLACKER TOUR DATES
8th February – The Exchange, Bristol (with Sleaford Mods)
9th February – The Buffalo, Cardiff (with Guilty Parents, Luvv and His Naked Torso)
12th February – Ace Hotel basement, London (with Hag and Shabash) * FREE GIG *
28th February – Fitzherberts, Brighton (with Sweet Williams)
1st March – La Malterie, Lille (with Toys'R'Noise)
2nd March – Magasin4, Brussels (with Zolle and Quails)
3rd March – Antwerp Music City, Antwerp (with Zolle, Dr Cyclops, U-Boat and The Queefs)
4th March – Les Instants Chavires, Paris (with Stuntman)
9th March – British Wildlife Festival, Leeds
21st March – The Black Heart, Camden (with Beehoover, Ghold and Bloody Mammals)
5th April – Golden Cabinet, Shipley (with Gnod and Sunwolf)
Plenty more to be added.

This album, the band's debut, is on Riot Season (UK & Europe) and Learning Curve (USA), vinyl and download

Straight rockin'
HENRY BLACKER CRAB HOUSE T-SHIRT
Available now via the webshop. Pro printed black Gildan shirts with gold print featuring Tim's crab house inspired artwork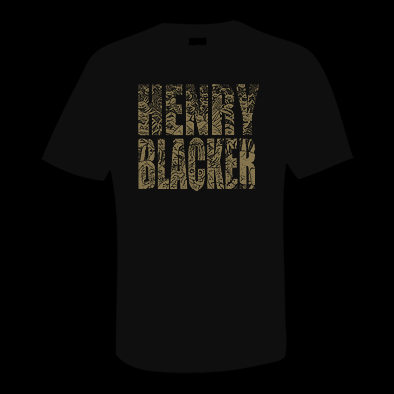 ---
DETHSCALATOR SPLIT!
It's with a sad heart that i have to report our old chums Dethscalator have decided to call it a day. I'm not sure of the exact reasons but i think it's amicable. Such a crying shame that after finally getting their debut album released (Racial Golf Course No Bitches) and it gaining such acclaim from all quarters. A GREAT band and a great bunch of lads. Gutted.
Hopefully the lads will continue to make music. I'll pass on any news of new developments as soon (or if) i get any. RIP
---