SWAP MEAT RELEASE #1 : MAINLINER 'LIVE IN LONDON TWENTY THIRTEEN' CASSETTE (SMR1) ORANGE AND GREEN EDITIONS ARE NOW SOLD OUT
Due to the overwhelming demand which saw both editions sell out on pre-sale over the weekend, I am looking at getting a further small run in a third colour made. Please bear with me as I try and sort this out. If you missed out and really want one, email me at: swapmeatrecords@gmail.com and i'll make sure you are first to know when/if the 3rd run goes live. Thanks Andy
The first release on my new offshoot label SWAP MEAT is nearly ready. It's a cassette only release from our old muckers MAINLINER. 'Live In London Twenty Thirteen' is a 60 minute recording taken from the bands Corsica Studios gig last September. Mixed by Makoto from three separate source recordings, it's a little gem. It's still fairly rough n ready, so don't expect Frampton Comes Alive sound quality ... I hope to be posting them out before the end of the month and pre orders are bing taken now. The tape costs £6 plus postage and is available on either orange or green cassettes. It's a limited one off run of 80 numbered copies.
Listen to 'The Dispossessed' from the tape here

Join the label Facebook page if you wish : www.facebook.com/swapmeatrecords
---
EARTHLING SOCIETY 'ENGLAND HAVE MY BONES'
The next Riot Season release of the year will be Earthling Society's new album 'England Have My Bones'. Sadly due to the Record Store Day generated vinyl pressing delays, we'll probably looking at a mid to late June release date now. The album features four songs, including a majestic cover of Alice Coltrane's 'Journey In Satchidananda' and is a bit of a musical departure for the label i guess.
It's a lot less noisy/in your face than recent releases, it has more of a psych/space rock feel. I think the Acid Mothers fans will certainly love it. The album will be available on vinyl and download. I may knock out a few tapes too. More news as and when
You can listen to 'Journey In Satchidananda' here
The album will be available on vinyl (REPOSELP040) and digitally. No CD release is planned at the moment. Pre-Order details will be announced early May via the RS mailing list (sign up link above)
---
HENRY BLACKER 'HUNGRY DOGS WILL EAT DIRTY PUDDINGS' VINYL LP, CASSETTE & DOWNLOAD OUT NOW
The HENRY BLACKER debut album 'Hungry Dogs Will Eat Dirty Puddings' is out now. The album is available on vinyl, a very limited run cassette and digital download. Learning Curve Records will be handling the US version (both labels will have exactly the same copies).
If you haven't ordered a copy direct you will be able to get them from your chosen record shop as of now (if they are having trouble getting it in for you, tell them to contact SRD). Support your local record emporium if possible!
If you are a fan of digital downloads, please consider buying direct from the label if possible. You will of course get a free download code with any purchase of the vinyl or cassette editions. Every penny helps!
HENRY BLACKER
'Hungry Dogs Will Eat Dirty Puddings'
catalogue # REPOSELP039/RSCASS02
format: Limited Edition Vinyl LP (500 Copies, co release with Learning Curve Records (USA) with each label getting half the pressing) and Limited Edition (50 Copies) Cassette with exclusive bonus song 'Go To Ground'
Tracklisting
A1. Crab House (3:32)
A2. Pullin' Like A Dray (3:50)
LISTEN
A3. Your Birthday Has Come And Gone (4:06)
A4. My Majesty (3:11)
B1. Scumblood (2:47)
B2. Pearlie (5:43)
B3. A Bone & A Thistle (3:06)
B4. Temple Controls (3:40)
The Cassette edition has an exclusive bonus track, 'Go To Ground' which isn't available anywhere else (or digitally)
Release Info:
HENRY BLACKER are a rock band, a three piece, two from the group HEY COLOSSUS and a brother on the drums. These are the times they thought, let's: WHOOP AND A HOLLER. Recorded August 2013 for £450 by Westminster Brown (Tim Cedar, Part Chimp) at the legendary Dropout studios, South London whilst a man from Torche watched on.

"Finally England provides a credible power trio. Fans of 70's heavy boogie will love it, but it'll also appeal to folk that dig Clint Foetus, Rapeman, Kyuss, Uncle Acid, Melvins, QOTSA/Desert Sessions. One of the (many) things I like about Hey Colossus (with whom Henry Blacker share two members) is their unrepentant Rockist streak, and boy is that made manifest on this offshoot. The album starts with a riff that would sit quite happily on 'Grand Funk', 'Blues for the Red Sun' or ZZ's classic 'Deguello', but within seconds the Henry Blacker English Power-Boogie identity is patented. Some of the vocals treatments are classic Billy Gibbons (the Manic Mechanic sprang to mind) meets early QOTSA era Josh Homme. Available on vinyl and a limited run cassette from Riot Season, the cassette is strangely appropriate because these eight musings on aging, power, and failure are driving music. This is the album that the maniac in the monster truck is playing as he triesto mow you down in a 70's drive-in movie. It's the album Kowalski is playing to keep his drug and fatigue-addled mind alive as he heads for the Vanishing Point." (Toby Mearing)
UPCOMING HENRY BLACKER TOUR DATES
15th March - The Crypt, Bristol (with Action Beat, DeadFader, Necro Deathmort & POHL)
21st March – The Black Heart, Camden (with Beehoover, Ghold and Bloody Mammals)
5th April – Golden Cabinet, Shipley (with Gnod and Sunwolf)
19th April – Record Store Day Instore Gigs : Blackcat Records, Taunton NOON (with Hacker Farm & Presents for Sally) & Music Exchange, Nottingham (venue is Nottingham Contempary) TIME TBC
20th June - The Enterprise, Camden. London (part of Camden Crawl 2014)
Plenty more to be added.

Straight rockin'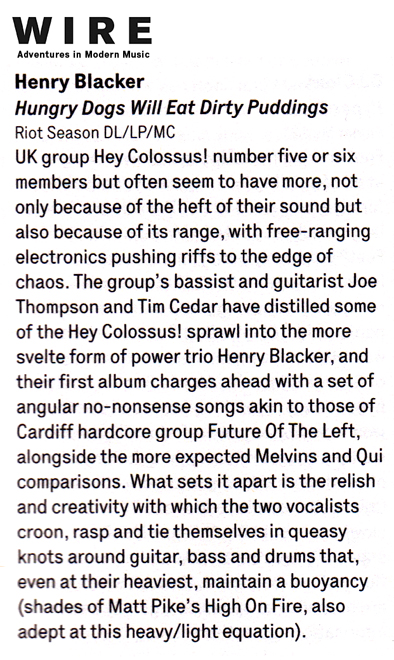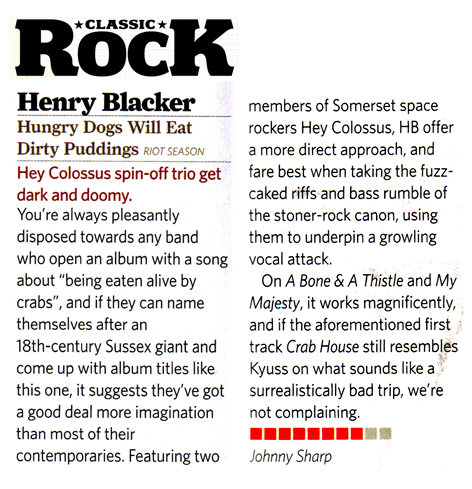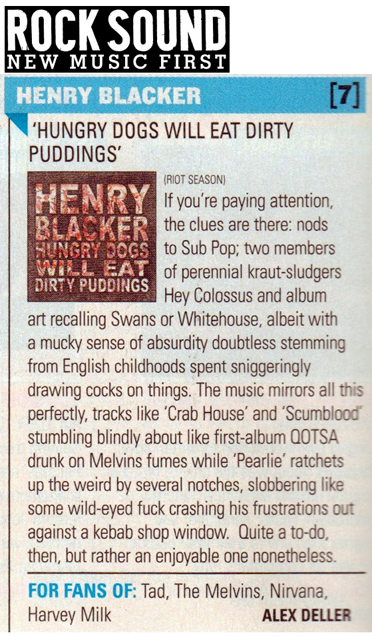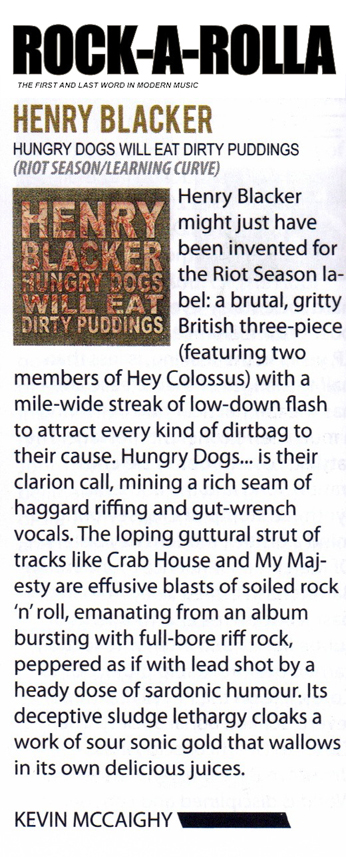 ---
DETHSCALATOR SPLIT!
It's with a sad heart that i have to report our old chums Dethscalator have decided to call it a day. I'm not sure of the exact reasons but i think it's amicable. Such a crying shame that after finally getting their debut album released (Racial Golf Course No Bitches) and it gaining such acclaim from all quarters. A GREAT band and a great bunch of lads. Gutted.
Hopefully the lads will continue to make music. I'll pass on any news of new developments as soon (or if) i get any. RIP
---