1000 ONLY CD HOUSED IN 350GSM GATEFOLD CARD WALLET SLEEVE. INITIAL MAIL ORDER COPIES CAME WITH A BONUS FREE LIVE DOWNLOAD RECORDING
CD Tracklisting
1. OM Marijana FU?
2. Birth Star
3. Loid MInakata
4. Wild Rise
5. Pigamelan-Magamelan
6. The Ginger Chai
7. Pop! Spece! Jump!
8. Oscar No Hope
9. OM Marijana FU pt.2
10. MInakata Loid
11. AWA no UTA
12. Back To Your House Over The Rainbow
13. I'm In You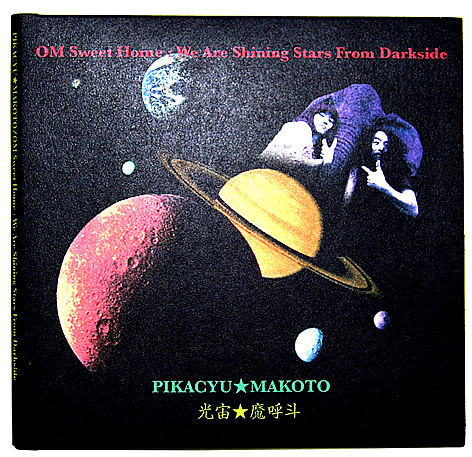 ORDER VIA THE WEBSHOP OR BANDCAMP SITE (IF STILL AVAILABLE)
"This album is the story about the cosmic shaman Pikacyu vs the master of the darkness Makoto ... including the full of love from the universe!"
Release Info:
1000 only shrink-wrapped CD packaged inside a 350gm gatefold card sleeve with reverse board printing. Subsequent represses will be in standard packaging.

PIKACYU*MAKOTO is an alliance between two figureheads of underground Japanese psych/pop, the musically promiscuous Kawabata Makoto (most famous for his leadership of the legendary Acid Mothers Temple), and Afrirampo's Pikacyu.
No strangers to one another, the pair have not only gigged together with their respective bands but also recorded together, when these two outfits temporarily fused in 2005 to become Acid Mothers Afrirampo (releasing an album of the same name). Now they have distilled their collaboration, all other players being stripped away to leave the core of Pikacyu's manic drums and vocals, and Makoto's schizoid guitar conjurings.
OM Sweet Home: We Are Shining Stars From Darkside is unlike anything either culprit has produced before, both structured and freeform, tuneless and beautiful. Pikacyu's drums pummel, jitter, crash and stumble, but steadfastly refuse to groove. She layers her voice several times, competing with maniacally pitch-shifted versions of herself to bring you what is, in their words, "a story about the cosmic shaman Pikacyu vs the master of the darkness Makoto... including the full love from the universe!!". Makoto attacks his guitar, cloaking himself in reverb to produce a wall-of-sound, alternating between melody and noise.
The record's opening gambit, the acapella "OM Marijana FU", resembles field recordings of a gang of lady monks doing chants in the monastery, played back on dying tape walkman. Then you're thrown straight into the deep end of one of the album's epics - "Birth Star". Those holy women are joined by propulsive drumming, each guitar chord leaving contrails that weave together in a cathedral of reverb, forming a tapestry of noise that threatens to clash but never does. In the frenetic "Wild Rise" the Western listener, ignorant of the language is eventually left with the impression of wordless chants tapping wells of emotion that lie beyond the reach of vocabulary.

The instrumental "Pigamelan-Magamelan" on the other hand represents a total gear shift, its dry sound, attack-laden guitar runs and avoidance of time signature invoking the exploding-note theory of Captain Beefheart. The players' behaviour appears unpredictable to the outsider, but like play-fighting dogs they magically pause and resume simultaneously, suggesting the presence of a logic known only to the protagonists.
"Minakata Loid" brings drums reminiscent of early Four Tet, while the guitar emits high-pitched detonations from the far-end of an empty auditorium. "Back to Your House Over the Rainbow" exposes the knife-edge of Pikacyu's most extreme vocalisations, sounding like the yodels of a spirit trying to escape its own skin (while Makoto calls up the spirit Sonic Youth's Turquoise Boy).
OM Sweet Home will be released in June in a limited run of 1000 copies, packaged in a 350gm card gatefold sleeve. It is a serrated listen; a freeform assault; a crashing wash of expressive noise. This is a record in which all the building blocks of mainstream music are overridden by sheer force of expression; soothing melodies are rendered cutting by vehemence, beautiful guitar runs are needled by attack, and the lack of bass removes this music from the arena of the dancefloor, elevating it to some other plane inhabited by seekers of the healing power of noise. Keep ears open and eyes peeled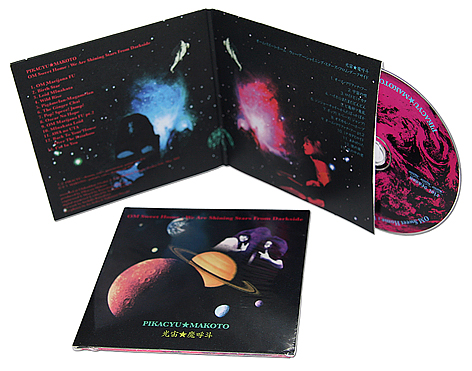 A3 PROMO POSTER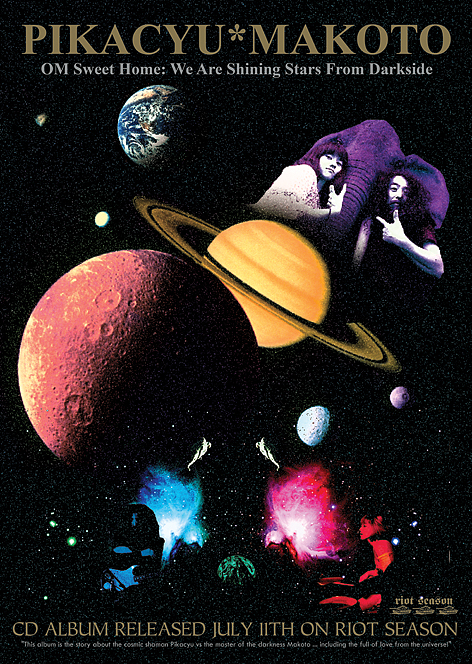 REVIEWS


I'm in a marquee, somewhere in the midst of pre-Empire, pre fucking 'Glasto' Glastonbury. An odd hour. Somewhere just behind me, people are bartering over the price of admission to the Healing Pyramid: "Nah, mate; three quid each." "Each? But it's the same energy, isn't it?" "If only it were, my son, if only it were (shakes head sadly)… you should see what the Orgone Accumulator guy's charging…" There's some variation of what might be a Hawkwind offshoot on stage (perhaps Nik Turner's Fantastic Allstars, perhaps not) and they're absolutely killing it. Sounds are being seared into brains, guitars and synths and even the goddamn saxophones are making the air swim. You've seen lots of bands attempt to wig out but these guys are doing it beautifully. The crowd are loaded with cheap pharmaceutical skullcaps, with mysterious packets of distilled animal spleen and they're taking it all in, or trying to. There's so much sound, so many whorls and whirls; this is the kind of thing that those travellers, now thick with Hepatitis and beeswax, told you Hawkwind were like. This band is the greatest thing you've seen and the next day you buy three of their CDs from a stall and find that they're all utterly terrible. The moment is gone. You really wish you hadn't bought that Jester's hat too.
Pikacyu (Afrirampo) and Kawabata Makoto's (Acid Mothers Temple) new collaboration sounds, in parts, like that band did at the peak of the flash. Even on nothing more lysergic than caffeine and coffee creams, they make a smiling, psychedelic cupcake of sound. The epic nine-minute sprawl of "Birth Star" (chants, drones, guitar swirls, drum-spats, Battles-like squeaky voices) sets things going after the slow Tibetan dirge of "OM Marijuana FU" and then, just when you assume that these two are gonna flip the hell out and start really wigging, they hold back a little and the next few tracks gently explore some odd angles vaguely reminiscent of the kind of thing Red Crayola might have sent to cassette-only compilations circa 1981, albeit through a far Eastern gauze. The first section ends up, in the middle of the album, with the beautifully simple, almost wordless ballad "The Ginger Chai."
There's a moment of silence before the second half begins. A sharp intake of breath before some very brief Beefheart tangents that lead into the hurdy gurdy drones of "OM Marijuana FU Part 2", which might be a less intense, more playful Keiji Haino and then onto some simple drum slurtronics (the kind of thing Kempernorton gets up to, though with real drums). "AWA no UTA" is a child-like orchestral haze (that sounds positively Icelandic) and this leads into "Back to Your House Over the Rainbow", an eleven minute exploration of Pikacyu's voice which builds and builds and allows her to split into several vocal personalities and let fly while, behind her, Makoto keeps the voices in check with rising and falling OMhum guitar work.
This is a beautifully recorded album; all of the sounds are given room to breathe and play off each other. Nothing seems forced. It's definitely one of the best things that either of the participants have released. I'd lost my way a bit with the whole Acid Mothers axis but I'm back on track now. This is a controlled psychedelia that sets itself a number of traps ("Okay, let's just freakin' go…") and doesn't fall into any of them. A remarkably restrained assault on the senses.
FREQ ZINE
We're not sure where to begin with this one so let's start from the outside and work our way in to the contents of the CD. Firstly, this is a side project of Kawabata Makoto, the illusive leader of Japanese pysch-rock lunatics Acid Mothers Temple, and drummer Pikacyhu. Formerly of noise-rock duo Afrirampo, Pikacyu is now the current drummer for Acid Mothers Temple off-shoot Acid Mothers Temple & the Cosmic Inferno. And last but not least, the CD artwork features Makoto and Pikacyu cuddling up to an elephant… in Space. Hopefully that should begin to give you an idea of what you might be able to expect from the pyshedelic duo.
And yet OM Sweet Home: We Are Shining Stars From Darkside starts ominously with a chilling mantra being repeated over and over for two minutes, gradually warping and becoming more distorted before pyschedelic epic "Birth Star" kicks in, in a way that will be familiar to fans of Makoto. It's actually Pikacyu who takes the lead vocal role however and she manages to make pleasant melodies, chanting and punky shouting coexist in strange chaotic harmony.
In fact this balancing act characterises the entire album – the track listing allows time for punk ditties ("Pop! Spece! Jump!", "Oscar No Hope" and the Zappa-like "Pigamelan-Magamelan") to play alongside space oddities like "Birth Star" and "Back to Your House Over the Rainbow". In between there are moments of calm and contemplation where all that is needed to create a psychedelic atmosphere is Makoto's beautifully reserved guitar playing and Pikacyu's lilting voice hovering over the top of it all. The duo are sensitive to the other's impulses and successfully alter their own playing style to fit the other's mould. Even better is when they combine to create a sort of hybrid of the two's styles. An example is "Wild Rise" which features some impressive drumming, combining the psychedelic wig-outs usually more associated with Makoto and the aggressive, shouty punk of Pikacyu's former bands.
Elsewhere they attempt to evoke "the full of love from the Universe" (according to the presspack) and apparently the love of the Universe is a fucking terrifying thing. "The Ginger Chai"starts beautifully but the repetitive guitar melody soon becomes disconcerting over time and it feels like we're either staring down a tunnel of madness or we're listening to the enchanting sound of a parallel universe emanating from a rip in the time-space continuum. As the song fades out a bellowing, deep sound rings out like the call of some space colossus which only adds to the sense of unease. "Oscar No Hope" is 25 seconds of schitzo punk that feels like the duo are exercising their demons onto tape. And remember the ominous chanting I mentioned at the start of the review? Well "OM Marijana FU pt. 2" is the second part and here the eponymous mantra is stretched out for five minutes. Over a manipulated sample of a bagpipe-like instrument. All very strange indeed but incredibly atmospheric, the highest praise for the creators of a bizarre space opera.
"AWA no UTA" is one of the understated highlights of the album – a calm lullaby – while "Back to Your House Over the Rainbow" kind of acts like a companion piece to the similarly long "Birth Star" and gives the album a pleasing symmetry. Finally the relaxed, unwinding "I'm In You" completes the cycle and this peculiar, charming, and at times frightening record comes to a close.
Fans of Makoto and Pikacyu's previous work won't be disappointed by OM Sweet Home but for all those who are on the fence make no mistake – this is an oddball release, albeit a strong one. Throughout the album Pikacyu proves to be the perfect companion to Makoto, punctuating his excellent guitar work throughout with some punchy drumming and providing the majority of the audible vocals (Makoto sometimes grumbles underneath all of the chaos). True to the apparent theme of the album, the band manages to blend light and dark, weaving a coherent whole out of the chaos across these thirteen tracks. A Japanese pysch-rock concept album about "the cosmic shaman Pikacyu vs the master of the darkness Makoto?" Yeah, why not?
THE SLEEPING SHAMAN
When I found out that Pikachyu, the drummer for Afrirampo, was touring and releasing an album as a rock duo with Kawabata Makoto, the lead guitarist and leader of Acid Mothers Temple, I was at once excited and nervous. Every recording I have heard Pikachyu on for the last few years (two albums with Acid Mothers Temple and the Cosmic Inferno and one Afrirampo album) has been phenomenal. And having seen videos of her in concert, I knew she was an amazing performer. But I was smart enough not to get my hopes up too high. Kawabata may be the best guitarist I've ever seen, but I didn't see how he could match the chemistry Pika had previously shared with Oni in Afrirampo. Pika and Oni were both women around the same age. Kawabata is old enough to be Pika's father. Also, Kawabata has never shown the interest or knack for songwriting that either member of Afrirampo displayed.
Fortunately though, the live show that I saw was everything I hoped for. Playing with just each other, Pika-Makoto were able create a maelstrom that matched and sometimes surpassed Acid Mothers Temple. Unfortunately, the album, OM Sweet Home: We Are Shining Stars From Darkside, is a bit of a letdown. Part of the problem is purely the mix. Pika's vocals are frequently way too loud, overpowering Kawabata's typically excellent guitar-playing. "Birth Star" is the album's closest thing to a hit single—it's closed out their sets and was released digitally by Riot Season to promote the album— but this studio version is difficult to enjoy because Pika's vocals overpower the mix. It's not as good as the fan-made live recordings I've heard.
But this album has larger problems than a poor mix. Basically, "Birth Star" is the only fully written song on here. The rest of the album feels heavily improvised. This isn't entirely bad. "Wild Rise" and "The Ginger Chai" are no less enjoyable for their carelessness. And when they keep at it long enough, as on the 11+ minute "Back To Your House Over The Rainbow," they can make just about anything work. But ultimately, most of the songs on here don't feel like songs but rather occasional moments of clarity taken from an extended jam session. Hopefully this won't be the last time these two get into a studio. When I saw them live, half the set seemed to be totally improvised, and it was incredible. They've clearly found the chemistry to make great music. I hope they get in the studio to try again so that more people can hear it
IN YOUR SPEAKERS
When two members of the oddball Japanese collective Acid Mothers Temple go off and do their own thing, you can expect it to be unusual to say the least; and with OM Sweet Home:We Are Shining Stars From Darkside, the drum and guitar duo PIKACYU*MAKOTO do not disappoint as they bounce through an hour of deliciously deranged psychedelic madness. Whilst this offering is not quite as frenetic as the mothership's output, the more relaxed approach does not bring with it any inclination of sensibility, thankfully. 'Birth Star' sets the tone as the ten minute weaving of playful hooks and Animal-esque drumming, complete with inhuman yelps from behind the kit courtesy of Pikacyu, begins the mind-bending journey in style. Here is very much the sound of two friends recording anything and everything and on some of the shorted ditties it feels a touch rough and incomplete, but when they hit the grooves in 'The Ginger Chai' and 'Back To Your House Over The Rainbow', none can match them as your brain warps into previously unexplored dimensions.
THE DIGITAL FIX