LIMITED EDITION 500 ONLY BLACK VINYL 2XLP. THE CD EDITION CAME WITH A BONUS LIVE DVD DISC RECORDED IN 2007 AND WAS LIMITED TO 1000 COPIES ONLY
2LP & CD Tracklisting
A1. Creepy Ballerina (1:08)
A2. Am I A Nice Guy ? (7:58)
A3. Honestly Don't (1:54)
A4. Danielle (1:44)
A5. Charm And Counter Charm (5:16)
A6. If You Knew Susie (1:12)
A7. Flower Petal Sword (2:11)
B1. Prize Winning (3:26)
B2. Sharlade (2:10)
B3. Cigarette Sequence (5:23)
B4. Cherry (5:02)
B5. Shockwave (1:18)
C. High Brooms (14:52)
D. The Rabbit Song (20:33)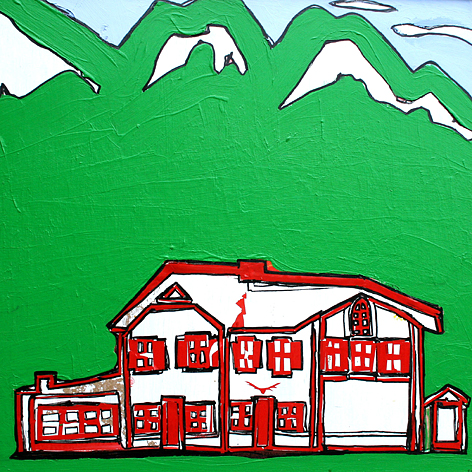 ORDER VIA THE WEBSHOP OR BANDCAMP SITE (IF STILL AVAILABLE)
Release Info:
Shit and Shine isn't a band, it's a state of mind.
They're an afternoon spent tearing up betting-slips at the bookies. A stain on your shirt that won't wash out. Shit and Shine refuse to be categorised, commodified or caught with their trousers down.
They're a blurred snapshot of bi-polar Britain, camera-phone footage of a nation that's slowly swallowing itself whole, one mouthful at a time. They're a requiem for back-street cafes and grubby little places that now only exist in our memory or in back-issues of Savage Messiah magazine. They're a brittle, defiantly distorted soundtrack to our own cultural demise: time at the bar, gentlemen, please!
Shit and Shine don't make records, they make accusations, threats and intimidating phone-calls. Albums sell out in a day or maybe they were never even released. Press-releases come with grainy, badly photocopied pictures of band-members, their faces resembling some freakish Fotofit identity parade, while YouTube is awash with dodgy-looking live clips shot in cellar-bars or at some Argentine Noise fest.
Their new album "Cherry" has been deliberately released to coincide with the clocks going back. It's a sullen, grimy and spiteful LP, full of piss and vinegar and drums. Imagine an after-pub punch-up in A&E with the Burundi Drummers, or the Butthole Surfers if they had gone to primary school in Harlesden. It's petty, vicious stuff and, like its magnificently delinquent predecessor, "Jealous of Shit and Shine," it's available from the ever-reliable, forward-thinking Black Country label Riot Season.
"Cherry" is a treasure-trove of dark, malignant delights that finds the band augmenting its trademark Neo-Brutalist sound with a whole bunch of unexpected textures:
"Charm and Counter Charm" is the sound of Funk turned evil…George Clinton's mother-ship abandoned and covered in graffiti in some wasteland in Moss Side. Bootsy Collins smoking the crack equivalent of green kryptonite, chasing imaginary maggot-brained booty and smurf-voiced machine-elf ho's.
"Prize Winning" is the Glitter Band banged up on a trumped-up drug-smuggling charge in some nightmarish, dysentery-riddled Vietnamese jail. At night, Gary's disembodied voice talks to them from the toilet-grate through a haze of malarial fever and hashish.
"Sharlade" is the theme-tune to Celebrity Big Brother played by gibbons, while "Cigarette Sequence" attaches contact-mics to yer teeth and carries out a series of unnecessary root-canal treatments.
"High Brooms" is an epic sludge-out: a slow, low-end duel-to-the-death involving guitar, organ and narcoleptic drums that invokes the spirit of John Cale's early 60s Vox Continental drone-musik on "Sun Blindness Music." It'll also have fans of Spacemen 3, Sunn o)), etc weeing themselves with pleasure.
Of course, no Shit and Shine album would be complete without at least one side-long, drum-bludgeoning monster-truck of a track. "The Rabbit Song" arrives like a really bad case of OCD or a documentary on horse-ripping, but with a riff to die for. Children are born, families split up, people wash their hands til they bleed, then wash them some more. But still the band plays on: through rain, snow, hell and high-water. Cats die and dogs copulate. But the band are unstoppable - a force of nature - pausing only to bicker and bitch at each other mid-song through megaphones. When it finally finishes, it's both a relief and a jarring loss. Like the death of a family member after a long, unpleasant illness.
Yet, inexplicably, you find yourself reaching for the Replay Button: it's a scientifically proven fact that Shit and Shine are more addictive than Christopher Lee lottery scratch-cards.
"Cherry" is a full-on essential purchase for anyone who's ever loved raw Outsider Music, Free Noise, Hardcore Punk, Barbarian Rock or underground experimental shit of any size, shape or hue. Trust me, it's a total gotta-have for Doom Metallers, Sludge Addicts, Japrock Fetishists, Xtreme Drone Geeks or anyone who ever chased a rabbit down a hole.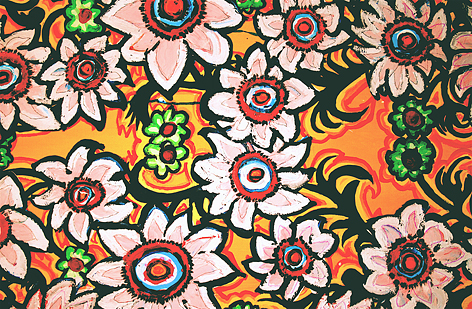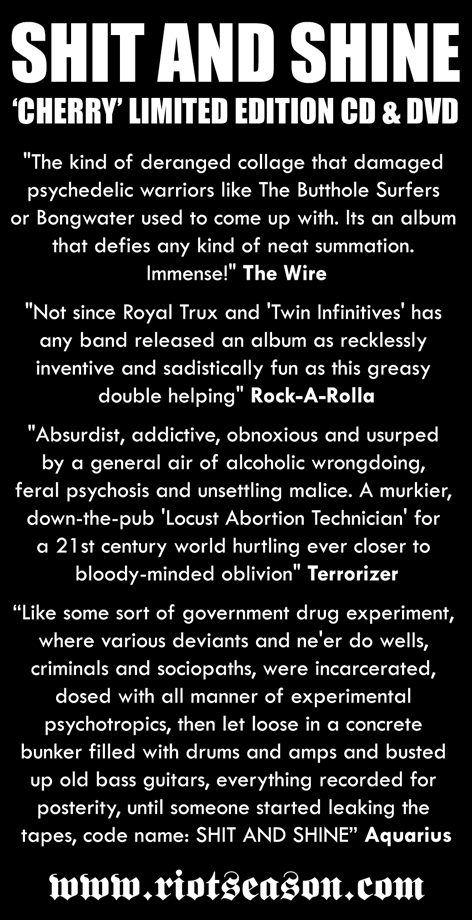 REVIEWS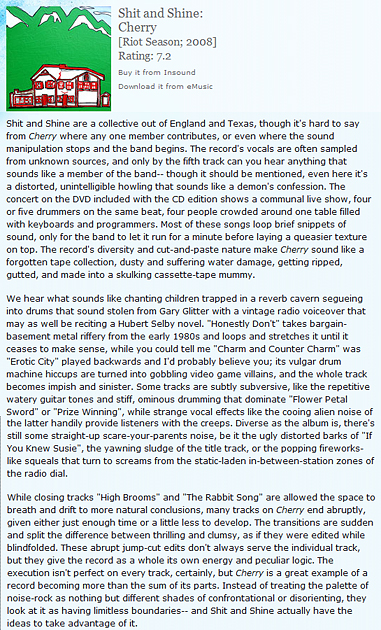 #
The first time we heard from the UK's bass and drum (not to be confused with drum and bass) ensemble Shit And Shine, we were already predisposed to love them. Seeing as they featured multiple bass players, a stage full of drummers, and most importantly, at least to us, several lawnmowers. Fuck. Yeah.
Over the course of the last three or four years, these guys have continually pummeled us within an inch of our lives, with their throbbing tribal Butthole Surfers style onslaught, a furious blown out in the red drug drenched psych rock, but only the loosest approximation of rock. More like some sort of government drug experiment, where various deviants and ne'er do wells, criminals and sociopaths, were incarcerated, dosed with all manner of experimental psychotropics, then let loose in a concrete bunker filled with drums and amps and busted up old bass guitars, everything recorded for posterity, until someone started leaking the tapes, code name: SHIT AND SHINE.
This was the most wacked shit we'd heard since Terminal Cheesecake or the Strangulate Beatoffs. And every record drifted further and further out, as the band became more and more unhinged, and now there's this, Cherry, a massive double lp that while still demonstrating the kind of physical and psychic damage Shit And Shine can do, also reveals a whole new world of fucked up sound these guys have tapped into. In fact, when we first threw this on, we weren't even sure it was the same band.
The record opens with a simple percussive drum jam, all toms, sort of tribal, beneath a series of samples, and film clips, a little weird, reminiscent of old industrial, until the next track obliterates the first with a blast of awesome processed metallic riffing, almost like some heavily FX-ed Iron Maiden leads, draped over some shitty shiney sludge, then suddenly guitars flip backwards, the sound becoming some freaked out psych damage, lurching into some killer stop / start dynamics, a churning what-the-fuck sort-of metal jam. Oh yeah, there's also a long long track of old school proto disco, groovy, druggy dancefloor shit, unexpected, but it sort of works in S+S's tweaked sound world. And all of that stuff is peppered with brief super short tracks of classic Shit And Shine tribal drugpsych pummel, but it always slips back into somethingŠ curious.
Side three is a single side long track, a gorgeous chunk of layered drone, guitars buzz and rumble, basses throb and pulse, there are probably some synths in there too, the various layers churning and shifting, drifting and shimmering, super hypnotic but still subtly fucked up and creepy.
And finally, for those folks who were put off by all this weirdness, meaning even more weirdness than normal, all of side 4 is taken up by a full on, head crushing Shit And Shine blow out. Doped up and spaced out, huge loping rhythms, pounding multiple drumkits, the basses and guitars a chaotic tangle of crumbling riffs and throbbing distortion, everything locked into relentless looped churning crush. So completely filthy and crusty and damaged that it sounds constantly on the verge of falling to pieces, but it's this continuous chaos and impending doom, that makes S+S's freaky jams so intense and so fucking awesome!
Need we say, TRES RECOMMENDED! More totally and hilariously garish cover art. LIMITED TO 500 COPIES! We got a bunch but AQ folks seem especially partial to Shit -AND- Shine, so these will probably go pretty quick. You have been warned.
AQUARIUS RECORDS
Shit & Shines new album is another fine & dandy slab of demented, heavy,noisy and puzzling/fun mayhem. Going from seemingly endless chugging / addictive riff craft, to noise boils, to dialogue and texts over looped rhythms, to all manner of quirky and inside humour driven tracks. Really the best way to try and describe S&S is a British Butthole Suffers, but really you have to hear and live Cherry to fully understand the wonder that is S&S.
This time around they offer up a double vinyl set lasting in all just over 70 minutes & the main focus of of the tracks (aside from the comic and bizarre sidelines) is to create lo-fi layered and down 'n' nasty grooves and riffs that go from just a few minutes to 20 plus, sucking you well & truly in (certainly on the longer tracks). We go from sleazy & funky guitar struts, to stuck vertigo inducing indie riff falls, to boiling psychodelic meets doom organ and gitar long hits. A few of my favourites stand as: Track number two Am I nice Guy? Which introduces strange and bloody Mike Hammer like tale spoken over the top of a layered marching drum work out. The last and longest track The Rabbit song which links stuck industrialized & very sleazy punk doom riff 'n'groove to all manner of ranting and raving, weird sound elements and textures that come and go at will. It makes you want headbang or twist in your seat, making it a rather trick track to play while out in public on you mp3 player. When it finally stops 20 minute later you've still got the damn thing branded into you mind- I swear you'll be humming for hours.
Heavy, noise, groovy and bizarre really if you enjoyed their other work you'll lap this up like a rabid dog on heat & if your still to enter S&S world your in for one hell of a cheeky, brutal and memorable ride- so come on suck S&S cherry you wont regret it, I swear.
MUSIQUE MACHINE