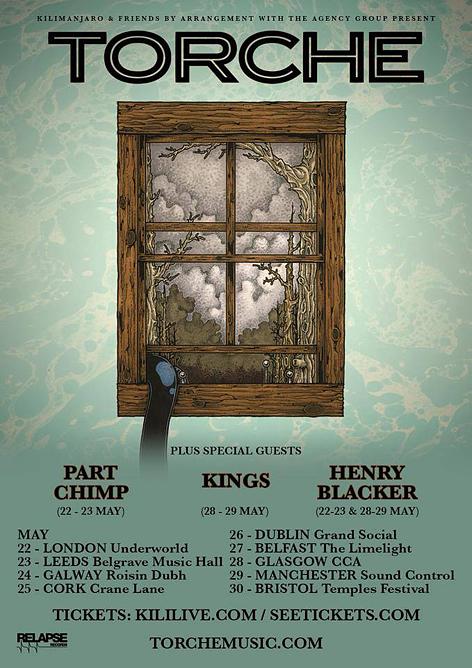 REVIEWS
It was recently announced that Queens Of The Stone Age would be taking a break in activity. Thank heavens for that. We should rejoice in this blessed hiatus because; firstly, the once-vital rock crew have been trading on diminishing desert-y returns for the best part of a decade. Hombre Homme may have been in the moral right to fire the allegedly misogynistic naked gnome that is Nick Oliveri, but was it entirely necessary to replace him with what appears to be the waiting staff from an upmarket cocktail bar for affluent city goths? The guest musicians who helped out on QOTSA's first album included members of Masters of Reality and Earthlings?. The second featured players from Screaming Trees, Goatsnake and Judas Priest. The most recent one? Elton John and the man from the Scissor Sisters.
The second reason why a gap in QOTSA activity is really quite a wonderful thing, is because we can now turn our full collective attention to Henry Blacker. Are you sceptical that this Hey Colossus offshoot trio can satisfy your hard rock hunger as adeptly as Queens once did? Their riffs alone are meatier than a sautéed multipack of roast beef Monster Munch being massaged into the hind of a Japanese Akaushi cow. Like Queens, Kyuss or Fu Manchu before them, they've pretty much nailed the perfect guitar sound: a big, warm, fuzzily distorted, ear-drum-rumbling hum. Henry Blacker don't have the climatic aid of recording in a sizzling Californian desert ranch, so it's doubly impressive that they've managed to capture this blistering sound having crawled out of some dank field in Somerset.
Like a two-headed monster, one head Homme-like, the other resembling Oliveri, Tim Farthing's vocals alternate between a suave, misanthropic croon and the deranged sound of Police Academy's Bobcat Goldthwait gargling with post-50 year old Mark E. Smith's discarded denture wash. His lyrics are equally fun, blessed with the kind of macabre Lovecraftian inventiveness that's earned Chicago noise-thrashers Oozing Wound their late critical kudos. "In a cloak made of smoke I am curling my way in through your keyhole" goes the album's opening line and it's followed by all manner of sinister, funny and occasionally disturbing phrases and imagery. The peak is perhaps 'Shit Magus' which not only includes the grubby line "four hours on the ferry / and he stinks of come and cooking sherry" but also boasts perhaps the greatest deployment of the phrase "fuck's sake" in the entire history of the hard rock genre (to clarify, that's not "for fuck's sake", just "fuck's sake", which is all the more delicious). There's also 'Landlubber', which tackles the bleakness of being lost at sea in forensic pee-drinking, cannibalistic detail, and 'Million Acre Fire', about a really, really, really massive fire.
For the most part Summer Tombs aspires to hone the band's sound, rather than make any great creative leaps beyond last year's Hungry Dogs Will Eat Dirty Puddings debut. Nothing wrong with that; it should keep Sir Elton's ivory-tinkling claws at bay for a few years to come. Even so, the final number, the title track, manages to punch the gut more than anything this band have recorded to date, and more than most bands ever do. Their longest composition yet, set to claustrophobically lumbering instrumentation, Summer Tombs examines, quite sincerely, how it must feel to be diagnosed with terminal cancer. Suddenly, one finds that Henry Blacker are no longer singing with one raised eyebrow or playing things for laughs, not even the dark laughs at which they excel. After all the previous absurd rollicks, the effect is almost unbearable. "What will we tell the kids?" cries Farthing, "I haven't the strength for this." Rarely does heavy rock/metal tackle the discomforting subject of illness and mortality in such vulnerable, hopeless and brutally matter-of-fact terms. It's usually cartoon skellingtons, rudimentary anger, tacky sentimentality or vaguely religious codswallop. I am a tearful toddler, emotionally clobbered by the end of Raymond Briggs' The Snowman. I am a schoolboy, witnessing Captain Blackadder and his colleagues fade into poppies. I am a teenager, learning of Arthur Dent's fate at the conclusion of the Hitchhiker novels. I am an adult Englishman, whose stiff upper lip has flown quivering out of the window, knocked for six by a drawn-out stoner rock jam on which a gruff bloke repeats the phrase, "I thought we had more time". So it goes. Fuck's sake
THE QUIETUS
Right, let's get the whole Hey Colossus thing out of the way.....not through any disrespect to HC (au contraire...'In Black And Gold' is one of my fave LPs this year thus far) but rather that a lot has been made of the connection between the two (2 of the 3 members of Henry Blacker are also in HC) but Henry Blacker deserve to be seen as a wholly separate entity with their own style and brand of stoner/noise/dirty rock. There, that's that done!
'Summer Tombs' comes hot on the heels of 'Hungry Dogs Will Eat Dirty Puddings' which garnered much praise last year - that one was recorded for a reputed £450, and 'Summer Tombs' was recorded in one day (produced by Westminster Brown of noiseniks Part Chimp infamy). What Henry Blacker would be able achieve with time AND money truly boggles the mind!
The band are named after the 'British Giant' born in Cuckfield, Sussex in 1724 who made a living from 'exhibiting' himself - at 7' 4" he drew crowds who gawked at his height. That mix of folklore, sideshow freakery and voyeuristic schadenfreude seem apt for a band who produce some of the dirtiest, skuzziest riffs this side of Hades and yet have a real sense of devilment in their lyrics (exhibit no.1 "Bet you wish you'd never seen his ad / when you see him fall out of a cab / four hours on the ferry / and he stinks of come and cooking sherry" ('Shit Magus') genius.....sheer fuckin' genius!
Music-wise, I'm probably not the first nor the last to make the Queens Of The Stone Age / Kyuss comparison but it's not that simple; they may have taken the QotSA / Kyuss template but they have given it their own unique twist - the riffs are heavier, the guitars more distorted, the lyrics wittier and it sounds altogether more down'n'dirty. As well as Mr Homme et al there are hints of Big Black ('Landlubber') and even Nirvana (if Nirvana had gone down the stoner route ) on 'The Plague' but never wanders far from the sludgey riff path; from the very start there is no let up in the slabs of swampy guitars and soul-crushing heavyness, except the closer 'Summer Tombs' which is more of slow-burner about the death of a loved one (cheery eh?). One of the many, many outstanding qualities of the album are the vocals (courtesy of Tim Farthing)...one minute languid, the next a gut-wrenching howl as if a being possessed. This is a swaggering record full of power, monolithic riffs, malevolence and twisted humour - what's not to love?
Much Kudos must be given to Riot Season records who are rapidly becoming the new Amphetamine Reptile or Blast First, such is their burgeoning roster of noise merchants.
DAYZ OF PURPLE AND ORANGE
At the risk of repeating myself, there's something you should know about me: I love horror movies.
Not those shit ones where moronic high-school twats are terrorised, nor the found footage dirges. None of that idiotic, formulaic pap.
No, I like the good ones me. The zombie gut-munching, uber-violent, Satan-chilling-out-in-your-attic, burn-you-in-a-giant-bloke-made-of-straw kind.
By the sounds of Summer Tombs, Henry Blacker also like a taste of the black stuff. (Horror that is, not Guinness, though they may like that too to be fair.)
Summer Tombs is devilish three-piece Henry Blacker's second album following last year's brilliant debutHungry Dogs Will Eat Dirty Puddings (one of The Monitor's favourite albums of 2014) and man alive it's a beast. Eight tracks of filthy horror-infected blasts of pure disgusting delight. Each song has more hooks than Leatherface's human abattoir. To say it's a great album is a bit of a fucking understatement.
Each song is a bloody standout track with grungy, stoner rock oozing from every pore. Henry Blacker are groovier than the furrowed brow of the Witchfinder General on a particularly busy Halloween.
Throughout, Tim Farthing's shifty demonic guitar beckons you to look deep into the shadows with its crisp, stoner riffs before Joe Thompson's fabulously dirty basslines drag you to the cold hard floor, leaving you whimpering in a pile and allowing Roo Farthing's powerful drumming to finish you off with a swift chomp of the brain and an eyeball gauge for good measure. "Choke on 'em," is all you'll be able to say before it's all over
The horror element of the songs seeps in via the threat-filled, malevolent lyrics. Each song seems to deal with different sorts of destruction, physical or rural, all shot through with thick jet-black humour.
The Lovecraftian lyrics of 'Cold Laking', for example, play out as some dark unnamed entity forces its way into someone's country home with only right badness as its intent: "In a cloak made of smoke I am curling my way in." Tim Farthing's manipulated vocals allow him to cross the void of a sozzled drunk mumbling terrible nonchalant threats, to a burping throat-shredding, mega pissed off ogre: "Now I'm dripping from the beams, into your open maw."
Might sound a bit dark, but this ain't no goth show and when the lyrics are backed by a fucking righteous noise, well, it's fist in the air time.
The psychotic 'Landlubber' continues the nautical horror theme of Hungry Dogs…' belter of an opener 'Crabhouse' with similar demented humour: "The wind is up, the deck is listing, and your groin is devoured by lice," Tim Farthing belches, getting more and more agitated as the song progresses. "The cabin boy, locked in the galley, we're saving him for last."
The melodic 'A Plague' sounds almost pleasant before you realise what's going on: "How did he get in? He lifts his hand and all of the lights go down." It's like a classic '90s alt-rock hit played by swamp monsters.
Final song 'Summer Tombs' is a bit of a change of pace. Slower, more grunge-like and serious in tone, it's a far more sincere and personal song than the previous seven, which appears to deal with the very terrifying and real fear of facing up to cancer: "They found it, it wasn't benign / It spread so fast, as if by design." It's lyrically devastating and an interesting exploration of real life, practical horror as opposed to fantasy or imagined fear.
"What will we tell the kids? I haven't the strength for this. Summer tombs, I thought we had more time."
It's a bleak way to end the album, rounding off with a sense of retrospection and corporeal inner destruction. The body itself rebelling and closing down. Body horror rather than Hammer horror.
That's the role of truly great horror, to make you face up to the darkest sides of life and embrace fear. And like all true great horror movies you will want to get straight back to the beginning of Henry Blacker'sSummer Tombs and experience it all again.
Initially the album will be released as a Record Store Day vinyl exclusive (it comes in a truly lovely-looking sky blue) through the shamefully awesome Riot Season (them again). The album will then be released on CD, which will also come with their debut album for good measure, and deserves to be listened to by as many people as possible.
So buy it and force it on your loved ones, well-wishers, work colleagues, beloved pets, hated pets, or anyone standing particularly close to you on the tube making you uncomfortable.
Now that's horror.
THE MONITORS
You can't really review Henry Blacker without mentioning Hey Colossus, what with 2 of their 3 members being in both bands and the other being one of the shared member's brothers. This is especially true following Hey Colossus' recent release In Black and Gold – in their move into glorious psych territory seem to have shed a lot of their grit and gristle and Henry Blacker sound like the thing it congealed into. That might be too convenient a narrative, but I'd be surprised if it were entirely coincidental; their first record came out last year, around the same time as Hey Colossus' Cuckoo Live Life Like Cuckoo had set them off in that direction. It's as if whilst they head off into space Henry Blacker is the part of them that chose to remain laid in the gutter, staring up at them amongst the stars, drunk as a lord and grinning like they're the only one holding the antidote.
That first record, the majestically feral Hungry Dogs Will Eat Dirty Puddings, was apparently put together for £450, whilstSummer Tombs was recorded over a single day in a barn. Given what they do with such meagre resources I'm tempted to recommend they collectively take over George Osborne's post in the cabinet. It's fair to say sound is indebted to early Queens of the Stone Age (particularly on 'The Plague', which would have fit fairly neatly onto their self-titled debut) as well as the bands Kyuss inspired rather than spawned, but the production from Part Chimp's Westminster Brown is positively filthy. This is dirty groove laden rock weaponised and wielded with ill intentions.
They riff as well as any stoner band you'd care to name – 'Million Acre Fire' could be Orange Goblin after the booze runs out – but with Henry Blacker you don't have to worry about enduring lyrics about some cosmic nonsense or dungeons and dragons type shenanigans. 'Landlubber' is about a ship full of men dying at sea. 'Million Acre Fire' is about a really big fire. 'Shit Magus' is about a Shit Magus. If that makes it sound like comedy, well, they can be pretty funny – but you might not want to say that to their face lest they go all Joe Pesci on you. They come across like the wild-eyed drunk in the bar with all the best lines who will doubtlessly show you great night – but it's a toss-up whether it ends with them telling you they love you or ramming your face into the quiz machine.
It's the kind of dirt and swagger that might have seen Amphetamine Reptile wink suggestively at them if they were around in the early 90s, but there's something essentially English about their approach. They seem to revel being underdogs and losers lashing out. Singer/guitarist Tim Farthing has a bit of a Jekyll and Hyde thing going on – one minute he's mumbling in a low drawl like Josh Homme crossed with Eeyore and then the next he's snarling and growling like there's something malevolent in him desperate to get out. They coax you in and chew you out, like they're pulling you in for a warm embrace and then throwing up down your back.
Then just when you think you've got them pegged they come at you with the title track – a slow, brooding 7 minute lament about terminal cancer. It's hard to tell whether this change of pace is them pushing their black humour to its extremes or whether you can take it at face value. It's either surprisingly touching or utterly reprehensible; after the preceding tracks I'm not sure which. But as the song descends into feedback before coming back in for some good old fashioned rock n' roll catharsis it feels genuine.
Henry Blacker came into the world sounding pretty much fully formed, as many spin-off bands do, so if so it's heartening to see there are other levels to them, other avenues they've yet to explore. We only have to wait for them a few quid down the back of the sofa and a couple of hours to spare to see what else they can come up with. For now though Summer Tombs will do nicely.
ECHOES AND DUST
14 months after releasing their debut album - Hungry Dogs Will Eat Dirty Puddings - to critical acclaim - Noisy Heavy Rockers - Henry Blacker - return with their eagerly awaited follow up - Summer Tombs. Nothing much has changed from their celebrated debut album as Henry Blacker is still the same noisy and raucous Stoner/Sludge/Dirty Blues Rockers with a passion for the distorted riff. Opening track - Cold Liking - is a snarling ugly beast of a track with the band in fine form playing dirty fast paced riffs.
Fans of QOTSA will find much to enjoy here and even a time to reminisce when QOTSA were the kings of dirty lo-fi Stoner Grooves. Henry Blacker have taken that sound and made it their own with an underlying Punk/Noise Rock vibe that only enhances their great sound. The clean based vocals have a distinctive dark tone to them as once the band get going Lead Vocalist - TF - shows his true menacing identity. There's a lot more going on within Henry Blacker that's very hard to describe. Parts Stoner, Noise, Sludge, Punk and Hard Rock for one strangely addictive sound. Probably why they are signed to ace UK Record Label - Riot Season Records - who have a reputation for signing the weirder bands of Stoner/Noise/Sludge Rock.
Anyway back to the album. Summer Tombs runs for a brisk 29 mins and it means that the band have a short space of time to impress you with. It's a good job they succeed on all counts. By the time second track - Million Acre Fire - starts you're already rocking out with Henry Blacker as these guys know how to have fun. The fast-paced distorted noisy tempo doesn't really change that much as this song has the perfect balance of loud vs. quiet riffs. When Henry Blacker turns their attention to Psychedelic Rock this album takes a life of its own.
The album has a schizophrenic feel as it doesn't know what it wants to be and that's the beauty of the album. It's an uncompromising blend of experimental rock where NOISE is the key. It's just so damn addictive that's impossible not to fully enjoy yourself. Third track - Shot Magus - sees the band more colourful humour come to life as they write some interesting lyrics to match the more violent riffs. One moment this song is blasting intense Sludge Rock vibes and the next it changes into good old fashioned noisy Desert/Stoner Rock riffs. Though Henry Blacker return to their more volatile punk/sludge rock guises.
If you're a fan of Torche then Henry Blacker will appeal to you as they share a few similarities with that band. Mainly writing short paced heavy blasts of angry Sludge Rock songs that will get you jumping and singing along to their lyrics. Plus Henry Blacker has the same talent of Torche of turning a quiet paced song into an all out loud sludge-tastic riot. Check out 4th track - The Grain - for more evidence of this as the band once again expertly blend quieter rock moments with the heavier Sludge/Stoner Rock riffs. Maybe I've shouldn't be providing a track-by-track commentary as this album is just one blistering exercise in volume and noise that a lot of you are going to crazy about.
Summer Tombs is full of great ideas that Henry Blacker explore to their full potential. if you want NOISE, RIFFS and MAXIMUM SLUDGE ROCK CARNAGE then Henry Blacker will welcome you with open arms. The last parts of the album and especially the vocals have a certain Josh Homme sensibility to them and that's no bad thing. The vocals courtesy of TF are superb through out. Though he impresses the most on the final two tracks - A Plague and Summer Tombs.
Summer Tombs is a 7 minute epic where Henry Blacker unleashes one final slab of heavy Sludge Rock punishment. This song has a more caustic approach compared to the others but it's still the standout track on the album as it has a few dark moments to unsettle you with. Like the lyrics on Summer Tombs repeatedly tell us - I Thought We Have More Time - I wish we did as well Henry Blacker as even though I love your album. Just one more song would have been fantastic. Summer Tombs is an absolute blast from start to finish. It's even a better album than their debut album. Excellent and Highly Recommended
SLUDGELORD
The West Country. Cider, rolling hills and barely suppressed murderous rage. Henry Blacker distill that all down on "Summer Tombs" which has come along after barely more than a year since their first effort. That might not give much opportunity for musical development, but these guys know what they are doing (being as they are alumni of Hey Colossus, Reigns, PJ Harvey and Spleen) and they pretty much nailed it first time round anyway. Here we have another half hour of stripped-down, crunchy, gloomy and immensely satisfying grungy riff rock with tinges of doomy melancholy. Tim Farthing is absolutely one of this country's most criminally underrated guitar manglers, wringing understated but always inventive forms from his SG while within the confines of a rock-trio setup, and his vocals often threaten to reveal the true unhinged-ness bubbling away beneath all things. Favourite jam is "Million Acre Fire", a total waltz time joy with riffs you could plug the Wookey Hole Cave with. Have I said "riff" enough times?
COLLECTIVE ZINE