LIMITED EDITION TRANSPARENT YELLOW VINYL LP, HOUSED IN A PRINTED OUTER SLEEVE WITH BLACK POLYLINED INNER BAG & DOWNLOAD CODE. INITITAL MAIL ORDER COPIES (BOUGHT DIRECT FROM RIOT SEASON ONLY) COME WITH A BONUS PURPLE 'DOPE' STICKER
CO RELEASED WITH WV SORCERER RECORDS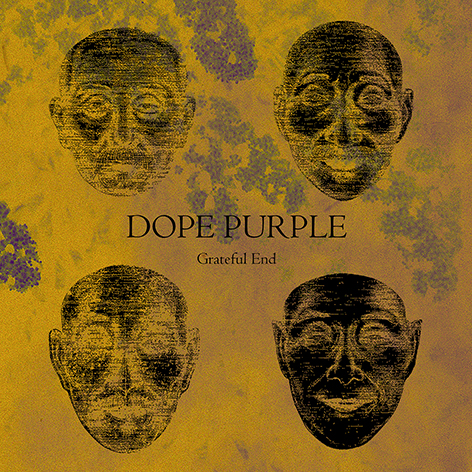 ORDER NOW VIA THE LABEL WEBSHOP OR BANDCAMP SITE
LP Tracklisting
A1. My Evilness (7:05)
A2. Cosmic Rock Is Not Dead (9:01)
B1. The Last Day of Humanity / Good Night, & Good Death (10:36)
B2. New Man (4:37)
'Grateful End' in their own words ...
"Grateful End" is our album release in 2019 in the form of CD and cassette.
The title "Grateful End" clearly shows that this is our album with the theme of "End", such as "The Last Day of Humanity" and "Good Night, Good Death" are two of our songs with the theme of "End". However, this album also has another theme of " Live", in fact most of the songs on this album are based on our imagination of "Live". "End" is not the antonym of "Live", "End" is just one of the stages of "Live", in other words "End" is also our "Live". "Grateful End" is a meaningful "End" for people struggling to "Live". It is only when the "End" comes together with "Live" that we can find significance in it and pay attention to how people face the "End" of "Live". The End of something enables us to understand "Live".
Most of the tracks for Grateful End was recorded in 2018, before the epidemic, so our music doesn't reflect the situation of epidemic, but there was a time in 2020 when I thought about the reality that humanity was facing the last day of humanity. Thanks to the efforts of many people, humanity is not yet extinct, and thanks to the help of many people, we can now release this vinyl. We are very grateful to all of you.
But at the same time, the plight of the epidemic has re-emerged many humanity and morality issues that we have avoided looking at. Maybe we won't die out, but if we don't face our humanity squarely, we will lose our humanity in the future and will no longer be human. I don't know what our music can do about humanity, but it is true that music is one of the creations of humanity, and music cannot leave humanity. As music music lovers, our creations will always face humanity. I hope that in the future, after the epidemic is over, we can understand and inspire each other through our live and music.
See you soon.