LIMITED EDITION 100 ONLY BLACK VINYL 12"
LP Tracklisting

A1. You've Got Male
A2. Selected For Jerry Duty
A3. Cum Lake
B1. Conjurin'
B2. Closet Athlete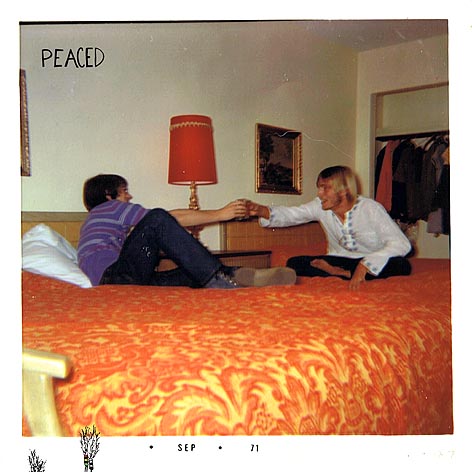 ORDER VIA THE WEBSHOP OR BANDCAMP SITE (IF STILL AVAILABLE)
In the bands own words :
"This album was recorded in our practice space in the month of April 2010. We were very drunk, and very stoned. We've recorded quite a bit of stuff before, but this recording actually captures realistically what we do and how we do it. Cheap, loud, and drunk"
This release is only available from us direct and at both branches of Rough Trade stores in London.
Read/view an online interview with the Dinosaurs here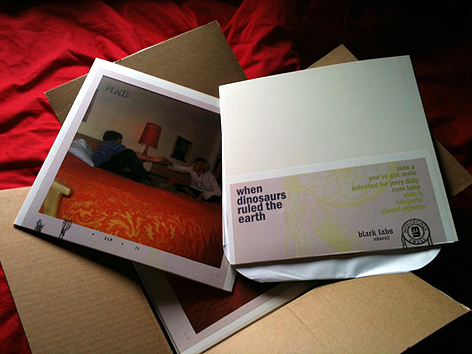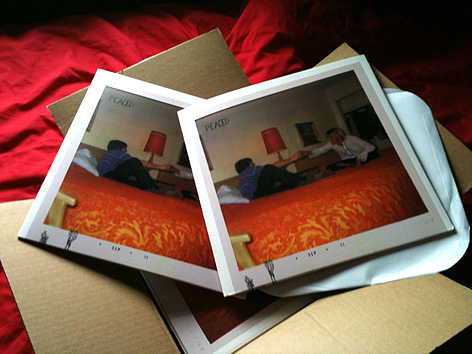 REVIEWS
"Well, I can certainly believe that after having listened to Peaced, the new five song 12" from Austin, TX's When Dinosaurs Ruled the Earth. Some may remember seeing their last album Not Noiice on these very pages a couple or so years ago. At the time I believe there were upwards of around seven people in the band, however they've since brought it down to five. I'm not quite sure having any more members would have changed much about this record anyway, as it's basically a high volume treble heavy blast of noise from start to finish. If this is in fact the way they do things, then I am kicking myself for not finding a way to see them when they rolled through Kansas City a couple months ago. On record, over the last couple at least, they really don't sound much like they do here on Peaced. In fact, this seems to be heading more so in the direction of Expensive Shit, a side project that contains three members from When Dinosaurs Ruled the Earth in which they are pretty much free to indulge in as much noise improv as they please. Peaced probably blurs the lines here a bit more however, still employing traditional riffs underneath a very heavy coating of fuzz, reverb, and maniacal shouting. All five tracks seem to take the same three components and shape them into a noticeably different style however, which for five dudes that had probably completely lost track of time and their whereabouts is fairly impressive in a way. If you're looking for more Texas noise/scuzz, then Peaced is definitely a good place to look."
BUILT ON A WEAK SPOT
"oof. peaced is not a cure for the synapsefucker of a headache i have today (like the kind got jeff tweedy hooked on painkillers, like the kind got max cohen drilling brains out in pi). sounds like the result of a three a.m. jagermeister binge, armed to the green teeth with a young lady of questionable sexual hygiene, a rusted geetar, damaged tape recorder and some goofy/bad vibes. y'know when yr lips go numb and yr tongue swells and you can't quite tell why yr knuckles are bleeding or whose blood it is and someone called evil dick keeps phoning and you know if you answer it all manner of things are gonna be explained that you don't want explained. pretty much that kinda ambiance. it's a throat-torn incantation, a plea to the swirling swollen heavens for some hiss-filled day-glo fog to smother us all. not so much played as disgorged, not so much recorded as acid scorched, not so much listened to as shouted at, wildly with spittledrenched foamflecked glee. like if someone smashed john dwyer's noodlesack open on a table corner and recorded the ooze spilling out. like if flipper moved to texas and gangbanged don walsh. first thing you'll notice, this is not roxy music. first thing you'll notice, this is not well-heeled and girlish. rattling through five songs, each one stupider and uglier than the last, each one stupider and uglier than josef fritzl. they might well rehearse in some incestuous hell-cellar for all i know. remove the puns and it lacks any semblance of intelligence. i dropped iq points on first spin. starting with the first fingered discordia of fuzz, this is nothing more or less than a lolloping mess, a bellowed into and out of broken things mulch of religiously absurd babble, a gibberish paraphilia of nonsense car crash no-wave psych(e) guff. would i tell you to buy this? sure. if you have a spare seventeen minutes and enjoy a spot of ear-rape."
COWS ARE JUST FOOD
"When Dinosaurs Ruled The Earth first made noise in the Austin scene thanks to a pulverizing sound attained with no fewer than seven players. Those who recall the gargantuan noise the Dinos made with two guitarists, two drummers, two singers, and a bass player are likely wondering if they're still capable of the same kind of ferocious mess now that they've slimmed down to a more manageable five-piece. On its new EP, Peaced, the noisemongering quintet sounds like it knows it has something to prove right out of the gate—the pummeling opener "You've Got Male" dispels any doubt that its lither lineup is still able to make a harrowing noise. The follow-up, "Selected for Jerry Duty," however, is a whole different beast: Entirely removed from what has gone before, it sounds like the work of a competent doom-rock band. This may sound like an insult, but it isn't intended as one—it may be important for WDRTE to establish that it can still deliver the goods, but it's become a different band, so it's equally important that its members show they can adjust their sound to take advantage of who they are now. With the exception of the somewhat generic-sounding "Conjurin'," the rest of the EP is just as worthwhile: "Cum Lake" is like the work of a less-spastic Lightning Bolt, and the closer, "Closet Athlete," evokes the repetitively noisy early days of Flipper—an overdrive-friendly creature with a more tragic history of expanding and retracting lineups—in the best possible way."
THE ONION / AUSTIN UNDERCOVER
"Since 2008's Not Noiice, local animal collective WDRTE – now scaled back to a fivepiece – seems to have taken a free-form turn toward noise, à la Houston skuzz forefathers Rusted Shut. Most of Peaced, the group's third LP, features long stretches of staticky guitar, reverbed vocals, and a concussive rhythm section, echoing what's been coming out of labels such as Load and Parts Unknown. Even with fewer members, the sonic assault is unrelenting from start to stop, as "Selected for Jerry Duty," "Closet Athlete," and "You've Got Male" crack mirrors and eardrums around a loose, atonal structure. Not exactly evolution, but when you're so comfortable walking left of center, it's easier to keep going in that direction, to wander into the forest rather than come back to something that holds. Here, they've created their own hybrid moment."
AUSTIN CHRONICLE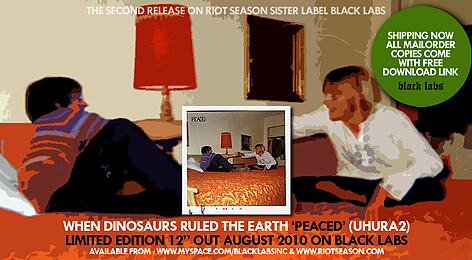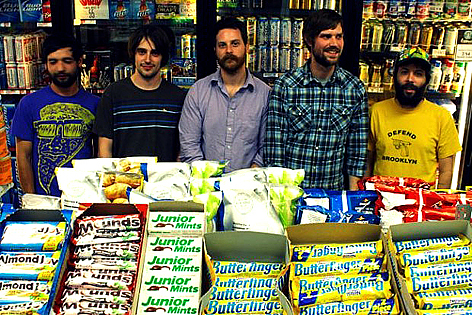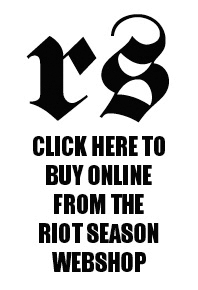 TO BUY ANY AVAILABLE RIOT SEASON RELEASE DIRECT FROM THE LABEL, PLEASE VISIT OUR WEBSHOP BY CLICKING THE IMAGE ABOVE